Abstract
Sargassum muticum is an invasive brown alga which could be regarded as a renewable resource susceptible to fractionation and integral valorization. S. muticum biomass was processed according to a scheme consisting of conventional alkaline extraction of alginate, ultrafiltration to concentrate antioxidant compounds lost in the waste streams and autohydrolysis of the solid residue remaining after alginate extraction. The effect of temperature during non isothermal autohydrolysis was optimized to maximize yields and antioxidant activity of the solubilized fraction. The overall solubilization yield reached 88% of the initial material and the solubilization yield from the alginate-exhausted solid up to 82%. The waste fraction concentrated by membrane technology and that solubilized during autohydrolysis showed radical scavenging and reducing activities comparable to commercial antioxidants. The solid insoluble by-product from the autohydrolysis stage could be potentially useful for agricultural purposes.
Access options
Buy single article
Instant access to the full article PDF.
USD 39.95
Price excludes VAT (USA)
Tax calculation will be finalised during checkout.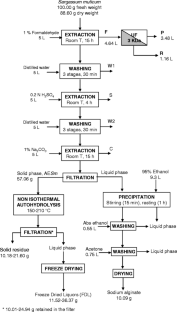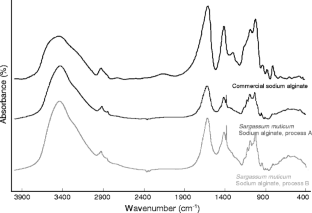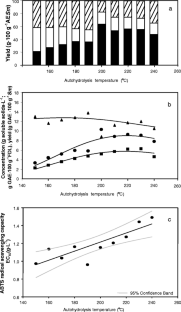 References
Airanthi MW, Hosokawa M, Miyashita K (2011) Comparative antioxidant activity of edible Japanese brown seaweeds. J Food Sci 76:C104–C111

Anastasakis K, Ross AB (2011) Hydrothermal liquefaction of the brown macro-alga Laminaria saccharina: effect of reaction conditions on product distribution and composition. Bioresour Technol 102:4876–4883

Andriamanantoanina H, Rinaudo M (2010) Characterization of the alginates from five madagascan brown algae. Carbohydr Polym 82:555–560

Boonchum W, Peerapornpisal Y, Kanjanapothi D, Pekkoh J, Pumas C, Jamjai U, Amornlerdpison D, Noiraksar T, Vacharapiyasophon P (2011) Antioxidant activity of some seaweed from the Gulf of Thailand. Int J Agric Biol 13:95–99

Chee S-Y, Wong P-K, Wong C-L (2011) Extraction and characterisation of alginate from brown seaweeds (Fucales, Phaeophyceae) collected from Port Dickson, Peninsular Malaysia. J Appl Phycol 23:191–196

Davis TA, Llanes F, Volesky B, Mucci A (2003) Metal selectivity of Sargassum spp. and their alginates in relation to their α-l-guluronic acid content and conformation. Environ Sci Technol 37:261–267

Davis TA, Ramirez M, Mucci A, Larsen B (2004) Extraction, isolation and cadmium binding of alginate from Sargassum spp. J Appl Phycol 16:275–284

Fenoradosoa TA, Ali G, Delattre C, Laroche C, Petit E, Wadouachi A, Michaud P (2010) Extraction and characterization of an alginate from the brown seaweed Sargassum turbinarioides Grunow. J Appl Phycol 22:131–137

Gorham J, Lewey SA (1984) Seasonal changes in the chemical composition of Sargassum muticum. Mar Biol 80:103–107

Grasdalen H, Larsen B, Smidsrød O (1979) A p.m.r. study of the composition and sequence of uronate residues in alginates. Carbohydr Res 68:23–31

Kim JY, Lee JA, Kim KN, Yoon WJ, Lee WJ, Park SY (2007) Antioxidative and antimicrobial activities of Sargassum muticum extracts. J Korean Soc Food Sci Nutr 36:663–669

Kraan S (2008) Sargassum muticum (Yendo) Fensholt in Ireland: an invasive species on the move. J Appl Phycol 20:825–832

Le Lann K, Jégou C, Stiger-Pouvreau V (2008) Effect of different conditioning treatments on total phenolic content and antioxidant activities in two Sargassacean species: comparison of the frondose Sargassum muticum (Yendo) Fensholt and the cylindrical Bifurcaria bifurcata R. Ross. Phycol Res 56:238–245

Le Tutour B, Benslimane F, Gouleau MP, Gouygou JP, Saadan B, Quemeneur F (1998) Antioxidant and pro-oxidant activities of the brown algae, Laminaria digitata, Himanthalia elongata, Fucus vesiculosus, Fucus serratus and Ascophyllum nodosum. J Appl Phycol 10:121–129

Lim SN, Cheung PCK, Ooi VEC, Ang PO (2002) Evaluation of antioxidative activity of extracts from a brown seaweed. Sargassum siliquastrum. J Agric Food Chem 50:3862–3866

Miller HE (1971) A simplified method for the evaluation of antioxidants. J Am Oil Chem Soc 45:91

Okuda K, Oka K, Onda A, Kajiyoshi K, Hiraoka M, Yanagisawa K (2008) Hydrothermal fractional pretreatment of sea algae and its enhanced enzymatic hydrolysis. J Chem Technol Biotechnol 83:836–841

Pereira L, Sousa A, Coelho H, Amado AM, Ribeiro-Claro PJA (2003) Use of FTIR, FT-Raman and 13C-NMR spectroscopy for identification of some seaweed phycocolloids. Biomol Eng 20:223–228

Plaza M, Amigo-Benavent M, del Castillo MD, Ibáñez E, Herrero M (2010) Facts about the formation of new antioxidants in natural samples after subcritical water extraction. Food Res Int 43:2341–2348

Rajauria G, Jaiswal AK, Abu-Ghannam N, Gupta S (2010) Effect of hydrothermal processing on colour, antioxidant and free radical scavenging capacities of edible Irish brown seaweeds. Int J Food Sci Technol 45:2485–2493

Re R, Pellegrini N, Proteggente A, Pannala A, Yang M, Rice-Evans C (1999) Antioxidant activity applying an improved ABTS radical cation decolorization assay. Free Radic Biol Med 26:1231–1237

Rupérez P, Ahrazem O, Leal JA (2002) Potential antioxidant capacity of sulfated polysaccharides from the edible marine brown seaweed Fucus vesiculosus. J Agric Food Chem 50:840–845

Sakugawa K, Ikeda A, Takemura A, Ono H (2004) Simplified method for estimation of composition of alginates by FTIR. J Appl Polymer Sci 93:1372–1377

Santoyo S, Plaza M, Jaime L, Ibáñez E, Reglero G, Señoráns J (2011) Pressurized liquids as an alternative green process to extract antiviral agents from the edible seaweed Himanthalia elongata. J Appl Phycol 23:909–917

Singleton VL, Rossi JA (1965) Colorimetry of total phenolics with phosphomolybdicphospho tungstic acid reagents. Am J Enol Viticult 16:144–158

Sinha S, Astani A, Ghosh T, Schnitzler P, Ray B (2010) Polysaccharides from Sargassum tenerrimum: structural features, chemical modification and anti-viral activity. Phytochemistry 71:235–242

Sivasankari S, Venkatesalu V, Anantharaj M, Chandrasekaran M (2006) Effect of seaweed extracts on the growth and biochemical constituents of Vigna sinensis. Bioresour Technol 97:1745–1751

Torres MR, Sousa APA, Silva Filho EAT, Melo DF, Feitosa JPA, de Paula RCM, Lima MGS (2007) Extraction and physicochemical characterization of Sargassum vulgare alginate from Brazil. Carbohydr Res 342:2067–2074

UNE-EN 14918:2011. Solid biofuels — determination of calorific value

Williams A, Feagin R (2010) Sargassum as a natural solution to enhance dune plant growth. Environ Manage 46:738–747

Zhao F, Liu F, Liu J, Ang PO Jr, Duan D (2008) Genetic structure analysis of natural Sargassum muticum (Fucales, Phaeophyta) populations using RAPD and ISSR markers. J Appl Phycol 20:191–198

Zubia M, Fabre MS, Kerjean V, Lann KL, Stiger-Pouvreau V, Fauchon M, Deslandes E (2009) Antioxidant and antitumoural activities of some Phaeophyta from Brittany coasts. Food Chem 116:693–701
Acknowledgements
The authors are grateful to the Ministry of Science and Innovation of Spain (Research Project ref. CTM2009-12664, partially funded by the FEDER program of the European Union) for the financial support of this work. The authors thank to Miguel Estévez, Ma. Carmen García Meijide, Vicente Rodríguez and Sonia Escudero for technical support. A.M. and N.G.-L. thank Xunta de Galicia for their Isidro Parga Pondal and Lucas Labrada contracts.
About this article
Cite this article
González-López, N., Moure, A. & Domínguez, H. Hydrothermal fractionation of Sargassum muticum biomass. J Appl Phycol 24, 1569–1578 (2012). https://doi.org/10.1007/s10811-012-9817-1
Received:

Revised:

Accepted:

Published:

Issue Date:

DOI: https://doi.org/10.1007/s10811-012-9817-1
Keywords
Sargassum muticum

alginate

autohydrolysis

antioxidant

fertilizer