Abstract
Hizikia fusiformis is one of the important commercially cultivated seaweeds in China. Inter-simple sequence repeats (ISSR) and sequence-related amplified polymorphism (SRAP) markers were used to assess genetic structure of nine wild H. fusiformis populations collected along the coast of China. Of the 255 bands generated by 21 ISSR primers, 99.61% were polymorphic and 99.71% of 344 bands amplified by 30 SRAP primers were polymorphic. The tested high genetic diversities show that the average Nei's genetic diversity (H) were 0.1519 and 0.1624, and average Shannon's information index (I) were 0.2248 and 0.2400 in ISSR and SRAP analyses, respectively. Unweighted pair group method with arithmetic mean (UPGMA) dendrograms of the nine populations were divided into two main groups. The ISSR and SRAP analyses values of gene differentiation (G ST, 0.5955, 0.5486, respectively) indicate that high variation exists among the nine populations, likely due to external interferences and limitation of gene flow (N m = 0.3397, 0.4114). Our study indicated that human activities and herbivore overgrazing had influenced the natural Hizikia populations and that the understanding of population genetics would be helpful in sustainable utilization and biomass conservation of Sargassaceae resources.
Access options
Buy single article
Instant access to the full article PDF.
USD 39.95
Price excludes VAT (USA)
Tax calculation will be finalised during checkout.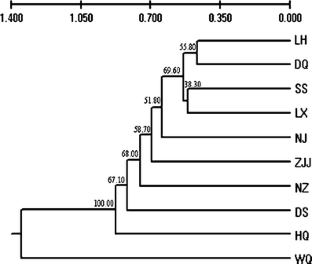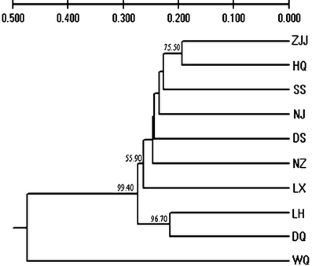 References
Cheang CC, Chu KH, Fujita D, Yoshida G, Hiraoka M, Critchley A, Choi HG, Duan D, Serisawa Y, Ang PO Jr (2010) Low genetic variability of Sargassum muticum (Phaeophyceae) revealed by a global analysis of native and introduced populations. J Phycol 46:1063–1074

Choi EY, Hwang HJ, Kim IH, Nam TJ (2009) Protective effects of a polysaccharide from Hizikia fusiformis against ethanol toxicity in rats. Food Chem Toxicol 47:134–139

Choi EY, Hwang HJ, Nam TJ (2010) Protective effect of a polysaccharide from Hizikia fusiformis against ethanol-induced cytotoxicity in IEC-6 cells. Toxicol In Vitro 24:79–84

Engelen A, Santos R (2009) Which demographic traits determine population growth in the invasive brown seaweed Sargassum muticum? J Ecol 97:675–684

Excoffier L, Laval G, Schneider S (2005) Arlequin (version 3.0): an integrated software package for population genetics data analysis. Evol Bioinform Online 1:47–50

Ferriol M, Picó B, Nuez F (2003) Genetic diversity of a germplasm collection of Cucurbita pepo using SRAP and AFLP markers. Theor Appl Genet 107:271–282

Fu LZ, Zhang HY, Wu XQ, Li HB, Wei HL, Wu QQ, Wang LA (2010) Evaluation of genetic diversity in Lentinula edodes strains using RAPD, ISSR and SRAP markers. World J Microb Biot 26:709–716

Grant V (1991) The evolutionary process: a critical study of evolutionary theory. Columbia University Press, New York

Hales JM, Fletcher RL (1989) Studies on the recently introduced brown alga Sargassum muticum (Yendo) Fensholt. IV. The effect of temperature, irradiance and salinity on germling growth. Bot Mar 32:167–176

Hamrick JL, Godt MJW (1996) Effects of life history traits on genetic diversity in plant species. Phil Trans R Soc B 351:1291–1298

Haraguchi H, Sekida S (2008) Recent changes in the distribution of Sargassum species in Kochi, Japan. Kuroshio Sci 2:41–46

Hartl DL, Clark AG (2007) Principles of population genetics. Sinauer Associates Publishers, Sunderland, USA

Hirata T, Tanaka J, Iwami T, Ohmi T, Dazai A, Aoki M, Ueda H, Tsuchiya Y, Sato T, Yokohama Y (2001) Ecological studies on the community of drifting seaweeds in the south-eastern coastal waters of Izu Peninsula, central Japan: I. Seasonal changes of plants in species composition, appearance, number of species and size. Phycol Res 49:215–229

Hirata T, Tanaka J, Iwami T, Ohmi T, Dazai A, Aoki M, Ueda H, Tsuchiya Y, Sato T, Yokohama Y (2003) Ecological studies on the community of drifting seaweeds in the south-eastern coastal waters of Izu Peninsula, central Japan: II. Seasonal changes in plants showing maximum stipe length in drifting seaweed communities. Phycol Res 51:186–191

Jin HJ, Seo GM, Cho YC, Hwang EK, Sohn CH, Hong YK (1997) Gelling agents for tissue culture of the seaweed Hizikia fusiformis. J Appl Phycol 9:489–493

Karawita R, Siriwardhana N, Lee KW, Heo MS, Yeo IK, Lee YD, Jeon YJ (2005) Reactive oxygen species scavenging, metal chelation, reducing power and lipid peroxidation inhibition properties of different solvent fractions from Hizikia fusiformis. Eur Food Res Technol 220:363–371

Kendrick GA, Walker DI (1991) Dispersal distances for propagules of Sargassum spinuligerum (Sargassaceae, Phaeophyta) measured directly by vital staining and venture suction sampling. Mar Ecol Prog Ser 79:133–138

Kendrick GA, Walker DI (1995) Dispersal of propagules of Sargassum spp. (Sargassaceae, Phaeophyta): observation of local patterns of dispersal and consequences for recruitment and population structure. J Exp Mar Biol Ecol 192:273–288

Kikunaga S, Miyata Y, Ishibashi G, Koyama F, Tano K (1999) The bioavailability of magnesium from Wakame (Undaria pinnatifida) and Hijiki (Hijikia fusiforme) and the effect of alginic acid on magnesium utilization of rats. Plant Food Hum Nutr 53:265–274

Li G, Quiros CF (2001) Sequence-related amplified polymorphism (SRAP), a new marker system based on a simple PCR reaction: its application to mapping and gene tagging in Brassica. Theor Appl Genet 103:455–461

Mantel N (1967) The detection of disease clustering and a generalized regression approach. Cancer Res 27:209–220

Mao W, Li B, Gu Q, Fang Y, Xing H (2004) Preliminary studies on the chemical characterization and antihyperlipidemic activity of polysaccharide from the brown alga Sargassum fusiforme. Hydrobiologia 512:263–266

McCook LJ (1996) Effects of herbivores and water quality on Sargassum distribution on the central Great Barrier Reef: cross-shelf transplants. Mar Ecol Prog Ser 139:179–192

Miller MP (1997) Tools for population genetic analyses (TFPGA) version 1.3: a windows program for the analysis of allozyme and molecular population genetic data. Computer software distributed by author

Nei M (1978) Estimation of average heterozygosity and genetic distance from a small number of individuals. Genetics 89:583–590

Pang SJ, Chen LT, Zhuang DG, Fei XG, Sun JZ (2005) Cultivation of the brown alga Hizikia fusiformis (Harvey) Okamura: enhanced seedling production in tumbled culture. Aquaculture 245:321–329

Pang SJ, Gao SQ, Sun JZ (2006) Cultivation of the brown alga Hizikia fusiformis (Harvey) Okamura: controlled fertilization and early development of seedlings in raceway tanks in ambient light and temperature. J Appl Phycol 18:723–731

Pang SJ, Zhang ZH, Zhao HJ, Sun JZ (2007) Cultivation of the brown alga Hizikia fusiformis (Harvey) Okamura: stress resistance of artificially raised young seedlings revealed by chlorophyll fluorescence measurement. J Appl Phycol 19:557–565

Pang SJ, Shan TF, Zhang ZH, Sun JZ (2008) Cultivation of the intertidal brow alga Hizikia fusiformis (Harvey) Okamura: mass production of zygote-derived seedlings under commercial cultivation conditions, a case study experience. Aquaculture Res 39:1408–1415

Park JW, Cho YC, Nam BH, Jin HY, Sohn CH, Hong YK (1998) RAPD identification of genetic variation in seaweed Hizikia fusiformis (Fucales, Phaeophyta). J Mar Biotechnol 6:62–64

Qiao LX, Liu HY, Guo BT, Weng ML, Dai JX, Duan DL, Wang B (2007) Molecular identification of 16 Porphyra lines using sequence-related amplified polymorphism markers. Aquat Bot 87:203–208

Schiel DR, Foster MS (2006) The population biology of large brown seaweeds: ecological consequences of multiphase life histories in dynamic coastal environments. Annu Rev Ecol Evol Syst 37:343–372

Shan T, Li S, Sun J, Pang S (2009) Morphological comparison of different cultivated strains and AFLP analyses of a typical cultivated population of Hizikia fusiformis at Dongtou, Zhejiang. J Fish Sci Chin 16:61–68, in Chinese, with English abstract

Slatkin M, Barton NH (1989) A comparison of three indirect methods for estimating average levels of gene flow. Evolution 43:1349–1368

Stiger V, Payri CE (1999) Spatial and temporal patterns of settlement of the brown macroalgae Turbinaria ornata and Sargassum mangarevense in a coral reef on Tahiti. Mar Ecol Prog Ser 191:91–100

Stiger V, Horiguchi T, Yoshida T, Coleman AW, Masuda M (2003) Phylogenetic relationships within the genus Sargassum (Fucales, Phaeophyceae), inferred from ITS-2 nrDNA, with an emphasis on the taxonomic subdivision of the genus. Phycol Res 51:1–10

Tang LH, Xiao Y, Li L, Guo Q, Bian YB (2010) Analysis of genetic diversity among Chinese Auricularia auricula cultivars using combined ISSR and SRAP markers. Curr Microbiol 61:132–140

Tseng CK, Chang CF (1959) On the discontinuous distribution of some brown algae on the China coast. Oceanol Limnol Sin 2:86–92

Tseng CK, Lu BR (2000) Flora algarum marinarum sinicarum. Science Press, Beijing, China. (in Chinese)

Uwai S, Kogame K, Yoshida G, Kawai H, Ajisaka T (2009) Geographical genetic structure and phylogeography of the Sargassum horneri/filicinum complex in Japan, based on the mitochondrial cox3 haplotype. Mar Biol 156:901–911

Wang XL, Liu CL, Li XJ, Cong YZ, Duan DL (2005) Assessment of genetic diversities of selected Laminaria (Laminariales, Phaeophyta) gametophytes by inter-simple sequence repeat analysis. J Integr Plant Biol 47:753–758

Wang XL, Wang D, Li DP, Duan DL (2006) Genetic analysis of the gametophytes of Undaria pinnatifida (Phaeophyceae) with ISSR method. Aquaculture 258:250–256

Wang XL, Zhao FJ, Hu ZM, Critchley AT, Morrell SL, Duan DL (2008) Inter-simple sequence repeat (ISSR) analysis of genetic variation of Chondrus crispus populations from North Atlantic. Aquat Bot 88:154–159

Williams SL, Smith JE (2007) A global review of the distribution, taxonomy, and impacts of introduced seaweeds. Annu Rev Ecol Evol Syst 38:327–359

Wondimu T, Ueno A, Kanamaru I, Yamaguchi Y, McCrindle R, Hanaoka KI (2007) Temperature-dependent extraction of trace elements in edible brown alga hijiki, Hizikia fusiforme. Food Chem 104:542–550

Wright S (1946) Isolation by distance under diverse systems of mating. Genetics 31:39–59

Wright S (1978) Evolution and the genetics of populations. University of Chicago Press, Chicago

Yeh FC, Yang RC (2000) POPGENE (Population Genetic Analysis) Version 1.32. Molecular Biology and Biotechnology Centre and Centre for International Forestry Research. University of Alberta, Alberta, Canada

Yoshida T (1983) Japanese species of Sargassum subgenus Bactrophycus (Phaeophyta, Fucales). J Fac Sci 13:99–246

Zhao FJ, Wang XL, Liu JD, Duan DL (2007) Population genetic structure of Sargassum thunbergii (Fucales, Phaeophyta) detected by RAPD and ISSR markers. J Appl Phycol 19:409–416

Zhao FJ, Liu FL, Liu JD, Ang PO Jr, Duan DL (2008) Genetic structure analysis of natural Sargassum muticum (Fucales, Phaeophyta) populations using RAPD and ISSR markers. J Appl Phycol 20:191–198

Zhu T, Heo HJ, Row KH (2010) Optimization of crude polysaccharides extraction from Hizikia fusiformis using response surface methodology. Carbohyd Polym 82:106–110

Zietkiewicz E, Rafalski A, Labuda D (1994) Genome fingerprinting by simple sequence repeat (SSR)-anchored polymerase chain reaction amplification. Genomics 20:176–183

Zou D, Gao K, Xia J (2003) Photosynthetic utilization of inorganic carbon in the economic brown alga, Hizikia fusiforme (Sargassaceae) from the south China sea. J Phycol 39:1095–1100
Acknowledgments
This study was supported by the National Science Foundation of China (20710009, 40976085), Knowledge Innovation Program of the Chinese Academy of Sciences on Biodiversity Project (No. KSCX2-YW-Z-1024), and CAS-Guangdong Provincial Joint Projects (2009B091300086, 2010A090100023).
About this article
Cite this article
Yu, S., Deng, Y., Yao, J. et al. Population genetics of wild Hizikia fusiformis (Sargassaceae, Phaeophyta) along China's coast. J Appl Phycol 24, 1287–1294 (2012). https://doi.org/10.1007/s10811-011-9778-9
Received:

Revised:

Accepted:

Published:

Issue Date:

DOI: https://doi.org/10.1007/s10811-011-9778-9
Keywords