Abstract
Pressurized liquid extraction (PLE), an environmentally friendly technique, was used to obtain antiviral compounds from the edible seaweed Himanthalia elongata. The antiviral properties of PLE extracts (hexane, ethanol, and water) were evaluated against herpes simplex virus type 1 (HSV-1) at different stages during viral infection. Pre-treatment of Vero cells with 75 μg mL−1 of ethanol extract inhibited virus infection by approximately 90%, whereas the same concentration of water and hexane extracts reduced the virus infectivity to 78% and 70%, respectively. Moreover, ethanol extract was also more effective against HSV-1 intracellular replication than water and hexane extracts. The antiviral activity of water PLE extract was found to correlate with polysaccharides, since the polysaccharide-rich fraction isolated from this extract showed higher antiviral activity than the original water extract. A GC–MS characterization of the hexane and ethanol extracts showed that the antiviral activity of the hexane extract seemed to be related with the presence of fucosterol; meanwhile, in the case of the ethanol extract, other compounds, besides fucosterol, could be involved in this activity. Results demonstrated that PLE was an appropriate technique to obtain antiviral agents from H. elongata. These antiviral compounds were in addition to polysaccharides, which are the antiviral agents usually proposed when studying seaweeds.
Access options
Buy single article
Instant access to the full article PDF.
US$ 39.95
Tax calculation will be finalised during checkout.
Subscribe to journal
Immediate online access to all issues from 2019. Subscription will auto renew annually.
US$ 79
Tax calculation will be finalised during checkout.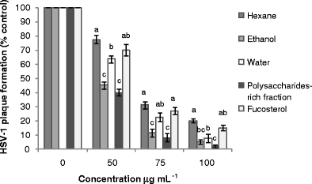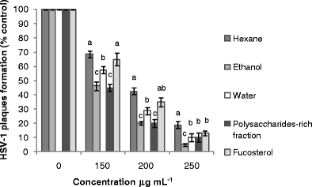 References
Adhikari U, Mateu CG, Chattopadhyay K, Pujol CA, Damonte EB, Ray B (2006) Structure and antiviral activity of sulfated fucans from Stoechospermum marginatum. Phytochemistry 67:2474–2482

Benkendorff K, Davis AR, Rogers CN, Bremner JB (2005) Free fatty acids and sterols in the benthic spawn of aquatic molluscs, and their associated antimicrobial properties. J Exp Mar Biol Ecol 316:29–44

Beveridge THJ, Li TSC, Dover JCG (2002) Phytosterol content in American Ginseng seed oil. J Agric Food Chem 50:744–750

Cardozo KHM, Guaratini T, Barros MP, Falcão VR, Tonon AP, Lopes NP, Campos S, Torres MA, Souza AO, Colepicolo P, Pinto E (2007) Metabolites from algae with economical impact. Comp Biochem Physiol C 146:60–78

Damonte EB, Matulewicz MC, Cerezo AS (2004) Sulfated seaweed polysaccharides as antiviral agents. Curr Med Chem 11:2399–2419

Fox JD, Robyt JF (1991) Miniaturization of three carbohydrate analysis using a microsample plate reader. Anal Biochem 1:93–96

Harden EA, Falshaw R, Carnachan SM, Kern ER, Prichard MN (2009) Virucidal activity of polysaccharide extracts from four algal species against Herpes simplex virus. Antivir Res 83:282–289

Hayashi K, Nakano T, Hashimoto M, Kanekiyo K, Hayaski T (2008) Defensive effects of a fucoidan from brown alga Undaria pinnatifida against Herpes simplex virus infection. Int Immunopharmacol 8:109–116

Ivanova V, Rouseva R, Kolarova M, Serkedjieva J, Rachev R, Manolova N (1994) Isolation of polysaccharide with antiviral effect from Ulva lactuca. Prep Biochem 24:83–97

Iwashima M, Mori J, Ting X, Matsunaga T, Hayashi K, Shinhoda D, Saito H, Sankawa U, Hayashi T (2005) Antioxidant and antiviral activity of plastoquinones from the brown alga Sargassum micracanthum and a new chromene derivative converted from the plastoquinones. Biol Pharm Bull 28:374–377

Jaime L, Rodríguez-Meizoso I, Cifuentes A, Santoyo S, Suarez S, Ibañez E, Señorans FJ (2010) Pressurized liquids as an alternative process to antioxidant carotenoids' extraction from Haematococcus pluvialis microalgae. LWT Food Sci Technol 43:105–112

Jeurink PV, Lull-Noguera C, Savelkoul HFJ, Wichers HJ (2008) Immunomodulatory capacity of fungal proteins on the cytokine production of human peripheral blood mononuclear cells. Int Immunopharmacol 8:1124–1133

Jiménez-Escrig A, Jiménez-Jiménez I, Pulido R, Saura-Calixto F (2002) Antioxidant activity of fresh and processed edible seaweeds. J Sci Food Agric 81:530–534

Le Tutour B, Benslimane F, Gouleau MP, Gouygou JP, Saadan B (1998) Antioxidant and pro-oxidant activities of the brown algae, Laminaria digitata, Himanthalia elongate, Fucus vesiculosus, Fucus serratus and Ascophyllum nodosum. J Appl Phycol 10:169–224

López-López I, Cofrades S, Ruiz-Capillas C, Jimémez-Colmenero F (2009) Design and nutritional properties of potential functional frankfurters base on lipid formulation, added seaweed and low salt content. Meat Sci 83:255–262

Mandal P, Mateu CG, Chattopadhyay K, Pujol CA, Damonte EB, Ray B (2007) Structural features and antiviral activity of sulphated fucans from the brown seaweed Cystoseira indica. Antivir Chem Chemother 18:153–162

Marino-Martinez JL (2001) Process for manufacture of a snack based on the seaweed Himanthalia elongata. Spanish Patent Application ES 2 156 759 A1

Mayer AMS, Hamann MT (2005) Marine pharmacology in 2001–2002: marine compounds with anthelmintic, antibacterial, anticoagulant, antidiabetic, antifungal, anti-inflammatory, antimalarial, antiplatelet, antiprotozoal, antituberculosis, and antiviral activities; affecting the cardiovascular, immune and nervous systems and other miscellaneous mechanisms of action. Comp Biochem Phycol C 140:265–286

Mosmann T (1983) Rapid colorimetric assay for cellular growth and survival: application to proliferation and cytotoxicity assays. J Immunol Meth 65:55–63

Orhan I, Deliorman-Orhan D, ÖzÇelik B (2009) Antiviral activity and cytotoxicity of the lipophilic extracts of various edible plants and their fatty acids. Food Chem 115:701–705

Plaza M, Santoyo S, Jaime L, García-Blairsy Reina G, Herrero M, Señorans FJ, Ibañez E (2010) Screening for bioactive compounds from algae. J Pharm Biomed Anal 51:450–455

Rodriguez-Meizoso I, Jaime L, Santoyo S, Cifuentes A, García-Blairsy Reina G, Señorans FJ, Ibañez E (2008) Pressurized fluid extraction of bioactive compounds from Phormidium sp. J Agric Food Chem 56:3517–3523

Rupérez P, Saura-Calixto F (2001) Dietary fibre and physicochemical properties of edible Spanish seaweeds. Eur Food Res Technol 212:349–354

Sánchez-Machado DI, López-Cervantes J, López-Hernández J, Paseiro-Losada P (2004a) Fatty acids, total lipids, protein and ash contents of processed edible seaweeds. Food Chem 85:439–444

Sánchez-Machado DI, López-Hernández J, Paseiro-Losada P, López-Cervantes J (2004b) An HPLC method for the quantification of sterols in edible seaweeds. Biomed Chromatogr 18:183–190

Santoyo S, Herrero M, Señorans FJ, Cifuentes A, Ibañez E, Jaime L (2006) Functional characterization of pressurized liquid extracts of Spirulina platensis. Eur Food Res Technol 224:75–81

Santoyo S, Rodriguez-Meizoso I, Cifuentes A, Jaime L, García-Blairsy Reina G, Señorans FJ, Ibañez E (2009) Green processes based on the extraction with pressurized fluids to obtain potent antimicrobials from Haematococcus pluvialis microalga. LWT Food Sci Technol 42:1213–1218

Santoyo S, Plaza M, Jaime L, Ibañez E, Reglero G, Señorans FJ (2010) Pressurized liquid extraction as an alternative process to obtain antiviral agents from the edible microalga Chlorella vulgaris. J Agric Food Chem 58:8522–8527

Schacky C, Harris WS (2007) Cardiovascular benefits of omega-3 fatty acids. Cardiovasc Res 73:310–315

Siamopoulou P, Bimplakis A, Iliopoulou D, Vagias C, Cos P, Vander-Berghe D, Roussis V (2004) Diterpenes from the brown algae Dictyota dichotoma and Dictyota linearis. Phytochemistry 65:2025–2030

Soares AR, Abrantes JL, Lopes Souza TM, Leite Fontes CF, Pereira RC, Palmer Paixao Frugulhetti IC, Teixeira VL (2007) In vitro antiviral effect of meroditerpenes isolated from the Brazilian seaweed Stypopodium zonale (Dictyotales). Planta Med 73:1221–1224

Xue CH, Fang Y, Lin H, Chen L, Li ZH, Deng D, Lu CX (2000) Chemical characters and antioxidants properties of sulfated polysaccharides from Laminaria japonica. J Appl Phycol 13:1–5

Yff BTS, Linsey KL, Taylor MB, Erasmus DG, Jäger AK (2002) The pharmacological screening of Pentanisia prunelloides and the isolation of the antibacterial compound palmitic acid. J Ethnopharmacol 79:101–107

Zheng CJ, Yoo J-S, Lee T-G, Cho H-Y, Kim Y-H, Kim W-G (2005) Fatty acid synthesis is a target for antibacterial activity of unsaturated fatty acids. FEBS Lett 579:5157–5162

Zhu W, Chiu LCM, Ooi VEC, Chan PKS, Ang PO (2006) Antiviral property and mechanisms of a sulphated polysaccharide from the brown alga Sargassum patens against Herpes simplex virus type 1. Phytomedicine 13:695–701
Acknowledgements
This work has been financed by Spanish Ministry of Education and Science (AGL2005-06726-C04), the program CONSOLIDER-INGENIO 2010 (CDS2007-00063), and the regional program ALIBIRD-CM S-0505/AGR-0153 from the Comunidad de Madrid, Spain. M.P. thanks CSIC for her I3P fellowship.
About this article
Cite this article
Santoyo, S., Plaza, M., Jaime, L. et al. Pressurized liquids as an alternative green process to extract antiviral agents from the edible seaweed Himanthalia elongata . J Appl Phycol 23, 909–917 (2011). https://doi.org/10.1007/s10811-010-9611-x
Received:

Revised:

Accepted:

Published:

Issue Date:
Keywords
Pressurized liquid extraction

Himanthalia elongata

Edible seaweed

Antiviral activity

Herpes simplex virus type 1