Abstract
Epiphytism in Gracilaria is a common phenomena observed in natural populations and under culture conditions. Generally, epiphytes are attached superficially to the surface of the host however, genera such as Polysiphonia spp. and Ceramium spp. can penetrate into the host tissue affecting its growth and hence productivity. The present paper aims to identify and quantify epiphyte abundance and characterise their attachment and penetration on the natural populations of Gracilaria cliftonii collected from Shoalwater Marine Park, Perth, Western Australia. G. cliftonii samples were collected monthly for 1 year and their epiphytes were identified. Histological studies of G. cliftonii were also performed on epiphyte attachment sites. Twenty-four species of macroalgae epiphytes were recorded, 21 belonging to Rhodophyta and 3 to Chlorophyta. Hypnea episcopalis and Polysiphonia forfex were the dominant (p < 0.05) species during the sampling period. The maximum epiphytic load was observed in October (40%), however, the maximum diversity of epiphytes was recorded in September and February (n = 14). Light and scanning electron microscopy studies of the epiphyte attachment sites revealed that P. forfex and Ceramium isogonum penetrated into the cortex and outer medulla of G. cliftonii, while Bryopsis plumosa and Laurencia clavata altered the cellular structure of the cell wall of G. cliftonii.
This is a preview of subscription content, log in to check access.
Access options
Buy single article
Instant access to the full article PDF.
US$ 39.95
Price includes VAT for USA
Subscribe to journal
Immediate online access to all issues from 2019. Subscription will auto renew annually.
US$ 99
This is the net price. Taxes to be calculated in checkout.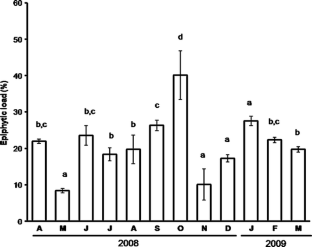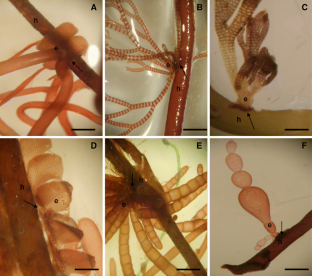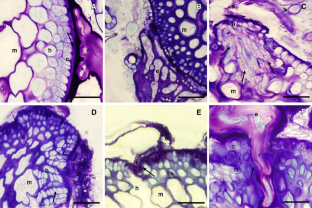 References
Anderson R, Monteiro PMS, Levitt G (1996) The effect of localised eutrophication on competition between Ulva lactuca (Ulvacae, Chlorophyta) and a commercial resource Gracilaria verrucosa (Gracilariales, Rhodophyta). Hydrobiologia 326(327):291–296

Anderson BC, Smit AJ, Bolton JJ (1998) Differential grazing effects by isopods on Gracilaria gracilis and epiphytic Ceramium diaphanum in suspended raft culture. Aquaculture 169:99–109

Arrontes J (1990) Composition, distribution on host, and seasonality of epiphytes in three intertidal algae. Bot Mar 33:205–211

Buschmann A, Gómez P (1993) Interaction mechanisms between Gracilaria chilensis (Rhodophyta) and epiphytes. Hydrobiologia 260–261:345–351

Buschmann AH, Mora OA, Gomez P, Bottger M, Buitano S, Retamales C, Vergara PA, Gutierrez A (1994) Gracilaria chilensis outdoor tank cultivation in Chile: use of land-based salmon culture effluents. Aquac Eng 13:283–300

Buschmann AH, Retamales C, Figueroa C (1997) Ceramialean epiphytism in intertidal Gracilaria chilensis (Rhodophyta) bed in southern Chile. J Appl Phycol 9:129–135

Byrne K, Zuccarello GC, West J, Liao ML, Kraft GT (2002) Gracilaria species (Gracilariaceae, Rhodophyta) from southeastern Australia, including a new species, Gracilaria perplexa sp. nov.: morphology, molecular relationships and agar content. Phycol Res 50:295–311

Choi H, Kim Y, Kim J, Lee S, Park E, Ryu J, Nam K (2006) Effects of temperature and salinity on the growth of Gracilaria verrucosa and G. chorda, with the potential for mariculture in Korea. J Appl Phycol 18:269–277

Collado-Vides L (2001) Clonal architecture in marine macroalgae: ecological and evolutionary perspectives. Evol Ecol 15:531–545

Dawes CJ, Teasdale BW, Friedlander M (2000) Cell wall structure of the agarophytes Gracilaria tikvahiae and G. cornea (Rhodophyta) and penetration by the epiphyte Ulva lactuca (Chlorophyta). J Appl Phycol 12:567–575

DEC (2007). Shoalwater Islands Marine Park Management Plan 2007–2017. Department of Environment and Conservation, Western Australia. p 114.

DT (2008) Maritime section. Tides prediction. Department of Transport, Western Australia, Western Australia

Ducker SC, Foord NJ, Knox RB (1977) Biology of Australian seagrasses: the genus Amphibolis C. Agardh (Cymodoceaceae). Aust J Bot 25:67–95

Dunlap M, Adaskaveg JE (1997) Introduction to the Scanning Electron Microscope. Theory, practice, & procedures. Facility for Advance Instrumentation. U. C. Davis, p 52

Dural B, Demir N, Sunlu U (2006) A pilot scale unit for suspended cultivation of Gracilaria gracilis in Izmir Bay, Aegean Sea Turkey. Pak J Biol Sci 9:1043–1046

Fedder N, O'Brien TP (1968) Plant microtechnique: some principles and new methods. Am J Rot 55:123–142

Fletcher RL (1995) Epiphytism and fouling in Gracilaria cultivation: an overview. J Appl Phycol 7:325–333

Friedlander M, Gonen Y, Kashman Y, Beer S (1996) Gracilaria conferta and its epiphytes: 3. Allelopathic inhibition of the red seaweed by Ulva cf. lactuca. J Appl Phycol 8:21–25 1996. 8, 21–25

Friedlander M, Kashman Y, Weinberger F, Dawes CJ (2001) Gracilaria and its epiphytes: 4. The response of two Gracilaria species to Ulva lactuca in a bacteria-limited environment. J Appl Phycol 13:501–507

Glenn EP, Moore D, Fitzsimmons K, Azevedo C (1996) Spore culture of the edible red seaweed, Gracilaria parvispora (Rhodophyta). Aquaculture 142:59–74

Goff LJ, Cole K (1975) The biology of Harveyella mirabilis (Cryptonemiales, Rhodophyceae). II. Caraposporophyte development as related to the taxonomic affiliation of the parasitic red alga, Harveyella mirabilis. Phycologia 14:227–238

Gonzalez MA, Barrales HL, Candia A, Cid L (1993) Spatial and temporal distribution of dominant epiphytes on Gracilaria from a natural subtidal bed in central-southern Chile. Aquaculture 116:135–148

Huisman JM (2000) Marine plants of Australia. University of Western Australia Press, Perth

Kong CSL, Ang PO (2004) Seasonal occurrence and reproduction of Hypnea charoides (Rhodophyta) in Tung Ping Chau, N.T., Hong Kong SAR, China. Hydrobiologia 512:63–78

Kumar V (2008) Effect of different ionic profiles of inland saline water on growth and agar characteristics of Gracilaria cliftonii (Withell, Miller & Kraft, 1994). Muresk Institute. Curtin University of Western Australia, Perth, p 226

Kumar V, Fotedar R (2009) Agar extraction process for Gracilaria cliftonii (Withell, Miller & Kraft, 1994). Carbohydrate Polymers in press. doi:10.1016/j.carbpol.2009.07.001

Kuschel FA, Buschmann AH (1991) Abundance, effects and management of epiphytism in intertidal cultures of Gracilaria (Rhodophyta) in southern Chile. Aquaculture 92:7–19

Leonardi P, Miravalles A, Faugeron S, Flores V, Beltran J, Correa J (2006) Diversity, phenomenology and epidemiology of epiphytism in farmed Gracilaria chilensis (Rhodophyta) in northern Chile. Eur J Phycol 41:247–257

May V (1948) The algal genus Gracilaria in Australia. Aust Counc Sci Int Res Bull Commonw 235:1–64

Roberts CM, McClean CJ, Veron JEN, Hawkins JP, Allen GR, McAllister DE, Mittermeier CG, Shueler FW, Spalding M, Wells F, Vynie C, Werner TB (2002) Marine biodiversity hotspots and conservation priorities for tropical reefs. Science 295:1280–1284

Russell DJ (1992) The ecological invasion of Hawaiian reefs by two marine red algae, Acanthophora spicifera (Vahl) Bøerg. and Hypnea musciformis (Wulfen) J.Ag., and their association with two native species, Laurencia nidifica J.Ag. and Hypnea cervicornis. Aquat Bot 47:53–60

Santelices B, Aedo D, Varela D (1995) Causes and implications of intra-clonal variation in Gracilaria chilensis (Rhodophyta). J Appl Phycol 7:293–290

Svirski E, Beer S, Friedlander M (1993) Gracilaria conferta and its epiphytes: (2) interrelationship between the red seaweed and Ulva lactuca. Hydrobiologia 260–261:391–396

Ugarte R, Santelices B (1992) Experimental tank cultivation of Gracilaria chilensis in central Chile. Aquaculture 101:7–16

Westermeier R, Rivera PJ, Gomez I (1991) Cultivo de Gracilaria chilensis Bird. McLachlan y Oliveira, en la zona intermareal y submareal del estuario Cariquilda, Maullin. Chile. Rev. Chil. Hist Nat 64:307–321

Westermeier R, Gómez I, Rivera P (1993) Suspended farming of Gracilaria chilensis (Rhodophyta, Gigartinales) at Cariquilda River, Maullin, Chile. Aquaculture 113:215–229

Withell AF, Millar AK, Kraft GT (1994) Taxonomic studies of the genus Gracilaria (Gracilariales, Rhodophyta) from Australia. Aust Syst Bot 7:281–352

Womersley HBS (1978) Southern Australian Species of Ceramium Roth (Rhodophyta). Mar Freshw Res 29:205–257

Womersley HBS (1996) The marine benthic flora of southern Australia. Part IIIB. Gracilariales, Rhodymeniales. Corallinales and Bonnemaisoniales. Australian Biological Resources Study, Canberra, p 329
Acknowledgements
The authors wish to thank Mr. Simon Longbottom and Mrs. Lydia Kupsky from School of Environmental and Aquatic Sciences and Mrs. Elaine Miller from Physics Department at Curtin University of Technology for technical assistance in obtaining and processing the samples. Special thanks to Dr. Jane Fewtrell for the proof reading of the manuscript. Thanks to Department of Environment and Conservation for collection permit provided; to Mr. Vivek Kumar for his valuable comments to improve this manuscript. This research was funded by CONACyT Mexico (No. 180409).
About this article
Cite this article
Muñoz, J., Fotedar, R. Epiphytism of Gracilaria cliftonii (Withell, Millar & Kraft) from Western Australia. J Appl Phycol 22, 371–379 (2010). https://doi.org/10.1007/s10811-009-9469-y
Received:

Revised:

Accepted:

Published:

Issue Date:
Keywords
Epiphytes

Penetration

Gracilaria

Epiphytic load