Abstract
Cyanobacterial blooms and the accompanying production of cyanotoxins are a serious global problem. Toxic blooms of Anabaena species are common in lagoons and reservoirs of southern Brazil. Worldwide, species of the genus Anabaena produce the majority of the known hepatotoxins (microcystins) and neurotoxins [anatoxin-a, anatoxin-a(s), and saxitoxins]. This report links a bloom of Anabaena crassa in the Faxinal Reservoir, the main water supply for the city of Caxias do Sul (400,000 inhabitants) in southern Brazil, to the occurrence of anatoxin-a(s) in the water. During the bloom period, the reservoir was strongly stratified, with higher temperatures and a deep anoxic hypolimnion. Two methods for sample concentration (direct and complete extraction) were tested, and direct extraction of samples proved to be more efficient. Water samples collected during the bloom showed 9% acetylcholinesterase inhibition at 50 mg mL−1, corresponding to 0.61 μg of anatoxin-a(s) per gram of lyophilized powder. At these concentrations, symptoms of neurotoxicity and mortality were not observed in tests with Swiss albino mice. Although the concentrations of anatoxin-a(s) in the Faxinal Reservoir were low, these results are important because this is the first record of the toxin for A. crassa. Furthermore, this cyanotoxin is not yet included in Brazilian legislation for drinking-water monitoring, because of the lack of information about toxicity levels and risk calculation for oral doses. The data presented here contribute to the basis for the future inclusion of this toxin in Brazilian legislation for drinking-water quality control, and for the development of analytical methods for this toxin.
Access options
Buy single article
Instant access to the full article PDF.
US$ 39.95
Tax calculation will be finalised during checkout.
Subscribe to journal
Immediate online access to all issues from 2019. Subscription will auto renew annually.
US$ 79
Tax calculation will be finalised during checkout.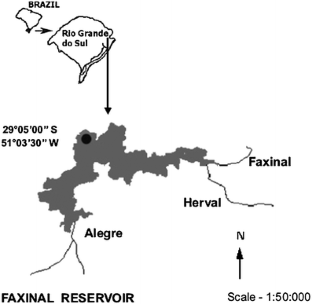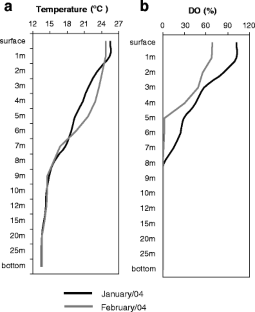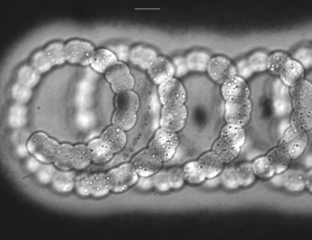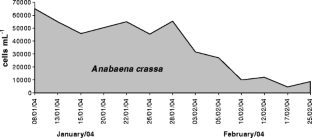 References
Azevedo SMFO, Evans WR, Carmichael WW, Namikoshi M (1994) First report of microcystins from a Brazilian isolate of the cyanobacterium Microcystis aeruginosa. J Appl Phycol 6:261–265. doi:10.1007/BF02181936

Barros LPC, Monserrat JM, Yunes JS (2004) Determination of optimized protocols for the extraction of anticholinesterasic compounds in environmental samples containing cyanobacteria species. Environ Toxicol Chem 23:883–889. doi:10.1897/03-46

Becker V, Huszar VLM, Naselli-Flores L, Padisák J (2008) Phytoplankton equilibrium phases during thermal stratification in a deep subtropical reservoir. Freshw Biol 53:952–963. doi:10.1111/j.1365-2427.2008.01957.x

Beyruth Z (2000) Periodic disturbances, trophic gradient and phytoplankton characteristics related to cyanobacterial growth in Guarapiranga Reservoir, São Paulo, Brazil. Hydrobiologia 424:51–65. doi:10.1023/A:1003944726346

Bouvy M, Nascimento SM, Molica RJR, Ferreira A, Huszar V, Azevedo SMFO (2003) Limnological features in Tapacurá reservoir (Northeast Brazil) during a severe drought. Hydrobiologia 493:115–130. doi:10.1023/A:1025405817350

Brazil (2000) Portaria No 1469 de 29 de dezembro de 2000: Normas de qualidade da água para consumo humano. Ministério da Saúde

Brazil (2004) Portaria No 518 de 25 de março de 2004: Portaria no. 518: Estabelece os procedimentos e responsabilidades relativas ao controle e vigilância da qualidade da água para consumo humano e seus padrões de potabilidade, e dá outras providências. Ministério da Saúde

Calijuri MC, Dos Santos ACA, Jati S (2002) Temporal changes in the phytoplankton community structure in a tropical and eutrophic reservoir (Barra Bonita, S.P. - Brazil). J Plankton Res 24:617–634. doi:10.1093/plankt/24.7.617

Carmichael WW (1992) Cyanobacteria secondary metabolites—the cyanotoxins. J Appl Bacteriol 72:445–459

Carmichael WW, Falconer IR (1993) Diseases related to freshwater blue-green algal toxins, and control measures. In: Falconer IR (ed) Algal toxins in seafood and drinking water. Cambridge Academic Press, Cambridge, pp 187–209

Carmichael WW, Azevedo SMFO, An JS, Molica RJR, Jochimsen EM, Lau S et al (2001) Human fatalities from cyanobacteria: chemical and biological evidence for cyanotoxins. Environ Health Perspect 109:663–668. doi:10.2307/3454781

Codd GA, Ward CJ, Bell SG (1997) Cyanobacterial toxins: ocurrence, modes of action, health effects and exposure routes. In: Seiler JP, Vilanova E (eds) Archives of toxicology. Springer, Berlin, pp 399–410

Colvara WA (2005) Desenvolvimento e implantação de método para análise de anatoxina-a em amostrais ambientais. Master Dissertation, Programa de Pós-Graduação em Oceanografia Física, Química e Geológica, Fundação Universidade de Rio Grande, 92 p

Cook WO, Beasley VR, Lovell RA, Dahlem AM, Hooser SB, Mahmood NA et al (1989) Consistent inhibition of peripheral cholinesterases by neurotoxins from the freshwater cyanobacterium Anabaena flos-aquae: studies of ducks, swine, mice and a steer. Environ Toxicol Chem 8:915–922. doi:10.1897/1552-8618(1989)8[915:CIOPCB]2.0.CO;2

Ellman GL, Courtney KO, Andres V, Featherstone RM (1961) A new and rapid colorimetric determination of acetylcholinesterase activity. Biochem Pharmacol 7:88–96. doi:10.1016/0006-2952(61)90145-9

Ferrão-Filho AS, Soares MC, Magalhães VF, Azevedo SMFO (2009) Biomonitoring of cyanotoxins in two tropical reservoirs by cladoceran toxicity bioassays. Ecotoxicol Environ Saf 72:479–489. doi:10.1016/j.ecoenv.2008.02.002

Frizzo EE, Becker V, Spiandorello FB, Girardi R, Yunes JS (2004) Implantação do monitoramento fitoplanctônico, com ênfase em cianobactérias e cianotoxinas, nos mananciais de abastecimento do município de Caxias do Sul, RS. In Anais VIII Exposição de experiências municipais em saneamento/34a Assembléia Nacional da ASSEMAE. ASSEMAE, Caxias do Sul, pp 421–424

Henriksen P, Carmichael WW, An J, Mostrup Ø (1997) Detection of an anatoxin-a(s)-like anticholinesterase in natural blooms and cultures of cyanobacteria/blue-green algae from Danish lakes and in the stomach contents of poisoned birds. Toxicon 35:901–913. doi:10.1016/S0041-0101(96)00190-0

Huszar VLM, Silva LHS, Marinho MM, Domingos P, Sant'anna CL (2000) Cyanoprokariota assemblages in eight productive tropical Brazilian waters. Hydrobiologia 424:67–77. doi:10.1023/A:1003996710416

Kamárková-Legnerová J, Cronberg G (1992) New and recombined filamentous Cyanophytes from lakes in South Scania, Sweden. Arch Hydrobiol. Algol Stud 67:21–31

Komárek J, Anagnostidis K (1989) Modern approach to the classification system of cyanophytes, 4: Nostocales. Arch Hydrobiol. Algol Stud 56:247–345

Köppen W (1936) Das geographische System der Klimate—Handbuch der Klimatologie, 1º vol., part C. Berlin: Gebr. Bornträger

Lagos N, Onodera H, Zagatto PA, Andrinolo D, Azevedo SMFO, Oshima Y (1999) The first evidence of paralytic shellfish toxins in the freshwater cyanobacterium Cylindrospermopsis raciborskii, isolated from Brazil. Toxicon 37:1359–1373. doi:10.1016/S0041-0101(99)00080-X

Lund JWG, Kipling C, Lecren ED (1958) The inverted microscope method of estimating algal number and the statistical basis of estimating by counting. Hydrobiologia 11:143–170. doi:10.1007/BF00007865

Mahmood NA, Carmichael WW (1986) The pharmacology of anatoxin-a(s), a neurotoxin produced by the freshwater cyanobacterium Anabaena flos-aquae NRC 525-17. Toxicon 24:425–434. doi:10.1016/0041-0101(86)90074-7

Mahmood NA, Carmichael WW, Pfahler D (1988) Anticholinesterase poisonings in dogs from a cyanobacterial (blue-green algae) bloom dominated by Anabaena flos-aquae. Am J Vet Res 49:500–503

Matsunaga S, Moore RE, Niemczura WP, Carmichael WW (1989) Anatoxin-a(s), a potent anticholinesterase from Anabaena flos-aquae. J Am Chem Soc 111:8021–8023. doi:10.1021/ja00202a057

Matthiensen A, Beattie KA, Yunes JS, Kaya K, Codd GA (2000) [D-Leu1] Microcystin-LR, from the cyanobacterium Microcystis RST 9501 and from a Microcystis bloom in the Patos Lagoon estuary Brazil. Phytochemistry 55:383–387. doi:10.1016/S0031-9422(00)00335-6

Minillo A, Ferreira AHF, Yunes JS (2000) Detecção de microcistina em florações de Microcystis aeruginosa no estuário da Lagoa dos Patos, RS, entre 1997 e 1998. Atlantica 22:81–93

Molica RJR, Oliveira EJA, Carvalho PVVC, Costa ANSF, Cunha MCC, Melo GL et al (2005) Occurrence of saxitoxins and an anatoxin-a(s)-like anticholinesterase in a Brazilian drinking water supply. Harmful Algae 4:743–753. doi:10.1016/j.hal.2004.11.001

Monserrat JM, Yunes JS, Bianchini A (2001) Effects of Anabaena spiroides (Cyanobacteria) aqueos extracts on the Aceltycholinesterase activity of aquatic species. Environ Toxicol Chem 20:1228–1235. doi:10.1897/1551-5028(2001)020<1228:EOASCA>2.0.CO;2

Onodera H, Oshima Y, Henriksen P, Yasumoto T (1997) Confirmation of anatoxin-a(s), in the cyanobacterium Anabaena lemmermannii, as the cause of bird kills in Danish lakes. Toxicon 35:1645–1648. doi:10.1016/S0041-0101(97)00038-X

Rapala J (1998) Toxin production by freshwater cyanobacteria: effects of environmental factors. PhD Thesis. University of Helsinki, Helsinki

Sant'Anna CL, Azevedo MTP (2000) Contribution to the knowledge of potentially toxic cyanobacteria from Brazil. Nova Hedwigia 71:359–385

Sotero-Santos RB, Carvalho EG, Dellamano-Oliveira MJ, Rocha O (2008) Occurence and toxicity of an Anabaena bloom in a tropical reservoir (Southeast Brazil). Harmful Algae 7:590–598. doi:10.1016/j.hal.2007.12.017

Uhelinger V (1964) Étude statistique des méthodes de dénobrement planctonique. Arch Sci 17:121–123

USEPA Ambient Water Quality Criteria Recommendations (2001) Information supporting the development of state and tribal nutrient criteria. Lakes and Reservoirs in Nutrient Ecoregion XIV, Office of Water 4304. US Environmental Protection Agency, Washington

Utermöhl H (1958) Zur vervollkommung der quantitativen phytoplankton—methodik. Mitteilungen der internationale Vereinigung fürTheoretische und Angewandte Limnologie 9:1–38

Vieira JMS, Azevedo MTP, Azevedo SMFO, Honda RY, Corrêa B (2005) Toxic cyanobacteria and microcystin concentrations in a public water supply reservoir in the Brazilian Amazonia region. Toxicon 45:901–909. doi:10.1016/j.toxicon.2005.02.008

Whitton BA (1992) Diversity, ecology, and taxonomy of the Cyanobacteria. In: Mann NH, Carr NG (eds) Photosynthetic prokaryotes, chapter 1. Plenum, New York, pp 1–51

Yunes JS, Cunha NT, Proença LAO, Barros LP, Monserrat JM (2003) Cyanobacterial neurotoxins from Southern Brazilian freshwaters. Comments Toxicol 9:103–115. doi:10.1080/08865140302426

Yunes JS, Matthiensen A, Carneiro C, Oroski F, Becker V, Carvalho MC (2005) Florações de Cianobactérias Tóxicas: Mãos à obra ao problema. In: Marinho M, Roland F, Cesar D (eds) Lições de Limnologia. RiMa, São Carlos, pp 299–323
Acknowledgments
We are thankful to CT-Hidro/CNPq (Conselho Nacional de Desenvolvimento Científico e Tecnológico), CAPES (Coordenadoria de Aperfeiçoamento de Pessoal Superior), and SAMAE (Serviço Autônomo Municipal de Água e Esgoto de Caxias do Sul) for financial support. We also are grateful to the chemical engineer Fernanda B. Spiandorello, Graziela P. Monçani, and Renivo Girardi, technicians from SAMAE, for technical support; Dr. Vera R. Werner from Fundação Zoobotânica do Rio Grande do Sul for helpful discussion about species identification, and finally Dr. Janet W. Reid (JWR Associates) for the revision of the English text.
About this article
Cite this article
Becker, V., Ihara, P., Yunes, J.S. et al. Occurrence of anatoxin-a(s) during a bloom of Anabaena crassa in a water-supply reservoir in southern Brazil. J Appl Phycol 22, 235–241 (2010). https://doi.org/10.1007/s10811-009-9451-8
Received:

Revised:

Accepted:

Published:

Issue Date:
Keywords
Acetylcholinesterase

Cyanobacteria

Cyanotoxin

Subtropical