Abstract
Oscar Horta has argued that speciesism is wrong by definition. In his view, there can be no more substantive debate about the justification of speciesism than there can be about the legality of murder, for it stems from the definition of "speciesism" that speciesism is unjustified just as it stems from the definition of "murder" that murder is illegal. The present paper is a case against this conception. I distinguish two issues: one is descriptive (Is speciesism wrong by definition?) and the other normative (Should speciesism be wrong by definition?). Relying on philosophers' use of the term, I first answer the descriptive question negatively: speciesism is a purely descriptive concept. Then, based on both its main functions in the philosophical and public debates and an analogy with racism, I answer the normative question negatively: speciesism should remain a purely descriptive concept. If I am correct, then speciesism neither is nor should be wrong by definition.
This is a preview of subscription content, log in to check access.
Access options
Buy single article
Instant access to the full article PDF.
US$ 39.95
Price includes VAT for USA
Subscribe to journal
Immediate online access to all issues from 2019. Subscription will auto renew annually.
US$ 99
This is the net price. Taxes to be calculated in checkout.
Notes
1.

Being aware of this, Horta does not rely on his claim that speciesism is a discrimination to show that it is wrong by definition. Rather, he concludes that speciesism is a form of discrimination only after arguing that it is wrong by definition (2010a: 247).

2.

One might object that animal-rights activists are actually more competent when it comes to using the term "speciesism" (Horta, personal communication). I believe this would be a mistake. In my experience, militants are often confused enough to mistake speciesism for the view that humans have moral rights or mental capacities that other animals lack. There surely are discrepancies in the way philosophers understand the notion of speciesism too—some distinguish direct and indirect variants of speciesism while others reject this distinction, for instance—, but these are negligible as compared to the misconceptions that are widespread in the animal-liberation movement.

3.

Philpapers is an international database of philosophy articles maintained by the Centre for Digital Philosophy at the University of Western Ontario.

4.

The results are presented in a chart in the appendix to this paper.

5.

In personal communication, Horta recognized that proud racists use the term "racism" descriptively. Yet, he denied that they are thereby using the term competently. In his view, they do so with the intention of reforming its meaning: while racism originally was and currently remains wrong by definition, they attempt to rehabilitate it by neutralizing the concept's evaluative component. However, absent independent support, this interpretation appears to be ad hoc. Not to mention the evidence that goes against it. Thus, it would seem that the word was coined around 1892 by racist French journalist Gaston Méry in order to describe his own stances, before being widely used in the thirties to designate views that were then considered scientifically respectable—among others, the view that races are unequal in intelligence. That these ideas were rejected in the meantime does not mean that the word's semantics has become derogative, although it explains that "racism" has the negative connotation mentioned above.
References
Arthur, J. (2007). Race, equality, and the burden of history. Cambridge: Cambridge University Press.

Cavanagh, M. (2002). Against equality of opportunity. Oxford: Oxford University Press.

Chappell, T. D. J. (1997). In defence of speciesism. In D. S. Odeberg & J. A. Laing (Eds.), Human lives: Critical essays on consequentialist bioethics (pp. 96–108). Basingstoke: Palgrave Macmillan.

Cohen, C. (1986). The case for the use of animals in biomedical research. The New England Journal of Medicine, 315, 865–870.

Fjellstrom, R. (2002). Specifying speciesism. Environmental Values, 11, 63–74.

Garcia, J. L. (1999). Philosophical analysis and the moral concept of racism. Philosophy & social criticism, 25(5), 1–32.

Gosseries, A. (2014). What makes age discrimination special: A philosophical look at the ECJ case law. Netherlands Journal of Legal Philosophy, 43, 59.

Gray, J. A. (1990). In defence of speciesism. Behavioral and Brain Sciences, 13, 22–23.

Hare, R. M. (1997). Sorting out ethics. Oxford: Oxford University Press.

Horta, O. (2010a). What is speciesism? Journal of Agricultural and Environmental Ethics, 23, 243–266.

Horta, O. (2010b). Discrimination in terms of moral exclusion. Theoria, 76, 314–332.

Kagan, S. (2016). What's wrong with speciesism? Journal of Applied Philosophy, 33, 1–21.

LaFollette, H., & Shanks, N. (1996). The origin of speciesism. Philosophy, 71, 41–61.

Landis, J. R., & Koch, G. G. (1977). The measurement of observer agreement for categorical data. Biometrics, 33, 159–174.

Lippert-Rasmussen, K. (2006). The badness of discrimination. Ethical Theory and Moral Practice, 9, 167–185.

Lippert-Rasmussen, K. (2007). Discrimination. In J. Ryberg, T. S. Petersen, & C. Wolf (Eds.), New waves in applied ethics (pp. 51–72). Basingstoke: Palgrave Macmillan.

McMahan, J. (2005). Our fellow creatures. The Journal of Ethics, 9, 353–380.

Philips, M. (1984). Racist acts and racist humor. Canadian Journal of Philosophy, 14, 75–96.

Regan, T. (1983). The case for animal rights. Berkeley: University of California Press.

Singer, P. (1975). Animal liberation. London: Thorsons.

Singer, P. (1978). Is racial discrimination arbitrary? Philosophia, 8, 185–203.

Singer, P. (2016). Why speciesism is wrong: A response to Kagan. Journal of Applied Philosophy, 33, 31–35.

Williams, B. (2008). The human prejudice. In A. W. Moore (Ed.), Philosophy as a humanistic discipline (pp. 135–152). Princeton: Princeton University Press.

Wreen, M. (1984). In defense of speciesism. Ethics and Animals, 5, 4.

Young, I. M. (1990). Justice and the politics of difference. Princeton: Princeton University Press.
Acknowledgements
This work was generously supported by the Swiss National Science Foundation and Montreal's Centre de recherche en éthique. I would also like to thank Frauke Albersmeier, Pablo Carnino, Florian Cova, Valéry Giroux, Oscar Horta, Angela Martin, Hichem Naar, Angie Pepper, and an anonymous reviewer for their helpful feedback on previous drafts of this paper.
Additional information
Publisher's Note
Springer Nature remains neutral with regard to jurisdictional claims in published maps and institutional affiliations.
Appendix
Appendix
Raters' categorization of philosophy papers on the basis of title and, when available, abstract. Papers were categorized as either assuming that "speciesism" was wrong by definition ("YES"), assuming that "speciesism" was not wrong by definition ("NO"), or impossible to classify on the basis of available information ("Undetermined"). Inter-rater agreement was estimated through Fleiss' Kappa = .78 (z = 12.9, p < .001), which is often interpreted as "substantial agreement" (Landis and Koch 1977).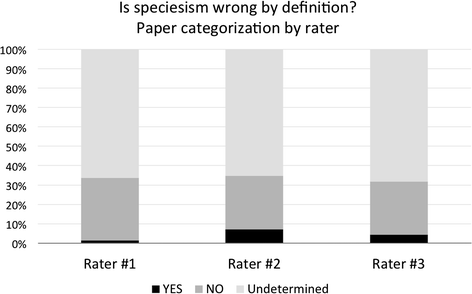 About this article
Cite this article
Jaquet, F. Is Speciesism Wrong by Definition?. J Agric Environ Ethics 32, 447–458 (2019). https://doi.org/10.1007/s10806-019-09784-1
Accepted:

Published:

Issue Date:
Keywords
Speciesism

Definition

Discrimination

Racism

Oscar Horta