Abstract
Traditionally, in Spain bullfighting represents an ancient and well-respected tradition and a combined brand of sport, art and national identity. However, bullfighting has received considerable criticism from various segments of society, with the concomitant rise of the animal rights movement. The paper reports a survey of the Spanish citizens using a face-to-face survey during January 2016 with a total sample of 2522 citizens (1256 men and 1266 women). The survey asked about degree of liking and approving; culture, art and national identity; socio-economic aspects; emotional perception and animal welfare. The hypothesis proposed that the perception of bullfights may be affected by gender, age, occupation, origin and nationality of the persons surveyed. The hypothesis was confirmed. The majority of citizens surveyed do not like bullfights and great majorities do not attend or watch such events. Two extreme clusters were described: one representing favorable attitude towards bullfighting and other against bullfighting. The proportion of indifferent persons was important. Women and young people showed a more favorable attitude towards animal welfare issues associated with these events. Rural people were more accepting bullfights than urban people. Students were more anti-bullfight than those in other occupations. Additionally, technical economic factors made people favor more bullfights. The growth of claim against bullfights establishes an element of a far more multifaceted phenomenon that animal cruelty per se and support of a new paradigm called social change in countries as Spain.
Access options
Buy single article
Instant access to the full article PDF.
US$ 39.95
Tax calculation will be finalised during checkout.
Subscribe to journal
Immediate online access to all issues from 2019. Subscription will auto renew annually.
US$ 79
Tax calculation will be finalised during checkout.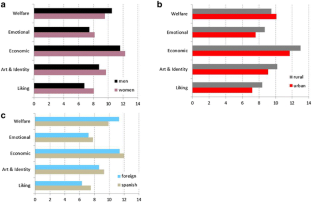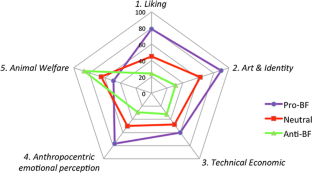 References
Andersen, K. H. (2017). A revolt of the masses: Culture and modernity in early 20th century Spain: From bullfights to football games. CALL: Irish Journal for Culture, Arts, Literature and Language, 2(1), 9.

Batt, S. (2009). Human attitudes towards animals in relation to species similarity to humans: a multivariate approach. Bioscience Horizons, 2(2), 180–190.

Beardsworth, A., Bryman, A., Keil, T., Goode, J., Haslam, C., & Lancashire, E. (2002). Women, men and food: the significance of gender for nutritional attitudes and choices. British Food Journal, 104, 470–491.

Beilin, K. O. (2012). Bullfighting and the war on terror: debates on culture and torture in spain, 2004–11. International Journal of Iberian Studies, 25(1), 61–72.

Brandes, S. (2009). Torophiles and torophobes: The politics of bulls and bullfights in contemporary Spain. Anthropological Quarterly, 82(3), 779–794.

Braunsberger, K., & Buckler, B. (2011). What motivates consumers to participate in boycotts: Lessons from the ongoing Canadian seafood boycott. Journal of Business Research, 64(1), 96–102.

Broom, D. M. (2001). Evolution of pain. In Pain: Its nature and management in man and animals 2001, 17–25, ed. Lord Soulsby and D. Morton. Royal society of medicine international congress symposium series, UK, 246, pp. 17–25.

Campbell, R. (1932). Taurine provence (p. 79). London: Desmond Harmsworth.

Casamitjana, J. (2015). 'Suffering' in bullfighting bulls; An ethologist's perspective. University of Barcelona. Zoologist Campaigns Coordinator of CAS International, Netherlands, Belgium and UK. www.stieren.net. http://www.animal-protection-consult.com/The_suffering_of_bulls_CAS_Jordi_Casamitjana.pdf. Accessed 5 Sept 2017.

Chapin, F. S., III, Walker, B. H., Hobbs, R. J., Hooper, D. U., Lawton, J. H., Sala, O. E., et al. (1997). Biotic control over the functioning of ecosystems. Science, 277, 500–503.

Colomb, G., & Thorel, M. (2005). M. Lyon et les taureaux: une singulière rencontre. Union des bibliophiles taurins de France; Montpellier, France.

De Brito, J., & Branco, F. (2009). Structural condition survey of ancient bullfighting arenas. Journal of Building Appraisal, 5(1), 7–28.

De Lora, P. (2011). Corridas de Toros, cultura y constitución. DOXA, Cuadernos de Filosofía del Derecho, 33, 739–765.

De Solis, P. (1992). The art of bullfighting considered as sacrificial ensemble. Social Science Information, 31, 531–550.

Doménech, G. (2010). La prohibición de las corridas de toros desde una perspectiva constitucional. El Cronista del Estado Social y Democrático de Derecho, 12, 16–27.

Douglas, C. B. (1991). The "fiesta" cycle of "Spain". Anthropological Quarterly, 64(3), 126–142.

Driesen, H. (1982). Civilizing tendencies in the Spanish bullfight. Sociologische-Gids, 29, 326–341.

Fernie, A. C., Tribe, A., Murray, P. J., Lisle, A., & Phillips, C. J. C. (2012). A survey of the attitudes of stakeholders in the zoo industry towards the husbandry requirements of captive great apes. Animal Welfare, 22(2), 233–245.

Gamborg, C., & Jensen, F. S. (2017). Attitudes towards recreational hunting: A quantitative survey of the general public in Denmark. Journal of Outdoor Recreation and Tourism, 17, 20–28.

Gracia, A. (2013). The determinants of the intention to purchase animal welfare-friendly meat products in Spain. Animal Welfare, 22(2), 255–265.

Gracia, A., & Zeballos, G. (2005). Attitudes of retailers and consumers toward the EU traceability and labeling system for beef. Journal of Food Distribution Research, 36(3), 45.

Graña, J. L., Cruzado, J. A., Andreu, J. M., Muñóz-Riva, M. J., Peña, M. E., & Brain, P. F. (2004). Effects of viewing videos of bullfights on Spanish children. Aggressive Behavior, 30, 16–28.

Grandin, T. (1997). Assessment of stress during handling and transport. Journal of Animal Science, 75, 249–257.

Grandin, T., & Regenstein, J. M. (1994). Religious slaughter and animal welfare: A discussion for meat scientists (pp. 115–123). Wallingford: Meat Focus International, CAB International.

Gregory, N. G. (2004). Physiology and behavior of animal suffering. Oxford: University Federation for Animal Welfare (UFAW). Balckwell Publishing.

Guither, H. D., & Curtis, S. E. (2002). Welfare of animals, political and management issues. In H. Roginsky, J. W. Fuquay, & P. W. Fox (Eds.), Encyclopedia of dairy sciences (pp. 2735–2739). New York: Academic Press.

Herzog, H. A. (2007). Gender differences in human–animal interactions: A review. Anthrozoös, 20(1), 8–21.

Ingenbleek, P. T., Immink, V. M., Spoolder, H. A., Bokma, M. H., & Keeling, L. J. (2012). EU animal welfare policy: Developing a comprehensive policy framework. Food Policy, 37(6), 690–699.

Johnson, C., & Leatherman, A. (2005). El Toro de Osborne: Advertising, community, and myth. The Social Science Journal, 42(1), 135–140.

Kellert, S. R. (1996). The value of life. Biological diversity and human society. Washington: Island Press. Eagly, A.E. Bell and R.J. Washington: Island Press. Sternberg. Guilford Press. New York.

Lauber, T. B., & Brown, T. L. (2000). Deer hunting and deer hunting trends in New York State, Department of Natural Resources: Cornell University. USA. HDRU Series, No. 00-1.

Lefroy, E. C., Salerian, J., & Hobbs, R. J. (1993). Integrating economic and ecological considerations: A theoretical framework. In R. J. Hobbs & D. A. Saunders (Eds.), Reintegrating fragmented landscapes—Towards sustainable production and nature conservation (pp. 209–244). New York: Springer.

Lippa, R. A. (2010). Gender differences in personality and interests: When, where, and why? Social and Personality Psychology Compass, 4, 1098–1110.

Lomillos, J. M., Alonso, M. E., & Gaudioso, V. (2013). Analysis of the evolution of management system in figthing bull farms. Sector issues and Challenges. ITEA, 109(1), 49–68.

Lomillos, J. M., Alonso, M. E., Sanchez-Garcia, C., & Gaudioso, V. (2012). Evolution of fighting bull production in Spain. Livestock Census. ITEA, 108(2), 207–221.

María, G. A. (2006). Public perception of farm animal welfare in Spain. Livestock Science, 103, 203–207.

Martín-Burriel, I., Rodellar, C., Lenstra, J. A., Sanz, A., Cons, C., Osta, R., et al. (2007). Genetic diversity and relationships of endangered spanish cattle breeds. Journal of Heredity, 98(7), 687–691.

Martín-Ezpeleta, A. (2012). La fiesta de los toros en los 'Diarios de viaje por España' de George Ticknor. In Literatura y espectáculo, pp. 361–372, ed. R.Alemany Ferrer and F. Chico Rico. Alicante: Sociedad Española de Literatura General y Comparada/Universidad de Alicante.

Mazas, B., Fernández Manzanal, M. R., Zarza, F. J., & María, G. A. (2013). Development and validation of a scale to assess students' attitude towards animal welfare. International Journal of Science Education, 35(11), 1775–1799.

Menéndez-Buxadera, A., Cortés, O., & Cañon, J. (2017). Genetic (co) variance and plasticity of behavioural traits in Lidia bovine breed. Italian Journal of Animal Science, 16, 208–2016.

Miranda-de la Lama, G. C., Estévez-Moreno, L. X., Sepúlveda, W. S., Estrada-Chavero, M. C., Rayas-Amor, A. A., Villarroel, M., et al. (2017). Mexican consumers' perceptions and attitudes towards farm animal welfare and willingness to pay for welfare friendly meat products. Meat Science, 125, 106–113.

Miranda-de la Lama, G. C., Sepúlveda, W. S., Villarroel, M., & María, G. A. (2013). Attitudes of meat retailers to animal welfare in Spain. Meat Science, 95, 560–575.

Ovejero, F., Lora de, P., & Martí J. L. (2010). De toros y argumentos. El País, 19 de Agosto. http://elpais.com/diario/2010/08/19/opinion/1282168812_850215.html.

Peek, C. W., Bell, N. J., & Dunham, C. C. (1996). Gender, gender ideology, and animal rights advocacy. Gender and Society, 10, 464–478.

Pelayo, R., Solé, M., Sánchez, M. J., Molina, A., & Valera, M. (2016). Behavioural linear standardized scoring system of the Lidia cattle breed by testing in herd: estimation of genetic parameters. Journal of Animal Breeding and Genetics, 133(5), 414–421.

Pitt-Rivers, J. (1993). The Spanish bullfight and kindred activities. Anthropology Today, 9, 11–15.

Regan, T. (2004). The case for animal rights. Berkeley, CA: University of California Press.

Rice, M. (1998). The power of the bull (p. 316). New York: Routledge.

Rolston, H. (1989). The value of species. In T. Regan & P. Singer (Eds.), Animal rights and human obligations (pp. 252–255). Englewood Cliffs, NJ: Prentice Hall.

Sandoe, P., Crisp, R., & Holtug, N. (1997). Ethics. In M. C. Appleby & B. O. Hughes (Eds.), Animal welfare (pp. 3–18). Wallingford: CAB International.

Santos, X. M., & Trillo-Santamaría, J. M. (2017). Tourism and nation in Galicia (Spain). Tourism Management Perspectives, 22, 98–108.

Saumade, F. (1994). Hispanité en Languedoc et Provence: une image de 'l'autre'. Etnologie Française, 24(4), 728–738.

Silva, B., Gonzalo, A., & Cañón, J. (2006). Genetic parameters of aggressiveness, ferocity and mobility in the fighting bull breed. Animal Research, 55, 65–70.

Singer, P. (1997). Animal liberation. New York: Avon Books.

Spooner, J. M., Schuppli, C. A., & Fraser, D. (2012). Attitudes of Canadian beef producers toward animal welfare. Animal Welfare, 22(2), 273–283.

Unger, R. K. (2001). Handbook of the psychology of gender. New York: Wiley.

Verbeke, W., & Viaene, J. (2000). Ethical challenges for livestock production: Meeting consumer concerns about meat safety and animal welfare. Journal of Agricultural and Environmental Ethics, 12, 141–151.

Vilmer, J. B. J. (2013). Diversité de l'éthique animale. Journal International Bioéthique, 24(1), 15–28.

Waiblinger, S., Boivin, X., Pedersen, V., Tosi, M. V., Janczak, A. M., Visser, E. K., et al. (2006). Assessing the human–animal relationship in farmed species; A critical review. Applied Animal Behaviour Science, 101, 185–242.

Webb, T. L., & Sheeran, P. (2006). Do changing behavioral intentions engender behavior change? A meta-analysis of the experimental evidence. Psychological Bulletin, 132, 249–268.

Younger, J. G. (1976). Bronze age representations of aegean bull-leaping. AJA, 80(2), 132–136.

Zulkifli, I. (2013). Review of human–animal interactions and their impact on animal productivity and welfare. Journal of Animal Science and Biotechnology, 4, 25.
Acknowledgements
We wish to acknowledge the people who answered the questionnaire. We acknowledge Proof-Reading-Service, Julie Cohen and Morris Villarroel-Robinson for the English revision of the manuscript, as well as the former vet practitioner of the Zaragoza bullfighting arena, Dr. DVM J. M. Blasco, for his valuable counseling on BF and for his broadmindedness.
About this article
Cite this article
María, G.A., Mazas, B., Zarza, F.J. et al. Animal Welfare, National Identity and Social Change: Attitudes and Opinions of Spanish Citizens Towards Bullfighting. J Agric Environ Ethics 30, 809–826 (2017). https://doi.org/10.1007/s10806-017-9700-9
Accepted:

Published:

Issue Date:
Keywords
Citizens attitudes

Bullfighting

Animal welfare

Social change

National identity

Spain