Abstract
This paper examines the flow of thoughts on ethics in finance both from academic experts and from published contributions that constitute an alternative view of the financial field from an ethical point of view. A Delphi method was used to achieve consensus about the perceptions and opinions academic experts hold about ethics in financial matters and in the research agenda. This approach permits the early detection of emerging lines, narrowing the research line and shortening subject selection time. An active research map of researchers, countries and lines of investigation was drawn up, and recommendations made of areas that could be highlighted or moderated.
This is a preview of subscription content, log in to check access.
Access options
Buy single article
Instant access to the full article PDF.
US$ 39.95
Price includes VAT for USA
Subscribe to journal
Immediate online access to all issues from 2019. Subscription will auto renew annually.
US$ 99
This is the net price. Taxes to be calculated in checkout.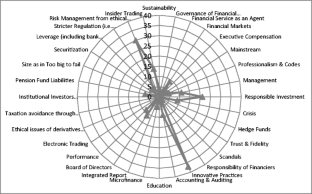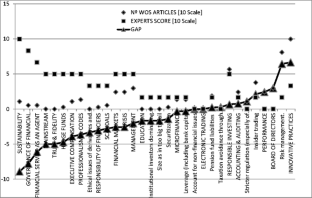 Notes
1.

Taking into account the measurement system used, that is to say, important articles in journals selected to establish the rankings of universities and academcis (Adler and Harzing 2009), in this paper we chose the Reuters selection of journals (Web of Science database, Wos) as the proxy for measuring the level of the academic experts, in the awareness, obviously, of its possile limiting effect on this study.

2.

Although some topics had already been dealt with years ago, the fact that academics regard them as emergent means that both old topics that are still of relevance and new areas are considered to be contemporary and recent twenty-first century topics. The issue of SRI (Socially Responsible Investment), for instance, has been on the agenda for a good while; since the financial crisis of 2007, however, its impact and the concern aroused among academics have grown exponentially.

3.

The SUSTAINABILITY topic, for example, represents long-term (sustainable) wealth creation and an investment research line, and the search keywords were Wealth Creation and Invest* or Ethic* (the asterisk includes any possible declension) in the article title, while GOVERNANCE OF FINANCIAL INSTITUTIONS represents ethical issues in the governance of financial institutions, which is analysed through the following keywords: Ethic*, Governanc* and Financ*. The same structure was adopted for all the topics.

4.

Although there is an interest in each of the concepts taken independently (ethics and finance), the object of this paper was joint consideration of the two concepts; accordingly, separate consideration of these concepts lies completely beyond the purposes of this contribution.

5.

This reflects the average values based on the opinions of the specialists in the field, measured using a 5-point Likert Scale.

6.

This characterizes the location of the data set. It is not symmetric around the centre point and it is negative, indicating that the data is skewed left. For EF, the location for the left is higher than for FE1.

7.

This characterizes the variability of the data set. Low values tend to have light tails, or a lack of outliers, which is the case of EF. However, FE1 and FE2 have higher levels of kurtosis, highlighting the higher differences between the opinions of specialists in the field around this second understanding of reach.

8.

There is a lot of literature on some topics, such as corporate governance; the academic experts probably evaluated these subjects as falling within the category of emerging topics concerning ethics in finance, although many of the papers do not deal specifically with the ethical perspective.
References
Adler, N. J., & Harzing, A. W. (2009). When knowledge wins: Transcending the sense and nonsense of academic rankings. Academy of Management Learning & Education, 8(1), 72–95.

Alvarez, I., Calvo, J. A., & Mora, A. (2014). Involving academics in the accounting standard setting process: An application of the Delphi methodology to the assessment of IASB proposals. Journal of Management and Governance, 18(3), 765–791.

Anbalagan, C. (2011). Impact of international business ethics, economic systems and intellectual property rights in business and management. International Journal of Marketing and Management Research, 2(1), 57–75.

Arce, M. D. G. (2004). Conspicuous by its absence: Ethics and managerial economics. Journal of Business Ethics, 54(3), 261–277.

Argandoña, A. (1999). Ethics in finance and public policy: The Ibercorp case. Journal of Business Ethics, 22(3), 219–231.

Bampton, R., & Cowton, C. J. (2002). The e-interview. Forum Qualitative Sozialforschung / Forum: Qualitative Social Research, 3(2), 9 Available at http://www.qualitative-research.net/fqs/.

Bampton, R., & Cowton, C. J. (2013). Taking stock of accounting ethics scholarship: A review of the journal literature. Journal of Business Ethics, 114(3), 549–563.

Boatright, J. R. (2010). Finance ethics: Critical issues in theory and practice. Hoboken: Wiley.

Boatright, J. R. (2013). Ethics in finance (3rd ed.). Malden: Blackwell.

Cowton, C. (2002). Integrity, responsibility and affinity: Three aspects of ethics in banking. Business Ethics: A European Review, 11(4), 393–400.

Cowton, C. (2008). On setting the agenda for business ethics research. In C. Cowton & M. Haase (Eds.), In trends in business and economic ethics (pp. 11–30). Berlin: Springer.

Cowton, C. J. & Downs, Y. (2015). 21 Heated debates and cool analysis. In O'Sullivan, Allington & Suliban (Eds.), The philosophy, politics and economics of finance in the 21st century: From hubris to disgrace (Economics as Social Theory) (pp. 439–452) Rutledge: London.

Cowton, C. J., & San-Jose, L. (2017). On the ethics of trade credit: Understanding good payment practice in the supply chain. Journal of Business Ethics, 140(4), 673–685.

Cyphert, F. R., & Gant, W. L. (1971). The Delphi technique: A case study. Phi Delta Kappan, 52, 272–273.

Dalkey, N. C., & Helmer, O. (1963). An experimental application of the Delphi method to the use of experts. Management Science, 9(3), 458–467.

De Bruin, B. (2014). Epistemically virtuous risk management: Financial due diligence and uncovering the Madoff fraud. In C. Luetge & J. Jauernig (Eds.), Business ethics and risk management (pp. 27–42). Heidelberg: Springer.

De Bruin, B. (2015). Ethics and the global financial crisis. Cambridge: Cambridge University Press.

Dembinski, P. H. (2009). Finance: Servant or deceiver? Financialization at the crossroad. New York: Observatoire de la Finance/Palgrave Macmillan.

Dobson, J. (1993). The role of ethics in finance. Financial Analysts Journal, 49(6), 57–61.

Dobson, J. (1997). Ethics in finance II. Financial Analysts Journal, 53(1), 15–25.

Drugge, A. L. (2016). How can we do it right? Ethical uncertainty in Swedish Sami research. Journal of Academic Ethics, 14(4), 263–279.

Dunn, W. N. (2004). Public policy analysis. An introduction (3rd ed.). Upper Saddle River, NJ: Pearson Prentice Hall.

Enderle, G. (1996). Focus: A comparison of business ethics in North America and continental Europe. Business Ethics: A European Review, 5(1), 33–46.

Enderle, G. (2004). The ethics of financial reporting, the global reporting initiative, and the balanced concept of the firm. In G. G. Brenkert (Ed.), Corporate integrity and accountability (pp. 87–99). London: Sage Publications.

Fernandez, J. (2004). Finanzas y ética: La dimensión moral de la actividad financiera y el gobierno corporativo. Madrid: Universidad Pontifica de Comillas.

Francis, R., & Armstrong, A. (2003). Ethics as a risk management strategy: The Australian experience. Journal of Business Ethics, 45(4), 375–385.

Graafland, J. J., & Van de Ven, B. W. (2011). The credit crisis and the moral responsibility of professionals in finance. Journal of Business Ethics, 103(4), 605–619.

Gracht, H. (2012). Consensus measurement in Delphi studies review and implications for future quality assurance. Technological Forecasting and Social Change, 79(8), 1525–1536.

Guillén, M., Melé, D., & Murphy, P. (2002). European vs. American approaches to institutionalisation of business ethics: The Spanish case. Business Ethics: A European Review, 11(2), 167–178.

Hendry, J. (2013). Ethics and finance. Cambridge: Cambridge University Press.

Hirsch, J. E. (2005). An index to quantify an individual's scientific research output. Proceedings of the National academy of Sciences of the United States of America, 102, 16569–16572.

Jondle, D., Maines, T. D., Burke, M. R., & Young, P. (2013). Modern risk management through the lens of the ethical organizational culture. Risk Management, 15(1), 32–49.

Lagoarde-Segot, T. (2015). Diversifying finance research: From financialization to sustainability. International Review of Financial Analysis, 39, 1–6.

Lamarque, E. (2005). Identifying key activities in banking firms: A competence-based analysis. Competence Perspectives on Managing Internal Processes Advances in Applied Business Strategy, 7, 29–47.

Landeta, J. (2006). Current validity of the Delphi method in social sciences. Technological Forecasting and Social Change, 73(5), 467–482.

Melé, D. (2008). Integrating ethics into management. Journal of Business Ethics, 78(3), 291–297.

Melé, D. (2012). The firm as a "community of persons": A pillar of humanistic business ethos. Journal of Business Ethics, 106(1), 89–101.

Mill, G. A. (2006). The financial performance of a socially responsible investment over time and a possible link with corporate social responsibility. Journal of Business Ethics, 63(2), 131–148.

Montagnon, P. (2014). Ethics, risk and governance. London: Institute of Business Ethics.

Okoli, C., & Pawlowski, S. D. (2004). The Delphi method as a research tool: An example, design considerations and applications. Information Management, 42(1), 15–29.

Prindl, A. R., & Prodhan, B. (1994). Ethical conflicts in finance. Oxford: Blackwell.

Raskin, M. S. (1994). The Delphi study in field instruction revisited: Expert consensus on issues and research priorities. Journal of Social Work Education, 30(1), 75–89.

Ray Pradip, K., & Sahu, S. (1990). Productivity Management in India: A Delphi study. International Journal of Operations & Production Management, 10(5), 25–51.

Rayens, M. K., & Hahn, E. J. (2000). Building consensus using the policy Delphi method. Policy, Politics and Nursing Practice, 1(4), 308–315.

Regmi, K. (2011). Ethical and legal issues in publication and dissemination of scholarly knowledge: A summary of the published evidence. Journal of Academic Ethics, 9(1), 71.

Ritchie, J., & Spencer, L. (2002). Qualitative data analysis for applied policy research. The Qualitative Researcher's Companion, 573, 305–329.

Rossouw, G. J. (2012). Global business ethical perspectives on capitalism, finance and corporate responsibility: The impact of the global financial crisis of 2008. Asian Journal of Business Ethics, 1(1), 63–72.

Saidi, T. A. (2009). Relationship between ethical and Islamic banking systems and its business management implications. South African Journal of Business Management, 40(1), 43–49.

Salazar Yepes, G. S., & Rodríguez Córdoba, M. D. P. (2012). La ética y los profesionales del mercado de valores. Investigación en cuatro ciudades de Colombia. Cuadernos de Administración, 25(44), 117–139.

San-Jose, L., Retolaza, J. L., Urionabarrenetxea, S., Ruiz-Roqueñi, M., & Azkunaga, A. (2013). The new paradigm of corporate finance: Ethics in finance, ICTs, financial globalization and stakeholder responsibility. International Research Journal of Finance and Economics, 103(1), 191–206.

San-Jose, L., & Retolaza, J. L. (2016). Is the Delphi method valid for business ethics? A survey analysis. European Journal of Futures Research, 4(1), 1–19.

San-Jose, L., Retolaza, J. L., & Gutierrez-Goiria, J. (2011). Are ethical banks different? A comparative analysis using the radical affinity index. Journal of Business Ethics, 100(1), 151–173.

Shinn, L. D. (1992). Cult conversions and the courts: Some ethical issues in academic expert testimony. Sociology of Religion, 53(3), 273–285.

Signori, S. (2009). Ethical (SRI) funds in Italy: A review. Business Ethics: A European Review, 18(2), 145–164.

Signori, S., & Rusconi, G. (2009). Ethical thinking in traditional Italian Economia Aziendale and the stakeholder management theory: The search for possible interactions. Journal of Business Ethics, 89(3), 303–318.

Spinelli, T. (1983). The Delphi decision-making process. Journal of Psychology, 113(1), 73–80.

Van Hoorn, A. (2014). The global financial crisis and the values of professionals in finance: An empirical analysis. Journal of Business Ethics, 130(2), 253–269.

Van Tuijl, C., & Van der Molen, J. H. W. (2015). Study choice and career development in STEM fields: An overview and integration of the research. International Journal of Technology and Design Education, 26(2), 1–25.

Walker, P. H., Seuring, P. S., Sarkis, P. J., & Klassen, P. R. (2014). Sustainable operations management: recent trends and future directions. International Journal of Operations & Production Management, 34(5), 564–565.

Werhane, P. H., & Freeman, R. E. (2005). The Blackwell Encyclopaedia of management: Business ethics (2nd ed.). Malden: Blackwell.

West, J. (2015). Quantitative method in finance: From detachment to ethical engagement. Journal of Business Ethics, 129(3), 599–611.
Acknowledgements
The authors are grateful to the ethics in finance experts for their participation in the Delphi process and their insightful comments. They also express their appreciation and thanks to ECRI. This work is a contribution from the research group ECRI Ethics in Finance and Social Value Research Gropu (www.ehu.eus/ecri) (GIU 15/10) and is supported by the Emilio Soldevilla Foundation for research and development in business economics (FESIDE).
About this article
Cite this article
San-Jose, L., Retolaza, J.L. Ethics in Finance Research: Recommendations from an Academic Experts Delphi Panel. J Acad Ethics 16, 19–38 (2018). https://doi.org/10.1007/s10805-017-9293-y
Keywords
Delphi

Ethics

Academic

Research lines
JEL Classification