Abstract
This study concerned validating academic integrity survey (AIS), a measure developed in 2010 to investigate academic integrity practices in a Malaysian university. It also examined the usefulness of the measure across gender and nationality of the participants (undergraduates of Nigerian and Malaysian public universities). The sample size comprised 450 students selected via quota sampling technique. The findings supported the multidimensionality of academic dishonesty. Also, strong evidence of convergent and discriminant validity, and construct reliability were generated for the revised AIS. The testing of moderating effects yielded two outcomes. While the gender invariant analysis produced evidence that the three-dimensional model was not moderated by gender; the nationality effect was inconclusive, probably due to a noticeable imbalance in respondent distribution for the nationality group. The significance of this study lies not only in the rigorous statistical methods deployed to validate the dimension and psychometric properties of the AIS; but establishing the gender invariance of the model. It is understood from the findings that although male and female students may vary in their academic misconducts, the underlying factors for these conducts are the same and can be addressed effectively using a non-discriminating approach.
Access options
Buy single article
Instant access to the full article PDF.
USD 39.95
Price includes VAT (USA)
Tax calculation will be finalised during checkout.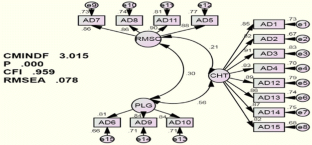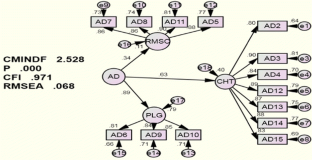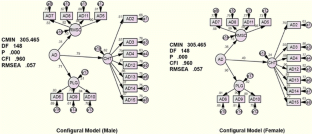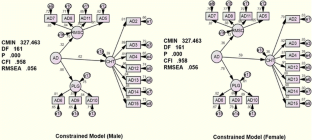 References
Arhin, A.O. (2009). A pilot study of nursing student's perceptions of academic dishonesty: A generation Y perspective. ABNF Journal, 20 (1), 17.

Bates, I. P., Davies, J. G., Murphy, C., & Bone, A. (2005). A multi-faculty exploration of academic dishonesty. Pharmacy Education, 5(1), 69–76.

Brown, B. S. (1996). A comparison of the academic ethics of graduate business, education, and engineering students. College Student Journal, 30, 294–301.

Brown, B. S. (2000). The academic ethics of graduate business students: 1993 to 1998. The Journal of Applied Business Research, 16, 105–112.

Brown, B. S., & Weible, R. (2006). Changes in academic dishonesty among MIS majors between 1999 and 2004. Journal of Computing in Higher Education, 18(1), 116–134.

Browne, M. W., & Cudeck, R. (1993). Alternative ways of assessing model fit. In K. A. Bollen & J. S. Long (Eds.), Testing structural equation models (pp. 136–162). Sage: Newbury Park.

Byrne, M.B. (2010). Structural equation modeling with Amos: Basic concepts, application, and programming (2nd ed.). London: Routledge.

Cheung, G.W., & Rensvold, R.B. (2002). Evaluating Goodness-Of-Fit Indexes for Testing Measurement Invariance. In M.B. Byrne, (2010): Structural equation modeling with Amos: Basic concepts, application, and programming (2nd ed.). London: Routledge.

Colton, D., & Covert, R. (2007). Instrument construction, validity and reliability. In letter to the editor (2012), significance of attending to instrument planning and validation stages in nursing discipline. Asian Nursing Research, 6, 82–83.

Creswell, J. W. (2008). Educational research: Planning, conducting, and evaluating quantitative and qualitative research (3rd ed., ). Upper Saddle Creek, NJ: Pearson Education.

Cudeck, R., & Browne, M. W. (1983). Cross-validation of covariance structures. Multivariate Behavioral Research, 18, 147–167.

Dawkins, R. L. (2004). Attributes and statuses of college students associated with classroom cheating on a small-sized campus. College Student Journal, 38(1), 116–129.

Ferrari, J. R. (2005). "Imposter tendencies and academic dishonesty: Do they cheat their way to success?". Social Behavior and Personality, 33(1), 11–18.

Field, A. (2005). Discovering statistics using SPSS (2nd ed., ). New Delhi: Sage Publications.

Fields, D. L. (2002). Taking the measure of work: A guide to validated scales for organizational research and diagnosis. USA: Sage Publications.

Hair, Jr, J. F., Black, W. C., Babin, B. J., & Anderson, R. E. (2010). Multivariate data analysis (7th ed.). Upper Saddle River: Pearson Education International.

Imran, A. M. (2010). IIUM students' perceptions of academic integrity practices. A dissertation submitted in partial fulfilment of the requirements for the degree of Master of Education.

Imran A. M., & Sahari, M. (2013). Predicting the underlying factors of academic dishonesty among undergraduates in public universities: a path analysis approach. Journal of Academic Ethics, 11(2), 103–120.

Iyer, R., & Eastman, J.K. (2006). Academic dishonesty: are business students different from other college students? Journal of Education For Business, 101–110.

Jendrek, M. P. (1992). Students' reactions to academic dishonesty. Journal of College Student Development, 33, 260–273.

Jordan, A. E. (2001). College student cheating: The role of motivation, perceived norms, attitudes and knowledge of institutional policy. Ethics and Behavior, 11(3), 233–247.

Karlins, M., Michaels, C., & Podlogar, S. (1988). An empirical investigation of actual cheating in a large sample of undergraduates. Research in Higher Education, 29, 359–364.

Kidwell, L. A., Wozniak, K., & Laurel, J. P. (2003). Student reports and faculty perceptions of academic dishonesty. Teaching Business Ethics, 7, 205–214.

Kline, R. B. (2005). Principles and practice of structural equation modeling (2nd ed., ). New York: The Guilford Press.

Lambert, E.G., Hogan, N.L., & Barton, S.M. (2003). Collegiate academic dishonesty revisited: what have they done, how often have they done it, who does it, and why did they do it? Electronic Journal of Sociology, 1-28. ISSN: 1198 3655.

Leming, J. S. (1980). Cheating behavior, subject variables, and components of the internal- external scale under high and low risk conditions. Journal of Educational Research, 74(2), 83–87.

Lim, V. K. G., & See, S. K. B. (2001). Attitudes toward, and intentions to report, academic cheating among students in Singapore. Ethics & Behavior, 11(3), 261–274.

MacCallum, R. C., Roznowski, M., & Necowitz, L. B. (1992). Model modifications in covariance structure analysis: the problem of capitalization on chance. Psychological Bulletin, 111, 490–504.

MacCallum, R. C., Browne, M. W., & Sugawara, H. M. (1996). Power analysis and determination of sample size for covariance structure modeling. Psychological Methods, 1, 130–149.

Malone, F. L. (2006). The ethical attitude of accounting students. Journal of American Academy of Business Cambridge, 8(1), 142–146.

McCabe, D. L., & Trevino, L. K. (1993). Academic dishonesty: honor codes and other contextual influences. Journal of Higher Education, 64, 520–538.

McCabe, D.L., & Trevino, L.K. (1997). Individual and contextual influences on academic dishonesty: A multicampus investigation. Research in Higher Education, 38(3), 379-397.

Nazir, M.S., Aslam, M.S., & Nawas, M.M. (2011). Can demography predict academic dishonest behaviors of students? A case of Pakistan. International Journal of Education Studies, 4(2), 208–218. ISSN 1913-9020 E-ISSN 1913-9039 DOI:10.5539/ies.v4n2p208.

Nelson, T., & Shaefer, N. (1986). Cheating among college students estimated with the randomized-response technique. College Student Journal, 20(Fall), 321–325.

Neuman, W. L. (2006). Social research methods qualitative and quantitative approaches (6th ed., ). Boston: Allyn and Bacon.

Newstead, S.E., Franklyn-Stokes, A., & Armstead, P. (1996). Individual differences in student cheating. Journal of Educational Psychology, 88, 229–241.

Olasehinde, W.O. (2008). Lecturer and student sensitivity to academic dishonesty intervention approaches in the University of Ilorin, Nigeria. Education Research Review, 3(11), 324–333. Accessed 5 July, 2011: http://www.academicjournals.org/ERR.

Pallant, J. (2007). SPSS survival manual: A step by step guide to data analysis using SPSS for Windows (3rd edn.). England: McGraw Hill.

Pavela, G. (1978). Judicial review of academic decision-making after Horowitz. School Law Journal, 55(8), 55–75.

Rawwas, M. Y. A., & Isakson, H. R. (2000). Ethics of tomorrow's business managers: the influence of personal beliefs and values, individual characteristics and situational factors. Journal of Education for Business, 75(6), 321–330.

Roig, M., & DeTommaso, L. (1995). Are college cheating and plagiarism related to academic procrastination? Psychological Reports, 77, 691–698.

Swift, C. O., & Nonis, S. (1998). When no one is watching: cheating behaviors on projects and assignments. Marketing Education Review, 8, 27–36.

Tabachnick, B.G., & Fidell, L.S. (2007). Using multivariate statistics (5th ed.). Boston: Pearson Education.

Thoma, S. (1986). Estimating gender differences in the comprehension and preference of moral issues. Development Review, 6(1), 165–180.

Whitley, B. E., Nelson, A. B., & Jones, C. J. (1999). Gender differences in cheating attitudes and classroom cheating behavior: A Meta analysis. Sex Roles, 41(9/10), 657–680.

Wotring, E. K. (2007). Cheating in the community college: generational differences among students and implications for faculty. Inquiry, 12(1), 5–13.
Appendix: Output For Average Variance Extracted And Composite Reliability
Appendix: Output For Average Variance Extracted And Composite Reliability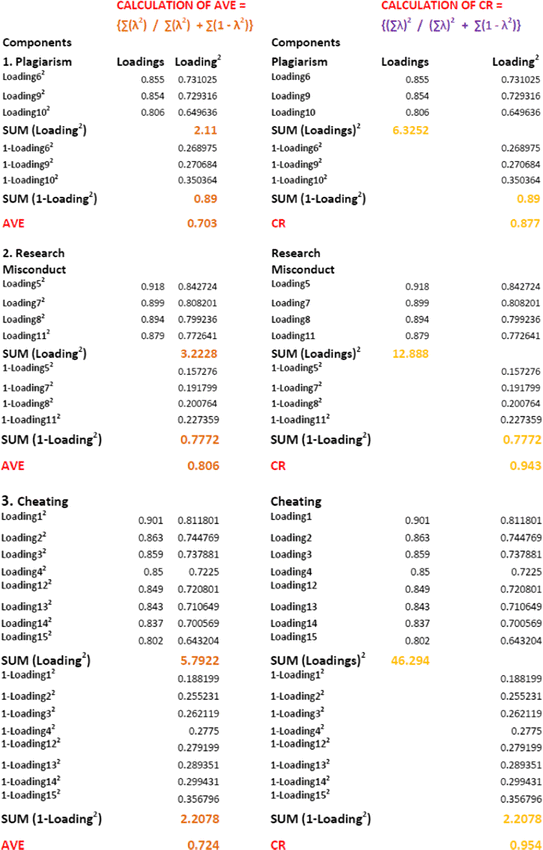 About this article
Cite this article
Adesile, I., Nordin, M.S., Kazmi, Y. et al. Validating Academic Integrity Survey (AIS): An Application of Exploratory and Confirmatory Factor Analytic Procedures. J Acad Ethics 14, 149–167 (2016). https://doi.org/10.1007/s10805-016-9253-y
Keywords
Academic dishonesty

Measurement model

Validation

Convergent and discriminant validity

Confirmatory factor analysis

Invariant analysis