Abstract
Research is increasingly recognised as a key component of medical curricula, offering a range of benefits including development of skills in evidence-based medicine. The literature indicates that experienced academic supervision or mentoring is important in any research activity and positively influences research output. The aim of this project was to investigate the human research ethics experiences and knowledge of three groups: medical students, and university academic staff and clinicians eligible to supervise medical student research projects; at two Australian universities. Training in research ethics was low amongst academic staff and clinicians eligible to supervise medical student research. Only two-thirds of academic staff (67.9 %) and students (65.7 %) and less than half of clinicians surveyed (47.1 %; p = 0.014) indicated that specific patient consent was required for a doctor to include patient medical records within a research publication. There was limited awareness of requirements for participant information and consent forms amongst all groups. In the case of clinical trials, fewer clinicians (88.4 %) and students (83.3 %) than academics (100 %) indicated there was a requirement to obtain consent (p = 0.009). Awareness of the ethics committee focus on respect was low across all groups. This project has identified significant gaps in human research ethics understanding among medical students, and university academic staff and clinicians. The incorporation of research within medical curricula provides the impetus for medical schools and their institutions to ensure that academic staff and clinicians who are eligible and qualified to supervise students' research projects are appropriately trained in human research ethics.
Access options
Buy single article
Instant access to the full article PDF.
USD 39.95
Price includes VAT (USA)
Tax calculation will be finalised during checkout.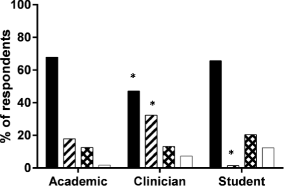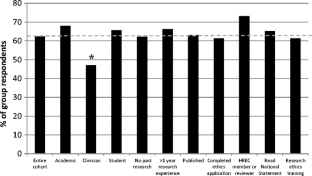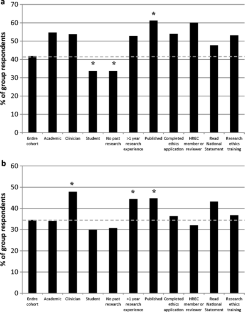 References
Ajuwon, A. J., & Kass, N. (2008). Outcome of a research ethics training workshop among clinicians and scientists in a Nigerian university. BMC Medical Ethics, 9, 1.

Australian Government. (2007a). Australian code for the responsible conduct of research. https://www.nhmrc.gov.au/guidelines-publications/r39. Accessed 8 Jul 2015.

Australian Government. (2007b). National statement on ethical conduct in human research, 2007 (National Statement). https://www.nhmrc.gov.au/book/national-statement-ethical-conduct-human-research. Accessed 8 Jul 2015.

Australian Government. (2015). Australian Health Ethics Committee. National Health and Medical Research Council. https://www.nhmrc.gov.au/about/nhmrc-committees/australian-health-ethics-committee-ahec Accessed 29 Oct 2015.

Australian Medical Council Limited. (2012). AMC graduate outcomes. http://amc.org.au/index.php/ar/bme. Accessed 29 Oct 2015.

Babl, F. E., & Sharwood, L. N. (2008). Research governance: current knowledge among clinical researchers. Medical Journal of Australia, 188(11), 649–652.

Balster, N., Pfund, C., Rediske, R., & Branchaw, J. (2010). Entering research: a course that creates community and structure for beginning undergraduate researchers in the STEM disciplines. CBE Life Sciences Education, 9(2), 108–112.

Bierer, S. B., Prayson, R. A., & Dannfer, E. F. (2014). Association of research self-efficacy with medical student career interests, specialization, and scholarship: A case study. Advances in Health Sciences Education, 20(2), 339–354.

Black, M. L., Curran, M. C., Golshan, S., Daly, R., Depp, C., Kelly, C., & Jeste, D. V. (2013). Summer research training for medical students: impact on research self-efficacy. Clinical and Translational Science, 6(6), 487–489.

Boyd, M., & Wesemann, J. (Eds.). (2009). Broadening participation in undergraduate research: Fostering excellence and enhancing the impact. Washington, DC: Council on Undergraduate Research.

Collaborative Institutional Training Initiative (CITI). (2014). University of Miami. https://www.citiprogram.org/index.cfm?pageID=86. Accessed 29 Oct 2015.

Cook, A. F., & Hoas, H. (2014). Clinicians or researchers, patients or participants: exploring human subject protection when clinical research is conducted in non-academic settings. AJOB Empirical Bioethics, 5(1), 3–11.

Costello Ingham, J. (2003). Research ethics 101: the responsible conduct of research. Seminars in Speech and Language, 24(4), 323–338.

Davey, K. G. (2009). Reflections on my experience in human research ethics. Journal of Academic Ethics, 7, 7–31.

DuBois, J. M., Chibnall, J. T., Tait, R. C., Vander Wal, J. S., Baldwin, K. A., Antes, A. L., & Mumford, M. D. (2015). Professional Decision-Making in Research (PDR): the validity of a new measure. Science and Engineering Ethics. doi:10.1007/s11948-015-9667-8.

Edwards, S. J. L. (2009). Student projects in medicine: a lesson in science and ethics. Accountability in Research: Policies and Quality Assurance, 16(6), 285–306.

Gallagher, C. T., McDonald, L. J., & McCormack, N. P. (2014). Undergraduate research involving human subjects should not be granted ethical approval unless it is likely to be of publishable quality. HEC Forum, 26(2), 169–180.

Gray, P. W., & Jordan, S. R. (2012). Supervisors and academic integrity: supervisors as exemplars and mentors. Journal of Academic Ethics, 10(4), 299–311.

Gromski, M. A., Miller, C. A., & Seifter, J. L. (2015). Medical student membership on a hospital-based institutional review board: a unique educational opportunity. Academic Medicine, 90(3), 266–267.

Halpain, M. C., Jeste, D. V., Trinidad, G. I., Wetherell, J. L., & Lebowitz, B. D. (2005). Intensive short-term research training for undergraduate, graduate, and medical students: early experience with a new national-level approach in geriatric mental health. Academic Psychiatry, 29(1), 58–65.

Health Workforce Australia. (2012). Australia's Heath Workforce Series—doctors in focus. Adelaide: Health Workforce Australia.

Houlden, R. L., Raja, J. B., Collier, C. P., Clark, A. F., & Waugh, J. M. (2004). Medical students' perceptions of an undergraduate research elective. Medical Teacher, 26(7), 659–661.

Irby, D. (2011). Educating physicians for the future: Carnegie's calls for reform. Medical Teacher, 33, 547–550.

Laidlaw, A., Guild, S., & Struthers, J. (2009). Graduate attributes in the disciplines of Medicine, Dentistry and Veterinary medicine: a survey of expert opinions. BMC Medical Education, 9, 28.

Laidlaw, A., Aiton, L., Struthers, J., & Guild, S. (2012). Developing research skills in medical students: AMEE guide no. 69. Medical Teacher, 34, 754–771.

Lawson, P. J., Smith, S., Mason, M. J., Zyzanski, S. J., Stange, K. C., Werner, J. J., & Flocke, S. A. (2014). Creating a culture of inquiry in family medicine. Family Medicine, 46(7), 515–521.

Medical Board of Australia. (2014). Good medical practice: A code of conduct for doctors in Australia. http://www.medicalboard.gov.au/Codes-Guidelines-Policies/Code-of-conduct.aspx. Accessed 6 Jul 2015.

Mullan, J. R., Weston, K. M., Rich, W. C., & McLennan, P. L. (2014). Investigating the impact of a research-based integrated curriculum on self-perceived research capabilities of medical students in rural and regional placements: a pre- and post-test analysis of three student cohorts. BMC Medical Education, 14, 161.

O'Connor Grochowski, C., Halperin, E. C., & Buckley, E. G. (2007). A curricular model for the training of physician scientists: the evolution of the Duke University School of Medicine curriculum. Academic Medicine, 82(4), 375–382.

Pieper, I. J., & Thomson, C. J. (2014). The value of respect in human research ethics: a conceptual analysis and a practical guide. Monash Bioethics Review, 32(3-4), 232–253.

Ramalingam, S., Bhuvaneswari, S., & Sankaran, R. (2014). Ethics workshops—are they effective in improving the competencies of faculty and postgraduates? Journal of Clinical and Diagnostic Research, 8(7), XC01–XC03.

Riley, S. C. (2009). Student Selected Components (SSCs): AMEE guide no 46. Medical Teacher, 31(10), 885–894.

Rosenkranz, S. K., Wang, S., & Hu, W. (2015). Motivating medical students to do research: a mixed methods study using Self-Determination Theory. BMC Medical Education, 15, 95.

Rosenthal, M. S., Lucas, G. I., Tinney, B., Mangione, C., Schuster, M. A., Wells, K., et al. (2009). Teaching community-based participatory research principles to physicians enrolled in a health services research fellowship. Academic Medicine, 84(4), 478–484.

Schor, N. F., Troen, P., Kanter, S. L., & Levine, A. S. (2005). The scholarly project initiative: introducing scholarship in medicine through a longitudinal, mentored curricular program. Academic Medicine, 80, 824–831.

Thompson, C. J. (2014). Responsible conduct of research assessment of doctor of education candidates, graduate faculty, and curriculum considerations. Innovative Higher Education, 39, 349–360.

Titus, S. L., & Ballou, J. M. (2014). Ensuring PhD development of responsible conduct of research behaviors: who's responsible? Science and Engineering Ethics, 20, 221–235.

Zawati, M., Cohen, E., Parry, D., Avard, D., & Syncox, D. (2015). Ethics education for clinician-researchers in genetics: The combined approach. Applied & Translational Genomics, 4, 16–20.

World Medical Association Inc. (2015). WMA Declaration of Helsinki—ethical principles for medical research involving human subjects. http://www.wma.net/en/30publications/10policies/b3/. Accessed 8 Jul 2015.
Ethics declarations
The study was approved by two university ethics review committees. Participants were provided with participant information. Tacit consent was implied by completion of an anonymous survey. All data were collected anonymously.
Conflict of interest
The authors declare that they have no conflicts of interest.
About this article
Cite this article
Weston, K.M., Mullan, J.R., Hu, W. et al. Academic Guidance in Medical Student Research: How Well Do Supervisors and Students Understand the Ethics of Human Research?. J Acad Ethics 14, 87–102 (2016). https://doi.org/10.1007/s10805-015-9248-0
Keywords
Research ethics

Medical student

Medical school

Curriculum

Ethics committee