Abstract
This study was aimed at formulating a model to examine the potential value of perceived constructivist pedagogical practices in decreasing tendency to neutralize (justify) academic cheating through a psychological outcome of academic self-efficacy (SE), in three academic learning settings: new learning environments (NLE), traditional face-to-face learning environments (TLE) and distance learning environments (DLE). Data were collected from a sample of 289 undergraduate college students. Path analysis main results showed positive connections between the extent to which constructivist practices are present in the learning settings, as perceived by the participants, and SE, which in turn reduced the tendency toward justifying academic cheating. Analysis of variance results showed that most of the constructivist dimensions were perceived by students enrolled in the NLE as relatively highly present compared with the other groups. Moreover, NLE students held more positive academic SE beliefs and were less inclined toward academic cheating justification than the other groups. Interpretation of these results and implications for future research are discussed.
Access options
Buy single article
Instant access to the full article PDF.
US$ 39.95
Tax calculation will be finalised during checkout.
Subscribe to journal
Immediate online access to all issues from 2019. Subscription will auto renew annually.
US$ 79
Tax calculation will be finalised during checkout.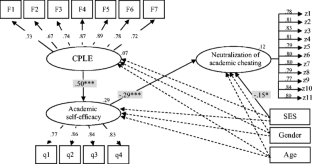 References
Anderman, E. M., Griesinger, T., & Westerfield, G. (1998). Motivation and cheating during early adolescence. Journal of Educational Psychology, 90, 84–93.

Bandura, A. (1986). The explanatory and predictive scope of self-efficacy theory. Journal of Social and Clinical Psychology, 4, 359–373.

Bandura, A. (1997). Self-efficacy: The exercise of control. New York: Freeman.

Bandura, A. (1999). Moral disengagement in the perpetration of inhumanities. Personality and Social Psychology Review, 3(193), 209.

Barak, M., & Dori, Y. J. (2009). Enhancing higher order thinking skills among in-service science teachers via embedded assessment. Journal of Science Teacher Education, 20(5), 459–474.

Bentler, P. M. (2006). EQS 6 structural equations program manual. Encino: Multivariate Software, Inc.

Bouville, M. (2010). Why is cheating wrong? Studies in Philosophy and Education, 29(1), 67–76.

Cole, D. A., & Maxwell, S. E. (2003). Testing mediational models with longitudinal data: questions and tips in the use of structural equation modeling. Journal of Abnormal Psychology, 112, 558–577.

Como, L., & Snow, E. R. (1986). Adapting teaching to individual differences among learners. In M. C. Wittrock (Ed.), Handbook of research on teaching (3rd ed., pp. 605–629). New York: Macmillan.

Davis, S. F., Grover, C. A., Becker, A. H., & McGregor, L. N. (1992). Academic dishonesty: prevalence, determinants, techniques, and punishments. Teaching of Psychology, 19, 16–20.

DeBacker, T. K., & Nelson, R. M. (2000). Motivation to learn science: differences related to gender, class type, and ability. Journal of Educational Research, 93(4), 245–255.

Diekhoff, G. M., LaBeff, E., Clark, R., Williams, L., Francis, B., & Haines, V. J. (1996). College cheating: ten years later. Research in Higher Education, 37, 487–502.

Finn, K. V., & Frone, M. R. (2004). Academic performance and cheating: moderating role of school identification and self-efficacy. The Journal of Educational Research, 97, 115–121.

Gibbs, J. C. (1991). Sociomoral developmental delay and cognitive distortion: implications for the treatment of antisocial youth. In W. M. Kurtines & J. L. Gerwitz (Eds.), Handbook of Moral Behavior and Development (Application, Vol. 3, pp. 95–110). Hillsdale: Erlbaum.

Gibbs, J. C. (2003). Moral development and reality. Thousand Oaks: Sage.

Gibbs, J. C., Basinger, K. S., Grime, R. L., & Snarey, J. R. (2007). Moral judgment development across cultures: revisiting Kohlberg's universality claims. Developmental Review, 27, 443–500.

Grijalva, T., Kerkvliet, J., & Nowell, C. (2006). Academic honesty and online courses. College Student Journal, 40, 180–186.

Haines, V. J., Diekhoff, G. M., LaBeff, E. E., & Clark, R. C. (1986). College cheating: immaturity, lack of commitment, and the neutralizing attitude. Research in Higher Education, 25, 342–354.

Jordan, A. E. (2001). College student cheating: the role of motivation, perceived norms, attitudes, and knowledge of institutional policy. Ethics & Behavior, 11, 233–247.

Kamir, O. (2007). Legal-cultural thinking model. Case study – lack of academic honesty and 'honor system examination'. Din Udvarim, 4, 167–206. Hebrew.

Lanier, M. (2006). Academic integrity and distance learning. Journal of Criminal Justice Education, 17(2), 244–261.

Moore, M. G., & Kearseley, G. (1996). Distance education: A systems view. Belmont: Wadsworth.

Murdock, T. B., & Anderman, E. M. (2006). Motivational perspectives on student cheating: toward an integrated model of academic dishonesty. Educational Psychologist, 41, 129–145.

Murdock, T. B., Hale, N., & Weber, M. (2001). Predictors of cheating among early adolescents: academic and social motivations. Contemporary Educational Psychology, 26, 96–115.

Östlund, B. (2008). Prerequisites for interactive learning in distance education: perspectives from swedish students. Australasian Journal of Educational Technology, 34, 42–56.

Pintrich, P. R., Smith, D., Garcia, T., & Mckeachie, W. (1993). Reliability and predictive validity of the motivated strategies for learning questionnaire (MSLQ). Educational and Psychological Measurement, 53, 801–813.

Pulvers, K., & Diekhoff, G. M. (1999). The relationship between academic dishonesty and college classroom environment. Research in Higher Education, 40, 487–498.

Scheers, N. J., & Dayton, C. M. (1987). Improved estimation of academic cheating behavior using the randomized response technique. Research in Higher Education, 26, 61–69.

Scott, M. B., & Lyman, S. M. (1968). Accounts. American Sociological Review, 31, 46–62.

Smith, K., Davy, J., & Easterling, D. (2004). An examination of cheating and its antecedents among marketing and management majors. Journal of Business Ethics, 50, 63–80.

Steffe, L. P., & Gale, J. (1995). Constructivism in education. Mahwah: Lawrence Erlbaum Associates.

Stephens, J., Young, M., & Calbrese, T. (2007). Does moral judgment go offline when students are online? A comparative analysis of undergraduates' beliefs and behaviors related to conventional and digital cheating. Ethics & Behavior, 17, 233–254.

Stuber-McEwen, D., Wiseley, P., & Hoggatt, S. (2009). Point, click, and cheat: Frequency and type of academic dishonesty in the virtual classroom. Online Journal of Distance Learning Administration, 12(3). Retrieved from http://www.westga.edu/~distance/ojdla/fall123/stuber123.html.

Sykes, G., & Matza, D. (1957). Techniques of neutralization: a theory of delinquency. American Sociological Review, 22, 664–670.

Tenenbaum, G., Naidu, S., Jegede, O., & Austin, J. (2001). Constructivist pedagogy in conventional on-campus and distance learning practice: an exploratory investigation. Learning and Instruction, 11, 87–111.

Topalli, V. (2005). When being good is bad: an expansion of neutralization theory. Criminology, 43, 797–835.

Turner, J. C., Midgley, C., Meyer, D. K., Gheen, M., Anderman, E. M., Kang, J., & Patrick, H. (2002). The classroom environment and students' reports of avoidance behaviors in mathematics: a multi-method study. Journal of Educational Psychology, 94, 88–106.

Tynjälä, P. (1999). Towards expert knowledge? A comparison between a constructivist and a traditional learning environment in the university. International Journal of Educational Research, 33, 355–442.

Van Dinther, M., Filip, D., & Segers, M. (2011). Factors affecting students' self-efficacy in higher education. Educational Research Review, 6, 95–108.

Vandehey, M., Diekhoff, G. M., & LaBeff, E. (2007). College cheating: a twenty-year follow-up and the addition of an honor code. Journal of College Student Development, 48, 468–480.

Vygotsky, L. S. (1978). Mind and society: The development of higher mental processes. Cambridge: Harvard University Press.

Whitley, B. E. J. (1998). Factors associated with cheating among college students: a review. Research in Higher Education, 39, 235–274.

Wyatt, T. H., Krauskopf, P. B., Gaylord, N. M., Ward, A., Huffstutler-Hawkins, S., & Goodwin, L. (2010). Cooperative M-learning with nurse practitioner students. Nursing Education Perspectives, 31(2), 109–113.
About this article
Cite this article
Alt, D. Assessing the Connection between Self-Efficacy for Learning and Justifying Academic Cheating in Higher Education Learning Environments. J Acad Ethics 13, 77–90 (2015). https://doi.org/10.1007/s10805-015-9227-5
Keywords
Academic dishonesty

Academic self-efficacy

New learning environments