Abstract
The present study is aimed at comprehensively assess tendency to neutralize (justify) academic cheating as a function of individual experience of teachers' just behavior and new learning environments (NLE), while considering the Belief in a Just World (BJW) as a personal resource that has the potential to enhance those experiences. Data were collected from a sample of 193 second-year undergraduate college students. Path analysis main results showed that students who evaluated their teachers' behavior toward them personally as just, held more positive evaluation of the learning environment, and were less inclined toward academic cheating neutralization. Personal BJW was partly associated with the perceived NLE, this connection was primarily mediated by the experience of teacher justice. Moreover, students' evaluation of their teachers' just behavior was a stronger negative predictor of academic cheating neutralization than perceived forms of NLE. Interpretation of these results, applications and implications for future research are discussed.
Access options
Buy single article
Instant access to the full article PDF.
US$ 39.95
Tax calculation will be finalised during checkout.
Subscribe to journal
Immediate online access to all issues from 2019. Subscription will auto renew annually.
US$ 79
Tax calculation will be finalised during checkout.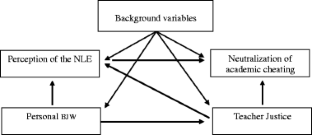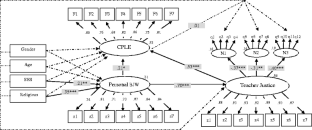 References
Bandura, A. (1999). Moral disengagement in the perpetration of inhumanities. Personal Soc Psychol Rev, 3(193), 209.

Barrows, H. S. (1996). Problem-based learning in medicine and beyond. In L. Wilkerson & W. H. Gijselaers (Eds.), Bringing problem-based learning to higher education: Theory and practice. New directions for teaching and learning, Vol. 68 (pp. 3–13). San Francisco: Jossey-Bass Inc Publishers.

Bentler, P. M. (2006). Eqs 6 structural equations program manual. Encino: Multivariate Software, Inc.

Bouville, M. (2010). Why is cheating wrong? Stud Philos Educ, 29(1), 67–76.

Brophy, J. (1999). Teaching. Brussels: International Academy of Education.

Cole, S., & Kiss, E. (2000). What can we do about student cheating? About Campus, 5(2), 5–12.

Correia, I., & Dalbert, C. (2008). School bullying: belief in a personal just world of bullies, victims and defenders. Eur Psychol, 13, 249–254.

Dalbert, C. (1999). The world is more just for me than generally: about the Personal Belief in a Just World Scale's validity. Soc Justice Res, 12, 79–98.

Dalbert, C. (2001). The justice motive as a personal resource: Dealing with challenges and critical life events. New York: Kluwer.

Dalbert, C., & Filke, E. (2007). Belief in a just world, justice judgments, and their functions for prisoners. Crim Justice Behav, 34, 1516–1527.

Dalbert, C., & Stoeber, J. (2002). Gerechtes Schulklima [Just school climate]. In J. Stoeber (Ed.), Skalendokumentation "Persönliche Ziele von SchülerInnen" (Hallesche Berichte zur Pädagogischen Psychologie Nr. 3) (pp. 32–34). Halle (Saale): Martin Luther University Halle-Wittenberg, Department of Education.

Dalbert, C., & Stoeber, J. (2006). The personal belief in a just world and domain-specific beliefs about justice at school and in the family: a longitudinal study with adolescents. Int J Behav Dev, 30, 200–207.

De Kock, A., Sleegers, P., & Voeten, M. J. M. (2004). Learning and classification of learning environments in secondary education. Rev Educ Res, 74(2), 141–170.

Den Brok, P., Fisher, D., Rickards, T., & Bull, E. (2006). Californian science students' perceptions of their classroom learning environments. Educ Res Eval, 12(1), 3–25.

Dewey, J. (1938). Experience and education. New York: Touchstone.

Diamantopoulos, A., & Siguaw, J. A. (2000). Introducing Lisrel: A guide for the uninitiated. Los Angeles: Sage.

Dorman, J. P. (2001). Associations between classroom environment and academic efficacy. Learn Environ Res, 4, 243–257.

Dzuka, J., & Dalbert, C. (2007). Aggression at school: belief in a personal just world and well-being of victims and aggressors. Stud Psychol, 49, 313–320.

Evans, F. B., & Youmans, M. (2000). ESL writers discuss plagiarism: the social construction of ideologies. J Educ, 182(3), 49–66.

Finn, K. V., & Frone, M. R. (2004). Academic performance and cheating: moderating role of school identification and self-efficacy. J Educ Res, 97, 115–121.

Gallant, T., & Drinan, P. (2006). Institutionalizing academic integrity: administrator perceptions and institutional actions. NASPA J, 43, 61–81.

Geddes, K. A. (2011). Academic dishonesty among gifted and high-achieving students. Gifted Child Today, 34, 50–56.

Gibbs, J. C. (1991). Sociomoral developmental delay and cognitive distortion: Implications for the treatment of antisocial youth. In W. M. Kurtines & J. L. Gerwitz (Eds.), Handbook of moral behavior and development: Vol 3. Application (pp. 95–110). Hillsdale: Erlbaum.

Gibbs, J. C. (2003). Moral development and reality. Thousand Oaks: Sage.

Gibbs, J. C., Basinger, K. S., Grime, R. L., & Snarey, J. R. (2007). Moral judgment development across cultures: revisiting Kohlberg's universality claims. Dev Rev, 27, 443–500.

Hafer, C. L. (2000). Investment in long-term goals and commitment to just means drive the need to believe in a just world. Personal Soc Psychol Bull, 26, 1059–1073.

Haines, V. J., Diekhoff, G. M., LaBeff, E. E., & Clark, R. C. (1986). College cheating: immaturity, lack of commitment, and the neutralizing attitude. Res High Educ, 25, 342–354.

Hirschi, T. (1969). Causes of delinquency. Berkeley and Los Angeles: University of California Press.

Kamir, O. (2007). Legal-cultural thinking model. Case study—lack of academic honesty and "honor system examination". Din Udvarim, 4, 167–206. Hebrew.

Kim, J. S. (2005). The effects of constructivist teaching approach on student academic achievement, self concept, and learning strategies. Asia Pac Educ Rev, 6, 7–19.

Lerner, M. J. (1965). Evaluation of performance as a function of performer's reward and attractiveness. J Pers Soc Psychol, 1, 355–360.

Lerner, M. J. (1977). The justice motive: some hypotheses as to its origins and forms. J Pers, 45, 1–52.

Lerner, M. J. (1980). The belief in a just world: A fundamental delusion. New York: Plenum Press.

McCabe, D. L., & Pavela, G. (2004). Ten [updated] principles of academic integrity: how faculty can foster student honesty. Change, 36, 10–14.

Mikula, G. (2005). Some observations and critical thoughts about the present state of justice theory and research. In S. Gilliland, D. Steiner, D. Skarlicki, & K. van den Bos (Eds.), What motivates fairness in organizations (pp. 197–209). Greenwich: Information Age.

Murdock, T. B., & Anderman, E. M. (2006). Motivational perspectives on student cheating: toward an integrated model of academic dishonesty. Educ Psychol, 41, 129–145.

Murdock, T. B., Hale, N., & Weber, M. (2001). Predictors of cheating among early adolescents: academic and social motivations. Contemp Educ Psychol, 26, 96–115.

Murdock, T. B., Beauchamp, A. S., & Hinton, A. M. (2008). Predictors of cheating and cheating attributions: does classroom context influence cheating and blame for cheating? Eur J Psychol Educ, 23, 477–492.

Otto, K., & Dalbert, C. (2005). Belief in a just world and its functions for young prisoners. J Res Pers, 6, 559–573.

Payne, S. L., & Nantz, K. S. (1994). Social accounts and metaphors about cheating. Coll Teach, 42, 90–96.

Peter, F., & Dalbert, C. (2010). Do my teachers treat me justly? Implications of students' justice experience for class climate experience. Contemp Educ Psychol, 35, 297–305.

Pulvers, K., & Diekhoff, G. M. (1999). The relationship between academic dishonesty and college classroom environment. Res High Educ, 40, 487–498.

Scott, M. B., & Lyman, S. M. (1968). Accounts. Am Sociol Rev, 31, 46–62.

Sorrentino, R., & Hardy, J. (1974). Religiousness and derogation of an innocent victim. J Pers, 42, 372–382.

Stephens, J., Young, M., & Calbrese, T. (2007). Does moral judgment go offline when students are online? A comparative analysis of undergraduates' beliefs and behaviors related to conventional and digital cheating. Ethics Behav, 17, 233–254.

Sykes, G., & Matza, D. (1957). Techniques of neutralization: a theory of delinquency. Am Sociol Rev, 22, 664–670.

Taylor, P. (1962). Children's evaluations of the characteristics of a good teacher. Br J Educ Psychol, 32, 258–266.

Tenenbaum, G., Naidu, S., Jegede, O., & Austin, J. (2001). Constructivist pedagogy in conventional on-campus and distance learning practice: an exploratory investigation. Learn Instr, 11, 87–111.

Topalli, V. (2005). When being good is bad: an expansion of neutralization theory. Criminology, 43, 797–835.

Vygotsky, L. S. (1978). Mind and society: The development of higher mental processes. Cambridge: Harvard University Press.

Warr, P. B., & Knapper, C. (1968). The perception of people and events. New York: Wiley.

Whitley, B., Jr., & Keith-Spiegel, P. (2002). Academic dishonesty: An educator's guide. Mahwah: Lawrence Erlbaum Associates.
About this article
Cite this article
Alt, D. Assessing the Connection between Students' Justice Experience and Attitudes Toward Academic Cheating in Higher Education New Learning Environments. J Acad Ethics 12, 113–127 (2014). https://doi.org/10.1007/s10805-014-9202-6
Keywords
Academic dishonesty

New learning environments

Students' justice experience

Belief in a Just World