Abstract
Normative change in people's value priorities (Schwartz, Advances in Experimental Social Psychology 25:1–65, 1992) was examined by analyzing repeated cross sections of the 26 countries that participated in at least four of the first seven waves of the European Social Survey (2002–2015). For this purpose, we compared data from different samples taken from five historical cohorts over time in order to identify generalizable patterns in value development that could apply to most people. Results suggest that most cohorts increasingly valued Self-Transcendence over Self-Enhancement in the transition from late adolescence to young adulthood. During and after middle adulthood, age effects were virtually nonexistent in Eastern Europe, relatively weak in Southern Europe, and limited to midlife in North-Western Europe. The results also suggest that all cohorts, except most Northern and Western European cohorts in midlife, became relatively more conservative and less open with age. We present evidence that differences between historical cohorts produced some of the age–values associations that have been found in previous studies. Latent growth curve modeling was used to further summarize the observed intracohort-aging trajectories and to identify potential country-level moderators. This analysis showed that the positive association between normative aging and Self-Transcendence endorsement was stronger in countries that are more affluent.
This is a preview of subscription content, log in to check access.
Access options
Buy single article
Instant access to the full article PDF.
US$ 39.95
Tax calculation will be finalised during checkout.
Subscribe to journal
Immediate online access to all issues from 2019. Subscription will auto renew annually.
US$ 79
Tax calculation will be finalised during checkout.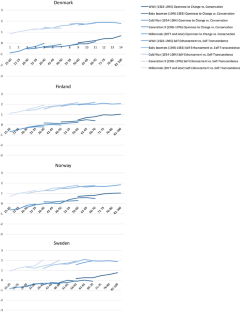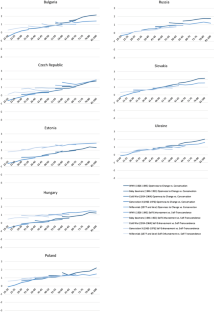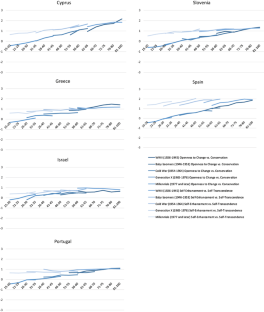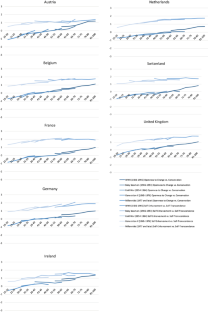 Notes
1.

We excluded ESS respondents born and raised before WWII (1900–1925).
References
Allison, P. D. (2012). Handling missing data by maximum likelihood. Keynote presentation at the SAS Global Forum, Orlando, Florida. Retrieved from http://www.statisticalhorizons.com/wp-content/uploads/MissingDataByML.pdf.

Alwin, D. F., & Krosnick, J. A. (1991). Aging, cohorts, and the stability of sociopolitical orientations over the life span. American Journal of Sociology, 97, 169–195.

Bardi, A., Lee, J., A., Hofmann-Towfigh, N., & Soutar, G. (2009). The structure of intraindividual value change. Journal of Personality and Social Psychology, 97, 913–929.

Byrne, B. M., Lam, W. W., & Fielding, R. (2008). Measuring patterns of change in personality assessments: An annotated application of latent growth curve modeling. Journal of Personality Assessment, 90, 536–546.

Cuddy, A. J. C., Norton, M., & Fiske, S. T. (2005). This old stereotype: The pervasiveness and persistence of the elderly stereotype. Journal of Social Issues, 61, 267–285.

Danigelis, N. L., Hardy, M., & Cutler, S. J. (2007). Population aging, intracohort aging, and sociopolitical attitudes. American Sociological Review, 72, 812–830.

Davidov, E. (2010). Testing for comparability of human values across countries and time with the third round of the European Social Survey. International Journal of Comparative Sociology, 51, 171–191.

Fung, H. H., Ho, Y. W., Zhang, R., Zhang, X., Noels, K. A., & Tam, K. P. (2016). Age differences in personal values: Universal or cultural specific? Psychology and Aging, 31, 274–286.

Galbraith, S., Bowden, J., & Mander, A. (2014). Accelerated longitudinal designs: An overview of modelling, power, costs and handling missing data. Statistical Methods in Medical Research. doi:10.1177/0962280214547150.

George, L. K. (2010). Still happy after all these years: Research frontiers on subjective wellbeing in later life. The Journals of Gerontology, 65B, 331–339.

Glenn, N. D. (1977). Cohort analysis. Beverly Hills: Sage.

Glenn, N. D. (2005). Quantitative applications in the social sciences: cohort analysis. Beverly Hills: Sage.

Grasso, M. T. (2014). Age, period and cohort analysis in a comparative context: Political generations and political participation repertoires in Western Europe. Electoral Studies, 33, 63–76.

Inglehart, R., & Welzel, C. (2005). Modernization, cultural change, and democracy: The human development sequence. New York: Cambridge University Press.

Jaspers, E., & Pieters, R. (2016). Materialism across the lifespan: An age-period-cohort analysis. Journal of Personality and Social Psychology. doi:10.1037/pspp0000092.

Konty, M. A., & Dunham, C. C. (1997). Differences in value and attitude change over the life course. Sociological Spectrum, 17, 177–197.

Lilleoja, L., Dobewall, H., Aavik, T., Strack, M., & Verkasalo, M. (2016). Measurement equivalence of Schwartz's refined value structure across countries and modes of data collection: New evidence from Estonia, Finland, and Ethiopia. Personality and Individual Differences, 102, 204–210.

McCrae, R. R., & Costa, P. T. (1999). A five-factor theory of personality. In L. Pervin & O. John (Eds.), Handbook of personality: Theory and research (2nd edn., pp. 139–153). New York: Guilford.

Mishler, W., & Rose, R. (2007). Generation, age, and time: The dynamics of political learning during Russia's transformation. American Journal of Political Science, 51, 822–834.

Realo, A., & Dobewall, H. (2011). Does life satisfaction change with age? A comparison of Estonia, Finland, Latvia, and Sweden. Journal of Research in Personality, 45, 297–308.

Roberts, B. W., Walton, K. E., & Viechtbauer, W. (2006). Patterns of mean-level change in personality traits across the life course: A meta-analysis of longitudinal studies. Psychological Bulletin, 132, 1–25.

Robinson, O. C. (2013). Values and adult age: Findings from two cohorts of the European Social Survey. European Journal of Ageing, 10, 11–23.

Schwartz, S. H. (1992). Universals in the content and structure of values: Theoretical advances and empirical tests in 20 countries. Advances in Experimental Social Psychology, 25, 1–65.

Schwartz, S. H. (2005a). Human values. European Social Survey Education Net. Retrieved May 5, 2014, from http://essedunet.nsd.uib.no/cms/topics/1/4/all.html.

Schwartz, S. H. (2005b). Robustness and fruitfulness of a theory of universals in individual human values. In A. Tamayo & J. Porto (Eds.), Valores e trabalho [Values and work] (pp. 56–95). Brasilia: Editora Universidade de Brasilia.

Tormos, R., Vauclair, C. M., & Dobewall, H. (2017). Does contextual change affect basic human values? A dynamic comparative multilevel analysis across 32 European countries. Journal of Cross-Cultural Psychology, 48, 490–510.

Twenge, J. M., & Foster, J. D. (2010). Birth cohort increases in narcissistic personality traits among American college students, 1982–2009. Social Psychological and Personality Science, 1, 99–106.

van Herk, H., & Poortinga, Y. H. (2012). Current and historical antecedents of individual value differences across 195 regions in Europe. Journal of Cross-Cultural Psychology, 43, 1229–1248.

Vecchione, M., Schwartz, S., Alessandri, G., Döring, A. K., Castellani, V., & Caprara, M. G. (2016). Stability and change of basic personal values in early adulthood: An 8-year longitudinal study. Journal of Research in Personality, 63, 111–122.

Yang, Y., & Land, K. C. (2013). Age-period-cohort analysis: New models, methods, and empirical applications. New York: Chapmen & Hall/CRC Press.

Zercher, F., Schmidt, P., Cieciuch, J., & Davidov, E. (2015). The comparability of the universalism value over time and across countries in the European Social Survey: Exact vs. approximate measurement invariance. Frontiers in Psychology, 6, 733.
Acknowledgements
The preparation of this article was supported by a postdoctoral research fellowship of the Spanish Ministry of Economy and Competitiveness to HD, Academy of Finland project 258578, and a Marie Curie Fellowship (PIRG08-GA-2010-276809) to C-MV.
About this article
Cite this article
Dobewall, H., Tormos, R. & Vauclair, CM. Normative Value Change Across the Human Life Cycle: Similarities and Differences Across Europe. J Adult Dev 24, 263–276 (2017). https://doi.org/10.1007/s10804-017-9264-y
Keywords
Values and traditions

Value change

Age and cohort effects

Cultural differences

Life-long learning versus formative-/impressionable-years hypothesis