Abstract
An experiment was conducted to test the hypothesis that mindful attention to change regarding heart rate (HR) would result in greater control over HR. Experimental groups monitored the changing or stable nature of HR, respectively. All participants' HR slowed during the decrease phase. Participants whose attention was directed to the stable nature of HR performed the worst on the increase phase of the HR control task. These results suggest that mindfulness, instantiated here as attention to variability, is a means to increasing control.
Access options
Buy single article
Instant access to the full article PDF.
USD 39.95
Price includes VAT (USA)
Tax calculation will be finalised during checkout.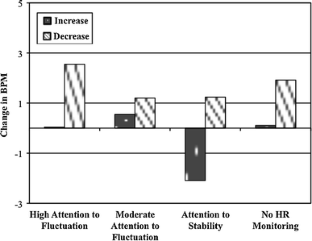 Notes
1.

The 32 participants whose data were excluded from analyses, because they reported that they had engaged in physical intervention strategies in order to adjust their heart rate and, thus, had not followed instructions. These participants' performance showed that they were able to change their HR significantly more than the other groups, which would be expected since physical intervention strategies alter HR substantially (e.g., an increased respiration rate dramatically increases HR).

2.

Limitations: The small sample size weakened the power to detect differences between conditions. It is notable, however, that significant findings were identified even with a small sample size. The attrition rates were relatively high in this study, with approximately 1 in 4 participants failing to return to the second session. It is likely that the compensation amount was insufficient to motivate some participants to satisfy the study's requirements. Individuals who did follow through with the study's requirements may have been especially motivated. Self-regulation techniques are generally applied to a clinical population who are seeking to alleviate some type of distressful symptom and therefore highly motivated.
References
Alexander, C. N., Chandler, H. M., Langer, E. J., Newman, R. I., & Davies, J. L. (1989). Transcendental meditation, mindfulness and longevity: an experimental study with the elderly. Journal of Personality and Social Development, 57(6), 950–964.

Bouchard, C. (1976). Voluntary control of heart rate in humans. Canadian Psychological Review, 17(3), 182–195.

Brener, J., Kleinman, R., & Goesling, W. J. (1969). The effects of different exposures to augmented sensory feedback on the control of heart rate. Psychophysiology, 5, 510–516.

Burpee, L., & Langer, E. (2005). Mindfulness and marital satisfaction. Journal of Adult Development, 12(1), 43–51.

Carroll, D. (1979). Voluntary heart rate control: The role of individual differences. Biological Psychology, 8(2), 182–195.

Carroll, D., Baker, J., & Preston, M. (1979). Individual differences in visual imaging and the voluntary control of heart rate. British Journal of Psychology, 70, 39–49.

Carroll, D., & Rhys-Davies, L. (1979). Heart rate changes with exercise and voluntary heart rate acceleration. Biological Psychology, 8(4), 241–252.

Cioffi, D. (1993). Beyond attentional strategies: A cognitive-perceptual model of somatic interpretation. Psychological Bulletin, 109(1), 25–41.

Crum, A. J., & Langer, E. L. (2007). Mind-set matters: Exercise and the placebo effect. Psychological Science, 18(2), 165–171.

dePascalis, V., Palumbo, G., & Ronchitelli, V. (1991). Heartbeat perception, instructions, and biofeedback in the control of heart rate. International Journal of Psychophysiology, 11, 179–193.

Gannon, L. R. (1980). Cardiac perception and the voluntary control heart rate. Physiological Psychology, 8(4), 509–514.

Gardner, F. L., & Moore, Z. E. (2004). A mindfulness-acceptance-commitment-based approach to athletic performance enhancement: Theoretical considerations. Behavior Therapy, 35(4), 707–723.

Gatchel, R. J. (1975). Locus of control and voluntary heart-rate change. Journal of Personality Assessment, 39(6), 634–637.

Giardino, N. D., Lehrer, P. M., & Feldman, J. M. (2000). The role of oscillations in self-regulation: Their contribution to homeostasis. Stress and Health, 13, 27–51.

Gorman, J. M., & Sloan, R. P. (2000). Heart rate variability in depressive and anxiety disorders: Depression as a risk factor for cardiovascular and cerebrovascular disease. American Heart Journal, 140(4), S77–S83.

Gross, J. J. (2002). Emotion regulation: Affective, cognitive and social consequences. Psychophysiology, 39, 281–291.

Gross, J. J., & Levenson, R. W. (1997). Hiding feelings: The acute effects of inhibiting negative and positive emotion. Journal of Abnormal Psychology, 106(1), 95–103.

Grossman, P., Niemann, L., Schmidt, S., & Walach, H. (2004). Mindfulness-based stress reduction and health benefits: A meta-analysis. Journal of Psychosomatic Research, 57, 35–43.

Johnston, D. (1976). Criterion level and instructional effects in the voluntary control of heart rate. Biological Psychology, 4(1), 1–17.

Kato, T. (1975). Voluntary control of heart rate with and without augmented external feedback. Tohoku Psychologica Folia, 34(1), 78–87 (from PsychINFO: abstract).

Korte, S. M., Koolhaus, J. M., Wingfield, J. C., & McEwen, B. S. (2005). The Darwinian concept of stress: Benefits of allostasis and costs of allostatic load and the trade-offs in health and disease. Neuroscience and Biobehavioral Reviews, 29, 3–38.

Langer, E. (1989). Mindfulness. Reading, MA: Addison-Wesley.

Langer, E. (1997). The power of mindful learning. Reading, MA: Addison-Wesley.

Langer, E. (2005). On becoming an artist. New York: Ballantine Books.

Langer, E. J., & Chanowitz, B. (1981). Premature cognitive commitment. Journal of Personality and Social Psychology, 14(4), 1051–1063.

Langer, E., Hatem, M., Joss, J., & Howell, M. (1989). Conditional teaching and mindful learning: The role of uncertainty in education. Creativity Research Journal, 2, 139–150.

Langer, E. J., & Imber, L. G. (1979). When practice makes imperfect: Debilitating effects of overlearning. Journal of Personality and Social Psychology, 37(11), 2014–2024.

Langer, E., Janis, I., & Wolfer, J. (1975). Reduction of psychological stress in surgical patients. Journal of Experimental Social Psychology, 11, 155–165.

Langer, E. J., & Moldoveanu, M. (2000). The construct of mindfulness. Journal of Social Issues, 56(1), 1–9.

Langer, E. J., & Piper, A. I. (1987). The prevention of mindlessness. Journal of Personality and Social Psychology, 53, 280–287.

Langer, E., & Rodin, J. (1976). The effects of enhanced personal responsibility for the aged: A field experiment in and institutional setting. Journal of Personality and Social Psychology, 34, 191–198.

Low, C. A., Stanton, A. L., & Bower, J. E. (2008). Effects of acceptance-oriented versus evaluative emotional processing on heart rate recovery and habituation. Emotion, 8(3), 419–424.

McEwen, B. S., & Wingfield, J. C. (2003). The concept of allostasis in biology and biomedicine. Hormones and Behavior, 43, 2–15.

McFarland, R. A. (1975). Heart rate perception and heart rate control. Psychophysiology, 12, 402–405.

Moravec, C. S. (2008). Biofeedback therapy in cardiovascular disease: Rationale and research overview. Cleveland Clinic Journal of Medicine, 75(S2), S35–S38.

Pennebaker, J. W. (1981). Stimulus characteristic influencing estimation of heart rate. Psychophysiology, 18(5), 540–548.

Ritchart, R., & Langer, E. (1997). Teaching mathematical procedures mindfully: Exploring the conditional presentation of information in mathematics. In J. A. Dossey, J. O. Swafford, M. Parmantie, & A. E. Dossey (Eds.), Proceedings of the nineteenth annual meeting of the North American chapter of the international group for the psychology of mathematics education. Columbus, OH: ERIC Clearinghouse for Science Mathematics, and Environmental Education.

Rodin, J., & Langer, E. (1977). Long-term effects of a control-relevant intervention among the institutionalized aged. Journal of Personality and Social Psychology, 35, 897–902.

Sapolsky, R. M. (2007). Stress, stress-related disease, and emotion regulation. In J. J. Gross (Ed.), Handbook of emotion regulation (pp. 606–616). New York: Guilford.

White, T., Holmes, D., & Bennett, D. (1977). Effects of instructions, biofeedback, and cognitive activities on heart rate control. Journal of Experimental Psychology: Human Learning & Memory, 3(4), 477–484.

Williams, J. E., Teasdale, J. D., Segal, Z. V., & Soulsby, J. (2000). Mindfulness-based cognitive therapy reduces overgeneral autobiographical memory in formerly depressed patients. Journal of Abnormal Psychology, 109(1), 150–155.
About this article
Cite this article
Delizonna, L.L., Williams, R.P. & Langer, E.J. The Effect of Mindfulness on Heart Rate Control. J Adult Dev 16, 61–65 (2009). https://doi.org/10.1007/s10804-009-9050-6
Keywords
Mindfulness

Mindlessness

Heart rate control

Mindful attention