Abstract
Autism is strongly associated with sensory processing difficulties. We investigate sensory habituation, given its relevance for understanding important phenotypic traits like hyper- and hypo-sensitivities. We collected electroencephalography data from 22 neuro-typical(NT) and 13 autistic(ASD) children during the presentation of visual and auditory sequences of repeated stimuli. Our data show that the ASD children have significantly reduced habituation relative to the NT children for both auditory and visual stimuli. These results point to impaired habituation as a modality-general phenomenon in ASD. Additionally, the rates of habituation are correlated with several clinical scores associated with competence along diverse phenotypic dimensions. These data suggest that the sensory difficulties in autism are likely to be associated with reduced habituation and are related to clinical symptomology.
Access options
Buy single article
Instant access to the full article PDF.
US$ 39.95
Tax calculation will be finalised during checkout.
Subscribe to journal
Immediate online access to all issues from 2019. Subscription will auto renew annually.
US$ 119
Tax calculation will be finalised during checkout.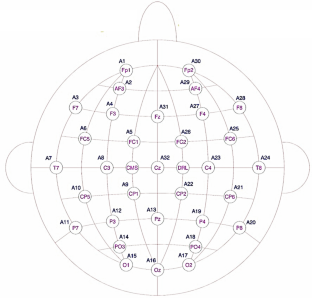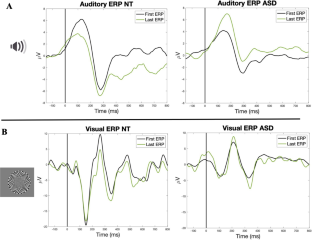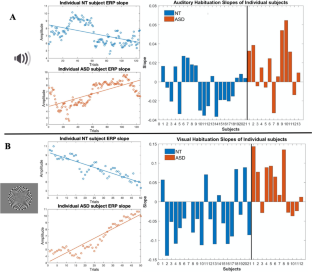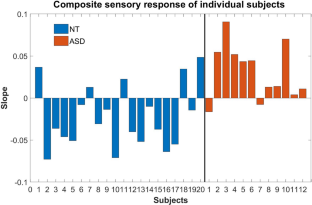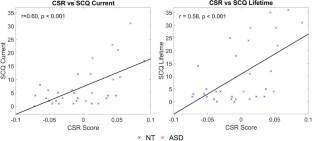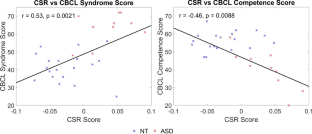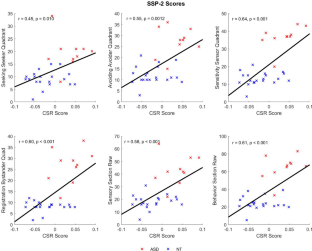 References
Achenbach, T. M., & Rescorla, L. A. (2004). The Achenbach System of Empirically Based Assessment (ASEBA) for ages 1.5 to 18 years. In The use of psychological testing for treatment planning and outcomes assessment: Volume 2: Instruments for children and adolescents (3rd ed.). London: Routledge.

American Psychiatric Association. (2013). Diagnostic and statistical manual of mental disorders-5 American Journal of Psychiatry (5th ed.). Washington D.C.: American Psychiatric Association.

Ames, C., & Fletcher-Watson, S. (2010). A review of methods in the study of attention in autism. Developmental Review, 30(1), 52–73.

Ashwin, E., Ashwin, C., Rhydderch, D., Howells, J., & Baron-Cohen, S. (2009). Eagle-eyed visual acuity: An experimental investigation of enhanced perception in autism. Biological Psychiatry, 65, 17–21.

Barry, R. J., & James, A. L. (1988). Coding of stimulus parameters in autistic, retarded, and normal children: Evidence for a two-factor theory of autism. International Journal of Psychophysiology: Official Journal of the International Organization of Psychophysiology, 6(2), 139–149.

Bernal, M. E., & Miller, W. H. (1970). Electrodermal and cardiac responses of schizophrenic children to sensory stimuli. Psychophysiology, 7(2), 155–168.

Bleichner, M. G., Lundbeck, M., Selisky, M., Minow, F., Jäger, M., Emkes, R., et al. (2015). Exploring miniaturized EEG electrodes for brain-computer interfaces. An EEG you do not see? Physiological Reports. https://doi.org/10.14814/phy2.12362

Bölte, S., Schlitt, S., Gapp, V., Hainz, D., Schirman, S., Poustka, F., et al. (2012). A close eye on the eagle-eyed visual acuity hypothesis of autism. Journal of Autism and Developmental Disorders, 42, 726–733.

Bonnel, A. C., Mottron, L., Peretz, I., Trudel, M., Gallun, E., & Bonnel, A. M. (2003). Enhanced pitch sensitivity in individuals with autism: A signal detection analysis. Journal of Cognitive Neuroscience, 15, 1–10.

Cascio, C., McGlone, F., Folger, S., Tannan, V., Baranek, G., & Pelphrey, K. A. (2008). Tactile perception in adults with autism: A multidimensional psychophysical study. Journal of Autism and Developmental Disorders, 38(1), 127–137.

Christensen, D. L., Bilder, D. A., Zahorodny, W., Pettygrove, S., Durkin, M. S., Fitzgerald, R. T., et al. (2016). Prevalence and characteristics of autism spectrum disorder among 4-year-old children in the autism and developmental disabilities monitoring network. Journal of Developmental & Behavioral Pediatrics, 37(1), 80–82.

Dabbous, A. O. (2012). Characteristics of auditory brainstem response latencies in children with autism spectrum disorders. Audiological Medicine, 10(3), 122–131.

DePape, A.-M.R., Hall, G. B. C., Tillmann, B., & Trainor, L. J. (2012). Auditory processing in high-functioning adolescents with autism spectrum disorder. PLoS ONE, 7, e44084.

Dunn, W. (2014). Short sensory profile manual (2nd ed.). San Antonio, TX: Pearson Psychological Corporation.

Ferri, R., Agarwal, E. M., Lanuzza, B., Musumeci, S. A., & Pennisi, G. (2003). The mismatch negativity and the P3a components of the auditory event-related potentials in autistic low functioning subjects. Clinical Neuropsychology, 114, 1671–1680.

Gomot, M., Giard, M. H., Adrien, J. L., Barthélémy, C., & Bruneau, N. (2002). Hypersensitivity to acoustic change in children with autism: Electrophysiological evidence of left frontal cortex dysfunctioning. Psychophysiology, 39, 577–584.

Guiraud, J. A., Kushnerenko, E., Tomalski, P., Davies, K., Ribeiro, H., & Johnson, M. H. (2011). Differential habituation to repeated sounds in infants at high risk for autism. NeuroReport, 22(16), 845–849.

Haenschel, C., Vernon, D. J., Dwivedi, P., Gruzelier, J. H., & Baldeweg, T. (2005). Event-related brain potential correlates of human auditory sensory memory-trace formation. The Journal of Neuroscience: The Official Journal of the Society for Neuroscience, 25(45), 10494–10501.

Heaton, P., Hermelin, B., & Pring, L. (1998). Autism and pitch processing: A precursor for savant musical ability? Music Perception, 15, 291–305.

Hudac, C., DesChamps, T., Arnett, A., Cairney, B., Ma, R., Webb, S., et al. (2018). Early enhanced processing and delayed habituation to deviance sounds in autism spectrum disorder. Brain and Cognition, 123(2018), 110–119.

Jones, E., Dawson, G., Kelly, J., Estes, A., & Webb, S. (2017). Parent-delivered early intervention in infants at risk for ASD: Effects on electrophysiological and habituaiton measures of social attention. Autism Research, 10(5), 961–972. https://doi.org/10.1002/aur.1754

Kanner, L. (1943). Autistic disturbances of affective contact. Nervous Child., 2(3), 217–250.

Kavšek, M., & Bornstein, M. H. (2010). Visual habituation and dishabituation in preterm infants: A review and meta-analysis. Research in developmental disabilities, 31(5), 951–975.

Khalfa, S., Bruneau, N., Rogé, B., Georgieff, N., Veuillet, E., Adrien, J. L., et al. (2004). Increased perception of loudness in autism. Hearing Research, 198, 87–92.

Kleinhans, N. M., Johnson, L. C., Richards, T., Mahurin, R., Greenson, J., Dawson, G., et al. (2009). Reduced neural habituation in the amygdala and social impairments in autism spectrum disorders. The American Journal of Psychiatry, 166, 467–475.

Kolesnik, A., Ali, J., Gliga, T., Guiraud, J., Charman, T., Johnson, M., et al. (2019). Increased cortical reactivity to repeated tones at 8 months in infants with later ASD. Translational Psychiatry, 9, 46. https://doi.org/10.1038/s41398-019-0393-x

Lagemann, L., Okamoto, H., Teismann, H., et al. (2010). Bottom-up driven involuntary attention modulates auditory signal in noise processing. BMC Neuroscience, 11, 156.

Lane, A. E., Molloy, C. A., & Bishop, S. L. (2014). Classification of children with autism spectrum disorder by sensory subtype: A case for sensory-based phenotypes. Autism Research, 7(3), 322–333.

Lawson, R. P., Aylward, J., White, S., & Rees, G. (2015). A striking reduction of simple loudness adaptation in autism. Scientific Reports, 5(1), 16157.

Leekam, S. R., Nieto, C., Libby, S. J., Wing, L., & Gould, J. (2007). Describing the sensory abnormalities of children and adults with autism. Journal of Autism and Developmental Disorders, 37(5), 894–910.

Lord, C., Rutter, M., DiLarore, P., Risi, S., Gotham, K., & Bishop, S. (2012). Autism diagnostic observation schedule—second edition (ADOS-2). Los Angeles, CA: Western Psychological Services.

Marco, E. J., Hinkley, L. B. N., Hill, S. S., & Nagarajan, S. S. (2011). Sensory processing in autism: A review of neurophysiologic findings. Pediatric Research, 69(8), 48–54.

Martineau, J., Roux, S., Garreau, B., Adrien, J. L., & Lelord, G. (1992). Unimodal and crossmodal reactivity in autism: Presence of auditory evoked responses and effect of the repetition of auditory stimuli. Biological Psychiatry, 31(12), 1190–1203.

Mazefsky, C. A., Kao, J., & Oswald, D. P. (2011). Preliminary evidence suggesting caution in the use of psychiatric self-report measures with adolescents with high-functioning autism spectrum disorders. Research in Autism Spectrum Disorders, 5(1), 164–174.

McAdam, D. W. (1966). Slow potential changes recorded from human brain during learning of a temporal interval. Psychonomic Science, 6, 435–436.

Miller, L. J., Reisman, J. E., McIntosh, D. N., & Simon, J. (2001). An ecological model of sensory modulation: Performance of children with fragile X syndrome, autistic disorder, attention-deficit/hyperactivity disorder, and sensory modulation dysfunction. In: Understanding the nature of sensory integration with diverse populations (pp. 57–88).

Montagu, J. D., & Coles, E. M. (1966). Mechanism and measurement of the galvanic skin response. Psychological Bulletin, 65(5), 261–279. https://doi.org/10.1037/h0023204

O'Riordan, M. A., & Passetti, F. (2006). Discimination in autism within different sensory modalities. Journal of Autism and Developmental Disorders, 36, 665–675.

Perry, W., Minassian, A., Lopez, B., Maron, L., & Lincoln, A. (2007). Sensorimotor gating deficits in adults with autism. Biological Psychiatry, 61(4), 482–486.

Plichta, M. M., Grimm, O., Morgen, K., Mier, D., Sauer, C., Haddad, L., et al. (2014). Amygdala habituation: A reliable fMRI phenotype. NeuroImage, 103, 383–390.

Rankin, C. H., et al. (2009). Habituation revisited: An updated and revised description of the behavioral characteristics of habituation. Neurobiology of Learning and Memory, 92(2), 135–138.

Rutter, M., Bailey, A., & Lord, C. (2003). Social Communication Questionnaire. Los Angeles, CA: Western Psychological Services.

Sinha, P., Kjelgaard, M. M., Gandhi, T. K., Tsourides, K., Cardinaux, A. L., Pantazis, D., et al. (2014). Autism as a disorder of prediction. Proceedings of the National Academy of Sciences, 111(42), 15220–15225.

Sörqvist, P., Nöstl, A., & Halin, N. (2012). Working memory capacity modulates habituation rate: Evidence from a cross-modal auditory distraction paradigm. Psychonomic Bulletin & Review, 19(2), 245–250.

Tam, F. I., King, J. A., Geisler, D., Korb, F. M., Sareng, J., Ritschel, F., et al. (2017). Altered behavioral and amygdala habituation in high-functioning adults with autism spectrum disorder: An fMRI study. Scientific Reports, 7(1), 13611.

Thompson, R. F., & Spencer, W. A. (1966). Habituation: A model phenomenon for the study of neuronal substrates of behavior. Psychological Review, 73(1), 16–43.

Tomchek, S. D., & Dunn, W. (2007). Sensory processing in children with and without autism: A comparative study using the short sensory profile. The American Journal of Occupational Therapy, 61(2), 190–200.

Webb, S. J., Jones, E. J. H., Merkle, K., Murias, M., Greenson, J., Richards, T., et al. (2010). Response to familiar faces, newly familiar faces, and novel faces as assessed by ERPs is intact in adults with autism spectrum disorders. International Journal of Psychophysiology, 77(2), 106–117.

Wechsler, D. (2014). WISC-V administration and scoring manual. San Antonio, TX: Psychological Corporation.

Williams, D. L., Goldstein, G., & Minshew, N. J. (2006). The profile of memory function in children with autism. Neuropsychology, 20(1), 21–29.
Acknowledgments
We are grateful to the families who participated in our research for their time and dedication to the pursuit of better understanding autism spectrum disorder. We also wish to express our gratitude to the McGovern Institute for Brain Research Martinos Imaging Center facility and staff, and the contributions of Lukas Vogelsang, Rowan Cheung, Leila Denna, Emily Losordo, Alison Franco, James Borders, Molly Jabeck, Xue Bao, Alesa Commedore, Jennifer McCleary, Thuy Duong Vuong, Anita Liu, Lily Zhang, Arushi Agarwal, and Nishad Sharker.
Funding
This research was supported by the Simons Foundation Autism Research Initiative and a pilot grant from the MIT Simons Center for the Social Brain.
Ethics declarations
Conflict of interest
The authors declare that they have no conflict of interest.
Consent to Participate
Written consent was obtained from the legal guardians, and assent from each participant.
Ethical Approval
This study was approved by Massachusetts Institute of Technology (MIT) Committee on Use of Humans as Experimental Subjects (COUHES) in accordance with all institutional review board requirements.
Additional information
Publisher's Note
Springer Nature remains neutral with regard to jurisdictional claims in published maps and institutional affiliations.
About this article
Cite this article
Jamal, W., Cardinaux, A., Haskins, A.J. et al. Reduced Sensory Habituation in Autism and Its Correlation with Behavioral Measures. J Autism Dev Disord (2020). https://doi.org/10.1007/s10803-020-04780-1
Keywords
Sensory habituation

Autism

Hyper and hypo-sensitivity

Audition

Vision

Electroencephalography