Abstract
Autism spectrum disorder (ASD) impacts various developmental domains, requiring interventions by professionals from multiple disciplines. In Israel, ASD community preschools' multidisciplinary teams aim to provide each child with an integrative intervention program. The current study focused on the working experience of 21 professionals from multidisciplinary teams in ASD-preschools, with special emphasis on their perceptions of the intra-staff dialogue in their teams. Interviews were transcribed verbatim and analyzed through grounded theory. Arising themes covered: challenges characterizing the delivery of intervention to children with ASD in a community setting; challenges met by professionals when attempting to navigate multidisciplinary teamwork; and factors that facilitate multidisciplinary work. Practices that support multidisciplinary team cohesion at the team, the organizational, and the policy-making levels are discussed.
Access options
Buy single article
Instant access to the full article PDF.
US$ 39.95
Tax calculation will be finalised during checkout.
Subscribe to journal
Immediate online access to all issues from 2019. Subscription will auto renew annually.
US$ 119
Tax calculation will be finalised during checkout.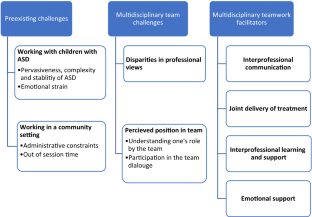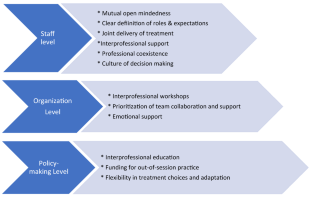 References
American Psychiatric Association. (2013). Diagnostic and statistical manual of mental disorders (5th ed.). Washington, DC: APA.

Beverly, B. L., & Wooster, D. (2018). An interprofessional education initiative for allied health students preparing to serve individuals with autism spectrum disorders. Journal of Allied Health, 47(2), 90–95.

Brodhead, M. T. (2015). Maintaining professional relationships in an interdisciplinary setting: Strategies for navigating nonbehavioral treatment recommendations for individuals with autism. Behavior Analysis in Action, 8(1), 70–78.

Brookman-Frazee, L., Drahota, A., Stadnick, N., & Palinkas, L. A. (2012). Therapist perspectives on community mental health services for children with autism spectrum disorders. Administration and Policy in Mental Health and Mental Health Services Research, 39, 365–373.

Brown, L. S., Benigno, J. P., & Geist, K. (2018). Come together: Music therapy and speech-language pathology students' perspectives on collaboration during an inclusive camp for children with ASD. Music Therapy Perspectives, 36(1), 17–25.

Corbin, J., & Strauss, A. (2014). Basics of qualitative research: Techniques and procedures for developing grounded theory (4th ed.). Thousand Oaks, CA: Sage Publications Inc.

Cox, D. J. (2012). From interdisciplinary to integrated care of the child with autism: The essential role for a code of ethics. Journal of Autism and Developmental Disorders, 42(12), 2729–2738.

Dillenburger, K., Rottgers, H., Dounavi, K., Sparkman, C. R., Keenan, M., Thyer, B., et al. (2014). Multidisciplinary teamwork in Autism: Can one size fit all? The Australian Educational and Developmental Psychologist, 31(2), 97–112.

Eldevik, S., Hastings, R. P., Jahr, E., & Hughes, C. J. (2012). Outcomes of behavioral intervention for children with autism in mainstream pre-school settings. Journal of Autism and Developmental Disorders, 42, 210–220.

Fournier, K. A., Hass, C. J., Naik, N. L., & Cauraugh, J. H. (2010). Motor coordination in autism spectrum disorders: A synthesis and meta-analysis. Journal of Autism and Developmental Disorders, 40(10), 1127–1240.

Glaser, B., & Strauss, S. (1967). The discovery of grounded theory. Mill Valley, CA: Sociology Press.

Iadarola, S., Hetherington, S., Clinton, C., Dean, M., Reisinger, E., Huynh, L. N., et al. (2015). Services for children with autism spectrum disorder in three, large urban school districts: Perspectives of parents and educators. Autism, 19(6), 694–703.

Israeli Ministry of Education. (2016). Promotional health treatment for children on the autism spectrum attending specialized preschools. Retrieved November 1, 2017, from http://cms.education.gov.il/EducationCMS/Applications/Mankal/EtsMedorim/1/1-2/HoraotKeva/K-2015-1-3-1-1-2-46.htm.

Landa, R. J., Gross, A. L., Stuart, E. A., & Faherty, A. (2013). Developmental trajectories in children with and without autism spectrum disorders: The first 3 years. Child Development, 84(2), 429–442.

Laor, N., Nagel-Edelstein, T., Barzilay, R., & Golan, O. (2017). Israel and Autism. In F. Volkmar (Ed.), Encyclopedia of autism spectrum disorders. New York: Springer.

McKeele, A. N., Dixon, M. R., Daar, J. H., Rowsey, K. E., & Szekely, S. (2015). Evaluating the efficacy of the PEAK relational training system using a randomized controlled trial of children with autism. Journal of Behavioral Education, 24(2), 230–241.

Muratori, F., Narzisi, A., & IDOA group. (2014). Exploratory study describing 6 month outcomes for young children with autism who receive treatment as usual in Italy. Neuropsychiatric Disease and Treatment, 10, 577–586.

National Institute for Health and Care Excellence. (2013). Autism: The management and support of children and young people on the autism spectrum. London: National Institute for Health and Care Excellence.

Shkedi, A. (2014). Qualitative data analysis with an essential software tool. Tel Aviv: Contento de Semrik.

Stahmer, A. C., Brookman-Frazee, L., Lee, E., Searcy, K., & Reed, S. (2011). Parent and multidisciplinary provider perspectives on earliest intervention for children at risk for autism. Infants & Young Children, 24(4), 344–363.

Stahmer, A. C., Collings, N. M., & Palinkas, L. A. (2005). Early intervention practices for children with autism: Descriptions from community providers. Focus on Autism and Other Developmental Disorders, 20(2), 66–79.

Starks, H., & Trinidad, S. B. (2007). Choose your method: A comparison of phenomenology, discourse analysis, and grounded theory. Qualitative Health Research, 17, 1372–1380.

Vivanti, G., Duncan, E., Dawson, G., & Rogers, S. J. (2016). Implementing the gorup-based early start denver model for preschoolers with autism. Cham: Springer.

Wallace, K. S., & Rogers, S. J. (2010). Intervening in infancy: Implications for autism spectrum disorders. Journal of Child Psychology and Psychiatry, 51(12), 1300–1320.

Zachor, D. A., & Ben-Itzchak, E. (2010). Treatment approach, autism severity and intervention outcomes in young children. Research in Autism Spectrum Disorders, 4, 425–432.

Zachor, D. A., Ben-Itzchak, E., Rabinovich, A., & Lahat, E. (2007). Change in autism core symptoms with intervention. Research in Autism Spectrum Disorders, 1, 304–317.
Acknowledgments
We would like to thank the Association for Children at Risk, Israel, and the community preschool professionals who participated in the current study. We are grateful to Drs. Rivka Tuval-Mashiach and Aubyn Stahmer for helpful comments on an earlier draft of this paper.
Ethics declarations
Conflict of interest
All authors declare they have no conflict of interest.
Additional information
Publisher's Note
Springer Nature remains neutral with regard to jurisdictional claims in published maps and institutional affiliations.
Appendix: Example of interview questions
Appendix: Example of interview questions
1.

What are the main challenges you meet when working in your preschool setting?

2.

Describe the techniques and practices you employ in your work.

3.

How do you decide which treatment objectives you will work on with a specific child?

4.

Describe the supervision you receive in your line of work.

5.

What are your experiences of the internal dialogue between different members of your team?

6.

If you had the opportunity, what changes would you make in your work in order to feel more satisfied with your work, or the setting? Feel free to speak about any changes that come to mind.
About this article
Cite this article
Sinai-Gavrilov, Y., Gev, T., Mor-Snir, I. et al. Seeking Team Collaboration, Dialogue and Support: The Perceptions of Multidisciplinary Staff-Members Working in ASD Preschools. J Autism Dev Disord 49, 4634–4645 (2019). https://doi.org/10.1007/s10803-019-04175-x
Keywords
Autism spectrum disorder

Pre-school children

Policy

Education services

Health services

Qualitative research