Abstract
Anecdotal evidence of successful cannabis treatment in autism spectrum disorder (ASD) are accumulating but clinical studies are lacking. This retrospective study assessed tolerability and efficacy of cannabidiol-rich cannabis, in 60 children with ASD and severe behavioral problems (age = 11.8 ± 3.5, range 5.0–17.5; 77% low functioning; 83% boys). Efficacy was assessed using the Caregiver Global Impression of Change scale. Adverse events included sleep disturbances (14%) irritability (9%) and loss of appetite (9%). One girl who used higher tetrahydrocannabinol had a transient serious psychotic event which required treatment with an antipsychotic. Following the cannabis treatment, behavioral outbreaks were much improved or very much improved in 61% of patients. This preliminary study supports feasibility of CBD-based cannabis trials in children with ASD.
This is a preview of subscription content, log in to check access.
Access options
Buy single article
Instant access to the full article PDF.
US$ 39.95
Price includes VAT for USA
Subscribe to journal
Immediate online access to all issues from 2019. Subscription will auto renew annually.
US$ 199
This is the net price. Taxes to be calculated in checkout.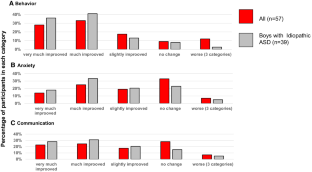 Funding
The authors received no financial support for the research, authorship, and/or publication of this article.
Ethics declarations
Ethical Approval
All procedures performed in studies involving human participants were in accordance with the ethical standards of the institutional and/or national research committee and with the 1964 Helsinki declaration and its later amendments or comparable ethical standards.
Electronic supplementary material
Below is the link to the electronic supplementary material.
About this article
Cite this article
Aran, A., Cassuto, H., Lubotzky, A. et al. Brief Report: Cannabidiol-Rich Cannabis in Children with Autism Spectrum Disorder and Severe Behavioral Problems—A Retrospective Feasibility Study. J Autism Dev Disord 49, 1284–1288 (2019). https://doi.org/10.1007/s10803-018-3808-2
Keywords
Cannabidiol

Medical cannabis

Medical marijuana

Autism spectrum disorder

Disruptive behavior