Abstract
Two laboratories have reported that children with ASD are less likely than their typical peers to fill pauses with um but their use of uh is unaffected (Irvine et al., J Autism Dev Disord 46(3):1061–1070, 2016; Gorman et al., Autism Res 9(8):854–865, 2016). In this brief report, we replicated this finding by comparing the discourse of 7-to-15-year-olds with ASD (N = 31) to that of their typically developing same-age peers (N = 32). The robustness of this easily documented difference in discourse suggests a potentially useful clinical marker of ASD.
Access options
Buy single article
Instant access to the full article PDF.
USD 39.95
Price excludes VAT (USA)
Tax calculation will be finalised during checkout.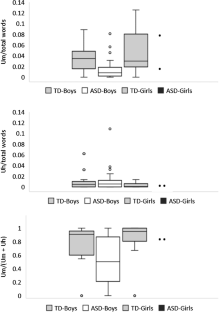 References
American Speech-Language-Hearing Association. (1990). Guidelines for screening for hearing impairments and middle ear disorders. ASHA, 32(Suppl 2), 17–24.

Arciuli, J., Mallard, D., & Villar, G. (2010). "Um, I can tell you're lying": Linguistic markers of deception versus truth-telling in speech. Applied Psycholinguistics, 31(3), 397–411.

Arnold, J. E., Fagnano, M., & Tanenhaus, M. K. (2003). Disfluencies signal theee, um, new information. Journal of Psycholinguistic Research, 32(1), 25–36.

Arnold, J. E., Hudson-Kam, C. L., & Tanenhaus, M. K. (2007). If you say thee uh you are describing something hard: The on-line attribution of disfluency during reference comprehension. Journal of Experimental Psychology: Learning, Memory, and Cognition, 33(5), 914–930.

Arnold, J. E., Tanenhaus, M. K., Altmann, R. J., & Fagnano, M. (2004). The old and thee, uh, new: Disfluency and reference resolution. Psychological Science, 15(9), 578–582.

Bortfeld, H., Leon, S. D., Bloom, J. E., Schober, M. F., & Brennan, S. E. (2001). Disfluency rates in conversation: Effects of age, relationship, topic, role, and gender. Language and Speech, 44(2), 123–147.

Clark, H. H., & Fox Tree, J. E. (2002). Using uh and um in spontaneous speaking. Cognition, 84(1), 73–111.

Corley, M., & Stewart, O. W. (2008). Hesitation disfluencies in spontaneous speech: The meaning of um. Language and Linguistics Compass, 2(4), 589–602.

Dunn, L. M., & Dunn, L. M. (1997). Peabody Picture Vocabulary Test (3rd ed.). Circle Pines, MN: American Guidance Service.

Fox Tree, J. E. (2001). Listeners' uses of um and uh in speech comprehension. Memory & Cognition, 29(2), 320–326.

Fox Tree, J. E. (2007). Folk notions of um and uh, you know, and like. Text & Talk, 27(3), 297–314.

Gorman, K., Olson, L., Hill, A. P., Lunsford, R., Heeman, P. A., & van Santen, J. P. (2016). Uh and um in children with autism spectrum disorders or language impairment. Autism Research, 9(8), 854–865.

Irvine, C. A., Eigsti, I. M., & Fein, D. A. (2016). Uh, um, and autism: Filler disfluencies as pragmatic markers in adolescents with optimal outcomes from autism spectrum disorder. Journal of Autism and Developmental Disorders, 46(3), 1061–1070.

Kaufman, A. S., & Kaufman, N. L. (2004). The Kaufman Brief Intelligence Test-2. Circle Pines, MN: AGS Publishing.

Lake, J. K., Humphreys, K. R., & Cardy, S. (2011). Listener vs. speaker-oriented aspects of speech: Studying the disfluencies of individuals with autism spectrum disorders. Psychonomic Bulletin & Review, 18(1), 135–140.

Lee, L. C., David, A. B., Rusyniak, J., Landa, R., & Newschaffer, C. J. (2007). Performance of the Social Communication Questionnaire in children receiving preschool special education services. Research in Autism Spectrum Disorders, 1(2), 126–138.

Lord, C., Rutter, M., DiLavore, P., & Risi, S. (1999). Autism Diagnostic Observation Schedule—WPS Edition. Los Angeles: Western Psychological Services.

MacFarlane, H., Gorman, K., Ingham, R., Hill, A. P., Papadakis, K., Kiss, G., & Van Santen, J. (2017). Quantitative analysis of disfluency in children with autism spectrum disorder or language impairment. PLoS ONE, 12(3), e0173936.

McGregor, K. K., Berns, A. J., Owen, A. J., Michels, S. A., Duff, D., Bahnsen, A. J., & Lloyd, M. (2012). Associations between syntax and the lexicon among children with or without ASD and language impairment. Journal of Autism and Developmental Disorders, 42(1), 35–47.

Miller, J. F., & Chapman, R. S. (1995). SALT: Systematic Analysis of Language Transcripts. Madison: University of Wisconsin, Language Analysis Laboratory.

Nippold, M. A., Hesketh, L. J., Duthie, J. K., & Mansfield, T. C. (2005). Conversational versus expository discourse: A study of syntactic development in children, adolescents, and adults. Journal of Speech, Language, and Hearing Research, 48, 1048–1064.

Parish-Morris, J., Liberman, M. Y., Cieri, C., Herrington, J. D., Yerys, B. E., Bateman, L., et al. (2017). Linguistic camouflage in girls with autism spectrum disorder. Molecular Autism, 8(1), 48.

Rutter, M., Bailey, A., Berument, S. K., Lord, C., & Pickles, A. (2003). Social Communication Questionnaire (SCQ). Los Angeles: Western Psychological Services.

Semel, E., Wiig, E. H., & Secord, W. A. (2003). Clinical Evaluation of Language Fundamentals—Fourth Edition (CELF-4). San Antonio, TX: The Psychological Corporation.

Sporer, S. L., & Schwandt, B. (2006). Paraverbal indicators of deception: A meta-analytic synthesis. Applied Cognitive Psychology, 20(4), 421–446.

Villar, G., Arciuli, J., & Mallard, D. (2012). Use of "um" in the deceptive speech of a convicted murderer. Applied Psycholinguistics, 33(1), 83–95.

Wieling, M., Grieve, J., Bouma, G., Fruehwald, J., Coleman, J., & Liberman, M. (2016). Variation and change in the use of hesitation markers in Germanic languages. Language Dynamics and Change, 6(2), 199–234.

Williams, K. T. (2007). Expressive Vocabulary Test (2nd ed.). Circle Pines, MN: AGS Publishing.
Acknowledgments
We thank the children for their participation and Nichole Eden and Jacob Oleson for their assistance.
Funding
This study was funded by NIH-NIDCD 2 R01 DC003698 together with an augmentation award from Autism Speaks.
Ethics declarations
Conflict of interest
The authors declare that they have no conflict of interest.
Ethical Approval
All procedures performed in studies involving human participants were in accordance with the ethical standards of the institutional and/or national research committee and with the 1964 Helsinki declaration and its later amendments or comparable ethical standards.
Informed Consent
Informed consent was obtained from all individual participants included in the study.
About this article
Cite this article
McGregor, K.K., Hadden, R.R. Brief Report: "Um" Fillers Distinguish Children With and Without ASD. J Autism Dev Disord 50, 1816–1821 (2020). https://doi.org/10.1007/s10803-018-3736-1
Published:

Issue Date:

DOI: https://doi.org/10.1007/s10803-018-3736-1
Keywords
Autism Spectrum Disorder

Fillers

Disfluency

Discourse