Abstract
Little is known about Autism Spectrum Disorder (ASD) in persons over age 50. In a retrospective, naturalistic review of 74 individuals aged 30 and older meeting DSM-5 criteria for ASD, the point prevalence of behavioral and neuropsychiatric symptoms (BNPS) declined significantly for 12 of 13 BNPS over a mean of 25 years while many other features of ASD remained stable. GI disorders (68.9%) and seizure disorders (23%) were common, and 25.7% of the sample had a BMI >30. Females were more likely to engage in screaming (p < 0.05) and oppositional behavior (p < 0.05). Current age did not have a significant effect on BNPS prevalence.
Access options
Buy single article
Instant access to the full article PDF.
USD 39.95
Price excludes VAT (USA)
Tax calculation will be finalised during checkout.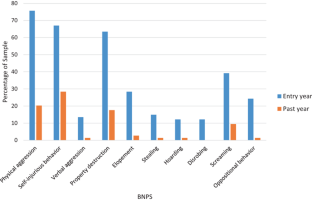 References
Ballaban-Gil, K., Rapin, I., Tuchman, R., & Shinnar, S. (1996). Longitudinal examination of the behavioral, language, and social changes in a population of adolescents and young adults with autistic disorder. Pediatric Neurology, 15, 217–223.

Brugha, T., McManus, S., Bankart, J., Scott, F., Purdon, S., Smith, J., et al. (2011). Epidemiology of autism spectrum disorders in adults in the community in England. Archives of General Psychiatry, 68, 459–466.

Christensen, D., Baio, J., Van Naarden Braun, K., Bilder, D., Charles, J., Constantino, J., et al (2016). Prevalence and characteristics of autism spectrum disorder among children aged 8 years—Autism and Developmental Disabilities Monitoring Network, 11 sites, United States, 2012. Morbidity and Mortality Weekly Report. doi:10.15585/mmwr.ss6503a1.

Croen, L., Zerbo, O., Qian, Y., Massolo, M., Rich, S., Sidney, S., & Kripke, C. (2015). The health status of adults on the autism spectrum. Autism: The International Journal of Research and Practice, 19, 814–823.

Esbensen, A., Seltzer, M., Lam, K., & Bodfish, J. (2009). Age-related differences in restricted repetitive behaviors in autism spectrum disorders. Journal of Autism and Developmental Disorders, 39, 57–66.

Farley, M., McMahon, W., Fombonne, E., Jenson, W., Miller, J., Gardner, M., et al. (2009). Twenty-year outcome for individuals with autism and average or near-average cognitive abilities. Autism Research, 2, 109–118.

Fortuna, R., Robinson, L., Smith, T., Meccarello, J., Bullen, B., Nobis, K., & Davidson, P. (2016). Health conditions and functional status in adults with autism: A cross-sectional evaluation. Journal of General Internal Medicine, 31, 77–84.

Ganz, M. (2007). The lifetime distribution of the incremental societal costs of autism. Archives of Pediatrics and Adolescent Medicine, 4, 353–359.

Happe, F., & Charlton, R. (2012). Aging in autism spectrum disorders: A mini-review. Gerontology, 58, 70–78.

Happe, F., Mansour, H., Barrett, P., Brown, T., Abbott, P., & Charlton, R. (2016). Demographic and cognitive profile of individuals seeking a diagnosis of autism spectrum disorder in adulthood. Journal of Autism and Developmental Disorders, 46, 3469–3480.

Howlin, P., Goode, S., Hutton, J., & Rutter, M. (2004). Adult outcome for children with autism. Journal of Child Psychology and Psychiatry, 45, 212–229.

Kanner, L. (1943). Autistic disturbances of affective contact. Nervous Child, 2, 217–250.

Kanner, L., Rodriguez, A., & Ashenden, B. (1972). How far can autistic children go in matters of social adaptation? Journal of Autism and Child Schizophrenia, 2, 9–33.

Kats, D., Payne, L., Parlier, M., & Piven, J. (2013). Prevalence of selected clinical problems in older adults with autism and intellectual disability. Journal of Neurodevelopmental Disorders, 5, 1–12.

Keyes, K., Susser, E., Cheslack-Postava, K., Fountain, C., Liu, K., & Bearman, P. (2012). Cohort effects explain the increase in autism diagnosis among children born from 1992 to 2003 in California. International Journal of Epidemiology, 41, 495–503.

Kohane, I., McCurry, A., Weber, G., MacFadden, D., Rappaport, L., Kunkel, L., et al. (2012). The co-morbidity burden of children and young adults with autism spectrum disorders. PLoS One, 7, e33224.

Lai, M., Lombardo, M., & Baron-Cohen, S. (2014). Autism. Lancet, 383, 896–910.

McCarthy, J., Hemmings, C., Kravariti, E., Dworzynski, K., Holt, G., Bouras, N., & Tsakanikos, E. (2010). Challenging behavior and co-morbid psychopathology in adults with intellectual disability and autism spectrum disorders. Research in Developmental Disabilities, 31, 362–366.

Mukaetova-Ladinska, E. B., Perry, E., Baron, M., & Povey, C. (2012). Ageing in people with autistic spectrum disorder. International Journal of Geriatric Psychiatry, 27, 109–118.

Ortman, J., Velkoff, V., & Hogan, H. (2014). Aging nation: The older population in the United States, population estimates and projections. Current Population Reports.

Perkins, E. A., & Berkman, K. A. (2012). Into the unknown: Aging with autism spectrum disorders. American Journal on Intellectual and Developmental Disorders, 117, 478–496.

Piven, J., & Rabins, P. (2011). Autism spectrum disorders in older adults: Toward defining a research agenda. Journal of the American Geriatrics Society, 59, 2151–2155.

Rutter, M., Greenfeld, D., & Lockyer, L. (1967). A five to fifteen year follow-up study of infantile psychosis: II. Social and behavioural outcome. British Journal of Psychiatry, 113, 1183–1199.

Totsika, V., Felce, D., Kerr, M., & Hastings, R. (2010). Behavior problems, psychiatric symptoms, and quality of life for older adults with intellectual disability with and without autism. Journal of Autism and Developmental Disorders, 40, 1171–1178.

Tyler, C., Schramm, S., Karafa, M., Tang, A., & Jain, A. (2011). Chronic disease risks in young adults with autism spectrum disorder: Forewarned is forearmed. American Journal of Intellectual and Developmental Disorders, 116, 371–380.
Acknowledgements
We wish to acknowledge and thank the staff at CSAAC, including Dide Cimen Berube, Sam Asiamah, and Janet Burch, who participated in coordination of the study.
Authors' contributions
PV conceived of the study, participated in its design and interpretation of the data, and helped to draft the manuscript; MS participated in the design and coordination of the study; EW participated in the design and coordination of the study, performed the measurement and statistical analysis, and drafted the manuscript. All authors read and approved the final manuscript.
Ethics declarations
Conflict of interest
The authors declare that they have no conflict of interest.
Ethical Approval
All procedures performed in studies involving human participants were in accordance with the ethical standards of the institutional and/or national research committee and with the 1964 Helsinki declaration and its later amendments or comparable ethical standards. This article does not contain any studies with animals performed by any of the authors.
About this article
Cite this article
Wise, E.A., Smith, M.D. & Rabins, P.V. Aging and Autism Spectrum Disorder: A Naturalistic, Longitudinal Study of the Comorbidities and Behavioral and Neuropsychiatric Symptoms in Adults with ASD. J Autism Dev Disord 47, 1708–1715 (2017). https://doi.org/10.1007/s10803-017-3095-3
Published:

Issue Date:

DOI: https://doi.org/10.1007/s10803-017-3095-3
Keywords
Adulthood

Aging

Autism spectrum disorder

Neuropsychiatric symptoms