Abstract
Both social input and facial feedback appear to be processed differently by individuals with autism spectrum disorder (ASD). We tested the effects of both of these types of input on laughter in children with ASD. Sensitivity to facial feedback was tested in 43 children with ASD, aged 8–14 years, and 43 typically developing children matched for mental age (6–14), in order to examine whether children with ASD use bodily feedback as an implicit source of information. Specifically, children were asked to view cartoons as they normally would (control condition), and while holding a pencil in their mouth forcing their smiling muscles into activation (feedback condition) while rating their enjoyment of the cartoons. The authors also explored the effects of social input in children with ASD by investigating whether the presence of a caregiver or friend (companion condition), or the presence of a laugh track superimposed upon the cartoon (laugh track condition) increased the children's self-rated enjoyment of cartoons or the amount of positive affect they displayed. Results showed that the group with ASD was less affected by all three experimental conditions, but also that group differences seemed to have been driven by one specific symptom of ASD: restricted range of affect. The strong relationship between restricted affect and insensitivity to facial feedback found in this study sheds light on the implications of restricted affect for social development in ASD.
Access options
Buy single article
Instant access to the full article PDF.
USD 39.95
Price excludes VAT (USA)
Tax calculation will be finalised during checkout.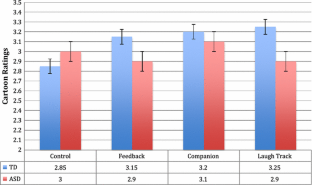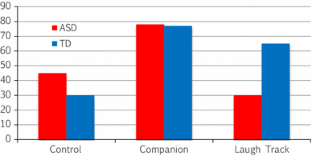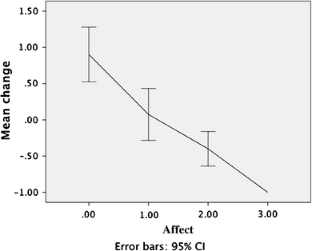 Notes
The DSM-5, released in 2014, eliminated PDD-NOS as a diagnostic category, and altered the diagnostic criteria for autism spectrum disorder, so it is possible that the 17 children in this study diagnosed with PDD-NOS, prior to the release of DSM-5, would not meet DSM-5 criteria for ASD.
References
Adelmann, P. K., & Zajonc, R. B. (1989). Facial efference and the experience of emotion. Annual Review of Psychology, 40, 249–280.

American Psychiatric Association. (2000). Diagnostic and statistical manual of mental disorders (4th ed., text rev.). Washington, DC: American Psychiatric Association.

American Psychiatric Association. (2013). Diagnostic and statistical manual of mental disorders (5th ed.). Washington, DC: American Psychiatric Association.

Andreasson, P., & Dimberg, U. (2008). Emotional empathy and facial feedback. Journal of Nonverbal Behavior, 32, 215–224.

Balconi, M., & Canavesio, Y. (2013). Emotional contagion and trait empathy in prosocial behaviors in young people: The contribution of autonomic (facial feedback) and Balanced Emotional Empathy Scale (BEES) measures. Journal of Clinical and Experimental Neuropsychology, 35, 41–48.

Baron-Cohen, S., & Wheelwright, S. (2004). The empathy quotient: An investigation of adults with Asperger's or High Functioning Autism, and normal sex differences. Journal of Autism and Developmental Disorders, 34, 163–175.

Bechara, A., Damasio, H., Tranel, D., & Damasio, A. R. (2005). The Iowa Gambling Task and the Somatic Marker Hypothesis: Some questions and answers. Trends in Cognitive Sciences, 9, 159–162.

Bush, L. K., Barr, C. L., McHugo, G. J., & Lanzetta, J. T. (1989). The effects of facial control and facial mimicry on subjective reactions to comedy routines. Motivation and Emotion, 13, 31–52.

Cappella, J. N. (1993). The facial feedback hypothesis in human interaction: Review and speculation. Journal of Language and Social Psychology, 12, 13–29.

Capps, L., Sigman, M., & Mundy, P. (1994). Attachment security in children with autism. Development and Pychopathology, 6, 249–261.

Chapman, A. J. (1974). An electromyographic study of social facilitation: A test of the "mere presence" hypothesis. British Journal of Psychology, 65, 123–128.

Damasio, A. R. (2000). A neural basis for sociopathy. Archives of General Psychiatry, 57, 128–129.

Darwin, C. (1872). The expression of the emotions in man and animals. London, England: John Murray.

Dethier, M., Blairy, S., Rosenberg, H., & McDonald, S. (2013). Emotional regulation impairments following severe traumatic brain injury: An investigation of the body and facial feedback effects. Journal of the International Neuropsychological Society, 19, 367–379.

Dimberg, U. (1982). Facial reactions to facial expressions. Psychophysiology, 19, 643–647.

Dimberg, U. (1990). Facial electromyography and emotional reactions. Psychophysiology, 27, 481–494.

Dimberg, U., Thunberg, M., & Elmehed, K. (2000). Unconscious facial reactions to emotional facial expressions. Psychological Science, 11, 86–89.

Eigsti, I.-M. (2013). A review of embodiment in Autism Spectrum Disorders. Frontiers in Psychology, 4, 224.

Ekman, P., Levenson, R. W., & Friesen, W. V. (1983). Autonomic nervous system activity distinguishes among emotions. Science, 221, 1208–1210.

Finzi, E., & Wasserman, E. (2006). Treatment of depression with botulinum toxin A: A case series. Dermatologic Surgery, 32, 645–649.

Gallese, V. (2006). Intentional attunement: A neurophysiological perspective on social cognition and its disruption in autism. Brain Research, 1079, 15–24.

Gillberg, C., & Steffenburg, S. (2008). Autistic behavior in Moebius syndrome. Acta Paediatrica Scanda, 78, 314–316.

Gur, R. E., & Johnson, A. B. (2006). If your adolescent has schizophrenia; An essential resource for parent. New York: Oxford University Press.

Hatfield, E., Cacioppo, J. T., & Rapson, R. L. (1994). Emotional contagion. Cambridge, MA: Cambridge University Press.

Havas, D. A., & Matheson, J. (2013). The functional role of the periphery in emotional language comprehension. Frontiers in Psychology, 4, 294.

Hecke, V., Vaughan, A., Lebow, J., Bal, E., Lamb, D., Harden, E., et al. (2009). Electroencephalogram and heart rate regulation to familiar and unfamiliar people in children with autism spectrum disorders. Child Development, 80, 1118–1133.

Helt, M. S., Eigsti, I.-M., Snyder, P. J., & Fein, D. A. (2010). Contagious yawning in typical and autistic development. Child Development, 81, 1620–1631.

Hennenlotter, A., Dresel, C., Castrop, F., Ceballos-Baumann, A. O., Wohlschlager, A. M., & Haslinger, B. (2009). The link between facial feedback and neural activity within central circuitries of emotion—new insights from botulinum toxin-induced denervation of frown muscles. Cerebral Cortex, 19, 537–542.

Hoferhacker, A., Benecke, C., Edlinger, M., Huber, R., Kemmler, G., Rettenbacher, M. A., et al. (2009). Facial emotion recognition and its relationship to symptomatic, subjective, and functional outcomes in outpatients with chronic schizophrenia. European Psychiatry, 24, 27–32.

James, W. (1890). The principles of psychology. New York, NY: Holt.

Klin, A., Jones, W., & Schultz, R. (2003). The enactive mind, or from actions to cognition: Lessons from autism. Philisophical Transactions of the Royal Society, 1430, 345–360.

Laird, J. D. (1974). Self-attribution of emotion: The effects of expressive behavior on the quality of emotional experience. Journal of Personality and Social Psychology, 29, 475–486.

Laird, J. D., Alibozak, T., Davainis, D., Deignan, K., Fontanella, K., Hong, J., et al. (1994). Individual differences in the effects of spontaneous mimicry on emotional contagion. Motivation and Emotion, 18, 231–233.

Larsen, R. J., Kasimatis, M., & Frey, K. (1992). Facilitating the furrowed brow: An unobtrusive test of the facial feedback hypothesis applied to unpleasant affect. Cognition and Emotion, 6, 321–338.

Levenson, R. W., Ekman, P., & Friesen, W. V. (1990). Voluntary facial action generates emotion-specific autonomic nervous system activity. Psychophysiology, 27(4), 363–384.

Lewis, M. B. (2012). Exploring the positive and negative implications of facial feedback. Emotion, 12, 852–859.

Lord, C., Rutter, M., DiLavore, P. C., & Risi, S. (2000). Autism Diagnostic Observation Schedule. Torrance, CA: Western Psychological Services.

Magnee, M. J., deGelder, B., van Engeland, H., & Kemner, C. (2007). Multisensory integration and attention in autism spectrum disorder: Evidence from event-related potentials. PLoS One, 6, 1122–1130.

Mayer, J. D., Caruso, D. R., & Salovey, P. (1999). Emotional intelligence meets traditional standards for intelligence. Intelligence, 27, 267–298.

McIntosh, D. N., Reichmann-Decker, A. W., Wilbarger, P., & Julia, L. (2006). When the social mirror breaks: Deficits in automatic, but not voluntary, mimicry of emotional facial expressions in autism. Developmental Science, 9, 295–302.

Mclntosh, D. N. (1994). Facial feedback hypotheses: Evidence, implications, and directions. Motivation and Emotion, 20, 121–147.

Neal, D. T., & Chartrand, T. L. (2011). Embodied emotion perception: Amplifying and dampening facial feedback modulates emotion perception accuracy. Social Psychological and Personality Science, 2, 673–678.

Niedenthal, P. M. (2007). Embodying emotion. Science, 316, 1002–1005.

Oberman, L. M., Ramachandran, V., & Pineda, J. A. (2008). Modulation of mu suppression in children with autism spectrum disorders in response to familiar or unfamiliar stimuli: The mirror neuron hypothesis. Neuropsychologia, 46, 1558–1565.

Penn, D. L., & Combs, D. (2000). Modification of affect perception deficits in schizophrenia. Schizophrenia Research, 46, 217–229.

Pierce, K., Haist, F., Sedaghat, F., & Courchesne, E. (2004). The brain response to personally familiar faces in autism: Findings of fusiform activity and beyond. Brain: A Journal of Neurology, 127, 2703–2716.

Provine, R. R. (1992). Contagious laughter: Laughter is a sufficient stimulus for laughs and smiles. Bulletin of the Psychonomic Society, 30, 1–4.

Provine, R. R. (1996). Contagious yawning and laughter: Significance for sensory feature detection, motor pattern generation, imitation, and the evolution of social behavior. In C. M. Heyes & B. G. Galef Jr (Eds.), Social learning in animals: The roots of culture (pp. 179–208). San Diego, CA: Academic Press.

Provine, R. R. (2001). Laughter: A scientific investigation. New York, NY: Penguin press.

Ridderinkhof, K. R., Ullsperger, M., Crone, E. A., & Nieuwenhuis, S. (2004). The role of medial frontal cortex in cognitive control. Science, 306, 443–447.

Rives-Bogart, K., & Matsumoto, D. (2010). Living with Moebius syndrome: Adjustment, social competence, and satisfaction with life. The Cleft Pallette Craniofacial Journal, 47, 134–142.

Rogers, S. J., Ozonoff, S., & Maslin-Cole, C. (1991). A comparative study of attachment behavior in young children with autism or other psychiatric disorders. Journal of the American Academy of Child and Adolescent Psychiatry, 30, 483–488.

Roid, G. H. (2003). Stanford binet intelligence scales (5th ed.). Rolling Hills, IL: Riverside Publishing.

Ruch, W. (1993). Exhilaration and humor. In M. Lewis & J. M. Haviland (Eds.), The handbook of emotions (pp. 605–616). New York, NY: Guilford Publications.

Scambler, D. J., Hepburn, S. L., Rutherford, M. D., Wehner, E. A., & Rogers, S. J. (2006). Emotional responsivity in children with autism, children with other developmental disabilities, and children with typical development. Journal of Autism and Developmental Disorders, 37, 553–563.

Soussignan, R. (2002). Duchenne smile, emotional experience, and autonomic reactivity: A test of the facial feedback hypothesis. Emotion, 2, 52–74.

Steele, J. D., Kumar, P., & Ebmeier, K. P. (2007). Blunted response to feedback information in depressive illness. Brain, 130, 2367–2374.

Stel, M., van den Heuvel, C., & Smeets, R. C. (2008). Facial feedback mechanisms in autism spectrum disorders. Journal of Autism and Developmental Disorders, 38, 1250–1258.

Strack, F., Martin, L. L., & Stepper, S. (1988). Inhibiting and facilitating conditions of the human smile: A nonobtrusive test of the facial feedback hypothesis. Journal of Personality and Social Psychology, 54, 768–777.

Twerski, A. J., & Twerski, B. (1986). The facial nerve. New York, NY: Thieme Inc.

Vanswearington, J. M., Cohn, J. F., & Bajaj-Luthra, A. (1999). Specific impairment of smiling increases the severity of depressive symptoms in patients with facial neuromuscular disorders. Aestethic Plastic Surgery, 23, 416–423.

Warren, J. E., Sauter, D. A., Eisner, F., Wiland, J., Dresner, M. Alexander, Wise, Richard J. S., et al. (2006). Positive emotions preferentially engage an auditory-motor "mirror" system. The Journal of Neuroscience, 26, 13067–13075.

Wilson, R. R., Pascalis, M., & Blades, O. (2007). What do children look at in an adult face with which they are personally familiar? British Journal of Developmental Psychology, 25, 375–382.

Yirmiya, N., Kasari, C., Sigman, M., & Mundy, P. (1989). Facial expressions of affect in autistic, mentally retarded and normal children. Journal of Child Psychology and Psychiatry, 30, 725–735.

Zajonc, R. B., Murphy, S. T., & Inglehart, M. (1989). Feeling and facial efference: Implications of the vascular theory of emotion. Psychological Review, 96, 395–416.
Acknowledgments
This research was supported by a pre-doctoral, mentor-based fellowship awarded to Deborah Fein and Molly Helt by Autism Speaks.
Author contributions
Study conception and design: Helt, Fein; Acquisition of data: Helt; Analysis and interpretation of data: Helt; Drafting of manuscript: Helt, Fein; Critical revision: Helt, Fein.
About this article
Cite this article
Helt, M.S., Fein, D.A. Facial Feedback and Social Input: Effects on Laughter and Enjoyment in Children with Autism Spectrum Disorders. J Autism Dev Disord 46, 83–94 (2016). https://doi.org/10.1007/s10803-015-2545-z
Published:

Issue Date:

DOI: https://doi.org/10.1007/s10803-015-2545-z
Keywords
Facial feedback

Autism

Laughter

Embodied cognition