Abstract
The theory of biobehavioral synchrony proposes that the predictive power of parent–child attunement likely lies in the manner with which behaviors are aligned with relevant biological processes. Symptoms of autism spectrum disorder (ASD) may challenge the formation of behavioral and physiological synchrony, but maintenance of such parent–child attunement could prove beneficial. The present study is the first to examine parent–child physiological synchrony in ASD. Parent and child electrodermal activity (EDA) was measured continuously during naturalistic free play. Parent–child EDA synchrony (positive covariation) was positively correlated with observed parent–child emotional attunement. Hierarchical linear modeling revealed that child ASD symptoms moderated the association between parent EDA and child EDA, such that EDA synchrony was stronger for children with lower ASD symptom levels.
This is a preview of subscription content,
to check access.
Access this article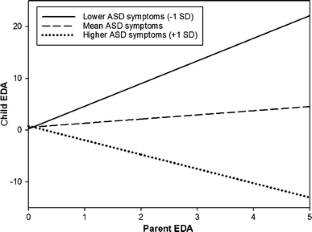 Notes
The models were also run using group-centered parent EDA rather than controlling for time. The findings were nearly identical in that the direction and significance of all effects were the same in both models and the magnitudes of effects were highly similar.
References
Baker, J. K., Fenning, R. M., Crnic, K. A., Baker, B. L., & Blacher, J. (2007). Prediction of social skills in 6-year-old children with and without developmental delays: Contributions of early regulation and maternal scaffolding. American Journal on Mental Retardation, 112, 375–391. doi:10.1352/0895-8017(2007)112[0375:POSSIY]2.0.CO;2.

Baker, J. K., Messinger, D. S., Lyons, K. K., & Grantz, C. J. (2010). A pilot study of maternal sensitivity in the context of emergent autism. Journal of Autism and Developmental Disorders, 40, 988–999. doi:10.1007/s10803-010-0948-4.

Beauchaine, T. (2001). Vagal tone, development, and Gray's Motivational Theory: Toward an integrated model of autonomic nervous system functioning in psychopathology. Development and Psychopathology, 13, 183–214.

Boucsein, W. (2012). Electrodermal activity (2nd ed.). New York, NY: Springer.

Cole, P. M., Martin, S. E., & Dennis, T. A. (2004). Emotion regulation as a scientific construct: Methodological challenges and directions for child development research. Child Development, 75, 317–333. doi:10.1111/j.1467-8624.2004.00673.x.

Creaven, A., Skowron, E. A., Hughes, B. M., Howard, S., & Loken, E. (2014). Dyadic concordance in mother and preschooler resting cardiovascular function varies by risk status. Developmental Psychobiology, 56, 142–152. doi:10.1002/dev.21098.

Curran, P. J., & Bauer, D. J. (2011). The disaggregation of within-person and between-person effects in longitudinal models of change. Annual Review of Psychology, 62, 583–619. doi:10.1146/annurev.psych.093008.100356.

Dawson, G. (2008). Early behavioral intervention, brain plasticity, and the prevention of autism spectrum disorder. Development and Psychopathology, 20, 775–803. doi:10.1017/S0954579408000370.

Dawson, G., Rogers, S., Munson, J., Smith, M., Winter, J., Greenson, J., et al. (2010). Randomized, controlled trial of an intervention for toddlers with autism: The Early Start Denver Model. Pediatrics, 125, 17–23. doi:10.1542/peds.2009-0958.

Feldman, R. (2012). Bio-behavioral synchrony: A model for integrating biological and microsocial behavioral processes in the study of parenting. Parenting: Science and Practice, 12, 154–164. doi:10.1080/15295192.2012.683342.

Feldman, R., Magori-Cohen, R., Galili, G., Singer, M., & Louzoun, Y. (2011). Mother and infant coordinate heart rhythms through episodes of interaction synchrony. Infant Behavior & Development, 34, 569–577. doi:10.1016/j.infbeh.2011.06.008.

Fowles, D. C. (2008). The measurement of electrodermal activity in children. In L. A. Schmidt & S. J. Segalowitz (Eds.), Developmental psychophysiology: Theory, systems, and methods (pp. 286–316). New York, NY: Cambridge University Press.

Greenspan, S. I., & Wieder, S. (1999). A functional developmental approach to autism spectrum disorders. Journal of the Association for Persons with Severe Handicaps, 24, 147–161. doi:10.2511/rpsd.24.3.147.

Guastello, S. J., Pincus, D., & Gunderson, P. R. (2006). Electrodermal arousal between participants in a conversation: Nonlinear dynamics and linkage effects. Nonlinear Dynamics, Psychology, and Life Sciences, 10, 365–399.

Howlin, P., Magiati, I., & Charman, T. (2009). Systematic review of early intensive behavioral interventions for children with autism. American Journal on Intellectual and Developmental Disabilities, 114, 23–41.

Kasari, C., Gulsrud, A. C., Wong, C., Kwon, S., & Locke, J. (2010). Randomized controlled caregiver mediated joint engagement intervention for toddlers with autism. Journal of Autism and Developmental Disorders, 40, 1045–1056. doi:10.1007/s10803-010-0955-5.

Kylliäinen, A., & Hietanen, J. K. (2006). Skin conductance responses to another person's gaze in children with autism. Journal of Autism and Developmental Disorders, 36(4), 517–525. doi:10.1007/s10803-006-0091-4.

Lerner, M. D., Mikami, A. Y., & Levine, K. (2011). Socio-dramatic affective-relational intervention for adolescents with Asperger syndrome & high functioning autism: Pilot study. Autism, 15, 21–42. doi:10.1177/1362361309353613.

Lord, C., Rutter, M., DiLavore, P. C., Risi, S., Gotham, K., & Bishop, S. L. (2012). Autism diagnostic observation schedule, second edition (ADOS-2) Manual. Torrance, CA: Western Psychological Services.

Lovaas, O. I. (1987). Behavioral treatment and normal educational and intellectual functioning in young autistic children. Journal of Consulting and Clinical Psychology, 55, 3–9. doi:10.1037/0022-006X.55.1.3.

McCormick, C., Hessl, D., Macari, S. L., Ozonoff, S., Green, C., & Rogers, S. J. (2014). Electrodermal and behavioral responses of children with autism spectrum disorders to sensory and repetitive stimuli. Autism Research, 7, 468–480. doi:10.1002/aur.1382.

McElwain, N. L., Booth-LaForce, C., Lansford, J. E., Wu, X. Y., & Dyer, W. J. (2008). A process model of attachment-friend linkages: Hostile attribution biases, language ability, and mother–child affective mutuality as intervening mechanisms. Child Development, 79, 1891–1906. doi:10.1111/j.1467-8624.2008.01232.x.

NICHD Early Child Care Research Network. (2003). Early child care and mother-child interaction from 36 months through first grade. Infant Behavior and Development, 26, 345–370. doi:10.1016/S0163-6383(03)00035-3.

Picard, R. W., Fedor, S., & Ayzenberg Y. (2014). Multiple arousal theory and daily-life electrodermal activity asymmetry. Emotion Review. http://affect.media.mit.edu/publications.php

Poh, M. Z., Swenson, N. C., & Picard, R. W. (2010). A wearable sensor for unobtrusive, long-term assessment of electrodermal activity. IEEE Transactions on Biomedical Engineering, 57, 1243–1252. doi:10.1109/TBME.2009.2038487.

Preacher, K. J., Curran, P. J., & Bauer, D. J. (2006). Computational tools for probing interaction effects in multiple linear regression, multilevel modeling, and latent curve analysis. Educational and Behavioral Statistics, 31, 437–448.

Raudenbush, S. W., Bryk, A. S., Cheong, A. S., Fai, Y. F., Congdon, R. T., & du Toit, M. (2011). HLM 7: Hierarchical linear and nonlinear modeling. Lincolnwood, IL: Scientific Software International.

Roid, G. H. (2003). Stanford-Binet intelligence scales (5th ed.). Itasca, IL: Riverside Publishing.

Sano, A., Picard, R. W., & Stickgold, R. (2014). Quantitative analysis of wrist electrodermal activity during sleep. International Journal of Psychophysiology, 94, 382–389. doi:10.1016/j.ijpsycho.2014.09.011.

Schneiderman, I., Kanat-Maymon, Y., Zagoory-Sharon, O., & Feldman, R. (2014). Mutual influences between partners' hormones shape conflict dialog and relationship duration at the initiation of romantic love. Social Neuroscience, 9, 337–351. doi:10.1080/17470919.2014.893925.

Schoen, S. A., Miller, L., Brett-Green, B., & Hepburn, S. L. (2008). Psychophysiology of children with autism spectrum disorder. Research in Autism Spectrum Disorders, 2, 417–429. doi:10.1016/j.rasd.2007.09.002.

Siller, M., & Sigman, M. (2008). Modeling longitudinal change in the language abilities of children with autism: Parent behaviors and child characteristics as predictors of change. Developmental Psychology, 44, 1691–1704. doi:10.1037/a0013771.

Skowron, E. & Hastings, P. (2014). Examining the importance of physiological self-regulation for parenting across the spectrum of risk. Symposium presented at the Society for Research in Child Development Special Topic Meeting on New Conceptualizations in the Study of Parenting-At-Risk. San Diego, CA.

Tuvblad, C., Gao, Y., Isen, J., Botwick, T., Raine, A., & Baker, L. A. (2012). The heritability of the skin conductance orienting response: A longitudinal twin study. Biological Psychology, 89, 47–53. doi:10.1016/j.biopsycho.2011.09.003.

van Dooren, M., de Vries, J., & Janssen, J. H. (2012). Emotional sweating across the body: Comparing 16 different skin conductance measurement locations. Physiology & Behavior, 106, 298–304. doi:10.1016/j.physbeh.2012.01.020.
Acknowledgments
This project was funded by an intramural faculty award given to the first author from the California State University, Fullerton.
Author contributions
JB and RF conceived of the study, participated in its design and coordination, performed certain statistical analyses, and drafted much of the manuscript; MH and BB participated in the design and interpretation of the data, performed certain statistical analyses, and drafted portions of the manuscript; MH and JM participated in the design and coordination of the study, performed aspects of the measurement, and contributed text to the manuscript; SE participated in the design and interpretation of the data and contributed to the manuscript. All authors read and approved the final manuscript.
About this article
Cite this article
Baker, J.K., Fenning, R.M., Howland, M.A. et al. Brief Report: A Pilot Study of Parent–Child Biobehavioral Synchrony in Autism Spectrum Disorder. J Autism Dev Disord 45, 4140–4146 (2015). https://doi.org/10.1007/s10803-015-2528-0
Published:

Issue Date:

DOI: https://doi.org/10.1007/s10803-015-2528-0
Keywords