Abstract
We sought to evaluate the potential for using historical web search data on autism spectrum disorders (ASD)-related topics as an indicator of ASD awareness. Analysis of Google Trend data suggested that National Autism Awareness Month and televised reports concerning autism are an effective method of promoting online search interest in autism.
Access options
Buy single article
Instant access to the full article PDF.
USD 39.95
Price excludes VAT (USA)
Tax calculation will be finalised during checkout.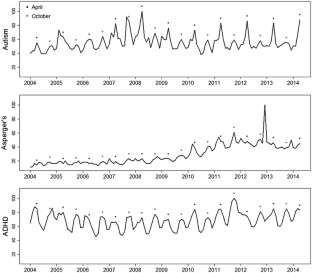 References
ADHD Awareness Month. (2014). http://www.adhdawarenessmonth.org.

comScore. (2014). comScore Releases December 2013 U.S. Search Engine Rankings. Retrieved 20 March 2014, from http://www.comscore.com/Insights/Press_Releases/2014/1/comScore_Releases_December_2013_US_Search_Engine_Rankings.

Elsabbagh, M., Divan, G., Koh, Y. J., Kim, Y. S., Kauchali, S., Marcín, C., et al. (2012). Global prevalence of autism and other pervasive developmental disorders. Autism Research, 5(3), 160–179.

Glynn, R. W., Kelly, J. C., Coffey, N., Sweeney, K. J., & Kerin, M. J. (2011). The effect of breast cancer awareness month on internet search activity—A comparison with awareness campaigns for lung and prostate cancer. BMC Cancer, 11, 442.

Google Trends Help. (2014). Retrieved 21 March 2014, from https://support.google.com/trends/answer/4355164?rd=1.

Lee, B. K. (2010). Epidemiologic research and Web 2.0—The user-driven Web. Epidemiology, 21(6), 760–763.

Russell, G., Rodgers, L. R., Ukoumunne, O. C., & Ford, T. (2014). Prevalence of parent-reported ASD and ADHD in the UK: Findings from the Millennium Cohort Study. Journal of Autism and Developmental Disorders, 44(1), 31–40.

The Oprah Winfrey Show. (2007). Jenny McCarthy and Holly Robinson Peete fight to save their autistic sons. http://www.oprah.com/showinfo/Jenny-McCarthy-and-Holly-Robinson-Peete.

The Today Show. (2005). Autism—The hidden epidemic? http://www.nbcnews.com/id/6844737/.
Conflict of interest
All authors declare that there are no conflicts of interest.
About this article
Cite this article
DeVilbiss, E.A., Lee, B.K. Brief Report: Trends in U.S. National Autism Awareness from 2004 to 2014: The Impact of National Autism Awareness Month. J Autism Dev Disord 44, 3271–3273 (2014). https://doi.org/10.1007/s10803-014-2160-4
Published:

Issue Date:

DOI: https://doi.org/10.1007/s10803-014-2160-4
Keywords
Autism awareness

Web 2.0

Google trends