Abstract
Autistic disorders (ADs) are heterogeneous neurodevelopmental disorders arised by the interaction of genes and environmental factors. Dysfunctions in social interaction and communication skills, repetitive and stereotypic verbal and non-verbal behaviours are common features of ADs. There are no defined mechanisms of pathogenesis, rendering curative therapy very difficult. Indeed, the treatments for autism presently available can be divided into behavioural, nutritional and medical approaches, although no defined standard approach exists. Autistic children display immune system dysregulation and show an altered immune response of peripheral blood mononuclear cells (PBMCs). In this study, we investigated the involvement of cannabinoid system in PBMCs from autistic children compared to age-matched normal healthy developing controls (age ranging 3–9 years; mean age: 6.06 ± 1.52 vs. 6.14 ± 1.39 in autistic children and healthy subjects, respectively). The mRNA level for cannabinoid receptor type 2 (CB2) was significantly increased in AD-PBMCs as compared to healthy subjects (mean ± SE of arbitrary units: 0.34 ± 0.03 vs. 0.23 ± 0.02 in autistic children and healthy subjects, respectively), whereas CB1 and fatty acid amide hydrolase mRNA levels were unchanged. mRNA levels of N-acylphosphatidylethanolamine-hydrolyzing phospholipase D gene were slightly decreased. Protein levels of CB-2 were also significantly increased in autistic children (mean ± SE of arbitrary units: 33.5 ± 1.32 vs. 6.70 ± 1.25 in autistic children and healthy subjects, respectively). Our data indicate CB2 receptor as potential therapeutic target for the pharmacological management of the autism care.
This is a preview of subscription content, log in to check access.
Access options
Buy single article
Instant access to the full article PDF.
US$ 39.95
Price includes VAT for USA
Subscribe to journal
Immediate online access to all issues from 2019. Subscription will auto renew annually.
US$ 199
This is the net price. Taxes to be calculated in checkout.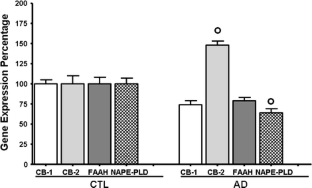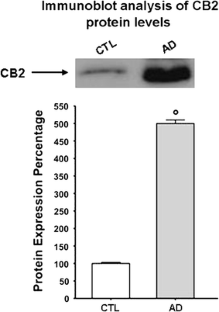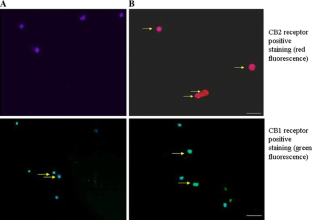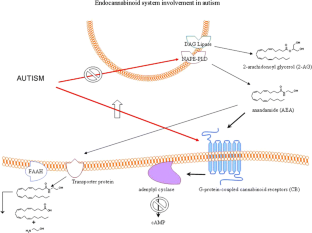 References
Agudelo, M., Newton, C., Widen, R., Sherwood, T., Nong, L., Friedman, H., et al. (2008). Cannabinoid receptor 2 (CB2) mediates immunoglobulin class switching from IgM to IgE in cultures of murine-purified B lymphocytes. Journal of Neuroimmune Pharmacology, 3(1), 35–42.

Alessio, N., Squillaro, T., Cipollaro, M., Bagella, L., Giordano, A., & Galderisi, U. (2010). The BRG1 ATPase of chromatin remodeling complexes is involved in modulation of mesenchymal stem cell senescence through RB-P53 pathways. Oncogene, 29(40), 5452–5463.

Algeciras-Schimnich, A., Barnhart, B. C., & Peter, M. E. (2002). Apoptosis independent functions of killer caspases. Current Opinion in Cell Biology, 14, 721–726.

American Psychiatric Association. (2000). Diagnostic and statistical manual of mental disorders (4th ed.). Text Revision. Washington, DC: American Psychiatric Press.

Ardura, J. A., & Friedman, P. A. (2011). Regulation of g protein-coupled receptor function by na +/h + exchange regulatory factors. Pharmacological Reviews, 63(4), 882–900.

Ashwood, P., Krakowiak, P., Hertz-Picciotto, I., Hansen, R., Pessah, I., & Van de Water, J. (2011). Elevated plasma cytokines in autism spectrum disorders provide evidence of immune dysfunction and are associated with impaired behavioral outcome. Brain, Behavior, and Immunity, 25(1), 40–45.

Ashwood, P., Wills, S., & Van de Water, J. (2006). The immune response in autism: A new frontier for autism research. Journal of Leukocyte Biology, 80(1), 1–15.

Barna, I., & Zelena, D. (2012). The biochemical complexity of the endocannabinoid system with some remarks on stress and related disorders: A minireview. Endocrine Regulations, 46(2), 107–124.

Basu, S., & Dittel, B. N. (2011). Unraveling the complexities of cannabinoid receptor 2 (CB2) immune regulation in health and disease. Immunologic Research, 51(1), 26–38.

Bradford, M. M. (1976). A rapid and sensitive method for the quantization of microgram quantities of protein utilizing the principle of protein-dye binding. Analytical Biochemistry, 72, 248–254.

Cencioni, M. T., Chiurchiù, V., Catanzaro, G., Borsellino, G., Bernardi, G., Battistini, L., et al. (2010). Anandamide suppresses proliferation and cytokine release from primary human T-lymphocytes mainly via CB2 receptors. PLoS ONE, 5(1), e8688.

de Magistris, L., Familiari, V., Pascotto, A., Sapone, A., Frolli, A., Iardino, P., et al. (2010). Alterations of the intestinal barrier in patients with autism spectrum disorders and in their first-degree relatives. Journal of Pediatric Gastroenterology and Nutrition, 51(4), 418–424.

Di Filippo, C., Rossi, F., Rossi, S., & D'Amico, M. (2004). Cannabinoid CB2 receptor activation reduces mouse myocardial ischemia-reperfusion injury: Involvement of cytokine/chemokines and PMN. Journal of Leukocyte Biology, 75(3), 453–459.

Di Marzo, V., & Petrosino, S. (2007). Endocannabinoids and the regulation of their levels in health and disease. Current Opinion in Lipidology, 18(2), 129–140.

Dong, R., Dong, K., Wang, X., Chen, G., Shen, C., & Zheng, S. (2012). Interleukin-33 overexpression is associated with gamma-glutamyl transferase in biliary atresia. Cytokine, S1043–4666(12), 00771–00775.

Enstrom, A. M., Onore, C. E., Van de Water, J. A., & Ashwood, P. (2010). Differential monocyte responses to TLR ligands in children with autism spectrum disorders. Brain, Behavior, and Immunity, 24(1), 64–71.

Galiègue, S., Mary, S., Marchand, J., Dussossoy, D., Carrière, D., Carayon, P., et al. (1995). Expression of central and peripheral cannabinoid receptors in human immune tissues and leukocyte subpopulations. European Journal of Biochemistry, 232(1), 54–61.

Garcia-Gutierrez, M. S., & Manzanares, J. (2011). Overexpression of CB2 cannabinoid receptors decreased vulnerability to anxiety and impaired anxiolytic action of alprazolam in mice. Journal of Psychopharmacology, 25(1), 111–120.

Giordano, C., Siniscalco, D., Melisi, D., Luongo, L., Curcio, A., Soukupova, M., et al. (2011). The galactosylation of N(ω)-nitro-l-arginine enhances its anti-nocifensive or anti-allodynic effects by targeting glia in healthy and neuropathic mice. European Journal of Pharmacology, 656(1–3), 52–62.

Guo, Y., Xiao, P., Lei, S., Deng, F., Xiao, G. G., Liu, Y., et al. (2008). How is mRNA expression predictive for protein expression? A correlation study on human circulating monocytes. Acta Biochimica et Biophysica Sinica (Shanghai), 40(5), 426–436.

Gupta, S., Samra, D., & Agrawal, S. (2010). Adaptive and innate immune responses in autism: rationale for therapeutic use of intravenous immunoglobulin. Journal of Clinical Immunology, 30, S90–S96.

Gygi, S. P., Rochon, Y., Franza, B. R., & Aebersold, R. (1999). Correlation between protein and mRNA abundance in yeast. Molecular and Cellular Biology, 19(3), 1720–1730.

Hegde, V. L., Nagarkatti, M., & Nagarkatti, P. S. (2010). Cannabinoid receptor activation leads to massive mobilization of myeloid-derived suppressor cells with potent immunosuppressive properties. European Journal of Immunology, 40(12), 3358–33571.

Högestätt, E. D., Jönsson, B. A., Ermund, A., Andersson, D. A., Björk, H., Alexander, J. P., et al. (2005). Conversion of acetaminophen to the bioactive N-acylphenolamine AM404 via fatty acid amide hydrolase-dependent arachidonic acid conjugation in the nervous system. Journal of Biological Chemistry, 280(36), 31405–31412.

Ishiguro, H., Horiuchi, Y., Ishikawa, M., Koga, M., Imai, K., Suzuki, Y., et al. (2010). Brain cannabinoid CB2 receptor in schizophrenia. Biological Psychiatry, 67(10), 974–982.

Jean-Gilles, L., Gran, B., & Constantinescu, C. S. (2010). Interaction between cytokines, cannabinoids and the nervous system. Immunobiology, 215(8), 606–610.

Kenny, P. J. (2011). Macrophage cannabinoid receptor goes up in smoke. Nature Neuroscience, 14, 1100–1102.

Klein, T. W., & Cabral, G. A. (2006). Cannabinoid-induced immune suppression and modulation of antigen-presenting cells. Journal of Neuroimmune Pharmacology, 1(1), 50–64.

Klein, T. W., Newton, C., Larsen, K., Lu, L., Perkins, I., Nong, L., et al. (2003). The cannabinoid system and immune modulation. Journal of Leukocyte Biology, 74(4), 486–496.

Lamkanfi, M., Declercq, W., Kalai, M., Saelens, X., & Vandenabeele, P. (2002). Alice in caspase land. A phylogenetic analysis of caspases from worm to man. Cell Death and Differentiation, 9, 358–361.

Levy, S. E., Mandell, D. S., & Schultz, R. T. (2009). Autism. Lancet, 374(9701), 1627–1638.

Li, X., Chauhan, A., Sheikh, A. M., Patil, S., Chauhan, V., Li, X. M., et al. (2009). Elevated immune response in the brain of autistic patients. Journal of Neuroimmunology, 207(1–2), 111–116.

Li, C., Jones, P. M., & Persaud, S. J. (2011). Role of the endocannabinoid system in food intake, energy homeostasis and regulation of the endocrine pancreas. Pharmacology & Therapeutics, 129(3), 307–320.

Lord, C., Risi, S., Lambrecht, L., Cook, E. H., Jr, Leventhal, B. L., DiLavore, P. C., et al. (2000). The autism diagnostic observation schedule-generic: A standard measure of social and communication deficits associated with the spectrum of autism. Journal of Autism and Developmental Disorders, 30(3), 205–223.

Lord, C., Rutter, M., & Le Couteur, A. (1994). Autism diagnostic interview-revised: A revised version of a diagnostic interview for caregivers of individuals with possible Pervasive Developmental Disorders. Journal of Autism and Developmental Disorders, 24(5), 659–685.

Maccarrone, M., De Petrocellis, L., Bari, M., Fezza, F., Salvati, S., Di Marzo, V., et al. (2001). Lipopolysaccharide downregulates fatty acid amide hydrolase expression and increases anandamide levels in human peripheral lymphocytes. Archives of Biochemistry and Biophysics, 393(2), 321–328.

Maier, T., Güell, M., & Serrano, L. (2009). Correlation of mRNA and protein in complex biological samples. FEBS Letters, 583(24), 3966–3973.

Meyer, S., Temme, C., & Wahle, E. (2004). Messenger RNA turnover in eukaryotes: Pathways and enzymes. Critical Reviews in Biochemistry and Molecular Biology, 39(4), 197–216.

Minocci, D., Massei, J., Martino, A., Milianti, M., Piz, L., Di Bello, D., et al. (2011). Genetic association between bipolar disorder and 524A > C (Leu133Ile) polymorphism of CNR2 gene, encoding for CB2 cannabinoid receptor. Journal of Affective Disorders, 134(1–3), 427–430.

Molloy, C. A., Morrow, A. L., Meinzen-Derr, J., Schleifer, K., Dienger, K., Manning-Courtney, P., et al. (2006). Elevated cytokine levels in children with autism spectrum disorder. Journal of Neuroimmunology, 172(1–2), 198–205.

Mouslech, Z., & Valla, V. (2009). Endocannabinoid system: An overview of its potential in current medical practice. Neuro Endocrinology Letters, 30(2), 153–179.

Nagarkatti, P., Pandey, R., Rieder, S. A., Hegde, V. L., & Nagarkatti, M. (2009). Cannabinoids as novel anti-inflammatory drugs. Future Medicinal Chemistry, 1(7), 1333–1349.

Nong, L., Newton, C., Cheng, Q., Friedman, H., Roth, M. D., & Klein, T. W. (2002). Altered cannabinoid receptor mRNA expression in peripheral blood mononuclear cells from marijuana smokers. Journal of Neuroimmunology, 127(1–2), 169–176.

Onore, C., Enstrom, A., Krakowiak, P., Hertz-Picciotto, I., Hansen, R., Van de Water, J., et al. (2009). Decreased cellular IL-23 but not IL-17 production in children with autism spectrum disorders. Journal of Neuroimmunology, 216(1–2), 126–129.

Pacher, P., & Mechoulam, R. (2011). Is lipid signaling through cannabinoid 2 receptors part of a protective system? Progress in Lipid Research, 50(2), 193–211.

Pascal, L. E., True, L. D., Campbell, D. S., Deutsch, E. W., Risk, M., Coleman, I. M., et al. (2008). Correlation of mRNA and protein levels: Cell type-specific gene expression of cluster designation antigens in the prostate. BMC Genomics, 9, 246.

Peralta, L., Agirregoitia, E., Mendoza, R., Expósito, A., Casis, L., Matorras, R., et al. (2011). Expression and localization of cannabinoid receptors in human immature oocytes and unfertilized metaphase-II oocytes. Reprod Biomed Online, 23(3), 372–379.

Pertwee, R. G., Howlett, A. C., Abood, M. E., Alexander, S. P., Di Marzo, V., Elphick, M. R., et al. (2010). Cannabinoid receptors and their ligands: Beyond CB1 and CB2. Pharmacological Reviews, 62(4), 588–631.

Rajagopalan, L. E., & Malter, J. S. (1997). Regulation of eukaryotic messenger RNA turnover. Progress in Nucleic Acid Research and Molecular Biology, 56, 257–286.

Robinson, S. A., Loiacono, R. E., Christopoulos, A., Sexton, P. M., & Malone, D. T. (2010). The effect of social isolation on rat brain expression of genes associated with endocannabinoid signaling. Brain Research, 1343, 153–167.

Romero-Calvo, I., Ocón, B., Martínez-Moya, P., Suárez, M. D., Zarzuelo, A., Martínez-Augustin, O., et al. (2010). Reversible Ponceau staining as a loading control alternative to actin in Western blots. Analytical Biochemistry, 401(2), 318–320.

Ross, J. (1996). Control of messenger RNA stability in higher eukaryotes. Trends in Genetics, 12(5), 171–175.

Schneider, M., & Koch, M. (2005). Deficient social and play behavior in juvenile and adult rats after neonatal cortical lesion: Effects of chronic pubertal cannabinoid treatment. Neuropsychopharmacology, 30(5), 944–957.

Schopler, E., Reichler, R. J., & Renner, B. R. (1993). The childhood autism rating scale (CARS). Los Angeles, CA: Western Psychological Services.

Schultz, S. T. (2010). Can autism be triggered by acetaminophen activation of the endocannabinoid system? Acta Neurobiologiae Experimentalis, 70(2), 227–231.

Siniscalco, D., Sapone, A., Giordano, C., Cirillo, A., de Novellis, V., de Magistris, L., et al. (2012). The expression of caspases is enhanced in peripheral blood mononuclear cells of autism spectrum disorder patients. Journal of Autism and Developmental Disorders, 42(7), 1403–1410.

Soukupová, M., Palazzo, E., De Chiaro, M., Gatta, L., Migliozzi, A. L., Guida, F., et al. (2010). Effects of URB597, an inhibitor of fatty acid amide hydrolase (FAAH), on analgesic activity of paracetamol. Neuro Endocrinology Letters, 31(4), 507–511.

Stamova, B. S., Apperson, M., Walker, W. L., Tian, Y., Xu, H., Adamczy, P., et al. (2009). Identification and validation of suitable endogenous reference genes for gene expression studies in human peripheral blood. BMC Medical Genomics, 2, 49.

Suzuki, K., Matsuzaki, H., Iwata, K., Kameno, Y., Shimmura, C., Kawai, S., et al. (2011). Plasma cytokine profiles in subjects with high-functioning autism spectrum disorders. PLoS ONE, 6(5), e20470.

Tanikawa, T., Kurohane, K., & Imai, Y. (2011). Regulatory effect of cannabinoid receptor agonist on chemokine-induced lymphocyte chemotaxis. Biological and Pharmaceutical Bulletin, 34(7), 1090–1093.

Tománková, H., & Myslivecek, J. (2012). Regulation of receptors coupled to G proteins (GPCRs). Ceskoslovenska Fysiologie, 61(1), 15–23.

Wilusz, C. J., Wormington, M., & Peltz, S. W. (2001). The cap-to-tail guide to mRNA turnover. Nature Reviews Molecular Cell Biology, 2(4), 237–246.

Yang, M., Liu, Y., Lu, S., Wang, Z., Wang, R., Zi, Y., et al. (2013). Analysis of the expression levels of survivin and VEGF in patients with acute lymphoblastic leukemia. Experimental and Therapeutic Medicine, 5(1), 305–307.

Zanichelli, F., Capasso, S., Cipollaro, M., Pagnotta, E., Cartenì, M., Casale, F., et al. (2012). Dose-dependent effects of R-sulforaphane isothiocyanate on the biology of human mesenchymal stem cells, at dietary amounts, it promotes cell proliferation and reduces senescence and apoptosis, while at anti-cancer drug doses, it has a cytotoxic effect. Age (Dordr), 34(2), 281–293.

Zhu, C., Solorzano, C., Sahar, S., Realini, N., Fung, E., Sassone-Corsi, P., et al. (2011). Proinflammatory stimuli control N-acylphosphatidylethanolamine-specific phospholipase D expression in macrophages. Molecular Pharmacology, 79(4), 786–792.
Acknowledgments
First and foremost, we thank the many autism families who volunteered as participants in this research study. The authors gratefully thank Mr. Enzo Abate, Ms. Giovanna Gallone and the no-profit organizations "La Forza del Silenzio" and "Cancellautismo"—Italy for their useful assistance. We thank the Autism Research Institute, USA (ARI grant "Research that makes a difference" 2010) for financial support of this study. The authors would like to thank Dr. Sarah Costantino, Second University of Naples, for her useful assistance in image analysis.
About this article
Cite this article
Siniscalco, D., Sapone, A., Giordano, C. et al. Cannabinoid Receptor Type 2, but not Type 1, is Up-Regulated in Peripheral Blood Mononuclear Cells of Children Affected by Autistic Disorders. J Autism Dev Disord 43, 2686–2695 (2013). https://doi.org/10.1007/s10803-013-1824-9
Keywords
Autistic disorders

Cannabinoid system

Gene expression

PBMCs