Abstract
The purpose of this study was to compare the efficacy of Melodic Based Communication Therapy (MBCT) to traditional speech and language therapy for eliciting speech in nonverbal children with autism. Participants were 12 nonverbal children with autism ages 5 through 7 randomly assigned to either treatment group. Both groups made significant progress after treatment. The MBCT group progressed significantly in number of verbal attempts after weeks 1 through 4 and number of correct words after weeks 1 and 3, while the traditional group progressed significantly after weeks 4 and 5. No significant differences in number of verbal attempts or number of correct words were noted between groups following treatment. A significant number of new words were heard in the home environment for the MBCT group (p = .04). Participants in the MBCT group had more imitative attempts (p = .03). MBCT appears to be a valid form of intervention for children with autism.
This is a preview of subscription content, log in to check access.
Access options
Buy single article
Instant access to the full article PDF.
US$ 39.95
Price includes VAT for USA
Subscribe to journal
Immediate online access to all issues from 2019. Subscription will auto renew annually.
US$ 199
This is the net price. Taxes to be calculated in checkout.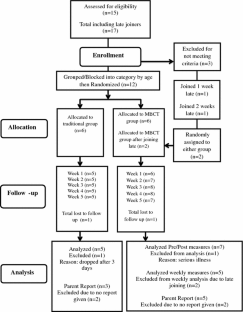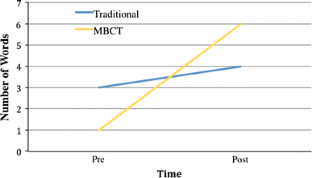 References
Accordino, R., Comer, R., & Heller, W. B. (2006). Searching for music's potential: A critical examination of research on music therapy with individuals with Autism. Research in Autism Spectrum Disorders, 1(1), 101–115.

Altgassen, M., Kliegel, M., & Williams, T. (2005). Pitch perception in children with autistic spectrum disorders. British Journal of Developmental Psychology, 23(4), 543–558.

American Speech-Language-Hearing Association. (2005). Evidence-based practice in communication disorders [Position Statement]. Available from www.asha.org/policy.

Berman, I. W. (1981). Musical functioning, speech lateralization and the Amusias. South African Medical Journal, 59(3), 78–81.

Brenton, J. N., Devries, S. P., Barton, C., Minnich, H., & Sokol, D. K. (2008). Absolute pitch in a four-year-old boy with autism. Pediatric Neurology, 39(2), 137–138.

Callan, D. E., Tsytsarev, V., Hanakawa, T., Callan, A. M., Katsuhara, M., Fukuyama, H., et al. (2006). Song and speech: Brain regions involved with perception and covert production. Neuroimage, 31(3), 1327–1342.

Centers for Disease Control and Prevention (CDC). (2012). Prevalence of Autism spectrum disorders–Autism and developmental disabilities monitoring network, United States, 2008. Morbidity and mortal weekly report (MMWR), Vol. 61(3).

Charlop, M. H. & Haymes, L. K. (1994). Speech and language intervention: Behavioral approaches. In. J. L. Matson (Ed.), Autism in children and adults: Etiology, assessment, and intervention (pp. 213–24). Pacific Grove, CA: Brooks/Cole.

Dawson, G. (Ed.). (1989) Autism: Nature, Diagnosis, and Treatment. New York: The Guilford Press.

Finnigan, E., & Starr, E. (2010). Increasing social responsiveness in a child with autism. A comparison of music and non-music interventions. Autism, 14(4), 321–348.

Flagg, E. J., Cardy, J. E., Roberts, W., & Roberts, T. P. (2005). Language lateralization development in children with autism: Insights from the late field magnetoencephalogram. Neuroscience Letters, 386(2), 82–87.

Gozzi, M., Nielson, D. M., Lenroot, R. K., Ostuni, J. L. Luckenbaugh, D. A., Thurm, A. E., Giedd, J. N. & Swedo, S. E. (2012). Biological Psychiatry, [Epub ahead of print].

Hardan, A. Y., Pabalan, M., Gupta, N., Bansal, R., Melhem, N. M., Fedorov, S., et al. (2009). Corpus Callosum volume in children with Autism. Psychiatry Research, 174(1), 57–61.

Heaton, P. (2009). Assessing musical skills in autistic children who are not savants. Philosophical Transactions of the Royal Society of London. Series B, Biological sciences, 364(1522), 1443–1447.

Heaton, P., Davis, R. E., & Happe, G. E. (2008). Exceptional absolute pitch perception for spoken words in an able adult with autism. Neuropsychologia, 46(7), 2095–2098.

Herbert, M. R., Ziegler, D. A., Deutsch, C. K., O'Brien, L. M., Kennedy, D. N., Filipek, P. A., et al. (2005). Brain asymmetries in autism and developmental language disorder: A nested whole-brain analysis. Brain, 128(1), 213–226.

Hoelzley, P. D. (1993). Communication potentiating sounds: Developing channels of communication with autistic children through psychobiological responses to novel sound stimuli. Canadian Journal of Music Therapy, 1(1), 54–76.

Hoffman, M. (2008). Isolated right temporal lobe stroke patients present with Geschwind Gastaut syndrome, frontal network syndrome and delusional misidentification syndromes. Behavioral Neurology, 20(3), 83–89.

Jackson, S. A., Treharne, D. A., & Boucher, J. (1997). Rhythm and language in children with moderate learning difficulties. European Journal of Disorders of Communication: The Journal of the College of Speech and Language Therapists, London, 32(1), 99–108.

Keary, C. J., Minshew, N. J., Bansal, R., Goradia, D., Fedorov, S., Keshavan, M. S., et al. (2009). Corpus callosum volume and neurocognition in autism. Journal of Autism and Developmental Disorders, 39(6), 834–841.

Kelly, K. (2001). They've got rhythm. Clapping away attention deficits? U.S. News & World Report, 130(15), 50.

Kim, M. J., Hong, J. H., & Jang, S. H. (2011). The cortical effect of clapping on the human brain: A functional MRI study. NeuroRehabilitation, 28(2), 75–79.

Knecht, S., Drager, B., Deppe, M., Bobe, L., Lohmann, H., Floel, A., et al. (2000). Handedness and hemispheric language dominance in healthy humans. Brain, 123, 2512–2518.

Koegel, L. K., Singh, A. K., & Koegel, R. L. (2010). Improving motivation for academics in children with autism. Journal of Autism and Developmental Disorders, 40(9), 1057–1066.

Koegel, R. L., Vernon, T. W., & Koegel, L. K. (2009). Improving social initiations in young children with autism using reinforcers with embedded social interactions. Journal of Autism and Developmental Disorders, 39(9), 1240–1251.

Lai, G., Pantazatos, S. P., Schneider, H., & Hirsch, J. (2012). Neural systems for speech and song in autism. Brain, 135(Pt.3), 961–975.

Lazarev, V. V., Pontes, A., Mitrofanov, A. A., & deAzevedo, L. C. (2010). Interhemispheric asymmetry in EEG photic driving coherence in childhood autism. Clinical Neurophysiology, 121(2), 145–152.

Lim, H. A. (2010). Effect of "developmental speech and language training through music" on speech production in children with autism spectrum disorders. Journal of Music Therapy, 47(1), 2–26.

Lo, Y. L., & Fook-Chong, S. (2004). Ipsilateral and contralateral motor inhibitory control in musical and vocalization tasks. Experimental Brain Research, 159(2), 258–262.

Lord, C., Risi, S., Lambrecht, L., Cook, E., Leventhal, B., DiLavore, P., et al. (2000). The autism diagnostic observation schedule-generic: A standard measure of social and communication deficits associated with the spectrum of autism. Journal of Autism and Developmental Disorders, 30(3), 205–223.

Lord, C., Rutter, M., DiLavore, P., & Risi, S. (1999). Autism diagnostic observational schedule (ADOS). Western Psychological Services.

Lord, C., Rutter, M., Goode, S., Heemsbergen, J., Jordan, H., Mahwood, L., et al. (1989). Autism diagnostic observation schedule: A standardized observation of communicative and social behavior. Journal of Autism and Developmental Disorders, 19(2), 185–212.

Matsuyama, K. (2005). Correlation between musical responsiveness and developmental age among early age children as assessed by the Non-Verbal Measurement of the Musical Responsiveness of Children. Medical Science Monitor: International Medical Journal of Experimental and Clinical Research, 11(10), 485–492.

Miller, S. B., & Toca, J. M. (1979). Adapted melodic intonation therapy: A case study of an experimental language program for an autistic child. The Journal of Clinical Psychiatry, 40(4), 201–2013.

Molnar-Szakacs, I., & Heaton, P. (2012). Muic: A unique window into the world of autism. Annals of the New York Academy of Sciences, 1252(1), 318–324.

Mostafa, M., Kotby, M. N., Barakah, M., el-Sady, S., Allosh, T., Elshobary, A., et al. (1989). Dominant functions of right versus the left hemisphere. Acta Otolaryngolica, 107(5–6), 479–484.

Newman, B., Reinke, D., & Ramos, M. (2009). Is a reasonable attempt reasonable? Shaping versus reinforcing verbal attempts of preschoolers with autsim. The Analysis of verbal behavior, 25, 67–72.

Oimet, T., Foster, N. E., Tryfon, A., & Hyde, K. L. (2012). Auditory-musical processing in autism spectrum disorders: A review of behavioral and brain imaging studies. Annals of the New York Academy of Sciences, 1252, 325–331.

Olander, L., Smith, A., & Zelaznik, H. N. (2010). Evidence that a motor timing deficit is a factor in the development of stuttering. Journal of Speech, Language, and Hearing Research, 53(4), 876–886.

Ono, K., Nakamura, A., Yoshiyama, K., Kinkori, T., Bundo, M., Kato, T., & Ito, K. (2011). The effect of musical experience on hemispheric lateralization in musical feature processing. Neuroscience Letters. [Epub ahead of print].

Overton, T., Fielding, C., & de Alba, R. G. (2008). Brief Report: exploratory analysis of the ADOS revised algorithm: Specificity and predictive value with Hispanic children referred for autism spectrum disorders. Journal of Autism and Developmental Disorders, 38(6), 1166–1169.

Park, J. Y., Park, H., Kim, J. I., & Park, H. J. (2011). Consonant chords stimulate higher EEG gamma activity than dissonant chords. Neuroscience Letters, 488(1), 101–105.

Pickett, E., Pullara, O., O'Grady, J., & Gordon, B. (2009). Speech acquisition in older nonverbal individuals with Autism: A review of features, methods and prognosis. Cognitive and Behavioral Neurology, 22(1), 1–22.

Prizant, B. M., & Wetherby, A. M. (1993). Communication in preschool autistic children. In E. Schopler, M. Van Bourgandien, & M. Bristol (Eds.), Preschool issues in autism (pp. 95–128). New York: Plenum Press.

Pujol, J., Lopez-Sala, A., Deus, J., Cardoner, N., Sebastian-Galles, N., Conesa, G., et al. (2002). The lateral asymmetry of the human brain studied by volumetric magnetic resonance imaging. Neuroimage, 17(2), 670–679.

Schlaug, G., Forgeard, M., Zhu, L., Norton, A., & Winner, E. (2009). Training-induced neuroplasticity in young children. Annals of the New York Academy of Sciences, 1169, 205–208.

Schlaug, G., Jancke, L., Huang, Y., Staiger, J. F., & Steinmetz, H. (1995). Increased corpus callosum size in musicians. Neuropsychologia, 33, 1047–1055.

Shukla, D. K., Keehn, B., Lincoln, A. J., & Muller, R. (2010). White matter compromise of callosal and subcortical fiber tracts in children with autism spectrum disorder: A diffusion tensor imaging study. Journal of the American Academy of Child & Adolescent Psychiatry 49(12), 1269–1278.e2.

Starr, E., & Zenker, E. (1998). Understanding autism in the context of music therapy: Bridging theory and practice. Canadian Journal of Music Therapy, 6, 1–19.

Sturmey, P. (2008). How to teach verbal behavior. Austin, TX: Proed Inc.

Szirony, G. M., Pearson, L. C., Burgin, J. S., Murray, G. C., & Elrod, L. M. (2007). Brain hemisphere dominance and vocational preference: A preliminary analysis. Work, 29(4), 323–329.

Volkert, V. M., Lerman, D. C., Trosclair, N., Addison, L., & Kodak, T. (2008). An exploratory analysis of task-interspersal procedures while teaching object labels to children with autism. Journal of Applied Behavioral Analysis, 41(3), 335–350.

Wan, C. Y., Bazen, L., Baars, R., Libenson, A., Zipse, L., Zuk, J., Norton, A., & Schlaug, G. (2011) Auditory-motor mapping training as an intervention to facilitate speech output in non-verbal children with Autism: A proof of concept study. Public Library of Science PLoS One, 6(9).

Wan, C. Y., Demaine, K., Zipse, L., Norton, A., & Schlaug, G. (2010a). From music making to speaking: Engaging the mirror neuron system in autism. Brain Research Bulletin, 82(3–4), 161–168.

Wan, C. Y., Ruber, T., Hohman, A., & Schlaug, G. (2010b). The therapeutic effects of singing on neurological disorders. Music Perception, 27(4), 287–295.

Wan, C. Y., & Schlaug, G. (2010). Neural pathways for language in autism: The potential for music based treatments. Special report. Future Neurology, 5(6), 797–805.

Wang, L., & Leslie, D. L. (2010). Health care expenditures for children with autism spectrum disorders in Medicaid. Journal of the American Academy of Child and Adolescent Psychiatry, 49(11), 1165–1171.

Weber, W., & Newmark, S. (2007). Complementary and alternative medical therapies for attention deficit/hyperactivity disorder and autism. Pediatric Clinics of North America, 54(6), 983–1006.

Wimpory, D., Chadwick, P., & Nash, S. (1995). Brief report: musical interaction therapy for children with autism: An evaluative case study with two-year follow-up. Journal of Autism and Developmental Disorders, 25(5), 541–552.
Acknowledgments
Funding from the Communication Sciences and Disorders and Rehabilitation Sciences Departments at Loma Linda University supported this research. We are grateful to the families who participated in this research and to the talented and patient Loma Linda University Communication Sciences and Disorders graduate students who were involved in the providing of therapy, Brittany Masai, Jordan Shimamura, Ryan Forgette, Christine DerDanielian, Jennifer Diaz, and Cassie Richardson. We also thank the Sachs Norton Clinic for the use of their speech therapy rooms for the duration of the study. Special thanks to pediatric neurologist Dr. Sarah Roddy and neuroscientist Dr. Ernie Schwab for their invaluable advice on the neurology of the brain as well as their supportive role in planning and designing this study. Special thanks, as well, to statistician Dr. Grenith Zimmerman for her invaluable support in the design and planning phases of this study. Special thanks to musicians Alan-Pierre Eloi (Alleykat Entertainment Inc.) and Shannon Hicks, for their role in making MBCT a reality. Special thanks to the first author's family and friends for their support and prayers throughout the duration of this study. God is able.
Electronic supplementary material
Below is the link to the electronic supplementary material.
About this article
Cite this article
Sandiford, G.A., Mainess, K.J. & Daher, N.S. A Pilot Study on the Efficacy of Melodic Based Communication Therapy for Eliciting Speech in Nonverbal Children with Autism. J Autism Dev Disord 43, 1298–1307 (2013). https://doi.org/10.1007/s10803-012-1672-z
Keywords
Autism

Nonverbal

Children

Efficacy

Treatment

Music