Abstract
The Embedded Figures Test assesses weak central coherence and individuals with autism are commonly assumed to perform superiorly; however, the evidence for this claim is somewhat mixed. Here, two large (N = 45 and 62) samples of high-functioning children (6–16 years) with autism spectrum disorder performed similarly to typically-developing children on accuracy and reaction time measures; this could not be attributed to insufficient power. Inconsistent past findings are most likely due to methodological and analysis techniques, as well as heterogeneity in central coherence within autism spectrum disorders. While this task has been useful in establishing weak central coherence as a cognitive theory in autism, inconsistent past findings and its inability to disentangle global and local processing suggest that it should be used with caution in the future.
Access options
Buy single article
Instant access to the full article PDF.
USD 39.95
Price excludes VAT (USA)
Tax calculation will be finalised during checkout.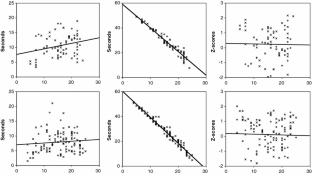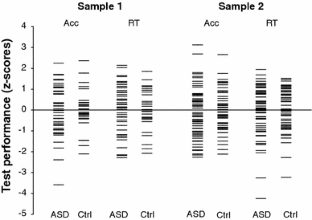 Notes
Both the control and ASD groups in sample 1 show a pattern of verbal greater than performance IQ. The controls were not selected for any particular profile, so we can only assume that this is a typical sample of children from this area. We can speculate that their higher verbal than performance IQs are due to the influence that the literacy and numeracy hours have had in recent years that have not been accounted for in the test standardization given that both literacy and numeracy skills load onto verbal IQ. The literacy and numeracy hours are part of an educational strategy introduced into schools in the UK in September 1998. The WISC-III-UK used here was published prior to this in 1992.

The Block Design subtest of the WISC is thought to tap into local processing biases similarly to the EFT. Here, although the ASD group Block Design mean was higher than that of the controls despite a slightly lower pIQ mean, we found no difference between the ASD and control groups on this measure, t (70) = 0. 487.

Given the uneven group sizes in both samples, the same between group analyses of accuracy and the three reaction time methods were repeated with reduced ASD samples (randomly selected) in order to match the group sizes. Again, no significant results were found.

Although no previous studies found small effect sizes, calculations were also made for power to detect these, resulting in .13, δ = 0.82, critical t (70) = 1.99, for sample 1, and 0.18, δ = 1.05, critical t (110) = 1.98, for sample 2. In addition, power analyses were replicated specifically for the ANCOVA in analysis 3 with similar results. The power of our samples for this test and a medium effect size of Cohen's f = .25 was of .56 in sample 1 for an alpha of .05, with λ = 4.60, critical F (1,69) = 3.98, and .75 for sample 2, with a λ = 7.00, critical F (1,109) = 3.93.
References
Bölte, S., Holtmann, M., Poustka, F., Scheurich, A., & Schmidt, L. (2007). Gestalt perception and local-global processing in high-functioning autism. Journal of Autism and Developmental Disorders, 37, 1493–1504. doi:10.1007/s10803-006-0231-x.

Brian, J. A., & Bryson, S. E. (1996). Disembedding performance and recognition memory in autism/PDD. Journal of Child Psychology and Psychiatry and Allied Disciplines, 37, 865–872. doi:8923229.

Burnette, C. P., Mundy, P. C., Meyer, J. A., Sutton, S. K., Vaughan, A. E., & Charak, D. (2005). Weak central coherence and its relations to theory of mind and anxiety in autism. Journal of Autism and Developmental Disorders, 35, 63–73. doi:15796123.

Chen, F., Lemonnier, E., Lazartigues, A., & Planche, P. (2008). Non-superior disembedding performance in children with high-functioning autism and its cognitive style account. Research in Autism Spectrum Disorders, 2, 739–752. doi:10.1016/j.rasd.2008.03.003.

de Jonge, M. V., Kemner, C., & van Engeland, H. (2006). Superior disembedding performance of high-functioning individuals with autism spectrum disorders and their parents: the need for subtle measures. Journal of Autism and Developmental Disorders, 36, 677–683. doi:10.1007/s10803-006-0113-2.

Edgin, J. O., & Pennington, B. F. (2005). Spatial cognition in autism spectrum disorders: superior, impaired, or just intact? Journal of Autism and Developmental Disorders, 35, 729–745. doi:10.1007/s10803-005-0020-y.

Faul, F., Erdfelder, E., Lang, A., & Buchner, A. (2007). G* Power 3: A flexible statistical power analysis program for the social, behavioral, and biomedical sciences. Behavior Research Methods, 39, 175–191. doi:17695343.

Happé, F. G. E. (1999). Autism: Cognitive deficit or cognitive style? Trends in Cognitive Sciences, 3, 216–222. doi:10354574.

Happé, F., & Booth, R. (2008). The power of the positive: Revisiting weak coherence in autism spectrum disorders. Quarterly Journal of Experimental Psychology, 61, 50–63. doi:10.1080/17470210701508731.

Happé, F., & Frith, U. (2006). The weak coherence account: detail-focused cognitive style in autism spectrum disorders. Journal of Autism and Developmental Disorders, 36, 5–25. doi:10.1007/s10803-005-0039-0.

Jarrold, C., Gilchrist, I. D., & Bender, A. (2005). Embedded figures detection in autism and typical development: preliminary evidence of a double dissociation in relationships with visual search. Developmental Science, 8, 344–351. doi:DESC422.

Jolliffe, T., & Baron-Cohen, S. (1997). Are people with autism and Asperger syndrome faster than normal on the Embedded Figures Test? Journal of Child Psychology and Psychiatry and Allied Disciplines, 38, 527–534. doi:9255696.

Kaland, N., Mortensen, E. L., & Smith, L. (2007). Disembedding performance in children and adolescents with Asperger syndrome or high-functioning autism. Autism: The International Journal of Research and Practice, 11, 81–92. doi:11/1/81.

Keehn, B., Brenner, L. A., Ramos, A. I., Lincoln, A. J., Marshall, S. P., & Müller, R. (2009). Brief Report: Eye-movement patterns during an embedded figures test in children with ASD. Journal of Autism and Developmental Disorders, 39, 383–387. doi:10.1007/s10803-008-0608-0.

Lord, C., Rutter, M., & Le Couteur, A. (1994). Autism Diagnostic Interview-Revised: a revised version of a diagnostic interview for caregivers of individuals with possible pervasive developmental disorders. Journal of Autism and Developmental Disorders, 24, 659–685.

Morgan, B., Maybery, M., & Durkin, K. (2003). Weak central coherence, poor joint attention, and low verbal ability: independent deficits in early autism. Developmental Psychology, 39, 646–656. doi:12859119.

Ozonoff, S., Pennington, B. F., & Rogers, S. J. (1991). Executive function deficits in high-functioning autistic individuals: Relationship to theory of mind. Journal of Child Psychology and Psychiatry, 32, 1081–1106. doi:10.1111/j.1469-7610.1991.tb00351.x.

Pellicano, E., Gibson, L., Maybery, M., Durkin, K., & Badcock, D. R. (2005). Abnormal global processing along the dorsal visual pathway in autism: a possible mechanism for weak visuospatial coherence? Neuropsychologia, 43, 1044–1053. doi:S0028-3932(04)00270-2.

Ropar, D., & Mitchell, P. (2001). Susceptibility to illusions and performance on visuospatial tasks in individuals with autism. Journal of Child Psychology and Psychiatry and Allied Disciplines, 42, 539–549. doi:11383970.

Schlooz, W. A., Hulstijn, W., van den Broek, P. J., van der Pijll, A. C., Gabreëls, F., van der Gaag, R. J., et al. (2006). Fragmented visuospatial processing in children with pervasive developmental disorder. Journal of Autism and Developmental Disorders, 36, 1025–1037. doi:10.1007/s10803-006-0140-z.

Shah, A., & Frith, U. (1983). An islet of ability in autistic children: a research note. Journal of Child Psychology and Psychiatry and Allied Disciplines, 24, 613–620. doi:6630333.

Skuse, D., Warrington, R., Bishop, D., Chowdhury, U., Lau, J., Mandy, W., & Place, M. (2004). The developmental, dimensional and diagnostic interview (3di): a novel computerized assessment for autism spectrum disorders. Journal of the American Academy of Child and Adolescent Psychiatry, 43, 548–558.

van Lang, N. D. J., Bouma, A., Sytema, S., Kraijer, D. W., & Minderaa, R. B. (2006). A comparison of central coherence skills between adolescents with an intellectual disability with and without comorbid autism spectrum disorder. Research in Developmental Disabilities, 27, 217–226. doi:S0891-4222(05)00051-X.

Wechsler, D. (1992). Wechsler intelligence scale for children (WISC III-UK). New York, NY: Psychological Corporation.

White, S., Hill, E., Happé, F., & Frith, U. (2009). Revisiting the strange stories: Revealing mentalising impairments in autism. Child Development, 80, 1097–1117. doi:10.1111/j.1467-8624.2009.01319.x.

White, S., Milne, E., Rosen, S., Hansen, P., Swettenham, J., Frith, U., et al. (2006). The role of sensorimotor impairments in dyslexia: A multiple case study of dyslexic children. Developmental Science, 9(3), 237–255; discussion 265–269. doi: 10.1111/j.1467-7687.2006.00483.x.

Witkin, H. A., Ottman, R. K., Raskin, E., & Karp, S. A. (1971). A manual for the embedded figures test. Palo Alto, California: Consulting Psychologists Press.
Acknowledgments
The authors wish to thank Ade Owolabi, Sarah Johnson, Megan Fisher and Gemma Northam for their assistance in collecting the data, and the participating pupils and their schools. The study has been partially supported by a Medical Research Council grant G78/8085, a joint Medical Research Council/Economic and Social Research Council grant PTA-037-27-0107 and a British Academy Grant PDF/2009/213 to the first author and the Andalusian and Spanish government grants EX2004-0098, SEJ2007-67080/PSIC, P07-SEJ-02574, and CONSOLIDER-INGENIO 2010 CSD2008-00048 to the second author.
About this article
Cite this article
White, S.J., Saldaña, D. Performance of Children with Autism on the Embedded Figures Test: A Closer Look at a Popular Task. J Autism Dev Disord 41, 1565–1572 (2011). https://doi.org/10.1007/s10803-011-1182-4
Published:

Issue Date:

DOI: https://doi.org/10.1007/s10803-011-1182-4
Keywords