Abstract
Hurricanes and tropical storms served as natural experiments for investigating whether autism is associated with exposure to stressful events during sensitive periods of gestation. Weather service data identified severe storms in Louisiana from 1980 to 1995 and parishes hit by storm centers during this period. Autism prevalences in different cohorts were calculated using anonymous data on birth dates and parishes of children diagnosed with autism in the state mental health system, together with corresponding census data on all live births in Louisiana. Prevalence increased in dose-response fashion with severity of prenatal storm exposure, especially for cohorts exposed near the middle or end of gestation (p < 0.001). Results complement other evidence that factors disrupting development during sensitive gestational periods may contribute to autism.
Access options
Buy single article
Instant access to the full article PDF.
USD 39.95
Price excludes VAT (USA)
Tax calculation will be finalised during checkout.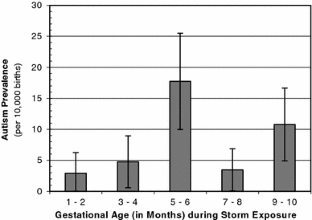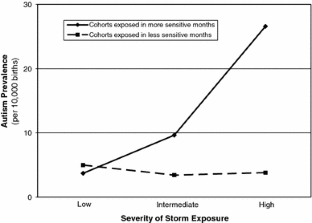 References
Ahlbom, E., Gogvadze, V., Chen, M., Celsi, G., & Ceccatelli, S. (2000). Prenatal exposure to high levels of glucocorticoids increases the susceptibility of cerebellar granule cells to oxidative stress-induced cell death. Proceedings of the National Academy of Sciences of the United States of America, 97, 14726–14730.

American Psychiatric Association. (1994). Diagnostic and statistical manual of mental disorders (4th ed.). Washington DC: Author.

Anisman, H., Griffiths, J., Matheson, K., Ravindran, A. V., & Merali, Z. (2001). Posttraumatic stress symptoms and salivary cortisol levels. American Journal of Psychiatry, 158, 1509–1511.

Armitage, P. (1995). Tests for linear trends in proportions and frequencies. Biometrics, 11, 375–385.

Beversdorf, D. Q., Manning, S. E., Hillier, A., Anderson, S. L., Nordgren, R. E., Walters, S. E., Nagaraja, H. N., Cooley, W. C., Gaelic, S. E., & Bauman, M. L. (2005). Timing of prenatal stressors and autism. Journal of Autism and Developmental Disorders, 35, 471–478.

Brake, W. G., Noel, M. B., Boksa, P., & Gratton, A. (1997). Influence of perinatal factors on the nucleus accumbens dopamine response to repeated stress during adulthood: An electrochemical study in the rat. Neuroscience, 77, 1067–1076.

Burd, L., Severud, R., Kerbeshian, J., & Klug, M. G. (1999). Prenatal and perinatal risk factors for autism. Journal of Perinatal Medicine, 27, 441–450.

Campbell, D. B., Sutcliffe, J. S., Ebert, P. J., Militerni, R., Bravaccio, C., Trillo, S., Elia, M., Schneider, C., Melmed, R., Sacco, R., Persico, A. M., & Levitt, P. (2006). A genetic variant that disrupts MET transcription is associated with autism. Proceedings of the National Academy of Sciences of the United States of America, 103, 16834–16839.

Clarke, A. S., Soto, A., Berholz, T., & Schneider, M. L. (1996). Maternal gestational stress alters adaptive and social behavior in adolescent rhesus monkey offspring. Infant Behavior and Development, 19, 453–463.

Cochran, W. G. (1954). Some methods of strengthening the common chi square tests. Biometrics, 10, 417–451.

Corbett, B. A., Mendoza, S., Abdullah, M., Wegelin, J. A., & Levine, S. (2006). Cortisol circadian rhythms and response to stress in children with autism. Psychoneuroendocrinology, 31(1), 59–68.

Courchesne, E., & Pierce, K. (2005). Brain overgrowth in autism during a critical time in development: Implications for frontal pyramidal neuron and interneuron development and connectivity. International Journal of Developmental Neuroscience, 23, 153–170.

Fish, E. R., Shahrokh, D., Bagot, R., Caldji, C., Bredy, T., Szyf, M., & Meaney, M. J. (2004). Epigenetic programming of stress responses through variations in maternal care. Annals of the New York Academy of Sciences, 1036(1), 167–180.

Fleiss, J. L., Levin, B., & Paik, M. C. (2003). Statistical methods for rates and proportions (3rd ed.). New York, NY: John Wiley.

Folstein, S. E., & Piven, J. (1991). Etiology of autism: Genetic influences. Pediatrics, 87, 767–773.

Fombonne, E. (2005). Epidemiology of pervasive developmental disorders. In F. R. Volkmar, R. Paul, A. Klin, & D. Cohen (Eds.), Handbook of autism and pervasive developmental disorders, Vol. 1: Diagnosis, development, neurobiology, and behavior (3rd ed.) (pp. 42–69). US: John Wiley & Sons.

Gillberg, C., & Gillberg, I. C. (1983). Infantile autism: A total population study of reduced optimality in the pre-, peri-, and neonatal period. Journal of Autism and Developmental Disorders, 13(2), 153–166.

Glasson, E. J., Bower, C., Petterson, B., de Klerk, N., Chaney, G., & Hallmayer, J. F. (2004). Perinatal factors and the development of autism. Archives of General Psychiatry, 61, 618–627.

Glover, V. (1997). Maternal stress or anxiety in pregnancy and emotional development of the child. British Journal of Psychiatry, 171, 105–106.

Huttunen, M. O., & Niskanen, P. (1978). Prenatal loss of father and psychiatric disorders. Archives of General Psychiatry, 35, 429–431.

Juul-Dam, N., Townsend, J., & Courchesne, E. (2001). Prenatal, perinatal, and neonatal factors in autism, pervasive developmental disorder-not otherwise specified, and the general population. Pediatrics, 107, E63.

Kennell, J., Klaus, M., McGrath, S., Robertson, S., & Hinkley, C. (1991). Continuous emotional support during labor in a US hospital: A randomized controlled trial. Journal of the American Medical Association, 265, 2197–2201.

King, S., & Laplante, D. P. (2005). The effects of prenatal maternal stress on children's cognitive development: Project Ice Storm. Stress, 8, 35–45.

Kinney, D. K. (2001). Prenatal stress and risk for schizophrenia. International Journal of Mental Health, 29, 62–72.

Laviola, G., Adriani, W., Rea, M., Aloe, L., & Alleva, E. (2004). Social withdrawal, neophobia, and stereotyped behavior in developing rats exposed to neonatal asphyxia. Psychopharmacology, 175, 196–205.

Matthews, S. G. (2000). Antenatal glucocorticoids and programming of the developing CNS. Pediatric Research, 47, 291–300.

Muhle, R., Trentacoste, S., & Rapin, I. (2004). The genetics of autism. Pediatrics, 113(5), e472–e486.

Mulder, E. J. H., Robles de Medina, P. G., Huizink, A. C., Van den Bergh, B. R. H., Buitelaar, J. K., & Visser, G. H. A. (2002). Prenatal maternal stress: Effects on pregnancy and the (unborn) child. Early Human Development, 70, 3–14.

Norris, F., Perilla, J., Ibanez, G., & Murphy, A. (2001). Sex differences in symptoms of posttraumatic stress: Does culture play a role? Journal of Traumatic Stress, 14, 7–28.

Piven J., & Palmer, P. (1999). Psychiatric disorder and the broad autism phenotype: Evidence from a family study of multiple-incidence autism families. American Journal of Psychiatry, 156, 557–563.

Scheepens, A., van de Waarenburg, M., van den Hove, D., & Blanco, C. E. (2003). A single course of prenatal betamethasone in the rat alters postnatal brain cell proliferation but not apoptosis. The Journal of Physiology, 552, 163–175.

Schneider, M. L., Roughton, E. C., Koehler, A. J., & Lubach, G. R. (1999). Growth and development following prenatal stress exposure in primates: An examination of ontogenetic vulnerability. Child Development, 70, 263–274.

Smalley, S. L., Asarnow, R. F., & Spence, M. A. (1988). Autism and genetics. Archives of General Psychiatry, 45, 953–961.

Torrey, E. F., Hersh, S. P., & McCabe, K. C. (1975). Early childhood psychosis and bleeding during pregnancy: A prospective study of gravid women and their offspring. Journal of Autism and Childhood Schizophrenia, 5, 287–297.

Ward, A. J. (1990). A comparison and analysis of the presence of family problems during pregnancy of mothers of "autistic" children and mothers of typically developing children. Child Psychiatry and Human Development, 20, 279–288.

Watson, J. B., Mednick, S. A., Huttunen, M., & Wang, X. (1999). Prenatal teratogens and the development of adult mental illness. Developmental Psychopathology, 11, 457–466.

Weinstock, M. (1997). Does prenatal stress impair coping and regulation of hypothalamic-pituitary-adrenal axis? Neuroscience and Biobehavioral Reviews, 21, 1–10.

Zelazo, P. R. (2001). A developmental perspective on early autism: Affective, behavioral, and cognitive factors. In J. A. Burack, T. Charman, N. Yirmiya, & P. R. Zelazo (Eds.), The Development of Autism: Perspectives from Theory and Research (pp. 39–60). NJ: Lawrence Erlbaum.
Acknowledgments
This study was supported in part by a grant from the Cure Autism Now Foundation. We thank Lisa M. Sullivan, Ph.D., Department of Biostatistics, Boston University School of Public Health, for advice on statistical analysis; the Louisiana Department of Health and Hospital's Office for Citizens with Developmental Disabilities, and the National Center for Health Statistics, for supplying anonymous data; and Andrea Surova for help in preparing the manuscript. Parts of this paper were presented at the International Meeting For Autism Research, Montreal, June 2006.
About this article
Cite this article
Kinney, D.K., Miller, A.M., Crowley, D.J. et al. Autism Prevalence Following Prenatal Exposure to Hurricanes and Tropical Storms in Louisiana. J Autism Dev Disord 38, 481–488 (2008). https://doi.org/10.1007/s10803-007-0414-0
Received:

Accepted:

Published:

Issue Date:

DOI: https://doi.org/10.1007/s10803-007-0414-0
Keywords