Abstract
Interventions that teach social communication and play skills are crucial for the development of children with autism. The time delay procedure is effective in teaching language acquisition, social use of language, discrete behaviors, and chained activities to individuals with autism and developmental delays. In this study, three boys with autism, attending a non-public school, were taught play activities that combined a play sequence with requesting peer assistance, using a graduated time delay procedure. A multiple-baseline across subjects design demonstrated the success of this procedure to teach multiple-step social play sequences. Results indicated an additional gain of an increase in pretend play by one of the participants. Two also demonstrated a generalization of the skills learned through the time delay procedure.
This is a preview of subscription content, log in to check access.
Access options
Buy single article
Instant access to the full article PDF.
US$ 39.95
Price includes VAT for USA
Subscribe to journal
Immediate online access to all issues from 2019. Subscription will auto renew annually.
US$ 199
This is the net price. Taxes to be calculated in checkout.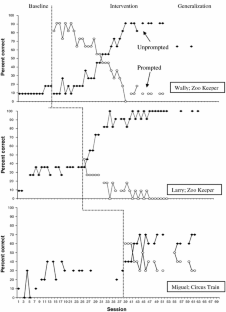 References
American Psychiatric Association. (1994). Diagnostic and statistical manual of mental disorders – text revision (Fourth Edn.). Washington, DC: Author.

Charlop, M. H., & Trasowech, J. E. (1991). Increasing autistic children's daily spontaneous speech. Journal of Applied Behavior Analysis, 24(4), 747–761.

Charlop, M. H., & Walsh, M. E. (1986). Increasing autistic children's spontaneous verbalizations of affection: An assessment of time delay and peer modeling procedures. Journal of Applied Behavior Analysis, 19(3), 307–314.

DiSalvo, C., & Oswald, D. (2002). Peer-mediated interventions to increase social interaction of children with autism: Consideration of peer expectancies. Focus on Autism and Other Developmental Disabilities, 17(4), 198–207.

Garfinkle, A., & Schwartz, I. (2002). Peer imitation: Increasing social interactions in children with autism and other developmental disabilities in inclusive preschool classrooms. Topics in Early Childhood Special Education, 22(1), 26–38.

Goldstein, H., Kaczmarek, L., Pennington, R., & Shafer, K. (1992). Peer-mediated intervention: attending to, commenting on, and acknowledging the behavior of preschoolers with autism. Journal of Applied Behavior Analysis, 25(2), 289–305.

Kamps, D., Royer, J., Dugan, E., Kravits, T., Gonzalez-Lopez, A., Garcia, J., Carnazzo, K., Morrison, L., & Garrison Kane, L. (2002). Peer training to facilitate social interaction for elementary students with autism and their peers. Exceptional Children, 68(2), 173–187.

Laushey, K., & Heflin, J. (2000). Enhancing social skills of kindergarten children with autism through the training of multiple peers as tutors. Journal of Autism and Developmental Disorders, 30(3), 183–193.

Leung, J. (1994). Teaching spontaneous requests to children with autism using a time delay procedure with multi-component toys. Journal of Behavioral Education, 4(1), 21–31.

Matson, J. L., Sevin, J. A., Box, M. L., Francis, K. L., & Sevin, B. M. (1993). An evaluation of two methods for increasing self-initiated verbalizations in autistic children. Journal of Applied Behavior Analysis, 26(3), 389–398.

Morrison, L., Kamps, D., Garcia, J., & Parker, D. (2001). Peer mediation and monitoring strategies to improve initiations and social skills for students with autism. Journal of Positive Behavior Interventions, 3(4), 237–250.

Pierce, K., & Schreibman, L. (1995). Increasing complex social behaviors in children with autism: effects of peer-implemented pivotal response training. Journal of Applied Behavior Analysis, 28(3), 285–295.

Pierce, K., & Schreibman, L. (1997). Multiple peer use of pivotal response training to increase social behaviors of classmates with autism: Results from trained and untrained peers. Journal of Applied Behavior Analysis, 30(1), 157–160.

Schuster, J. W., Morse, T. E., Ault, M. J., Doyle, P. M., Crawford, M. R., & Wolery, M. (1998). Constant time delay with chained tasks: A review of the literature. Education and Treatment of Children, 21(1), 74–107.

Schwartz, I. S., Anderson, S. R., & Halle, J. W. (1989). Training teachers to use naturalistic time delay: Effects on teacher behavior and on the language use of students. Journal of the Association for Persons with Severe Handicaps, 14(1), 48–57.

Smith, T., Lovaas, N. W., & Lovaas, O. I. (2002). Behaviors of children with high-functioning autism when paired with typically developing versus delayed peers: A preliminary study. Behavioral Interventions, 17(3), 129–143.

Strain, P. S., & Fox, J. J. (1981). Peers as behavior change agents for withdrawn classmates. In B. B. Lahey & A. E. Kazdin (Eds.), Advances in clinical child psychology (Vol. 4, pp. 167–198). New York: Academic Press.

Strain, P.S., & Kohler, F. (1998). Peer-mediated social intervention for young children with autism. Seminars in Speech and Language, 19(4), 391–405.

Taylor, B. A., & Harris, S. L. (1995). Teaching children with autism to seek information: Acquisition of novel information and generalization of responding. Journal of Applied Behavior Analysis, 28(1), 3–14.

Wall, M. E., & Gast, D. L. (1997). Caregivers' use of constant time delay to teach leisure skills to adolescents or young adults with moderate or severe intellectual disabilities. Education and Training in Mental Retardation and Developmental Disabilities, 32(4), 340–356.

Wolery, M., Holcombe, A., Cybriwsky, C., Doyle, P. M., Schuster, J. W., Ault, M. J., & Gast, D. L. (1992). Constant time delay with discrete responses: A review of effectiveness and demographic, procedural, and methodological parameters. Research in Developmental Disabilities, 13, 239–266.
Acknowledgements
This study was conducted as part of a thesis project in the Charter College of Education in the Division of Special Education and Counseling at California State University, Los Angeles. We would like to acknowledge the participant children, their peers, families and teachers who participated in this study. Your participation may help many students with autism to improve social interactions with peers. Also, we appreciate the Director of the school programs for granting us permission to conduct the study in her setting and staff who assisted with data collection.
About this article
Cite this article
Liber, D.B., Frea, W.D. & Symon, J.B.G. Using Time-delay to Improve Social Play Skills with Peers for Children with Autism. J Autism Dev Disord 38, 312–323 (2008). https://doi.org/10.1007/s10803-007-0395-z
Received:

Accepted:

Published:

Issue Date:
Keywords
Autism

Time Delay

Social Skills

Play Skills

Task Analysis

Classroom

Peer Mediated