Abstract
It has been suggested that the measles, mumps, and rubella vaccine (MMR) is a cause of regressive autism. As MMR was used in Japan only between 1989 and 1993, this time period affords a natural experiment to examine this hypothesis. Data on 904 patients with autism spectrum disorders (ASD) were analyzed. During the period of MMR usage no significant difference was found in the incidence of regression between MMR-vaccinated children and non-vaccinated children. Among the proportion and incidence of regression across the three MMR-program-related periods (before, during and after MMR usage), no significant difference was found between those who had received MMR and those who had not. Moreover, the incidence of regression did not change significantly across the three periods.
Access options
Buy single article
Instant access to the full article PDF.
US$ 39.95
Tax calculation will be finalised during checkout.
Subscribe to journal
Immediate online access to all issues from 2019. Subscription will auto renew annually.
US$ 119
Tax calculation will be finalised during checkout.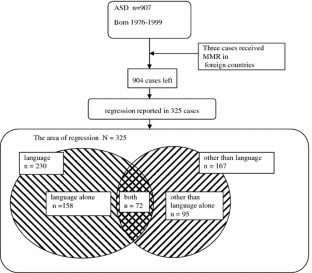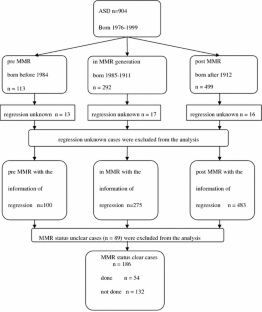 Notes
1.

The definition we followed was that of pervasive developmental disorders in DSM-IV, but, following most current practice we have used the terminology of autism spectrum disorders.
References
American Psychiatric Association (1994). Diagnostic and statistical manual of mental disorders. (4th ed.). Washington, D. C.: Author.

Azuma, H., Ueno, K., Fujita, K., Maekawa, H., Ishikuma, T., & Sano, H. (1998). Nihonban WISC-III Tinou-Kensaho. Nihonbunkakagakusha (Japanese version of WISC-III: Translated and standardized to Japanese children by the ad hoc committee).

Fombonne, E., & Chakrabarti, S. (2001). No evidence for a new variant of measles–mumps–rubella-induced autism. Pediatrics, 108, E58.

Hoshino, Y., Kaneko, M., Yashima, Y., Kumashiro, H., Volkmar, F. R., & Cohen, D. J. (1987). Clinical features of autistic children with setback course in their infancy. Japanese Journal of Psychiatry and Neurology, 41, 237–245.

Kaye, J. A., del Mar Melero-Montes, M., & Jick, H. (2001). Mumps, measles, and rubella vaccine and the incidence of autism recorded by general practitioners: a time trend analysis. BMJ, 322, 460–463.

Kurita, H. (1996). Specificity and developmental consequences of speech loss in children with pervasive developmental disorders. Psychiatry and Clinical Neurosciences, 50, 363–387.

Madsen, K. M., Hviid, A., Vestergaard, M., Schendel, D., Wohlfahrt, J., Thorsen, P., Olsen, J., & Melbye, M. (2002) A population-based study of measles, mumps, and rubella vaccination and autism. New England Journal of Medicine, 347, 1477–1482.

Makela, A., Nuorti, J. P., & Peltola, H. (2002). Neurologic disorders after measles–mumps–rubella vaccination. Pediatrics, 110, 957–963.

Shopler, E., Reichler, R., Bashford, A., Lansing, M. D., & Marcus, L. M. (1990). Psycoeducational profile-revised (PEP-R) . Austin, TC-Pro-Ed. (Translated to Japanese by Ibaraki T, 1995, Kawashima-syoten, Tokyo.).

Sugiura, A., & Yamada, A. (1991). Aseptic meningitis as a complication of mumps vaccination. The Pediatric Infectious Disease Journal, 10, 209–213.

Takahashi, H., Arai, S., Tanaka-Taya, K., & Okabe, N. (2001). Autism and infection/immunization episodes in Japan. Japanese Journal of Infectious Diseases, 54, 78–79.

Takahashi, H., Suzumura, S., Shirakisawa, F., Wada, N., Tanaka-Taya, K., Arai, S., Okabe, N., Ichikawa, H., & Sato, T. (2003). An epidemiological study on Japanese autism concerning routine childhood immunization history. Japanese Journal of Infectious Diseases, 56, 114–117.

Tanaka, K-K. (1987). Tanaka-Binet tinou kensaho. Tokyo: Taken shuppan publisher (in Japanese).

Taylor, B., Miller, E., Farrington, C. P., Petropoulos, M. C., Favot-Mayaud, I., Jun, L., & Waight, P. A. (1999). Autism and measles, mumps, and rubella vaccine: no epidemiological evidence for a causal association. Lancet, 353, 2026–2029.

Taylor, B., Miller, E., Lingram, L., Andrews, N., Simmons, A., & Stowe, J. (2002). Measles, mumps, and rubella vaccination and bowel problems or developmental regression in children with autism: population study. BMJ, 324, 393–396.

Tuchman, R. F., & Rapin, I. (1997). Regression in pervasive developmental disorders: seizures and epileptiform electroencephalogram correlates. Pediatrics, 99, 560–566.

Wakefield, A. J., Murch, S. H., Anthony, A., Linnell, J., Casson, D. M., Malik, M., Berelowitz, M., Dhillon, A. P., Thomson, M. A., Harvey, P., Valentine, A., Davies, S. E., & Walker-Smith, J. A. (1998). Ileal-lymphoid-nodular hyperplasia, non-specific colitis, and pervasive developmental disorder in children. Lancet, 351, 637–641.
Acknowledgements
We appreciate the advice and expertise of Professor Sir Michael Rutter. Special thanks are expressed to Dr. Hiroshi Fujioka, Dr. Yuko Yoshida and Dr. Masami Sasaki for their assistance.
About this article
Cite this article
Uchiyama, T., Kurosawa, M. & Inaba, Y. MMR-Vaccine and Regression in Autism Spectrum Disorders: Negative Results Presented from Japan. J Autism Dev Disord 37, 210–217 (2007). https://doi.org/10.1007/s10803-006-0157-3
Keywords