Abstract
Models of transdiagnostic family emotion processes recognize parents' emotion-related characteristics and behaviors as key contributors to child emotional development and psychological functioning. One such psychological outcome, child anxiety, is prevalent and early emerging, underscoring the importance of identifying early family- and emotion-related mechanisms involved in anxiety risk. We investigated the extent to which mother and child emotion-related traits and behaviors related to child anxiety in a community sample of 175 mother–child dyads. Using three time-points (child ages 2–4 years, assessments 1 year apart), we examined how mothers' emotion dysregulation predicted their emotion socialization practices (either supportive or non-supportive) and children's emotion regulation (ER; either attention- or caregiver-focused) over time, in relation to later child anxiety. Models controlled for child inhibited temperament and also tested the role of maternal anxiety in these trajectories. Mothers reported on their emotion dysregulation, emotion socialization, and their own and their child's anxiety, whereas child ER and inhibited temperament were measured using laboratory observation. In supportive emotion socialization models, maternal emotion dysregulation predicted child anxiety 2 years later. An indirect effect emerged, such that greater maternal emotion dysregulation predicted greater non-supportive emotion socialization, which in turn related to children's greater caregiver-focused ER. Maternal emotion dysregulation, maternal anxiety, and child inhibited temperament each predicted child anxiety above and beyond other variables, although their shared variance likely accounted for some of the results. Findings lend partial support to current theoretical models of transdiagnostic family emotion processes and child anxiety development, suggesting promising avenues of future research.
Access options
Buy single article
Instant access to the full article PDF.
USD 39.95
Price includes VAT (USA)
Tax calculation will be finalised during checkout.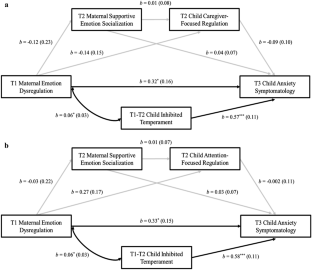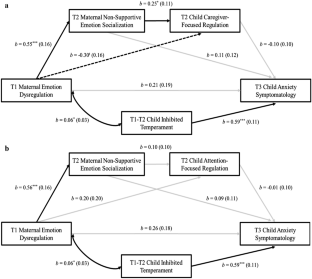 Data Availability
The authors are not making a dataset publicly available as consent was not specifically sought from participants to do so. However, de-identified data will be distributed upon reasonable request.
Notes
1.

We used gender-specific 10th percentile cutoffs for the Anxiety/Worry and Inhibition to Novelty ITSEA scores and clinical cut-off scores of the PAS subscales scores to identify that 30.4% (N = 34) met or exceeded the clinical cutoff for at least one measure, suggesting that anxious children were well represented in our sample.

2.

We used PSWQ and SIAS sum scores of ≥ 54 and 34, respectively, to identify that 34.8% of mothers in our sample met or exceeded the clinical cutoff of at least one measure, suggesting that anxious mothers were well represented.

3.

Maternal education (in years) and family annual income (r = 0.69, p < 0.001) were z-scored and averaged for SES.

4.

We thank an anonymous reviewer for this paragraph's suggestions and explanations.
References
Aldao, A., Nolen-Hoeksema, S., & Schweizer, S. (2010). Emotion-regulation strategies across psychopathology: A meta-analytic review. Clinical Psychology Review, 30(2), 217–237.

Berg-Nielsen, T. S., Vikan, A., & Dahl, A. A. (2002). Parenting related to child and parental psychopathology: A descriptive review of the literature. Clinical Child Psychology and Psychiatry, 7(4), 529–552.

Bridges, L., & Grolnick, W. (1995). The development of emotional self-regulation in infancy and early childhood. In Nancy Eisenberg (Ed.), Social Development (pp. 185–211). Sage.

Brown, E. J., Turovsky, J., Heimberg, R. G., Juster, H. R., &, , et al. (1997). Validation of the Social Interaction Anxiety Scale and the Social Phobia Scale across the anxiety disorders. Psychological Assessment, 9(1), 21–27.

Buckholdt, K. E., Parra, G. R., & Jobe-Shields, L. (2014). Intergenerational transmission of emotion dysregulation through parental invalidation of emotions: Implications for adolescent internalizing and externalizing behaviors. Journal of Child and Family Studies, 23(2), 324–332.

Buss, K. A. (2011). Which fearful toddlers should we worry about? Context, fear regulation, and anxiety risk. Developmental Psychology, 47(3), 804–819.

Buss, K. A., & Goldsmith, H. H. (2000). Manual and normative data for the Laboratory Temperament Assessment Battery-Toddler Version.

Buss, K. A., & Goldsmith, H. H. (1998). Fear and anger regulation in infancy: Effects on the temporal dynamics of affective expression. Child Development, 69(2), 359–374.

Calkins, S. D. (2007). The emergence of self-regulation: Biological and behavioral control mechanisms supporting toddler competencies. In C. Brownell & C. Kopp (Eds.), Socioemotional development in the toddler years: Transitions and transformations (pp. 261–284). Guilford Press.

Carter, A. S., Briggs-Gowan, M. J., Jones, S. M., & Little, T. D. (2003). The Infant-Toddler Social and Emotional Assessment (ITSEA): Factor structure, reliability, and validity. Journal of Abnormal Child Psychology, 31(5), 495–514.

Chavira, D. A., Stein, M. B., Bailey, K., & Stein, M. T. (2004). Child anxiety in primary care: Prevalent but untreated. Depression and Anxiety, 20(4), 155–164.

Cole, P. M., Dennis, T. A., Smith-Simon, K. E., & Cohen, L. H. (2009). Preschoolers' emotion regulation strategy understanding: Relations with emotion socialization and child self-regulation. Social Development, 18(2), 324–352.

Diener, M. L., & Mangelsdorf, S. C. (1999). Behavioral strategies for emotion regulation in toddlers: Associations with maternal involvement and emotional expressions. Infant Behavior and Development, 22(4), 569–583.

Dunbar, A. S., Leerkes, E. M., Coard, S. I., Supple, A. J., & Calkins, S. (2017). An integrative conceptual model of parental racial/ethnic and emotion socialization and links to children's social-emotional development among African American families. Child Development Perspectives, 11(1), 16–22.

Eisenberg, N., Cumberland, A., & Spinrad, T. L. (1998). Parental socialization of emotion. Psychological Inquiry, 9(4), 241–273.

Enders, C. K., & Bandalos, D. L. (2001). The relative performance of full information maximum likelihood estimation for missing data in structural equation models. Structural Equation Modeling: A Multidisciplinary Journal, 8(3), 430–457.

Fabes, R. A., Leonard, S. A., Kupanoff, K., & Martin, C. L. (2001). Parental coping with children's negative emotions: Relations with children's emotional and social responding. Child Development, 72(3), 907–920.

Fabes, R. A., Poulin, R., Eisenberg, N., & Madden-Derdich, D. A. (2002). The Coping with Children's Negative Emotions Scale (CCNES): Psychometric properties and relations with children's emotional competence. Marriage & Family Review, 34(3–4), 285–310.

Graham, J. W. (2009). Missing data analysis: Making it work in the real world. Annual Review of Psychology, 60, 549–576.

Gratz, K. L., & Roemer, L. (2004). Multidimensional assessment of emotion regulation and dysregulation: Development, factor structure, and initial validation of the Difficulties in Emotion Regulation Scale. Journal of Psychopathology & Behavioral Assessment, 41–54.

Grolnick, W. S., Bridges, L. J., & Connell, J. P. (1996). Emotion regulation in two-year-olds: Strategies and emotional expression in four contexts. Child Development, 67(3), 928–941.

Gudmundson, J. A., & Leerkes, E. M. (2012). Links between mothers' coping styles, toddler reactivity, and sensitivity to toddler's negative emotions. Infant Behavior and Development, 35(1), 158–166.

Hajal, N. J., & Paley, B. (2020). Parental emotion and emotion regulation: A critical target of study for research and intervention to promote child emotion socialization. Developmental Psychology, 56(3), 403–417.

Han, Z. R., & Shaffer, A. (2013). The relation of parental emotion dysregulation to children's psychopathology symptoms: The moderating role of child emotion dysregulation. Child Psychiatry & Human Development, 44(5), 591–601.

Hooper, E. G., Wu, Q., Ku, S., Gerhardt, M., & Feng, X. (2018). Maternal emotion socialization and child outcomes among African Americans and European Americans. Journal of Child and Family Studies, 27(6), 1870–1880.

Hurrell, K. E., Hudson, J. L., & Schniering, C. A. (2015). Parental reactions to children's negative emotions: Relationships with emotion regulation in children with an anxiety disorder. Journal of Anxiety Disorders, 29(January), 72–82.

Kagan, J., Reznick, J. S., & Gibbons, J. (1989). Inhibited and uninhibited types of children. Child Development, 60(4), 838–845.

Mangold. (2017). INTERACT user guide. Retrieved from www.mangold-international.com

Meyer, T. J., Miller, M. L., Metzger, R. L., & Borkovec, T. D. (1990). Development and validation of the Penn State Worry Questionnaire. Behaviour Research and Therapy, 28(6), 487–495.

Mian, N. D., Wainwright, L., Briggs-Gowan, M. J., & Carter, A. S. (2011). An ecological risk model for early childhood anxiety: The importance of early child symptoms and temperament. Journal of Abnormal Child Psychology, 39(4), 501–512.

Mirabile, S. P., Oertwig, D., & Halberstadt, A. G. (2016). Parent emotion socialization and children's socioemotional adjustment: When is supportiveness no longer supportive? Social Development, 27(3), 466–481.

Morelen, D., Shaffer, A., & Suveg, C. (2016). Maternal emotion regulation: Links to emotion parenting and child emotion regulation. Journal of Family Issues, 37(13), 1–26.

Morris, A. S., Silk, J. S., Steinberg, L., Myers, S. S., & Robinson, L. R. (2007). The role of the family context in the development of emotion regulation. Social Development, 16, 361–388.

Muris, P., Meesters, C., Merckelbach, H., Sermon, A., & Zwakhalen, S. (1998). Worry in normal children. Journal of the American Academy of Child & Adolescent Psychiatry, 37, 703–710.

Murray, L., Creswell, C., & Cooper, P. (2009). The development of anxiety disorders in childhood: An integrative review. Psychological Medicine, 39(9), 1413–1423.

Muthén, L., & Muthén, B. (2012). Mplus user's guide (7th ed.). Los Angeles.

O'Neal, C. R., & Magai, C. (2005). Do parents respond in different ways when children feel different emotions? The emotional context of parenting. Development and Psychopathology, 17(2), 467–487.

Premo, J. E., & Kiel, E. J. (2014). The effect of toddler emotion regulation on maternal emotion socialization: Moderation by toddler gender. Emotion, 14(4), 782–793.

Putnam, S. P., Gartstein, M. A., & Rothbart, M. K. (2006). Measurement of fine-grained aspects of toddler temperament: The Early Childhood Behavior Questionnaire. Infant Behavior and Development, 29(3), 386–401.

Rapee, R. M., & Coplan, R. J. (2010). Conceptual relations between anxiety disorder and fearful temperament. New Directions for Child and Adolescent Development, 2010(127), 17–31.

Raval, V. V., Walker, B. L., & Daga, S. S. (2018). Parental socialization of emotion and child functioning among Indian American families: Consideration of cultural factors and different modes of socialization. In S. Chuang & C. Costigan (Eds.), Parental Roles and Relationships in Immigrant Families (pp. 69–89).

Rothbart, M. K., Ahadi, S. A., Hershey, K. L., & Fisher, P. (2001). Investigations of temperament at three to seven years: The Children's Behavior Questionnaire. Child Development, 72(5), 1394–1408.

Rutherford, H. J., Wallace, N. S., Laurent, H. K., & Mayes, L. C. (2015). Emotion regulation in parenthood. Developmental Review, 36, 1–14.

Sanders, W., Zeman, J. L., Poon, J., & Miller, R. (2015). Child regulation of negative emotions and depressive symptoms: The moderating role of parental emotion socialization. Journal of Child and Family Studies, 24(2), 402–415.

Spence, S. H., Rapee, R., McDonald, C., & Ingram, M. (2001). The structure of anxiety symptoms among preschoolers. Behaviour Research and Therapy, 39(11), 1293–1316.

Spinrad, T. L., Eisenberg, N., Kupfer, A., Gaertner, B., & Michalik, N. (2004). The Coping with Toddlers' Negative Emotions Scale. Poster Session Presented at the Biennial International Conference on Infant Studies. Chicago, Illinois.

Sroufe, L. A., & Rutter, M. (1984). The domain of developmental psychopathology. Child Development, 55(1), 17–29.

Suveg, C., Zeman, J., Flannery-Schroeder, E., & Cassano, M. (2005). Emotion socialization in families of children with an anxiety disorder. Journal of Abnormal Child Psychology, 33(2), 145–155.

Tandon, M., Cardeli, E., & Luby, J. (2009). Internalizing disorders in early childhood: A review of depressive and anxiety disorders. Child and Adolescent Psychiatric Clinics of North America, 18(3), 593–610.

Thompson, R. A. (2001). Childhood anxiety disorders from the perspective of emotion regulation and attachment. In M. W. Vasey & M. R. Dadds (Eds.), The developmental psychopathology of anxiety (pp. 160–182). Oxford University Press.

Thompson, R. A. (2019). Emotion dysregulation: A theme in search of definition. Development and Psychopathology, 31(3), 805–815.

Zahn-Waxler, C., Klimes-Dougan, B., & Slattery, M. J. (2000). Internalizing problems of childhood and adolescence: Prospects, pitfalls, and progress in understanding the development of anxiety and depression. Development & Psychopathology, 12(3), 443–466.

Zeman, J. L., Cassano, M., & Adrian, M. C. (2013). Socialization influences on children's and adolescents' emotional self-regulation processes. In K. C. Barrett, N. A. Fox, G. A. Morgan, D. J. Fidler, & L. A. Daunhauer (Eds.), Handbook of self-regulatory processes in development: New directions and international perspectives (pp. 79–107). Routledge.
Funding
This study was funded by a grant from the National Institute for Child Health and Human Development to Elizabeth Kiel (R15 HD076158).
Ethics declarations
Ethics Approval
All study procedures were approved by the Miami University Institutional Review Board (protocol #s 00248r, 01026r) and adhere to the principles of the 1964 Helsinki Declaration. 
Conflict of Interest/Competing Interests
The authors declare that they have no conflicts of interest
Consent to Participate
Researchers obtained informed consent from legal guardians.
Additional information
Publisher's Note
Springer Nature remains neutral with regard to jurisdictional claims in published maps and institutional affiliations.
Supplementary Information
Below is the link to the electronic supplementary material.
About this article
Cite this article
Price, N.N., Kiel, E.J. Longitudinal Links among Mother and Child Emotion Regulation, Maternal Emotion Socialization, and Child Anxiety. Res Child Adolesc Psychopathol (2021). https://doi.org/10.1007/s10802-021-00804-1
Keywords
Emotion Dysregulation

Emotion Socialization

Emotion Regulation

Child Anxiety

Child Inhibited Temperament

Maternal Anxiety