Abstract
Differential susceptibility theory posits that neurobiological reactivity (e.g., cortisol levels) should be considered as an individual index of susceptibility to both positive and negative environments. The current investigation separately examines cortisol reactivity and total concentration in toddlerhood as moderators of the longitudinal relation between maternal protection and encouragement of independence and increases or decreases in observed anxious behaviors, respectively. A total of 119 mother-toddler dyads participated in a laboratory visit when toddlers were 12- to 18-months-old. Mothers reported on their parenting behaviors and toddlers participated in a novelty episode from which their anxious behaviors were coded. Toddlers provided three saliva samples, yielding measures of cortisol reactivity and total cortisol concentration. One year later, dyads returned to the laboratory where toddlers participated in another novelty episode to observationally assess anxious behaviors. Results revealed that maternal protection tended to relate to greater increases in anxious behaviors one year later only for toddlers who displayed high cortisol reactivity. Cortisol reactivity also moderated the relation between maternal encouragement of independence and change in toddler anxious behaviors, with this parenting behavior relating to greater decreases in anxious behaviors only for toddlers with high cortisol reactivity. Results examining total cortisol concentration as a moderator were not significant. Results suggest the importance of considering toddler cortisol reactivity a context of susceptibility when examining the longitudinal relation between parenting behaviors and the development of anxious behaviors in toddlerhood.
This is a preview of subscription content, log in to check access.
Access options
Buy single article
Instant access to the full article PDF.
US$ 39.95
Price includes VAT for USA
Subscribe to journal
Immediate online access to all issues from 2019. Subscription will auto renew annually.
US$ 199
This is the net price. Taxes to be calculated in checkout.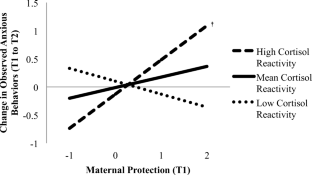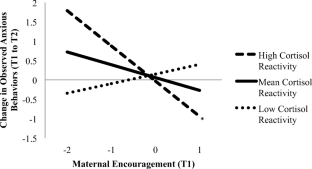 Notes
1.

Given the non-significant relation between cortisol levels and time of day of the visit, time was not controlled for in primary analyses. Exploratory analyses controlling for time were conducted and the pattern of results did not change. These results are available by request.

2.

Models would not converge for analyses incorporating separate saliva samples as missing data correlates. Because of this, a mean of available cortisol values for each participant was included as an auxiliary variable to inform the missing data pattern. The individual's average cortisol level demonstrated a strong correlation with their individual cortisol samples (rs > .85, ps < .000).
References
Aiken, L. S., & West, S. G. (1991). Multiple regression testing and interpreting interactions. Newbury Park, CA: Sage.

Ainsworth, M. D. S., & Bell, S. M. (1970). Attachment, exploration, and separation: Illustrated by the behavior of one-year-olds in a strange situation. Child Development, 41, 49–67.

Badanes, L. S., Watamura, S. E., & Hankin, B. L. (2011). Hypocortisolism as a potential marker of allostatic load in children: Associations with family risk and internalizing disorders. Development and Psychopathology, 23(3), 881–896.

Barrios, C. S., Bufferd, S. J., Klein, D. N., & Dougherty, L. R. (2017). The interaction between parenting and children's cortisol reactivity at age 3 predicts increases in children's internalizing and externalizing symptoms at age 6. Development and Psychopathology, 29(4), 1319–1331.

Bayer, J. K., Sanson, A. V., & Hemphill, S. A. (2006). Parent influences on early childhood internalizing difficulties. Journal of Applied Developmental Psychology, 27(6), 542–559.

Bayer, J. K., Ukoumunne, O. C., Mathers, M., Wake, M., Abdi, N., & Hiscock, H. (2012). Development of children's internalising and externalising problems from infancy to five years of age. The Australian and New Zealand Journal of Psychiatry, 46(7), 659–668.

Belsky, J., & Pluess, M. (2009). Beyond diathesis stress: Differential susceptibility to environmental influences. Psychological Bulletin, 135(6), 885–908.

Belsky, J., Bakermans-Kranenburg, M. J., & van IJzendoorn, M. H. (2007). For better and for worse: Differential susceptibility to environmental influences. Current Directions in Psychological Science, 16(6), 300–304.

Bittner, A., Egger, H. L., Erkanli, A., Costello, E. J., Foley, D. L., & Angold, A. (2007). What do childhood anxiety disorders predict? Journal of Child Psychology and Psychiatry, 48(12), 1174–1183.

Blair, C., Granger, D. A., Kivlighan, K. T., Mills-Koonce, R., Willoughby, M., Greenberg, M. T., et al. (2008). Maternal and child contributions to cortisol response to emotional arousal in young children from low income, rural communities. Developmental Psychology, 44(4), 1095–1109.

Bögels, S., & Phares, V. (2008). Fathers' role in the etiology, prevention and treatment of child anxiety: A review and new model. Clinical Psychology Review, 28(4), 539–558.

Bosquet, M., & Egeland, B. (2006). The development and maintenance of anxiety symptoms from infancy through adolescence in a longitudinal sample. Development and Psychopathology, 18(2), 517–550.

Boyce, W. T., & Ellis, B. J. (2005). Biological sensitivity to context: I. An evolutionary–developmental theory of the origins and functions of stress reactivity. Development and Psychopathology, 17(2), 271–301.

Buss, K. A. (2011). Which fearful toddlers should we worry about? Context, fear regulation, and anxiety risk. Developmental Psychology, 47(3), 804–819.

Buss, K. A., & Goldsmith, H. H. (2000). Manual and normative data for the laboratory temperament assessment battery—Toddler version. In University of Wisconsin. Madison: Psychology Department Technical Report.

Calkins, S. D., Propper, C., & Mills-Koonce, W. R. (2013). A biopsychosocial perspective on parenting and developmental psychopathology. Development and Psychopathology, 25(4pt2), 1399–1414.

Chen, X., Hastings, P. D., Rubin, K. H., Chen, H., Cen, G., & Stewart, S. L. (1998). Child-rearing attitudes and behavioral inhibition in Chinese and Canadian toddlers: A cross-cultural study. Developmental Psychology, 34(4), 677–686.

Chorpita, B. F., & Barlow, D. H. (1998). The development of anxiety: The role of control in the early environment. Psychological Bulletin, 124(1), 3–21.

Degnan, K. A., Almas, A. N., & Fox, N. A. (2010). Temperament and the environment in the etiology of childhood anxiety. Journal of Child Psychology and Psychiatry, 51(4), 497–517.

Deković, M., Janssens, J. M., & Gerris, J. R. (1991). Factor structure and construct validity of the Block child rearing practices report (CRPR). Psychological Assessment: A Journal of Consulting and Clinical Psychology, 3(2), 182–187.

Edwards, S. L., Rapee, R. M., & Kennedy, S. (2010). Prediction of anxiety symptoms in preschool-aged children: Examination of maternal and paternal perspectives. Journal of Child Psychology and Psychiatry, 51(3), 313–321.

Ellis, B. J., Boyce, W. T., Belsky, J., Bakermans-Kranenburg, M. J., & Van IJzendoorn, M. H. (2011). Differential susceptibility to the environment: An evolutionary–neurodevelopmental theory. Development and Psychopathology, 23(1), 7–28.

Enders, C. K. (2001). The performance of the full information maximum likelihood estimator in multiple regression models with missing data. Educational and Psychological Measurement, 61(5), 713–740.

Fox, N. A., Nichols, K. E., Henderson, H. A., Rubin, K., Schmidt, L., Hamer, D., Ernst, M., & Pine, D. S. (2005). Evidence for a gene-environment interaction in predicting behavioral inhibition in middle childhood. Psychological Science, 16(12), 921–926.

Grabell, A. S., Olson, S. L., Miller, A. L., Kessler, D. A., Felt, B., Kaciroti, N., Wang, L., & Tardif, T. (2015). The impact of culture on physiological processes of emotion regulation: A comparison of US and Chinese preschoolers. Developmental Science, 18(3), 420–435.

Grover, R. L., Ginsburg, G. S., & Ialongo, N. (2007). Psychosocial outcomes of anxious first graders: A seven-year follow-up. Depression and Anxiety, 24(6), 410–420.

Gunnar, M. R. (2001). The role of glucocorticoids in anxiety disorders: A critical analysis. In M. V. Vasey & M. R. Dadds (Eds.), The developmental psychopathology of anxiety (pp. 143–159). New York: Oxford University Press.

Gunnar, M., & Quevedo, K. (2007). The neurobiology of stress and development. Annual Review of Psychology, 58, 145–173.

Hagan, M. J., Roubinov, D. S., Mistler, A. K., & Luecken, L. J. (2014). Mental health outcomes in emerging adults exposed to childhood maltreatment: The moderating role of stress reactivity. Child Maltreatment, 19(3–4), 156–167.

Hane, A. A., Cheah, C., Rubin, K. H., & Fox, N. A. (2008). The role of maternal behavior in the relation between shyness and social reticence in early childhood and social withdrawal in middle childhood. Social Development, 17(4), 795–811.

Hastings, P. D., & Rubin, K. H. (1999). Predicting mothers' beliefs about preschool-aged children's social behavior: Evidence for maternal attitudes moderating child effects. Child Development, 70(3), 722–741.

Kagan, J., Reznick, J. S., Clarke, C., Snidman, N., & Garcia-Coll, C. (1984). Behavioral inhibition to the unfamiliar. Child Development, 55(6), 2212–2225.

Kiel, E. J., Premo, J. E., & Buss, K. A. (2016). Maternal encouragement to approach novelty: A curvilinear relation to change in anxiety for inhibited toddlers. Journal of Abnormal Child Psychology, 44(3), 433–444.

Kopala-Sibley, D. C., Dougherty, L. R., Dyson, M. W., Laptook, R. S., Olino, T. M., Bufferd, S. J., & Klein, D. N. (2017). Early childhood cortisol reactivity moderates the effects of parent–child relationship quality on the development of children's temperament in early childhood. Developmental Science, 20(3), e12378.

Kuhlman, K. R., Geiss, E. G., Vargas, I., & Lopez-Duran, N. (2018). HPA-axis activation as a key moderator of childhood trauma exposure and adolescent mental health. Journal of Abnormal Child Psychology, 46(1), 149–157.

Kushner, M. R., Barrios, C., Smith, V. C., & Dougherty, L. R. (2016). Physiological and behavioral vulnerability markers increase risk to early life stress in preschool-aged children. Journal of Abnormal Child Psychology, 44(5), 859–870.

Laurent, H. K., Leve, L. D., Neiderhiser, J. M., Natsuaki, M. N., Shaw, D. S., Fisher, P. A., Marceau, K., Harold, G. T., & Reiss, D. (2013). Effects of parental depressive symptoms on child adjustment moderated by hypothalamic pituitary adrenal activity: Within- and between-family risk. Child Development, 84(2), 528–542.

Laurin, J. C., Joussemet, M., Tremblay, R. E., & Boivin, M. (2015). Early forms of controlling parenting and the development of childhood anxiety. Journal of Child and Family Studies, 24(11), 3279–3292.

Lindhout, I. E., Markus, M. T., Hoogendijk, T. H., & Boer, F. (2009). Temperament and parental child-rearing style: Unique contributions to clinical anxiety disorders in childhood. European Child & Adolescent Psychiatry, 18(7), 439–446.

McLeod, B. D., Wood, J. J., & Weisz, J. R. (2007). Examining the association between parenting and childhood anxiety: A meta-analysis. Clinical Psychology Review, 27(2), 155–172.

Monroe, S. M., & Simons, A. D. (1991). Diathesis-stress theories in the context of life stress research: Implications for the depressive disorders. Psychological Bulletin, 110, 406–425.

Paschall, K. W., & Mastergeorge, A. M. (2016). A review of 25 years of research in bidirectionality in parent–child relationships: An examination of methodological approaches. International Journal of Behavioral Development, 40(5), 442–451.

Pérez-Edgar, K. E., & Guyer, A. E. (2014). Behavioral inhibition: Temperament or prodrome? Current Behavioral Neuroscience Reports, 1(3), 182–190.

Pruessner, J. C., Kirschbaum, C., Meinlschmid, G., & Hellhammer, D. H. (2003). Two formulas for computation of the area under the curve represent measures of total hormone concentration versus time-dependent change. Psychoneuroendocrinology, 28, 916–931.

Roberts, G. C., Block, J. H., & Block, J. (1984). Continuity and change in parents' child-rearing practices. Child Development, 55(2), 586–597.

Roisman, G. I., Newman, D. A., Fraley, R. C., Haltigan, J. D., Groh, A. M., & Haydon, K. C. (2012). Distinguishing differential susceptibility from diathesis–stress: Recommendations for evaluating interaction effects. Development and Psychopathology, 24(2), 389–409.

Rubin, K. H., Burgess, K. B., & Hastings, P. D. (2002). Stability and social–behavioral consequences of toddlers' inhibited temperament and parenting behaviors. Child Development, 73(2), 483–495.

Shirtcliff, E. A., Peres, J. C., Dismukes, A. R., Lee, Y., & Phan, J. M. (2014). Hormones: Commentary: Riding the physiological roller coaster: Adaptive significance of cortisol stress reactivity to social contexts. Journal of Personality Disorders, 28(1), 40–51.

Silk, J. S., Morris, A. S., Kanaya, T., & Steinberg, L. (2003). Psychological control and autonomy granting: Opposite ends of a continuum or distinct constructs? Journal of Research on Adolescence, 13(1), 113–128.

Slagt, M., Dubas, J. S., Deković, M., & van Aken, M. A. (2016). Differences in sensitivity to parenting depending on child temperament: A meta-analysis. Psychological Bulletin, 142(10), 1068–1110.

van de Weil, N. M. H., van Goozen, S. H., Matthys, W., Snoek, H., & van Engeland, H. (2004). Cortisol and treatment effect in children with disruptive behavior disorders: A preliminary study. Journal of the American Academy of Child & Adolescent Psychiatry, 43(8), 1011–1018.

von Klitzing, K., Perren, S., Klein, A. M., Stadelmann, S., White, L. O., Groeben, M., et al. (2012). The interaction of social risk factors and HPA axis dysregulation in predicting emotional symptoms of five- and six-year-old children. Journal of Psychiatric Research, 46, 290–297.

Wagner, N. J., Propper, C., Gueron-Sela, N., & Mills-Koonce, W. R. (2016). Dimensions of maternal parenting and infants' autonomic functioning interactively predict early internalizing behavior problems. Journal of Abnormal Child Psychology, 44(3), 459–470.

Wagner, N. J., Mills-Koonce, W. R., Willoughby, M. T., & Cox, M. J. (2019). Parenting and cortisol in infancy interactively predict conduct problems and callous–unemotional behaviors in childhood. Child Development, 90, 279–297.

Xing, X., & Wang, M. (2018). The moderating role of HPA activity in the relations between parental corporal punishment and executive function in Chinese school-aged children. Psychology of Violence, 8(4), 418–426.
Acknowledgements
We express our appreciation to the staff of the Behavior, Emotions, and Relationship laboratory that assisted with data collection and coding, and the families and toddlers who participated in this project.
Funding
The project from which these data were derived was supported by a grant from the National Institute for Child Health and Human Development (R15 HD076158).
Ethics declarations
Conflict of Interest
The authors declare that they have no conflict of interest.
Ethical Approval
All procedures performed in studies involving human participants were in accordance with the ethical standards of the institutional and/or national research committee and with the 1964 Helsinki declaration and its later amendments or comparable ethical standards.
Additional information
Publisher's Note
Springer Nature remains neutral with regard to jurisdictional claims in published maps and institutional affiliations.
About this article
Cite this article
Kalomiris, A.E., Phelps, R.A. & Kiel, E.J. The Relation between Specific Parenting Behaviors and Toddlers' Early Anxious Behaviors is Moderated by Toddler Cortisol Reactivity. J Abnorm Child Psychol 47, 1367–1377 (2019). https://doi.org/10.1007/s10802-019-00522-9
Keywords
Anxiety risk

Parenting

Cortisol

Toddlers

Differential susceptibility