Abstract
Youth in underserved, urban communities are at risk for a range of negative outcomes related to stress, including social-emotional difficulties, behavior problems, and poor academic performance. Mindfulness-based approaches may improve adjustment among chronically stressed and disadvantaged youth by enhancing self-regulatory capacities. This paper reports findings from a pilot randomized controlled trial assessing the feasibility, acceptability, and preliminary outcomes of a school-based mindfulness and yoga intervention. Four urban public schools were randomized to an intervention or wait-list control condition (n = 97 fourth and fifth graders, 60.8% female). It was hypothesized that the 12-week intervention would reduce involuntary stress responses and improve mental health outcomes and social adjustment. Stress responses, depressive symptoms, and peer relations were assessed at baseline and post-intervention. Findings suggest the intervention was attractive to students, teachers, and school administrators and that it had a positive impact on problematic responses to stress including rumination, intrusive thoughts, and emotional arousal.
This is a preview of subscription content, log in to check access.
Access options
Buy single article
Instant access to the full article PDF.
US$ 39.95
Price includes VAT for USA
Subscribe to journal
Immediate online access to all issues from 2019. Subscription will auto renew annually.
US$ 199
This is the net price. Taxes to be calculated in checkout.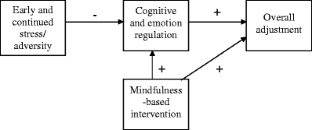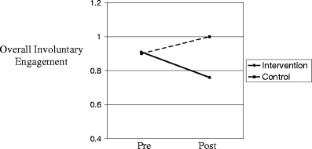 References
Andersen, S. L. (2003). Trajectories of brain development: point of vulnerability or window of opportunity? Neuroscience and Biobehavioral Reviews, 27, 3–18.

Andersen, S. L., & Teicher, M. H. (2009). Desperately driven and no brakes: developmental stress exposure and subsequent risk for substance use. Neuroscience and Behavioral Reviews, 33, 516–524.

Angold, A., Costello, E. J., Messer, S. C., Pickles, A., Winder, F., & Silver, D. (1995). Development of a short questionnaire for use in epidemiological studies of depression in children and adolescents. International Journal of Methods in Psychiatric Research, 5, 237–249.

Arias, A. J., Steinberg, K., Banga, A., & Trestment, R. L. (2006). Systematic review of the efficacy of meditation techniques as treatments for medical illness. Journal of Alternative and Complementary Medicine, 12, 817–832.

Benn, R. (2003). Transcendental meditation and emotional functioning in fifth-grade students. Focus on Alternative and Complementary Therapies, 8, 480–481.

Biegel, G. M., Brown, K. W., Shapiro, S. L., & Schubert, C. M. (2009). Mindfulness-based stress reduction for the treatment of adolescent psychiatric outpatients: A randomized clinical trial. Journal of Consulting and Clinical Psychology, 77, 855–866.

Bootzin, R. R., & Stevens, S. J. (2005). Adolescents, substance abuse, and the treatment of insomnia and daytime sleepiness. Clinical Psychology Review, 25, 629–644.

Brefczynski-Lewis, J. A., Lutz, A., Schaefer, H. S., Levinson, D. B., & Davidson, R. J. (2007). Neural correlates of attentional expertise in long-term meditation practitioners. Proceedings of the National Academy of Sciences of the United States of America, 104, 11483–11488.

Brosschot, J. F., Pieper, S., & Thayer, J. F. (2005). Expanding stress theory: prolonged activation and perseverative cognition. Psychoneuroendocrinology, 30, 1043–1049.

Brosschot, J. F., Gerin, W., & Thayer, J. F. (2006). The perseverative cognition hypothesis: a review of worry, prolonged stress-related physiological activation, and health. Journal of Psychosomatic Research, 60, 113–124.

Brown, K. W., & Ryan, R. M. (2003). The benefits of being present: mindfulness and its role in psychological well-being. Journal of Personality and Social Psychology, 84, 822–848.

Carter, O. L., Presti, D. E., Callistemon, C., Ungerer, Y., Liu, G. B., & Pettigrew, J. D. (2005). Meditation alters perceptual rivalry in Tibetan Buddhist monks. Current Biology, 15, R412–413.

Cheung, M. W.-L., & Au, K. (2005). Applications of multilevel structural equation modeling to cross-cultural research. Structural Equation Modeling, 12, 598–619.

Clarke, G. N., Hawkins, W., Murphy, M., Sheeber, L. B., Lewinsohn, P. M., & Seeley, J. R. (1995). Targeted prevention of unipolar depressive disorder in an at-risk sample of high school adolescents: a randomized trial of a group cognitive intervention. Journal of the American Academy of Child and Adolescent Psychiatry, 34, 312–321.

Compas, B. E., Connor, J. K., Saltzman, H., Thomsen, A. H., & Wadsworth, M. (1999). Getting specific about coping: Effortful and involuntary responses to stress in development. In M. Lewis & D. Ramey (Eds.), Stress and soothing (pp. 229–256). New Jersey: Lawrence Erlbaum Associates, Inc.

Compas, B. E., Connor-Smith, J. K., Saltzman, H., Thomsen, A. H., & Wadsworth, M. E. (2001). Coping with stress during childhood and adolescence: problems, progress, and potential in theory and research. Psychological Bulletin, 127, 87–127.

Connor-Smith, J. K., Compas, B. E., Wadsworth, M. E., Tomsen, A. H., & Saltzman, H. (2000). Responses to stress in adolescence: measurement of coping and involuntary stress responses. Journal of Consulting and Clinical Psychology, 68, 976–992.

Cook, E. T., Greenberg, M. T., & Kusche, C. A. (March, 1995). People in my life: Attachment relationships in middle childhood. Paper presented at the Society for Research in Child Development; Indianapolis, IN.

Evans, G. W., Pilyoung, K., Albert, H., Tesher, H. B., & Shannis, D. (2007). Cumulative risk, maternal responsiveness, and allostatic load among young adolescents. Developmental Psychology, 43, 341–351.

Floriani, V., & Kennedy, C. (2008). Promotion of physical activity in children. Current Opinion in Pediatrics, 20, 90–95.

Galantino, M. L., Galbavy, R., & Quinn, L. (2008). Therapeutic effects of yoga for children: a systematic review of the literature. Pediatric Physical Therapy, 20, 66–80.

Gerin, W., Davidson, K. W., Christenfeld, N. J., Goyal, T., & Schwartz, J. E. (2006). The role of angry rumination and distraction in blood pressure recovery from emotional arousal. Psychosomatic Medicine, 68, 64–72.

Grant, K. E., Lyons, A. L., Finkelstein, J. S., Conway, K. M., Reynolds, L. K., O'Koon, J. H., et al. (2004). Gender differences in rates of depressive symptoms among low-income, urban, African American youth: a test of two mediational hypotheses. Journal of Youth and Adolescence, 33, 523–533.

Grant, L. E., Compas, B. E., Thurm, A. E., McMahon, S. D., Gipson, P. Y., Campbell, A. J., et al. (2006). Stressors and child and adolescent psychopathology: evidence of moderating and mediating effects. Clinical Psychology Review, 26, 257–283.

Greenberg, M. T. (2006). Promoting resilience in children and youth: preventive interventions and their interface with neuroscience. Annals of the New York Academy of Science, 1094, 139–150.

Guerra, N. G., & Bradshaw, C. P. (2008). Linking the prevention of problem behaviors and positive youth development: Core competencies for positive youth development and risk prevention. In N. G. Guerra & C. P. Bradshaw (Eds.), Core competencies to prevent problem behaviors and promote positive youth development. New Directions for Child and Adolescent Development, 122, 1–17.

Hox, J. J. (1995). Applied multi-level analysis (2nd ed.). Amsterdam: TT-Publikaties.

Jha, A. P., Krompinger, J., & Baime, M. J. (2007). Mindfulness training modifies subsystems of attention. Cognitive, Affective, and Behavioral Neuroscience, 7, 109–119.

Keenan, K., Shaw, D. S., Walsh, S., Delliquadri, E., & Giovanelli, J. (1997). DSM-III-R disorders in pre-school children from low-income families. Journal of the American Academy of Child and Adolescent Psychiatry, 36, 620–627.

Kendall, P. C., Flannery-Schroeder, E., Panichelli-Mindel, S. M., Southam-Gerow, M., Henin, A., & Warman, M. (1997). Therapy for youths with anxiety disorders: a second randomized clinical trial. Journal of Consulting and Clinical Psychology, 65, 366–380.

Key, B. L., Campbell, T. S., Bacon, S. L., & Gerin, W. (2008). The influence of trait and state rumination on cardiovascular recovery from a negative emotional stressor. Journal of Behavioral Medicine, 31, 237–248.

Kirkwood, G., Rampes, H., Tuffrey, V., Richardson, J., & Pilkington, K. (2005). Yoga for anxiety: a systematic review of the research evidence. British Journal of Sports Medicine, 39, 884–891.

Lazar, S. W., Kerr, C. E., Wasserman, R. H., Gray, J. R., Greve, D. N., Treadway, M. T., et al. (2005). Meditation experience is associated with cortical thickness. Neuroreport, 16, 1893–1897.

McEwen, B. S., & Seeman, T. E. (1999). Protective and damaging effects of mediators of stress: Elaborating and testing the concept of allostasis and allostatic load. In N. E. Adler, M. Marmot, B. S. McEwen, & J. Stewart (Eds.), Socioeconomic status and health in industrial nations (pp. 30–47). New York: New York Academy of Sciences.

Murray, C., & Greenberg, M. T. (2000). Children's relationship with teachers and bonds with school: an investigation of patterns and correlates in middle childhood. Journal of School Psychology, 38, 423–445.

Murray, D. M., Varnell, S. P., & Blitstein, J. S. (2004). Design and analysis of group-randomized trials: a review of recent methodological developments. American Journal of Public Health, 94, 423–432.

Napoli, M., Krech, P. R., & Holley, L. C. (2005). Mindfulness training for elementary school students: the attention academy. Journal of Applied School Psychology, 21, 99–125.

National Research Council and Institute of Medicine. (2009). Preventing mental emotional, and behavioral disorders among young people. Progress and possibilities. Washington, D.C.: The National Academies.

Nolen-Hoeksema, S. (1991). Responses to depression and their effects on the duration of depressive episodes. Journal of Abnormal Psychology, 100, 569–582.

Nolen-Hoeksema, S., Wisco, B. E., & Lyubomirsky, S. (2008). Rethinking rumination. Perspectives on Psychological Science, 3, 400–424.

Ospina, M. B., Bond, K., Karkhaneh, M., Tjosvold, L., Vandermeer, B., Liang, Y., et al. (2007). Meditation practices for health: state of the research. Evidence Report/Technology Assessment (Full Report), 155, 1–263.

Pate, R. R., Trost, S. G., Levin, S., & Dowda, M. (2000). Sports participation and health-related behaviors among U.S. youth. Archives of Pediatric and Adolescent Medicine, 154, 904–911.

Pentz, M. A. (2008, June). Translating drug use prevention to obesity prevention. Paper presented at the National Institute on Drug Abuse Science Meeting, "Can Physical Activity and Exercise Prevent Drug Abuse?" Bethesda, MD.

Pilkington, K., Kirkwood, G., Rampes, H., & Richardson, J. (2005). Yoga for depression: the research evidence. Journal of Affective Disorders, 89, 13–24.

Reynolds, A. J., Temple, J. A., Robertson, D. L., & Mann, E. A. (2001). Long-term effects of an early childhood intervention on educational achievement and juvenile arrest: a 15-year follow-up of low-income children in public schools. Journal of the American Medical Association, 285, 2339–2346.

Roelofs, J., Rood, L., Meesters, C., Te Dorsthorst, V., Bogels, S., Alloy, L. B., et al. (2009). The influence of rumination and distraction on depressed and anxious mood: a prospective examination or the response styles theory in children and adolescents. European Child and Adolescent Psychiatry, 18, 635–642.

Sandler, I. N., Tein, J. Y., Mehta, P., Wolchik, S., & Ayers, T. (2000). Coping efficacy and psychological problems of children of divorce. Child Development, 71, 1099–1118.

Semple, R. J., Reid, E. F. G., & Miller, L. (2005). Treating anxiety with mindfulness: an open trial of mindfulness training for anxious children. Journal of Cognitive Psychotherapy: An International Quarterly, 19, 379–392.

Shapiro, S. L., Brown, K. W., & Biegel, G. M. (2007). Teaching self-care to caregivers: effects of mindfulness-based stress reduction on the mental health of therapists in training. Training and Education in Professional Psychology, 1, 105–115.

Shonkoff, J. P., Boyce, W. T., & McEwen, B. S. (2009). Neuroscience, molecular biology, and the childhood roots of health disparities. Building a new framework for health promotion and disease prevention. Journal of the American Medical Association, 301, 2252–2259.

Srinivasan, N., & Baijal, S. (2007). Concentrative meditation enhances preattentive processing: a mismatch negativity study. Neuroreport, 18, 1709–1712.

Ströhle, A., Höfler, M., Pfister, H., Müller, A. G., Hoyer, J., Wittchen, H. U., et al. (2007). Physical activity and prevalence and incidence of mental disorders in adolescents and young adults. Psychological Medicine, 37, 1657–1666.

Teicher, M. H., Andersen, S. L., Polcari, A., Anderson, C. M., & Navalta, C. P. (2002). Developmental neurobiology of childhood stress and trauma. Psychiatric Clinics of North America, 25, 397–426.

Wadsworth, M. E., Raviv, T., Compas, B. E., & Connor-Smith, J. K. (2005). Parent and adolescent responses to poverty-related stress: tests of mediated and moderated coping models. Journal of Child and Family Studies, 14, 283–298.

Wall, R. B. (2005). Tai chi and mindfulness-based stress reduction in a Boston public middle school. Journal of Pediatric Health Care, 19, 230–237.

West, J., Denton, K., & Reaney, L. M. (2001). The kindergarten year: Findings from the Early Childhood Longitudinal Study, kindergarten class of 1998–1999 (Publication No. NCES2001-023). Washington, DC: Department of Education, National Center for Education Statistics.

Windle, M., Spear, L. P., Fuligni, A. J., Angold, A., Brown, J. D., Pine, D., et al. (2008). Transitions into underage and problem drinking: developmental processes and mechanisms between 10 and 15 years of age. Pediatrics, 121(Suppl. 4), S273–S289.

Wolchik, S. A., Tein, J. Y., Sandler, I. N., & Ayers, T. S. (2006). Stressors, quality of the child-caregiver relationship, and children's mental health problems after parental death: the mediating role of self-system beliefs. Journal of Abnormal Child Psychology, 34, 221–238.
Acknowledgments
This work was supported by grants from the Mind and Life Institute, the Attias Family Foundation, the Center for Prevention of Youth Violence at Johns Hopkins University (5U49CE000728), and the Penn State Prevention Research Center. We are grateful for the close collaboration and partnership with the Holistic Life Foundation who provided the intervention and fully complied with all research requirements. We thank our project manager, Sarah Godby, for her assistance with data collection and management, as well as the other members of our research team. We also thank the Baltimore City Public Schools and the teachers, parents, and students who participated in this project.
About this article
Cite this article
Mendelson, T., Greenberg, M.T., Dariotis, J.K. et al. Feasibility and Preliminary Outcomes of a School-Based Mindfulness Intervention for Urban Youth. J Abnorm Child Psychol 38, 985–994 (2010). https://doi.org/10.1007/s10802-010-9418-x
Keywords
Mindfulness

Yoga

Prevention

School-based intervention

Chronic stress