Abstract
Lignocellulosic waste is a potential feedstock for the generation of fuels and commodity chemicals, but existing conversion methods are too cost-intensive to be viable long-term solutions. Electrochemical reductions are promising for decentralized biomass valorization due to their modular scaling and capacity to run intermittently and without high temperatures or pressures. Using crotonaldehyde as a multi-functional model compound for the many partially unsaturated oxygenates found in processed biomass, we here demonstrate the production of butanal, butanol, butene, and butane (variously useful as commodity chemicals and major components of liquified petroleum gas) under ambient conditions by reductive bulk electrolysis with a copper mesh working electrode. We identify an optimum potential for reduced organic production under the reaction conditions and compare product distributions from reductions of intermediate species to further propose branching reaction pathways. Though butanal is typically the most abundant product from crotonaldehyde reduction, most of the butene and butane appear to result from a pathway involving initial reduction of the aldehyde group. We discuss evidence that selectivity is driven by interplay between crotonaldehyde reduction, local pH shifts due to the hydrogen evolution reaction, and changes in site reactivity and availability due to electrode fouling. This demonstration of model electrochemical biomass valorization also serves to inform further exploration into reduction of multi-functional molecules and electrochemical biomass processing in general.
Graphic Abstract

This is a preview of subscription content, log in to check access.
Access options
Buy single article
Instant access to the full article PDF.
US$ 39.95
Tax calculation will be finalised during checkout.
Subscribe to journal
Immediate online access to all issues from 2019. Subscription will auto renew annually.
US$ 199
Tax calculation will be finalised during checkout.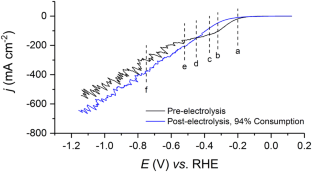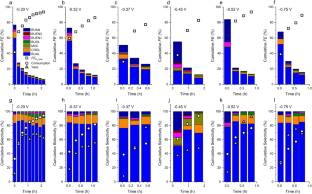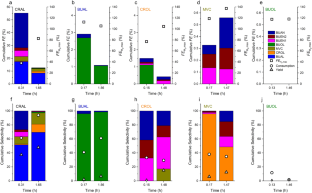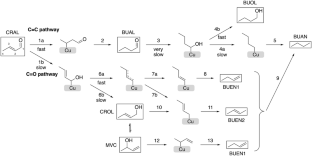 Acknowledgements
The authors gratefully acknowledge the University of Colorado Boulder for start-up funds as well as the National Renewable Energy Laboratory for supporting ZJB (UGA-0-41026-103) and the U.S. Department of Education for supporting TDS through a Graduate Assistance in Areas of National Need fellowship (GAANN). This work was authored in part by the National Renewable Energy Laboratory (NREL), operated by Alliance for Sustainable Energy, LLC, for the U.S. Department of Energy (DOE) under Contract No. DE-AC36-08GO28308. This work was supported by the Laboratory Directed Research and Development (LDRD) Program at NREL. The views expressed in the article do not necessarily represent the views of the DOE or the U.S. Government. The U.S. Government retains and the publisher, by accepting the article for publication, acknowledges that the U.S. Government retains a nonexclusive, paid-up, irrevocable, worldwide license to publish or reproduce the published form of this work, or allow others to do so, for U.S. Government purposes. The authors thank Alex M. Román for performing LC–MS analysis of some electrolysis product mixtures as well as Ken Ngo for donating gas sample bags. In addition, the authors thank Adam Baz, Alexander Delluva, Jessica Dudoff, Joseph C. Hasse, and Alex M. Román for stimulating discussions and assistance running experiments.
Ethics declarations
Conflict of interest
The authors declare that they have no conflicts of interest.
Additional information
Publisher's Note
Springer Nature remains neutral with regard to jurisdictional claims in published maps and institutional affiliations.
Electronic supplementary material
Below is the link to the electronic supplementary material.
About this article
Cite this article
Barton, Z.J., Garrett, G.H., Kurtyka, N. et al. Electrochemical reduction selectivity of crotonaldehyde on copper. J Appl Electrochem (2020). https://doi.org/10.1007/s10800-020-01415-2
Received:

Accepted:

Published:
Keywords
Electrochemical reduction

Biomass

Bulk electrolysis

Crotonaldehyde

Electrocatalysis