Abstract
The aim of the present study was to investigate the effect of a 10 Hz alternating current (10 Hz 1 V cm−1) and a 50 Hz alternating current (50 Hz 1 V cm−1) on the lettuce plant (Lactuca sativa) growing in a hydroponic (soil-free) culture. Thirty lettuce plants were pre-germinated, and then 15 of them were treated with cadmium solution (CdCl2) of 5 mg/L in concentration. Ten plants (five plants with Cd and five plants without Cd) were subjected to a 10 Hz alternating current (AC) electrical field; 10 plants were subjected to a 50 Hz AC field. The rest of the plants were used as a control. The lettuce plants were harvested after a growth of 60 days. The chlorophyll content, biomass and metal content of the lettuce plants were determined. The biomass of the plants growing in non-contaminated medium was 28 and 106% higher under the 10 and the 50 Hz AC fields respectively compared to the control. Although the plant biomass was reduced by the presence of Cd in the growth medium, the biomass of the plants growing in Cd contaminated medium was 40 and 63% higher respectively for 10 and 50 Hz AC field compared to the plant growing in Cd contaminated medium without electrical treatment. Increased uptake of Cd in the plant shoot was found with the 50 Hz AC field. Significant accumulation and uptake of Cu in plant roots and shoots was found under both electrical treatments.
Access options
Buy single article
Instant access to the full article PDF.
USD 39.95
Price excludes VAT (USA)
Tax calculation will be finalised during checkout.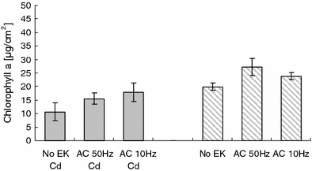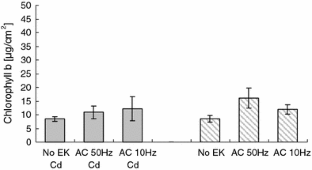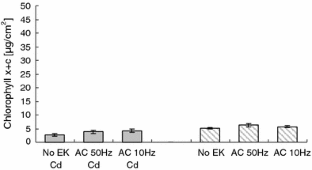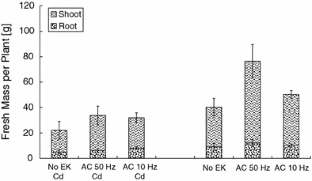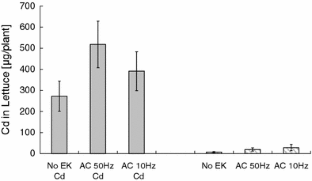 References
Jackman S, Maini G, Sharman A et al (1999) Enzym Microb Technol 24:316

Luo Q, Wang H, Zhang X et al (2006) Chemosphere 64:415

O'Connor S, Lepp W, Edwards R et al (2003) Environ Monit Assess 84:141

Aboughalma H, Bi R, Schlaak M (2008) J Environ Sci Health Part A 43:926

Harms H, Wick LY (2006) Eng Life Sci 6:252

Welch R, Norvell W (1999) In: McLaughlin M, Singh B (eds) Cadmium in soils and plants. Kluwer Academic Publishers, Dordrecht

Volkov A (2006) Plant electrophysiology theory and methods. Springer Verlag, Berlin, Heidelberg

Kolek J, Kozinka V (1992) Physiology of the plant root system developments in plant and soil sciences. Kluwer Academic Publisher, Dordrecht

MacKinnon R (2004) Angew Chem Int Edit 43:4265

Demidchik V, Sokolik A, Yurin V (1997) In: Volkov AG (ed) Plant electrophysiology theory and methods. Springer-Verlag, Berlin, Heidelberg

Lemström S (2008) Electricity in agriculture and horticulture. BiblioBazaar Reproduction, LLC, Charleston

Chen Z (2006) J Xianning Coll 26(3):1

Huang R, Sukprakarn S, Phavaphutanon L et al (2006) Kasetsart J 40(3):559

Muraji M, Asai T, Wataru T (1998) Bioelectrochem Bioenerg 44(2):271

Stenz H, Wohlwend B, Weisenseel M (1998) Bioelectrochem Bioenerg 44:261

Blackman V, Legg A, Gregory F (1923) Proc R Soc Lond B 95:214

Murr L (1963) Nature 200:490

Lichtenthaler H (1987) In: Douce R, Packer L (eds) Methods in enzymology. Academic Press, New York, USA

Judy B, Lower W, Ireland F (1991) In: Gorsuch W, Lower W, Wang W et al (eds) Plants toxicity assessment, vol 2. American Society for Testing and Materials, Philadelphia

Burton K, King J, Morgan E (1986) Water Air Soil Pollut 27:147

Ebbs S, Uchil S (2008) Photosynthetica 46(1):49

Cutler J, Rains S (1974) Plant Physiol 54:67

Pettersson O (1976) Plant Soil 45:445

Hart J, Welch R, Norvell W et al (1998) Plant Physiol 116:1413

Ye H, Yang X, He B et al (2003) Acta Botanica Sinica 45(9):1030
About this article
Cite this article
Bi, R., Schlaak, M., Siefert, E. et al. Alternating current electrical field effects on lettuce (Lactuca sativa) growing in hydroponic culture with and without cadmium contamination. J Appl Electrochem 40, 1217–1223 (2010). https://doi.org/10.1007/s10800-010-0094-x
Received:

Accepted:

Published:

Issue Date:

DOI: https://doi.org/10.1007/s10800-010-0094-x
Keywords
Phytoremediation

Electrokinetics

Heavy metals

Soil contamination

Alternating current