Abstract
The inhibitory action of two piperazine derivatives, 1-benzyl piperazine (P1) and bis(1-benzylpiperazine) thiuram disulfide (P2) on the corrosion of mild steel in 3.9 M HCl at different concentrations has been investigated in the temperature domain 298–333 K. Both weight loss measurements and potentiodynamic polarization methods showed that P2 was the best inhibitor and that its inhibition efficiency increased with concentration to a value >92% at 10−3 M. Potentiodynamic polarization studies clearly revealed that P2 acts as cathodic-type inhibitor. The activation energy for the corrosion rates was evaluated in the temperature range 298–333 K. Adsorption of P2 on the mild steel surface in 3.9 M HCl followed a Langmuir isotherm model. A physical adsorption phenomenon is proposed.
Access options
Buy single article
Instant access to the full article PDF.
USD 39.95
Price excludes VAT (USA)
Tax calculation will be finalised during checkout.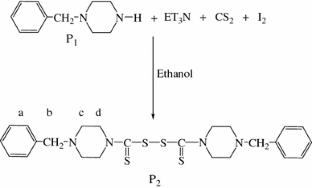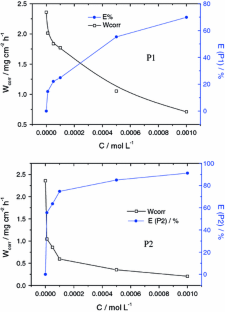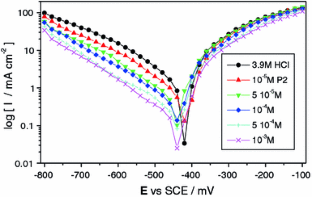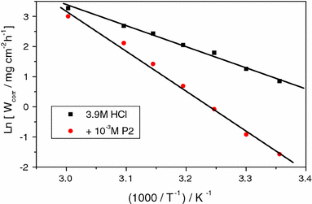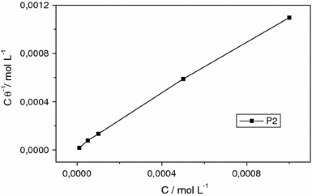 References
Schmitt G (1984) Br Corros J 19:165

Elouafi M, Abed Y, Hammouti B, Kertit S (2001) Ann Chim Sci Mat 26:79

Hammouti B, Oudda H, El Maslout A, Benayada A (2001) Abhath Al-yarmouk: Basic Sci Eng 10:273

Babalé DD, Wandji R, Bessière J (1990) J Chem Eng Data 35:345

Hammouti B, Bekkouch K, Kertit S (1998) Bull Electrochem 14:49

Quraishi MA, Rawat J, Ajmal M (2000) J Appl Electrochem 30:745

Hammouti B, Aouniti A, Taleb M, Brighli M, Kertit S (1995) Corrosion 51:411

Tebbji K, Aouniti A, Benkaddour M, Oudda H, Bouabdallah I, Hammouti B, Ramdani A (2005) Prog Org Coat 54:170

Huynh N, Bottle SE, Notoya T, Trueman A, Hinton B, Schweinsberg DP (2002) Corros Sci 44:1257

Khitrov VA, Zadorozhnyi VP, Smolyaninov IS, Zhukova GP, Dugin NA, Ya Konyaev B (1964) Khim Prom 4:307

Levin IA, Solomon EM (1963) Khim Prom 1:69

Suroor Athar SM, Ali H, Quraishi MA (2001) Anti-Corros Methods Mater 48:251

Vanin AF, Huisman A, van Faassen EE (2002) Methods Enzymol 359:27

Babić-Samardžija K, Khaled KF, Hackerman N (2005) Anti-Corros Methods Mater 52:11

Babić-Samardžija K, Khaled KF, Hackerman N (2005) Appl Surf Sci 240:327

Bereket G, Ögretir C, Özahin Ç (2003) J Mol Struct Theochem 663:39

Thom GD, Ludwig RA (1962) The dithiocarbamates and related compounds. Elsevier, Amsterdam

Tebbji K, Faska N, Tounsi A, Oudda H, Benkaddour M, Hammouti B (2007) Mater Chem Phys 106:260

Herrag L, Chetouani A, Elkadiri S, Hammouti B, Aouniti A (2008) Port Electrochim Acta 26:211

Popova A (2007) Corros Sci 49:2144

Langmuir I (1947) J Am Chem Soc 39:1848

Elachouri M, Hajji MS, Salem M, Kertit S, Aride J, Coudert R, Essassi E (1996) Corrosion 52:103

Ali SA, Al-Muallem HA, Saeed MT, Rahman SU (2008) Corros Sci 50:664

Khaled KF (2008) Electrochim Acta 53:3484

Kaddouri M, Cheriaa N, Souane R, Bouklah M, Aouniti A, Abidi R, Hammouti B, Vicens J (2008) J Appl Electrochem 38:1253
Acknowledgements
The authors thank Dr. J. Harrowfield, Université Louis Pasteur de Strasbourg, for reading of this paper. Prof. Hammouti wishes also to thank Prof. Taieb Chkili, The President of University of Mohamed V, Rabat-Souissi for my proposal to the comité mixte interuniversitaire Franco-Marocain (Programme Volubilis).
About this article
Cite this article
Ousslim, A., Bekkouch, K., Hammouti, B. et al. Piperazine derivatives as inhibitors of the corrosion of mild steel in 3.9 M HCl. J Appl Electrochem 39, 1075–1079 (2009). https://doi.org/10.1007/s10800-008-9759-0
Received:

Accepted:

Published:

Issue Date:

DOI: https://doi.org/10.1007/s10800-008-9759-0
Keywords