Abstract
The technique of cyclic voltammetry was applied in conjunction with on-line catalytic product analysis to investigate the electrochemical promotion of NO reduction by C3H6 in presence of O2 on Rh catalyst-electrode films on YSZ at temperatures 350–490 °C. Cyclic linear potential sweep amperometry under catalytic reaction conditions leads to cyclic non-Faradaic electrochemical modifications in the CO2 formation and NO reduction rates which are compared to those obtained under steady state potentiostatic operation.
This is a preview of subscription content, log in to check access.
Access options
Buy single article
Instant access to the full article PDF.
US$ 39.95
Price includes VAT for USA
Subscribe to journal
Immediate online access to all issues from 2019. Subscription will auto renew annually.
US$ 199
This is the net price. Taxes to be calculated in checkout.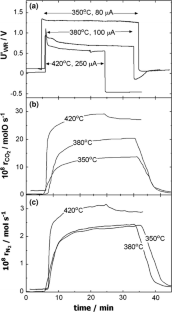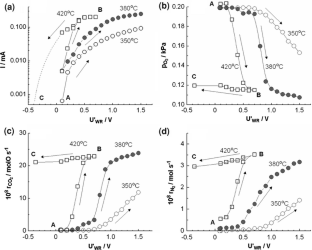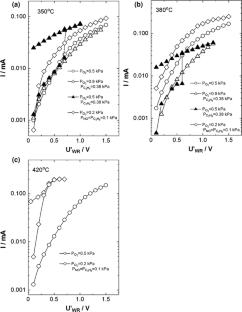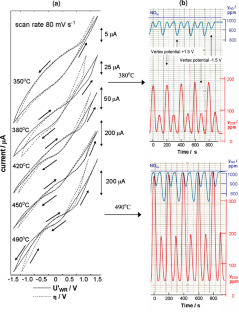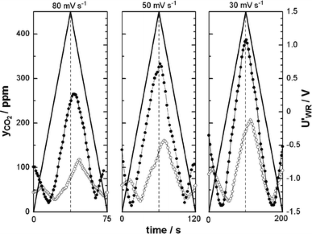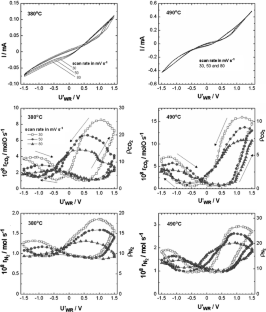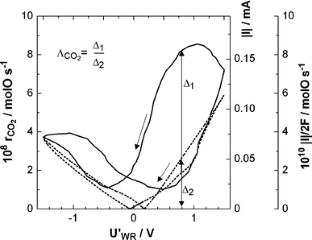 References
1.

Lintz H-G, Vayenas CG (1989) Angewandte Chemie Intern Ed in Engl 28(6):708

2.

Vayenas CG, Bebelis S, Neophytides S, Yentekakis IV (1989) Appl Phys A 49:95

3.

Nicole J, Tsiplakides D, Pliangos C, Verykios XE, Comninellis Ch, Vayenas CG (2001) J Catal 204:23

4.

Pliangos C, Raptis C, Badas T, Tsiplakides D, Vayenas CG (2000) Electrochim Acta 46:331

5.

Constantinou I, Archonta D, Brosda S, Lepage M, Sakamoto Y, Vayenas CG (2007) J Catal 251:400

6.

Foti G, Lavanchy O, Comninellis Ch (2000) J Appl Electrochem 30:1223

7.

Baranova EA, Fóti G, Comninellis Ch (2004) Electrochem Commun 6:389

8.

Baranova EA, Thursfield A, Brosda S, Fóti G, Comninellis Ch, Vayenas CG (2005) J Electrochem Soc 152(2):E40

9.

Tsiplakides D, Balomenou SP, A Katsaounis D Archonta C Kotsoudontis CG Vayenas (2005) Catal Tod 100:133

10.

Balomenou SP, Tsiplakides D, Katsaounis A, Brosda S, Hammad A, Fóti G, Comninellis Ch, Thiemann-Handler S, Cramer B, Vayenas CG (2006), Solid State Ionics 177:2201

11.

Vayenas CG, Brosda S, Pliangos C (2001) J Catal 203:329

12.

Vayenas CG, Bebelis S, Pliangos C, Brosda S, Tsiplakides D (2001) Electrochemical activation of catalysis: promotion, electrochemical promotion and metal-support interactions. Kluwer Academic/Plenum Publishers, New York

13.

Vayenas CG, Tsiplakides D (2000) Surf Sci 467:23

14.

Chao T, Walsh KJ, Fedkiw PS (1991) Solid State Ionics 47:277

15.

Jaccoud A, Fóti G, Comninellis Ch (2006) Electrochim Acta 51:1264

16.

Jaccoud A, Falgairette C, Fóti G, Comninellis Ch (2007) Electrochim Acta 52:7927

17.

Vayenas CG, Ioannides A, Bebelis S (1991) J Catal 129:67

18.

Billard A, Vernoux P (2007) Top Catal 44(3):369

19.

Bard AJ, Faulkner LR (2001) Electrochemical methods. John Wiley & Sons, Inc., New York
About this article
Cite this article
Brosda, S., Vayenas, C.G. NO reduction performance of Rh paste catalyst on YSZ under steady state and forced oscillation electropromotion conditions. J Appl Electrochem 38, 1135–1142 (2008). https://doi.org/10.1007/s10800-008-9549-8
Received:

Revised:

Accepted:

Published:

Issue Date:
Keywords
NO reduction

Rh catalyst electrode

Cyclic voltammetry

AC impedance spectroscopy