Abstract
As individuals are the actual agents of knowledge management (KM) activities, they are influenced by the technical and social aspects of an organization. The effects of social and technical aspects on KM, however, have either been studied separately, or one aspect has been emphasized over the other. This study used the multilevel approach to investigate the interaction between technical and social systems within the work system of KM by examining how the social system moderates the effects of the technical system on KM activities. The social system is operationalized as a team climate, which is the socially shared perception among members within a team, whereas the technical system is operationalized as the perceived value of the KM systems (KMS), which is the technical information system that deals with organizational knowledge and is realized in the work setting in the form of the perception of individuals. We conducted a field study that involved 80 teams of 419 individuals from three knowledge-intensive companies. A hierarchical linear model was employed to analyze the multilevel structure: individual-level KMS perceptions for operational support and strategic decision support, and KM activities with the team-level affective and innovative climates. Our findings show that the innovative team climate magnifies the effect of the perceived KMS value of individuals for strategic decision support on their knowledge adoption; whereas, the affective climate strengthens the effect of the perceived KMS value of individuals for operational support on their knowledge transformation.
Access options
Buy single article
Instant access to the full article PDF.
US$ 39.95
Tax calculation will be finalised during checkout.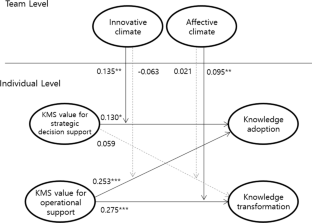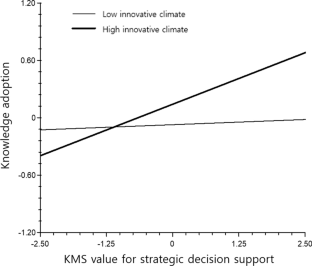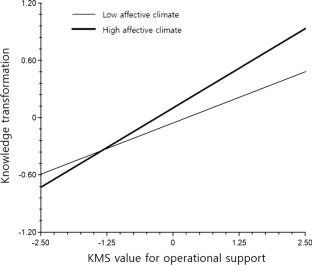 References
1.

Grant RM (1996) Prospering in dynamically-competitive environments: organizational capability as knowledge integration. Organ Sci 7(4):375–387

2.

Trist E (1981) The evolution of socio-technical systems, vol 2. Wiley, New York

3.

Grant RM (1996) Toward a knowledge-based theory of the firm. Strateg Manag J 17(S2):109–122

4.

Abdullah R, Selamat MH, Sahibudin S, Alias RA (2005) A framework for knowledge management system implementation in collaborative environment for higher learning institution. J Knowl Manag Pract 6(1):1–5

5.

Lamb R, Kling R (2003) Reconceptualizing users as social actors in information systems research. MIS Q 27(2):197–236

6.

Bostrom RP, Heinen JS (1977) MIS problems and failures: a socio-technical perspective. Part I: the causes. MIS Q 1(3):17–32

7.

Fischer G, Herrmann T (2011) Socio-technical systems: a meta-design perspective. Int J Sociotechnol Knowl Dev 3(1):1–33

8.

Kulkarni UR, Ravindran S, Freeze R (2007) A knowledge management success model: theoretical development and empirical validation. J Manag Inf Syst 23(3):309–347

9.

Del Giudice M, Della Peruta MR (2016) The impact of IT-based knowledge management systems on internal venturing and innovation: a structural equation modeling approach to corporate performance. J Knowl Manag 20(3):484–498

10.

Bock GW, Zmud RW, Kim YG, Lee JN (2005) Behavioral intention formation in knowledge sharing: examining the roles of extrinsic motivators, social-psychological forces, and organizational climate. MIS Q 29:87–111

11.

Xiaojun Z (2017) Knowledge management system use and job performance: a multilevel contingency model. MIS Q 41(3):811–840

12.

Furlan A, Galeazzo A, Paggiaro A (2019) Organizational and perceived learning in the workplace: a multilevel perspective on employees' problem solving. Organ Sci 30(2):280–297

13.

Li X, Zhang J, Zhang S, Zhou M (2017) A multilevel analysis of the role of interactional justice in promoting knowledge-sharing behavior: the mediated role of organizational commitment. Ind Mark Manag 62:226–233

14.

Pan SL, Scarbrough H (1998) A socio-technical view of knowledge-sharing at Buckman Laboratories. J Knowl Manag 2(1):55–66

15.

Maruping LM, Magni M (2012) What's the weather like? The effect of team learning climate, empowerment climate, and gender on individuals' technology exploration and use. J Manag Inf Syst 29(1):79–114

16.

Glomb TM, Liao H (2003) Interpersonal aggression in work groups: social influence, reciprocal, and individual effects. Acad Manag J 46(4):486–496

17.

Alavi M, Leidner DE (2001) Review: knowledge management and knowledge management systems: conceptual foundations and research issues. MIS Q 25(1):107–136. https://doi.org/10.2307/3250961

18.

Pasmore W, Francis C, Haldeman J, Shani A (1982) Sociotechnical systems: a North American reflection on empirical studies of the seventies. Hum Relat 35(12):1179–1204

19.

Lyytinen K, Newman M (2008) Explaining information systems change: a punctuated socio-technical change model. Eur J Inf Syst 17:589–613

20.

Geels FW (2005) The dynamics of transitions in socio-technical systems: a multi-level analysis of the transition pathway from horse-drawn carriages to automobiles (1860–1930). Technol Anal Strateg Manag 17(4):445–476

21.

Hsu MH, Chang CM (2014) Examining interpersonal trust as a facilitator and uncertainty as an inhibitor of intra-organisational knowledge sharing. Inf Syst J 24(2):119–142

22.

Chang Y-W, Hsu P-Y, Shiau W-L, Tsai C-C (2015) Knowledge sharing intention in the United States and China: a cross-cultural study. Eur J Inf Syst 24(3):262–277

23.

Boh WF, Wong SS (2013) Organizational climate and perceived manager effectiveness: influencing perceived usefulness of knowledge sharing mechanisms. J Assoc Inf Syst 14(3):122–152

24.

Wasko MM, Faraj S (2005) Why should I share? Examining social capital and knowledge contribution in electronic networks of practice. MIS Q 29(1):35–57

25.

Alavi M, Kayworth TR, Leidner DE (2005) An empirical examination of the influence of organizational culture on knowledge management practices. J Manag Inf Syst 22(3):191–224

26.

Handzic M (2011) Integrated socio-technical knowledge management model: an empirical evaluation. J Knowl Manag 15(2):198–211

27.

Borgatti SP, Cross R (2003) A relational view of information seeking and learning in social networks. Manag Sci 49(4):432–445

28.

Zhang X (2017) Knowledge management system use and job performance: a multilevel contingency model. MIS Q 41(3):811–840

29.

Jahmani K, Fadiya SO, Abubakar AM, Elrehail H (2018) Knowledge content quality, perceived usefulness, KMS use for sharing and retrieval: a flock leadership application. VINE J Inf Knowl Manag Syst 48(4):470–490

30.

Davison RM, Martinsons MG (2016) Context is king! Considering particularism in research design and reporting. J Inf Technol 31(3):241–249

31.

March JG (1991) Exploration and exploitation in organizational learning. Organ Sci 2(1):71–87

32.

Teigland R, Wasko M (2009) Knowledge transfer in MNCs: examining how intrinsic motivations and knowledge sourcing impact individual centrality and performance. J Int Manag 15(1):15–31. https://doi.org/10.1016/j.intman.2008.02.001

33.

Shrivastava P (1983) A typology of organizational learning systems. J Manag Stud 20(1):7–28

34.

Sveiby K-E, Simons R (2002) Collaborative climate and effectiveness of knowledge work—an empirical study. J Knowl Manag 6(5):420–433

35.

Gray PH (2000) The effects of knowledge management systems on emergent teams: towards a research model. J Strat Inf Syst 9(2):175–191

36.

Kim SH, Mukhopadhyay T, Kraut RE (2016) When does repository KMS use lift performance? The role of alternative knowledge sources and task environments. MIS Q 40(1):133–156

37.

Zhang X, Venkatesh V (2017) A nomological network of knowledge management system use: antecedents and consequences. MIS Q 41(4):1275–1306

38.

Anthony RN (1965) Management planning and control systems: a framework for analysis. Harvard Business School Press, Cambridge, MA

39.

Park Y, Kim S (2006) Knowledge management system for fourth generation R&D: KNOWVATION. Technovation 26(5–6):595–602. https://doi.org/10.1016/j.technovation.2004.10.008

40.

Molloy S, Schwenk CR (1995) The effects of information technology on strategic decision making. J Manag Stud 32(3):283–311

41.

Floyd SW, Lane PJ (2000) Strategizing throughout the organization: managing role conflict in strategic renewal. Acad Manag Rev 25(1):154–177

42.

Wijnhoven F (2003) Operational knowledge management: identification of knowledge objects, operation methods, and goals and means for the support function. J Oper Res Soc 54(2):194–203

43.

Facteau JD, Dobbins GH, Russell JE, Ladd RT, Kudisch JD (1995) The influence of general perceptions of the training environment on pretraining motivation and perceived training transfer. J Manag 21(1):1–25

44.

Ashkanasy NM, Wilderom CP, Peterson MF (2000) Handbook of organizational culture and climate. SAGE Publications, Beverly Hills

45.

Kozlowski SW, Klein KJ (2000) A multilevel approach to theory and research in organizations: contextual, temporal, and emergent processes. In: Klein KJ, Koslowski SW (eds) Multilevel theory, research, and methods in organizations. Jossey Bass, San Francisco, pp 3–90

46.

Rousseau DM (1985) Issues of level in organizational research: multi-level and cross-level perspectives. In: Staw BM, Cummings LL (eds) Research in organizational behavior, vol 7. JAI Press, Greenwich, pp 1–37

47.

Cannon-Bowers JA, Salas E (2001) Reflections on shared cognition. J Organ Behav 22(2):195–202

48.

Ostroff C (1993) The effects of climate and personal influences on individual behavior and attitudes in organizations. Organ Behav Hum Decis Process 56(1):56–90

49.

Brown SL, Eisenhardt KM (1995) Product development: past research, present findings, and future directions. Acad Manag Rev 20(2):343–378

50.

Chen C-J, Huang J-W (2007) How organizational climate and structure affect knowledge management—the social interaction perspective. Int J Inf Manag 27(2):104–118

51.

Chen C-J, Huang J-W, Hsiao Y-C (2010) Knowledge management and innovativeness: the role of organizational climate and structure. Int J Manpow 31(8):848–870

52.

Islam MZ, Jasimuddin SM, Hasan I (2017) The role of technology and socialization in linking organizational context and knowledge conversion: the case of malaysian service organizations. Int J Inf Manag 37(5):497–503

53.

Oliver RL, Anderson E (1994) An empirical test of the consequences of behavior-and outcome-based sales control systems. J Mark 58(4):53–67

54.

Shadur MA, Kienzle R, Rodwell JJ (1999) The relationship between organizational climate and employee perceptions of involvement: the importance of support. Group Org Manag 24(4):479–503

55.

Kim MJ, Choi JN, Lee K (2016) Trait affect and individual creativity: Moderating roles of affective climate and reflexivity. Soc Behav Personal Int J 44(9):1477–1498

56.

West MA, Richter AW (2008) Climates and cultures for innovation and creativity at work. In: Zhou J, Shalley CE (eds) Handbook of organizational creativity. Erlbaum, New York, pp 211–236

57.

Hurley RF, Hult GTM (1998) Innovation, market orientation, and organizational learning: an integration and empirical examination. J Market 62:42–54

58.

Gray RJ (2001) Organisational climate and project success. Int J Project Manag 19(2):103–109

59.

Hammedi W, Van Riel AC, Sasovova Z (2013) Improving screening decision making through transactive memory systems: a field study. J Prod Innov Manag 30(2):316–330

60.

Lin C-P, Liu C-M, Liu N-T, Huang H-T (2020) Being excellent teams: managing innovative climate, politics, and team performance. Total Qual Manag Bus Excell 31(3–4):353–372

61.

Basaglia S, Caporarello L, Magni M, Pennarola F (2010) IT knowledge integration capability and team performance: the role of team climate. Int J Inf Manag 30(6):542–551

62.

Hoegl M, Parboteeah KP, Munson CL (2003) Team-level antecedents of individuals' knowledge networks*. Decis Sci 34(4):741–770

63.

Liao S-H, Chang W-J, Hu D-C, Yueh Y-L (2012) Relationships among organizational culture, knowledge acquisition, organizational learning, and organizational innovation in Taiwan's banking and insurance industries. Int J Hum Resour Manag 23(1):52–70

64.

Bibi S, Khan A, Qian H, Garavelli AC, Natalicchio A, Capolupo P (2020) Innovative climate, a determinant of competitiveness and business performance in Chinese law firms: the role of firm size and age. Sustainability 12(12):4948

65.

Lee J, Min J, Kwak C, Pee L, Lee H (2019) Share or send and receive? The impact of team knowledge outflow/inflow with IT support on performance. J Knowl Manag 23(8):1523–1542

66.

Barczak G, Sultan F, Hultink EJ (2007) Determinants of IT usage and new product performance. J Prod Innov Manag 24(6):600–613

67.

Kang JH, Solomon GT, Choi DY (2015) CEOs' leadership styles and managers' innovative behaviour: investigation of intervening effects in an entrepreneurial context. J Manag Stud 52(4):531–554

68.

Lai VS, Mahapatra RK (1997) Exploring the research in information technology implementation. Inf Manag 32(4):187–201

69.

Jasperson J, Carter PE, Zmud RW (2005) A comprehensive conceptualization of post-adoptive behaviors associated with information technology enabled work systems. MIS Q 29(3):525–557

70.

Hsieh JP-A (2007) Explaining employees' extended use of complex information systems. Eur J Inf Syst 16:216–227

71.

Ke W, Tan C-H, Sia C-L, Wei K-K (2012) Inducing intrinsic motivation to explore the enterprise system: the supremacy of organizational levers. J Manag Inf Syst 29(3):257–290

72.

Liang H, Peng Z, Xue Y, Guo X, Wang N (2015) Employees' exploration of complex systems: an integrative view. J Manag Inf Syst 32(1):322–357

73.

Acur N, Kandemir D, De Weerd-Nederhof PC, Song M (2010) Exploring the impact of technological competence development on speed and NPD program performance. J Prod Innov Manag 27(6):915–929

74.

Cai Z, Liu H, Huang Q, Liang L (2019) Developing organizational agility in product innovation: the roles of IT capability, KM capability, and innovative climate. R&D Manag 49(4):421–438

75.

Liang H, Xue Y, Ke W, Wei KK (2010) Understanding the influence of team climate on IT use. J Assoc Inf Syst 11(8):414–432

76.

Gatian AW, Brown RM, Hicks JO Jr (1995) Organizational innovativeness, competitive strategy and investment success. J Strat Inf Syst 4(1):43–59

77.

Kellermanns FW, Eddleston KA, Sarathy R, Murphy F (2012) Innovativeness in family firms: a family influence perspective. Small Bus Econ 38(1):85–101

78.

Sandhawalia BS, Dalcher D (2011) Developing knowledge management capabilities: a structured approach. J Knowl Manag 15:313–328

79.

Liu S, Deng Z (2015) Understanding knowledge management capability in business process outsourcing. Manag Decis 53:124–138

80.

González-Romá V, Peiró JM, Subirats M, Mañas MA (2000) The validity of affective work team climates. In: Vartiainen M, Avallone F, Anderson N (eds) Innovative theories, tools and practices in work and organizational psychology. Hogrefe & Huber, Göttingen, pp 97–109

81.

Gray JA (1990) Brain systems that mediate both emotion and cognition. Cogn Emot 4(3):269–288

82.

Collins AL, Lawrence SA, Troth AC, Jordan PJ (2013) Group affective tone: a review and future research directions. J Organ Behav 34(S1):S43–S62

83.

Sy T, Côté S, Saavedra R (2005) The contagious leader: impact of the leader's mood on the mood of group members, group affective tone, and group processes. J Appl Psychol 90(2):295–305

84.

Tran V (1998) The role of the emotional climate in learning organisations. Learn Organ 5:99–104

85.

Amabile TM, Conti R, Coon H, Lazenby J, Herron M (1996) Assessing the work environment for creativity. Acad Manag J 39(5):1154–1184

86.

Maimone F, Sinclair M (2010) Affective climate, organizational creativity, and knowledge creation: case study of an automotive company. In: Zerbe WJ, Hartel CEJ, Ashkanasy NM (eds) Emotions and organizational dynamism. Emerald Group Publishing, Bingley, pp 309–332

87.

Edmondson A (1999) Psychological safety and learning behavior in work teams. Adm Sci Q 44(2):350–383

88.

Bierhoff HW, Müller GF (1999) Positive feelings and cooperative support in project groups. Swiss J Psychol 58(3):180–190

89.

Xue Y, Bradley J, Liang H (2011) Team climate, empowering leadership, and knowledge sharing. J Knowl Manag 15(2):299–312

90.

Estrada CA, Isen AM, Young MJ (1997) Positive affect facilitates integration of information and decreases anchoring in reasoning among physicians. Organ Behav Hum Decis Process 72(1):117–135

91.

George JM, King EB (2007) Potential pitfalls of affect convergence in teams: functions and dysfunctions of group affective tone. In: Mannix EA, Neale MA, Anderson CP (eds) Research on managing groups and teams, vol 10. JAI Press, Greenwich, pp 97–124

92.

Bloodgood JM, Salisbury WD (2001) Understanding the influence of organizational change strategies on information technology and knowledge management strategies. Decis Support Syst 31(1):55–69

93.

Butler T, Murphy C (2007) Understanding the design of information technologies for knowledge management in organizations: a pragmatic perspective. Inf Syst J 17(2):143–163

94.

Bryk AS, Raudenbush SW (1992) Hierarchical linear models for social and behavioral research: applications and data analysis methods. Sage, Newbury Park

95.

Hofmann DA, Griffin MA, Gavin MB (2000) The application of hierarchical linear modeling to organizational research. In: Klein KJ, Kozlowski SWJ (eds) Multilevel theory, research, and methods in organizations: foundations, extensions, and new directions. Wiley, San Francisco, pp 467–511

96.

James LR, Demaree RG, Wolf G (1984) Estimating within-group interrater reliability with and without response bias. J Appl Psychol 69(1):85–98

97.

Fowler F (1993) Survey research methods, 2nd edn. Sage, Newbury Park

98.

Armstrong JS, Overton TS (1977) Estimating non-response bias in mail surveys. J Mark Res 14(3):396–402

99.

Bagozzi RP, Yi Y (1998) On the evaluation of structural equation models. Acad Market Sci 16(1):74–94

100.

Wixom BH, Todd PA (2005) A theoretical integration of user satisfaction and technology acceptance. Inf Syst Res 16(1):85–102

101.

Fornell C, Larcker DF (1981) Evaluating structural equation models with unobservable variables and measurement error. J Mark Res 18(1):39–50

102.

Shrout PE, Fleiss JL (1979) Intraclass correlations: uses in assessing rater reliability. Psychol Bull 86(2):420–428

103.

Podsakoff PM, Organ DW (1986) Self-reports in organizational research: problems and prospects. J Manag 12(4):531–544

104.

Liang H, Saraf N, Hu Q, Xue Y (2007) Assimilation of enterprise systems: the effects of institutional pressures and the mediating role of top management. MIS Q 31(1):59–88

105.

Mehta A, Mehta N (2018) Knowledge integration and team effectiveness: a team goal orientation approach. Decis Sci 49(3):445–486

106.

Hall R, Andriani P (2003) Managing knowledge associated with innovation. J Bus Res 56(2):145–152

107.

Brockmann EN, Anthony WP (2002) Tacit knowledge and strategic decision making. Group Org Manag 27(4):436–455

108.

Durcikova A, Fadel KJ, Butler BS, Galletta DF (2011) Knowledge exploration and exploitation: the impacts of psychological climate and knowledge management system access. Inf Syst Res 22(4):855–866

109.

Kettinger WJ, Li Y, Davis JM, Kettinger L (2015) The roles of psychological climate, information management capabilities, and IT support on knowledge-sharing: an MOA perspective. Eur J Inf Syst 24(1):59–75

110.

Snijders T, Bosker R (1999) Multilevel analysis: an introduction to basic and advanced multilevel modeling. Sage, London

111.

Sabherwal R, Chan YE (2001) Alignment between business and IS strategies: a study of prospectors, analyzers, and defenders. Inf Syst Res 12(1):11–33

112.

Gold AH, Malhotra A, Segars AH (2001) Knowledge management: an organizational capabilities perspective. J Manag Inf Syst 18(1):185–214

113.

Flatten TC, Engelen A, Zahra SA, Brettel M (2011) A measure of absorptive capacity: scale development and validation. Eur Manag J 29(2):98–116

114.

Tse HHM, Dasborough MT, Ashkanasy NM (2008) A multi-level analysis of team climate and interpersonal exchange relationships at work. Leadersh Q 19(2):195–211
Funding
This study was supported by a research fund from Chosun University, 2020.
Ethics declarations
Conflict of interest
We have no conflict of interest to declare.
Additional information
Publisher's Note
Springer Nature remains neutral with regard to jurisdictional claims in published maps and institutional affiliations.
About this article
Cite this article
Min, J., Lee, J., Ryu, S. et al. The effects of interaction between team climates and KMS value perception on knowledge activities: a multilevel socio-technical systems approach. Inf Technol Manag (2021). https://doi.org/10.1007/s10799-021-00337-5
Keywords
Perceived KMS value for strategic decision and operational support

Knowledge adoption

Knowledge transformation

Multilevel research

Affective climate

Innovative climate