Abstract
While teamwork has been a central concern in engineering education, little research has systematically examined how conflict is managed in engineering teams of students. Socio-constructivism provides a solid base to explain how teamwork can foster innovation through the use of cultural artifacts, such as "boundary objects." The purpose of this paper describing the anatomy of negotiation within several teams of engineering students located in universities of Northern California and Santiago de Chile from 2010 to 2017. We propose the concept of "conflict orchestration" to explain the dynamics of engineering teams working on innovation-driven engineering design challenges. A context sensitive qualitative research design was deployed using an ethnographic approach to the study team negotiation patterns observed in 11 teams of engineering students from Northern California and Santiago de Chile. The methodological focus was on identifying commonalities in the use of boundary objects and trading zones emerging from the students' team interaction. Our findings illustrate two distinct strategies that the engineering teams adopted using boundary objects. We describe the use of Sticky Notes and Third Platforms. Finally, we explore students' perceptions of the educational gain of PBL engineering design courses. The relevance of this study is threefold. First it conceptualizes a teamwork phenomenon that energizes innovation through scaffolded conflict. We also explore how this concept is enacted by engineering teams in two different cultural sites. Finally, we provide bottom-up strategies that can be implemented in other undergraduate engineering design programs.
This is a preview of subscription content, log in to check access.
Access options
Buy single article
Instant access to the full article PDF.
US$ 39.95
Tax calculation will be finalised during checkout.
Subscribe to journal
Immediate online access to all issues from 2019. Subscription will auto renew annually.
US$ 79
Tax calculation will be finalised during checkout.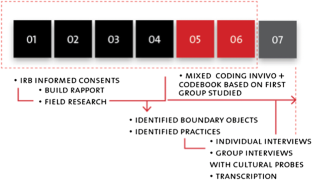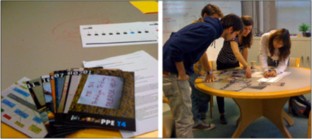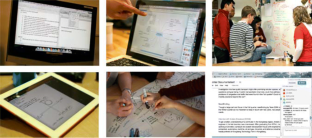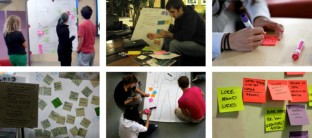 References
Adams, R., Evangelou, D., English, L., De Figueiredo, A. D., Mousoulides, N., Pawley, A. L., et al. (2011). Multiple perspectives on engaging future engineers. Journal of Engineering Education,100(1), 48–88.

Akkerman, S. F., & Bakker, A. (2011). Boundary crossing and boundary objects. Review of Educational Research,81(2), 132–169.

Amabile, T. M. (1988). A model of creativity and innovation in organizations. In B. M. Staw & L. L. Cummins (Eds.), Research in organizational behavior (pp. 123–167). Greenwhich: JAI Press.

Amason, A. C. (1996). Distinguishing the effects of functional and dysfunctional conflict on strategic decision making: Resolving a paradox for top management teams. Academy of Management Journal,39, 123–148.

Amason, A. C., & Sapienza, H. J. (1997). The effects of top management team size and interaction norms on cognitive and affective conflict. Journal of Management,23, 495–516.

Amason, A. C., & Schweiger, D. M. (1994). Resolving the paradox of conflict, strategic decision making, and organizational performance. International Journal of Conflict Management,5(3), 239–253.

Ames, G. J., & Murray, F. B. (1982). When two wrongs make a right: Promoting cognitive change by social conflict. Developmental Psychology,18(6), 894.

Bell, N., Perret-Clermont, A. N., & Grossen, M. (1985). Sociocognitive conflict and intellectual growth. In M. W. Berkowitz (Eds.), Peer conflict and psychological growth. New directions for child development. San Francisco: Jossey-Bass.

Borrego, M., Froyd, J. E., & Hall, T. S. (2010). Diffusion of engineering education innovations: A survey of awareness and adoption rates in U.S. engineering departments. Journal of Engineering Education,99(3), 185–207.

Borrego, M., Karlin, J., McNair, L. D., & Beddoes, K. (2013). Team effectiveness theory from industrial and organizational psychology applied to engineering student project teams: A research review. Journal of Engineering Education,102(4), 472–512.

Bourgeois, E. (2009). Apprentissage et transformation du sujet en formation. In J. C. R.-B. J. M. Barbier, E. Bourgeois, & G. Chapelle (Eds.), Encyclopédie de la formation (pp. 31–71). Paris: PUF.

Bourgeois, E., & Nizet, J. (1997). Apprentissage et formation des adultes. Paris: Presses Universitaires de France.

Bradley, B. H., Anderson, H. J., Baur, J. E., & Klotz, A. C. (2015). When conflict helps: Integrating evidence for beneficial conflict in groups and teams under three perspectives. Group Dynamics: Theory, Research, and Practice,19(4), 243.

Brannan, K., Dion, T., & Fallon, D. (1999). ABET engineering criteria 2000: Assessment of classroom instruction. In ASEE annual conference.

Collins, H. M. (2010). Tacit and explicit knowledge. Chicago, IL: The University of Chicago Press.

Creswell, J. W., & Miller, D. L. (2000). Determining validity in qualitative inquiry. Theory Into Practice,39(3), 124–130. https://doi.org/10.1207/s15430421tip3903_2.

Cropley, D. H. (2016). Creativity in engineering. In G. E. Corazza & S. Agnoli (Eds.), Multidisciplinary contributions to the science of creative thinking (pp. 155–173). London: Springer.

Davis, D., & Ulseth, R. (2013). Building student capacity for high performance teamwork. In ASEE annual conference (pp. 23–26). Atlanta, GA.

DiDonato, N. C. (2013). Effective self- and co-regulation in collaborative learning groups: An analysis of how students regulate problem solving of authentic interdisciplinary tasks. Instructional Science,41(1), 25–47.

Dym, C. L., Agogino, A. M., Eris, O., Frey, D. F., & Leifer, L. (2005). Engineering design thinking, teaching, and learning. Journal of Engineering Education,34(1), 103–120.

Følstad, A. (2008). Living labs for innovation and development of information and communication technology: A literature review. The Electronic Journal for Virtual Organizations and Networks,10(August), 99–131.

Fominykh, M., Prasolova-Førland, E., Divitini, M., & Petersen, S. A. (2016). Boundary objects in collaborative work and learning. Information Systems Frontiers,18(1), 85–102.

Galison, P. (1999). Trading zone: Coordinating action and belief. In M. Biagioli (Ed.), The science studies reader (pp. 137–160). New York, NY: Routledge.

Gaver, B., Dunne, T., & Pacenti, E. (1999). Cultural probes. Interactions,6(1), 21–29.

Genco, N., Hölttä-Otto, K., & Seepersad, C. C. (2012). An experimental investigation of the innovation capabilities of undergraduate engineering students. Journal of Engineering Education,101(1), 60–81.

Given, L. M. (2016). 100 questions (and answers) about qualitative research. Thousand Oaks, CA: Sage.

Hadwin, A., & Oshige, M. (2011). Self-regulation, coregulation, and socially shared regulation: Exploring perspectives of social in self-regulated learning theory. Teachers College Record,113(2), 240–264.

Halpern, M., Erickson, I., Forlano, L., & Gay, G. K. (2013). Designing collaboration: comparing cases exploring cultural probes as boundary-negotiating objects. In Proceedings of the 2013 conference on computer supported cooperative work (pp. 1093–1102). ACM.

Hargadon, A. B., & Bechky, B. A. (2006). When collections of creatives become creative collectives: A field study of problem solving at work. Organization Science,17(4), 484–500.

Henriksen, M. (1997). An overview of ABET engineering criteria 2000. In ASEE annual conference. Milwaukee, WI.

Jehn, K. (1994). Enhancing effectiveness: An investigation of advantages and disadvantages of value-based intragroup conflict. International Journal of Conflict Management,5, 223–238.

Jehn, K. (1995). A multimethod examination of the benefits and detriments of intragroup conflict. Administrative Science Quarterly,40, 256–282.

Jehn, K. (1997). Affective and cognitive conflict in work groups: Increasing performance through value-based intragroup conflict. In C. K. W. DeDreu & E. Van de Vliert (Eds.), Using conflict in organizations. London: Sage.

Kolko, J. (2010). Abductive thinking and sensemaking: The drivers of design synthesis. Design Issues,26(1), 15–28.

Lissi, M. R., & Sebastián, C. (2016). El aprendizaje como proceso psicológico superior. Hacia una comprensión histórico-cultural del desarrollo del proceso de aprender. In Aprendizaje y educación: Contribuciones desde una perspectiva psicosocial. Santiago, Chile: Ediciones Universidad Alberto Hurtado.

Meinel, C., & Leifer, L. (2011). Design thinking research. In H. Plattner, C. Meinel, & L. Leifer (Eds.), Design thinking: Understand-improve-apply (pp. 1–11). Berlin: Springer.

Miles, M., & Huberman, A. (1994). Qualitative data analysis: An expanded sourcebook. Thousand Oaks: Sage.

Minneman, S. (1991). The social construction of a technical reality: Empirical studies of group engineering design practice. Menlo Park, CA: Stanford University.

Miranda, C. (2013). Mapping visual negotiations in innovation driven teams: A peek into the design process culture of graduate engineering students (Doctoral dissertation, North Carolina State University). Retrieved from http://www.lib.ncsu.edu/resolver/1840.16/8737.

Mugny, G., de Paolis, P., & Carugati, F. (1984). Social regulations in cognitive development. In W. Doise & A. Palmonari (Eds.), Social interaction in individual development. New York: Pergamon.

Newell, A., Shaw, J., & Simon, H. (1967). The process of creative thinking. In H. Gruber, G. Terrel, & M. Wertheimer (Eds.), Contemporary approaches to creative thinking (pp. 63–119). New York, NY: Literary Licensing.

Panadero, E., & Järvelä, S. (2015). Socially shared regulation of learning: A review. European Psychologist,20(3), 190–203.

Paretti, M., Cross, K. J., & Matusovich, H. M. (2014). Match or mismatch: Engineering faculty beliefs about communication and teamwork versus published criteria. In ASEE annual conference. Indianapolis, IN.

Perusich, K., Davis, B., & Taylor, K. (2010). Teamwork and ABET review: A template for assessment. In K. M. Iskander, V. Kapila (Eds.), Technological developments in education and automation (pp. 349–353). Dordrecht: Springer.

Piaget, J. (1970). Piaget's theory. In P. H. Mussen (Ed.), Carmichael´s handbook of child psychology (pp. 703–731). New York, NY: Wiley.

Pink, S. (2007). Doing visual ethnography. London, U.K.: Sage.

Polanyi, M. (1967). The tacit dimension. London, U.K.: Routledge & K. Paul.

Prados, J. (1997). ABET engineering criteria 2000: How we got there and why. In ASEE annual conference. Milwaukee, WI.

Psaltis, C., & Duveen, G. (2006). Social relations and cognitive development: The influence of conversation type and representations of gender. European Journal of Social Psychology,36(3), 407–430.

Purzer, S. (2011). The relationship between team discourse, self-efficacy, and individual achievement: A sequential mixed-methods study. Journal of Engineering Education,100(4), 655–679.

Runco, M. A., & Jaeger, G. J. (2012). The standard definition of creativity. Creativity Research Journal,24(1), 92–96.

Sebastián, C. (2007). La diversidad interindividual como una oportunidad para el aprendizaje de los estudiantes de educación superior. Calidad En La Educación,26, 83–101.

Star, L. (2010). This is not a boundary object: Reflections on the origin of a concept. Science, Technology and Human Values,35(5), 601–617.

Star, S. L., & Griesemer, J. R. (1989). Institutional ecology, 'translations' and boundary objects: Amateurs and professionals in Berkeley's Museum of Vertebrate Zoology, 1907–39. Social Studies of Science,19(3), 387–420.

Stark, D. (2010). The sense of dissonance: Accounts of worth in economic life. Princeton, NJ: Princeton University Press.

Strauss, A., & Corbin, J. (1994). Grounded theory methodology: An overview. In N. K. Denzin & Y. S. Lincoln (Eds.), The Sage Handbook of qualitative research (pp. 443–466). Thousand Oaks, CA: SAGE Publications.

Turner, J. R. (2016). Team cognition conflict: A conceptual review identifying cognition conflict as a new team conflict construct. Performance Improvement Quarterly,29(2), 145–167.

Van De Ven, A. H. (1986). Central problems in the management of innovation. Management Science,32(5), 590–607.

Van den Bossche, P., Gijselaers, W., Segers, M., Woltjer, G., & Kirschner, P. (2011). Team learning: Building shared mental models. Instructional Science,39(3), 283–301.

Vigotsky, L. (1987). Thinking and speech. In R. W. Rieber, & A. S. Carton (Eds.), The collected works of L. S. Vygotsky (Vol. 1, pp. 39–285). New York: Plenum Press.

Volkwein, J., Lattuca, L., & Terenzini, P. (2004). Engineering change: A study of the impact of EC2000. International Journal of Engineering Education,20(3), 318–328.

Vollmer, A. (2015). Conflicts in innovation and how to approach the "last mile" of conflict management research—A literature review. International Journal of Conflict Management,26(2), 192–213.

Vygotsky, L. (1931). Historia del desarrollo de las funciones psíquicas superiores. In Obras Escogidas: Volumen 3. Problemas del desarrollo de la psique (pp. 11–340). Madrid, Spain: Aprendizaje - Visor/MEC.

Warwick, P., Mercer, N., & Kershner, R. (2013). "Wait, let's just think about this": Using the interactive whiteboard and talk rules to scaffold learning for co-regulation in collaborative science activities. Learning, Culture and Social Interaction,2(1), 42–51.

Weick, K. E. (1995). Creativity and the aesthetics of imperfection. In C. M. Ford & D. A. Goia (Eds.), Creative action in organizations (pp. 187–192). Thousand Oaks, CA: Sage.

Weick, K. E. (1998). Introductory essay: Improvisation as a mindset for organizational analysis. Organization Science,9(5), 543–555.

Wood, D., Bruner, J. S., & Ross, G. (1976). The role of tutoring in problem solving. Journal of Child Psychology and Psychiatry,17(2), 89–100.

Yildirim, T. P., Shuman, L., & Besterfield-Sacre, M. (2010). Model-eliciting activities: Assessing engineering student problem solving and skill integration processes. International Journal of Engineering Education,26(4), 831–845.
Additional information
Publisher's Note
Springer Nature remains neutral with regard to jurisdictional claims in published maps and institutional affiliations.
About this article
Cite this article
Miranda, C., Goñi, J. & Hilliger, I. Orchestrating conflict in teams with the use of boundary objects and trading zones in innovation-driven engineering design projects. Int J Technol Des Educ (2019). https://doi.org/10.1007/s10798-019-09552-2
Keywords
Engineering design

Teams

Conflict orchestration

Socio-constructivism