Abstract
We explore the potential drivers for and barriers to interdisciplinary education in design from the student learning perspective. To achieve this, a series of in-depth student interview studies were conducted at two interdisciplinary design schools in the Republic of Korea and the UK. Results indicated both awareness and synthesis of interdisciplinary perspectives across the two schools. However, these abilities appeared more heavily dependent upon individual student attitudes and interests, compared to the programmes of study themselves. Instructor bias and potential integration issues at school and institutional levels were further cited as challenges to interdisciplinarity. However, results also indicated application as a key driver for the acquisition and synthesis of disciplinary perspectives. Students, within the applied discipline of design, responded well to interdisciplinarity when accompanied by opportunities to integrate disciplinary knowledge through application within their own project works. Implications for interdisciplinary approaches to design education are finally discussed together with suggested avenues for future investigation.
This is a preview of subscription content, log in to check access.
Access options
Buy single article
Instant access to the full article PDF.
US$ 39.95
Price includes VAT for USA
Subscribe to journal
Immediate online access to all issues from 2019. Subscription will auto renew annually.
US$ 99
This is the net price. Taxes to be calculated in checkout.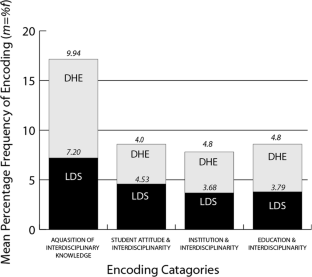 References
Adams, R. S., Turns, J., & Atman, C. J. (2003). Educating effective engineering designers: The role of reflective practice. Design Studies, 24(3), 275–294.

Bingham, G. A., Southee, D. J., & Page, T. (2015). Meeting the expectation of industry: An integrated approach for the teaching of mechanics and electronics to design students. European Journal of Engineering Education, 40(4), 410–431.

Carulli, M., Bordegoni, M., & Cugini, U. (2013). An intergrated framework to support design & engineering education. International Journal of Engineering Education, 29(2), 291–303.

Goel, V. (2001). Dissociation of design knowledge. In C. Eastman, M. McCracken, & W. Newstetter (Eds.), Design knowing and learning: Cognition in design education (pp. 221–240). London: Elsevier.

Jaeger, A., Mayrhofer, W., Kuhlang, P., & Matyas, K. (2013). Total immersion: Hands and heads-on training in a learning factory for comprehensive industrial engineering education. International Journal of Engineering Education, 29(1), 23–32.

Kang, N. (2008). Activation plan for the convergence study of scientific technology & humanities and social sciences. Sejong City: Ministry of Education, Science and Technology.

Kaygan, P. (2014). 'Arty' versus 'real' work: Gendered relations between industrial designers and engineers in interdisciplinary work settings. The Design Journal, 17(1), 73–90.

Kim, K., Kim, N., Jung, S., Kim, D. Y., Kwak, Y., & Kyung, G. (2012). A radically assembled design-engineering education program with a selection and combination of multiple disciplines. International Journal of Engineering Education, 28(4), 904–919.

Klein, J. (1990). Interdisciplinarity: History, theory, and practice. Detroit: Wayne State University Press.

Klein, J., & Newell, W. (1998). Advancing interdisciplinary studies. In W. Newell (Ed.), Interdisciplinarity: Essays from the literature. New York: College Entrance Examination Board.

Kolb, D. (Ed.). (2014). The structure of knowledge. In Experiential learning: Experience as the source of learning and development (2nd ed., pp. 153–192). New Jersey: Pearson Education Inc.

Lattuca, L. R. (2001). Creating interdisciplinarity: Interdisciplinary research and teaching among college and university faculty. Nashville: Vanderbilt University Press.

Lattuca, L. R., & Knight, D. B. (2010). In the eye of the beholder: Defining and studying interdisciplinarity in engineering education. In Proceedings of the 117th annual conference of the American Society of Engineering Education. Louisville, KY: American Society for Engineering Education.

Lattuca, L. R., Voight Lois, J., & Fath, K. Q. (2004). Does interdisciplinarity promote learning? Theoretical support and researchable questions. Review of Higher Education, 28(1), 23-C.

Lattuca, L., Knight, D., & Bergom, I. (2013). Developing a measure of interdisciplinary competence. International Journal of Engineering Education, 29(3), 726–739.

Lee, J. (2014). The integrated design process from the facilitator's perspective. International Journal of Art & Design Education, 33(1), 141–156.

Mansilla, V., & Duraising, E. (2007). Targeted assessment of students' interdisciplinary work: An empirically grounded framework proposed. The Journal of Higher Education, 78(2), 215–237.

Mansilla, V., & Gardner, H. (2003). Assessing interdisciplinary work at the frontier: An empirical exploration of "symptoms of quality". In G. Origgi & C. Heintz (Eds.), Rethinking interdisciplinarity. Harvard: Harvard University.

Mok, Y. H. (2009). Korea education in the age of knowledge convergence. Paper presented at the autumn conference of Korean Educational Research Association.

Newell, W. (2001). A theory of interdisciplinary studies. Issues in Integrative Studies, 19, 1–25.

Norman, D. (2010). Why design education must change. Core77.

Norman, D., & Klemmer, S. (2014). State of design: How design education must change. Linkedin. https://www.linkedin.com/pulse/20140325102438-12181762-state-of-design-how-design-education-must-change. Accessed 3 Jan 2018.

Oehlberg, L., Leighton, I., & Agogino, A. (2012). Teaching human-centred design innovation across engineering, humanities and social sciences. International Journal of Engineering Education, 28(2), 484–491.

Repko, A. (2012). Interdisciplinary research: Process and theory (2nd ed.). New York: SAGE Publications Inc.

Saldana, J. (2013). In vivo coding, the coding manual for qualitative research, 91-96. London: SAGE Publications Ltd.

Self, J. A., & Baek, J. S. (2017). Interdisciplinarity in design education: Understanding the undergraduate student experience. International Journal of Technology and Design Education, 27(3), 459–480.

Strong, D. (2012). An approach for improving design and innovation skills in engineering education: The multidisciplinary design stream. International Journal of Engineering Education, 28(2), 339–348.

Thompson, M. (2009). Increasing the rigor of freshman design education. In Proceedings of iasdr09, Seoul, Korea.

Tolbert, D., & Daly, S. R. (2013). First-year engineering student perceptions of creative opportunities in design. International Journal of Engineering Education, 29(4), 879–890.

Yim, H. L. K., Brezing, A., Lower, M., & Feldhusen, J. (2011). Learning from an interdisciplinary and intercultural project-based design course. In Proceedings of the international conference on engineering and product design education, City University, London, UK.
Acknowledgements
We would like to extend our thanks to all those students at the DHE, UNIST and LDS, Loughborough University that took part in our interview studies. This work was supported by the UNIST Creative Project Fund 1.150129.01.
About this article
Cite this article
Self, J.A., Evans, M., Jun, T. et al. Interdisciplinary: challenges and opportunities for design education. Int J Technol Des Educ 29, 843–876 (2019). https://doi.org/10.1007/s10798-018-9460-5
Accepted:

Published:

Issue Date:
Keywords
Design education

Interdisciplinary

Pedagogy

Learning experience

Industrial design

Product design