Abstract
Adolescents develop skills and ideas from their interest-driven practices, which shape a type of literacy that may differ from the traditional ideas of literacy. This paper takes a qualitative approach to identify adolescents' activities through interest-driven participatory design. We interacted with grade 9 students at a Western Canadian school who were designing games in a Career and Technology Studies classroom. We collected data through weekly observations, group presentations, written individual reflections on their own designs, oral and written group peer feedback, and final interviews with group members. Based on literature review and our observations, we drew on a framework focusing on adolescents' participation in exploring, developing, and creating designs based on their own interest. We advocate for adopting interest-driven participatory game design in technology classroom, to engage learners more in learning and developing necessary skills to thrive in their lives.
Access options
Buy single article
Instant access to the full article PDF.
USD 39.95
Price excludes VAT (USA)
Tax calculation will be finalised during checkout.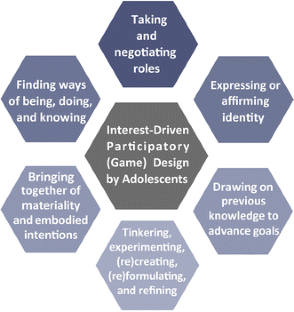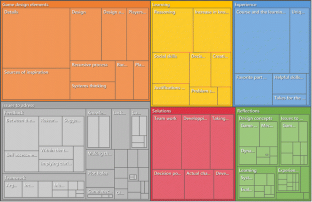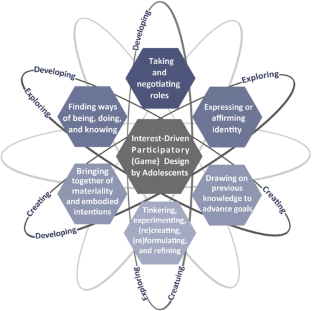 References
Bakhtin, M. M. (1986). Speech genres and other late essays. (C. Emerson & M. Holquist, Eds., V. W. McGee, Trans.) (Second Printing edition). Austin: University of Texas Press.

Bertrand, J. T., Brown, J. E., & Ward, V. M. (1992). Techniques for analyzing focus group data. Evaluation Review, 16(2), 198–209.

Boivin, N. (2008). Material cultures, material minds. Cambridge, MA: Cambridge University Press.

Brown, J. S., Collins, A., & Duguid, P. (1989). Situated cognition and the culture of learning. Educational Researcher, 18(1), 32–42.

Clark, A. (1991). Microcognition: Philosophy, cognitive science, and parallel distributed processing. Cambridge, MA: MIT Press.

Clark, A. (1993). Associative engines: Connectionism, concepts, and representational change. Cambridge, MA: MIT Press.

Clark, A. (1998). Being there: Putting brain, body, and world together again. Cambridge, MA: MIT press.

Cortés, C. E. (1991). Pluribus & unum: The quest for community amid diversity. Change: The Magazine of Higher Learning, 23(5), 8–13.

Csikszentmihalyi, M. (1990). Flow: The psychology of optimal experience. New York: Harper & Row.

Eisenkraft, A. (2010). Retrospective analysis of technological literacy of K-12 students in the USA. International Journal of Technology and Design Education, 20(3), 277–303.

Felicia, P., & Pitt, I. (2007). Evaluating the effect of personality on the design of educational games. In Proceedings of the 1st European conference on games-based learning (ECGBL).

Fields, D., Vasudevan, V., & Kafai, Y. B. (2015). The programmers' collective: fostering participatory culture by making music videos in a high school Scratch coding workshop. Interactive Learning Environments, 23(5), 613–633.

Fu, F. L., Su, R. C., & Yu, S. C. (2009). EGameFlow: A scale to measure learners' enjoyment of e-learning games. Computers & Education, 52(1), 101–112.

Galloway, A. R. (2006). Gaming: Essays on algorithmic culture (Vol. 18). Minneapolis: University of Minnesota Press.

Gee, J. P. (2005). Semiotic social spaces and affinity spaces: From the age of mythology to today's schools. In D. Barton & K. Tusting (Eds.), Beyond communities of practice: Language, power and social context (pp. 214–232). Cambridge, MA: Cambridge University Press.

Gee, J. P. (2008). Social linguistics and literacies: Ideology in discourses (3rd ed.). Oxon: Routledge.

Greenhow, C., & Robelia, B. (2009). Old communication, new literacies: Social network sites as social learning resources. Journal of Computer-Mediated Communication, 14(4), 1130–1161.

Greeno, J. G. (1997). On claims that answer the wrong questions. Educational Researcher, 26(1), 5–17.

Ito, M., Horst, H., Bittanti, M., Boyd, D., Herr-Stephenson, B., Lange, P. G., et al. (2008). Living and learning with new media: Summary of findings from the Digital Youth Project. Chicago: The John D. and Catherine T. MacArthur Foundation.

Jenkins, H., Purushotma, R., Weigel, M., Clinton, K., & Robison, A. J. (2009). Confronting the challenges of participatory culture: Media education for the 21st century. Cambridge, MA: MIT Press.

Kafai, Y. B. (2006). Playing and making games for learning: Instructionist and constructionist perspectives for game studies. Games and Culture, 1(1), 36–40.

Kafai, Y. B., Burke, Q., & Mote, C. (2012). What makes competitions fun to participate?: the role of audience for middle school game designers. In Proceedings of the 11th international conference on interaction design and children (pp. 284–287). ACM.

Kafai, Y. B., & Vasudevan, V. (2015). Constructionist gaming beyond the screen: Middle school students' crafting and computing of touchpads, board games, and controllers. In Proceedings of the workshop in primary and secondary computing education (pp. 49–54). ACM.

Kiili, K. (2005). Digital game-based learning: Towards an experiential gaming model. The Internet and Higher Education, 8(1), 13–24.

Kim, B., Bastani, R., & Baradaran, F. (2017). Affordances of learner's game design practices. In Selected proceedings of the IDEAS Conference 2017 Leading Educational Change (pp. 7–16). Calgary, Canada: University of Calgary.

Kim, B., Tan, L., & Bielaczyc, K. (2015). Learner-generated designs in participatory culture: What they are and how they are shaping learning. Interactive Learning Environments, 23(5), 545–555.

Maguire, M. (2001). Methods to support human-centred design. International Journal of Human-Computer Studies, 55(4), 587–634.

Mawson, W. B. (2013). Emergent technological literacy: what do children bring to school? International Journal of Technology and Design Education, 23(2), 443–453.

Merchant, G., & Carrington, V. (2009). Literacy and identity. Literacy, 43(2), 63–64.

Peppler, K., Warschauer, M., & Diazgranados, A. (2010). Game critics: Exploring the role of critique in game-design literacies. E-learning and Digital Media, 7(1), 35–48.

Resnick, M. (2007). All I really need to know (about creative thinking) I learned (by studying how children learn) in kindergarten. In Proceedings of the 6th ACM SIGCHI conference on creativity & cognition (pp. 1–6). New York, NY: ACM.

Ricci, K. E. (1994). The use of computer-based videogames in knowledge acquisition and retention. Journal of Interactive Instruction Development, 7(1), 17–22.

Richard, G. T., & Kafai, Y. B. (2015). Making physical and digital games with e-textiles: a workshop for youth making responsive wearable games and controllers. In Proceedings of the 14th international conference on interaction design and children (pp. 399–402). ACM.

Tan, L., & Kim, B. (2015). Learning by doing in the digital media age. In T. Lin, V. Chen & C. S. Chai (Eds.), New media and learning in the 21st century (pp. 181–197). Singapore: Springer.

Virvou, M., Katsionis, G., & Manos, K. (2005). Combining software games with education: Evaluation of its educational effectiveness. Educational Technology & Society, 8(2), 54–65.

Walsh, C. (2010). Systems-based literacy practices: Digital games research, gameplay and design. Australian Journal of Language and Literacy, 33(1), 24.

Wenger, E. (2008). Identity in practice. In K. Hall, P. Murphy, & J. Soler (Eds.), Pedagogy and practice: Culture and identities (pp. 105–114). Los Angeles, CA: Sage.

Wijers, M., Jonker, V., & Kerstens, K. (2008). MobileMath: The phone, the game and the math. In Proceedings of the European conference on game based learning, Barcelona (pp. 507–516).

Zimmerman, E. (2009). Gaming literacy: Game design as a model for literacy in the twenty-first century. The Video Game Theory Reader, 2, 23–31.
Funding
Funding was provided by Partner Research Schools Initiative of the Werklund School of Education at the University of Calgary.
Appendix
Appendix
Final interview with students (protocol and questions)
Good morning (afternoon). Thank you for coming. The purpose of this interview is to learn about your experience of designing games with your friends and what you learned from it. There are no right or wrong or desirable or undesirable answers. I would like you to feel comfortable with saying what you really think and how you really feel.
If it is okay with you, I will be video and audio-recording our conversation. The purpose of this is so that I can get all the details but at the same time be able to carry on an attentive conversation with you. I assure you that all your comments will remain confidential. I will be compiling a report, which will contain all of your comments using pseudonyms. I would also like to let you know that I am not an expert in this subject, so I might need to slow you down and ask you to explain a bit more when you talk about what you learned in your lessons. Before we start, perhaps it would be helpful if we introduce each other. You can say your pseudonym if you prefer.
I would like to ask you about your experience of game design project. First, I would like you to write down five or more words on the paper provided, which you may use when explaining what you learned by doing this project. Words can be concepts, skills, relationships, or any other things that you imagine. I will give you 1 min.
So, what we will do is that we will start with one person with one word, talk about it, and others who have the same word or a different word but with a similar intention can talk about them. We will discuss what those ideas mean to us and how we learned them. We will continue with another word after that.
Let's start with the first word from you (refer to one of the students). Tell me about the word, and why you thought about it.
Possible probing questions
Game design literacies and learning:
What challenges did you have with the project?

How did your game design evolve and why?

How did you decide on these mechanics and what research did you have to do to create this design?

What are the things that you would like to do more in the future on your own or with your friends based on this project?
Classroom culture:
What did you learn about your teachers and your friends? Tell me about specific incidents that you remember

How do you feel about this type of learning?
Reflective assessment practices:
What kinds of feedback you received and gave and how did it help you and your friends?

(Showing artifacts that show game design change) What made you make these changes?
About this article
Cite this article
Baradaran Rahimi, F., Kim, B. The role of interest-driven participatory game design: considering design literacy within a technology classroom. Int J Technol Des Educ 29, 387–404 (2019). https://doi.org/10.1007/s10798-018-9451-6
Accepted:

Published:

Issue Date:

DOI: https://doi.org/10.1007/s10798-018-9451-6
Keywords
Interest-driven practices

Participatory design

Technology education

Game design