Abstract
Early childhood is a critical period for introducing girls to traditionally masculine fields of science and technology before more extreme gender stereotypes surface in later years. This study looks at the TangibleK Robotics Program in order to determine whether kindergarten boys and girls were equally successful in a series of building and programming tasks. The TangibleK Program consisted of a six lesson robotics and programming curriculum that was implemented in three different kindergarten classrooms (N = 53 students). Although previous research has found that males outperform females in robotics and programming related fields, it was hypothesized that the young age of participants and their limited cultural indoctrination regarding gender stereotypes would allow boys and girls to have equal success in this program. Although boys had a higher mean score than girls on more than half of the tasks, very few of these differences were statistically significant. Boys scored significantly higher than girls only in two areas: properly attaching robotic materials, and programming using Ifs. Overall, both boys and girls were able to successfully complete the program.
This is a preview of subscription content, log in to check access.
Access options
Buy single article
Instant access to the full article PDF.
US$ 39.95
Tax calculation will be finalised during checkout.
Subscribe to journal
Immediate online access to all issues from 2019. Subscription will auto renew annually.
US$ 99
Tax calculation will be finalised during checkout.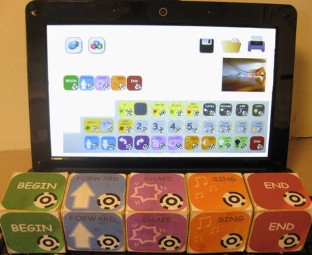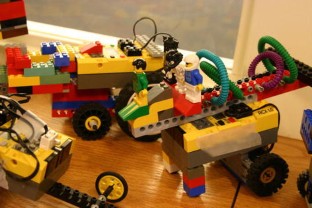 References
AAUW. (2010). Women and girls in science, technology,engineering, and mathematics. In C. Hill, C. Corbett, & A. St. Rose (Eds.), Why so few women in science, technology, engineering, and mathematics. Washington, DC: AAUW.

Bers, M. U. (2008). Blocks, robots and computers: Learning about technology in early childhood. New York: Teacher's College Press.

Bers, M. U. (2010). The TangibleK robotics program: Applied computational thinking for young children. Early Childhood Research & Practice, 12(2). Retrieved from http://ecrp.uiuc.edu/v12n2/bers.html.

Bers, M. U., & Horn, M. S. (2010). Tangible programming in early childhood: Revisiting developmental assumptions through new technologies. In I. R. Berson & M. J. Berson (Eds.), High-tech tots: Childhood in a digital world (pp. 49–70). Greenwich, CT: Information Age Publishing.

Bers, M., Ponte, I., Juelich, K., Viera, A., & Schenker, J. (2002). Teachers as designers: Integrating robotics in early childhood education. Information Technology in Childhood Education, AACE 123–145.

Cejka, E., Rogers, C., & Portsmore, M. (2006). Kindergarten robotics: using robotics to motivate math, science, and engineering literacy in elementary school. International Journal of Engineering Education, 22(4), 711–722.

Horn, M., Bers, M., & Jacob, R. (2009). Tangible programming in education: A research approach. Presented at CHI'09, April 2009, Boston, MA.

Horn, M. S., Crouser, R. J., & Bers, M. U. (2011). Tangible interaction and learning: The case for a hybrid approach. [Special Issue on Tangibles and Children] Personal and Ubiquitous Computing, 16(4), 379–389.

Madill, H., Campbell, R. G., Cullen, D. M., Armour, M. A., Einsiedel, A. A., Ciccocioppo, A. L., et al. (2007). Developing career commitment in STEM-related fields: myth versus reality. In R. J. Burke, M. C. Mattis, & E. Elgar (Eds.), Women and minorities in science, technology, engineering and mathematics: Upping the numbers (pp. 210–244). Northhampton, MA: Edward Elgar Publishing.

Markert, L. R. (1996). Gender related to success in science and technology. The Journal of Technology Studies, 22(2), 21–29.

Martin, C. L., Wood, C. H., & Little, J. K. (1990). The development of gender stereotype components. Child Development, 61, 1891–1904.

Metz, S. S. (2007). Attracting the engineering of 2020 today. In R. Burke & M. Mattis (Eds.), Women and minorities in science, technology, engineering and mathematics: Upping the numbers (pp. 184–209). Northampton, MA: Edward Elgar Publishing.

Milto, E., Rogers, C., & Portsmore, E. (2002). In ASEE/IEEE frontiers in education conference.

National Center for Women and Technology. (2011). Women and information technology by the numbers. Fact sheet. Available at: http://www.ncwit.org/pdf/BytheNumbers09.pdf Accessed December 5, 2011.

Nourbakhsh, I., Hammer, E., Crowley, K., & Wilkinson, K (2004). Formal measures of learning in a secondary school mobilerobotics contest. In IEEE international conference on robotics and automation (ICRA).

Papert, S. (1993). The Children's machine: rethinking school in the age of the computer. New York: Basic Books.

Perlman, R. (1976). Using computer technology to provide a creative learning environment for preschool children. Logo memo no 24, Cambridge, MA: MIT Artificial Intelligence Laboratory Publications, 260 pp.

Shapiro, J., & Williams, A. (2011). The role of stereotype threats in undermining girls' and women's performance and interest in STEM fields. Sex Roles. New York: Springer.

Spencer, S., Steele, C., & Quinn, D. (1998). Stereotype threat and women's math performance. Journal of Experimental Social Psychology, 35, 4–28.

Steele, C. M. (1997). A threat in the air: How stereotypes shape intellectual identity and performance. American Psychologist, 52, 613–629.

Yelland, N. (1993). Young children learning with LOGO: An analysis of strategies and interactions. Journal of Educational Computing Research, 9(4):465–486.
Acknowledgments
This research was funded by the National Science Foundation (NSF Grant DRL-0735657 and NSF Career award IIS-0447166). Any opinions, findings, and conclusions or recommendations expressed in this article are those of the authors and do not necessarily reflect the views of the National Science Foundation. The authors would like to extend many thanks to the wonderful and creative teachers who used our curriculum in their classrooms for this study: Jared Matas, Catherine Tighe, and Mary Beth Morgan; to their principals for embracing a new venture into classroom technology; and to the Tufts graduate and undergraduate students who assisted in the classrooms. We also thank members of the Tufts community for their involvement: former student and now Northwestern University professor Mike Horn, for developing TERN during his PhD work; Jordan Crouser and David Kiger for their work on CHERP; and professors Robert Jacob, from the Human–Computer Interaction Laboratory, and Chris Rogers, from the Center for Engineering Education Outreach.
About this article
Cite this article
Sullivan, A., Bers, M.U. Gender differences in kindergarteners' robotics and programming achievement. Int J Technol Des Educ 23, 691–702 (2013). https://doi.org/10.1007/s10798-012-9210-z
Keywords
Early childhood

Gender differences

Stereotypes

Robotics

Computer programming-Powerful ideas

STEM fields