Abstract
Professional athletes are both highly paid and highly mobile workers. Previous research has shown that athletes respond to state income taxes differentials through bargaining and migration. If athletes are compensated for state tax burden, teams located in higher taxed states may be at a competitive disadvantage. I examine the effect of state income taxes on professional sports team performance. Using within-team variation in state top marginal income tax rates, I show that, only after the availability of free agency, did state income tax increases lower team winning percentages. I find that for each percentage point increase in state income tax rates, team winning declines by 0.70 percentage points.
Access options
Buy single article
Instant access to the full article PDF.
US$ 39.95
Tax calculation will be finalised during checkout.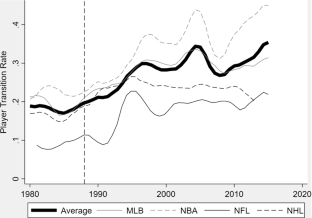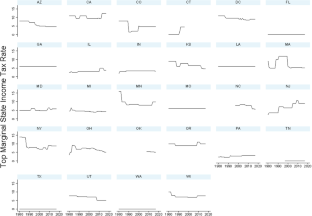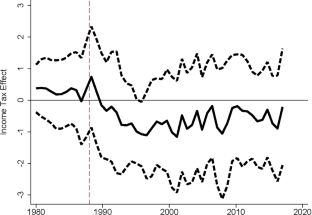 Notes
1.

2.

Technically, Moretti and Wilson (2017) utilize the average tax rate of an earner in the 99th percentile as opposed to the top marginal tax rate, but note that these two measures well approximate each other. Similar to my empirical strategy, the main specification in Moretti and Wilson (2017) does not consider sales and property tax burden in the location decision, although robustness checks confirm that inclusion of sales and property tax rates do not affect results.

3.

While all leagues currently allow unrestricted free agency, each league has its own rules governing which players are eligible for free agency. Unrestricted free agency is typically earned after several years of play.

4.

Both the NBA and the NHL play 82-game seasons. MLB plays a 162-game season, and the NFL plays a 16-game season. Full sample tax rate standard deviation is 3.58.

5.

Note that unrestricted free agency is typically only available to players after an initial, restricted rookie contract is completed.

6.

The NHL uses a points system instead of wins and losses, so winning percentage for NHL teams is derived by taking each team's season points and dividing them by the NHL average points for the year. The NHL awards two points for a win, one point for an overtime loss, and one point for a tie.

7.

The standard deviation of 15.66 sets the NBA as a benchmark. The MLB win percentage standard deviation is 7.1, the NHL is 20.7, and the NFL is 19.5.

8.

Beginning in 1980 allows inclusion of teams from both the ABA-NBA and the NHL-WHA mergers.

9.

Prior work in NFL free agency effects such as Lee (2010), Leeds and Kowalewski (2001), and Larsen et al. (2006) similarly focus on 1993. Zimbalist (2002) cites 1995 as the first year of unrestricted free agency in the NHL. MLB unrestricted free agency officially began in 1976. I use 1988 due to collusion cases that were brought, and won, by players between 1985 and 1987. Tom Chambers became the first NBA free agent signing with the Phoenix Suns in 1988.

10.

Appendix Table 10 displays an analogous table using team-by-state fixed effects and standard errors. Results are quite similar to team fixed-effects model.

11.

12.

Specifically, for a married household earning $1,500,000.

13.

These now include the Las Vegas Raiders (2020), Las Vegas Knights (2017), Houston Texans (2002), Memphis Grizzlies (2000), Tampa Bay Rays (1998), Florida Marlins (1993), and Florida Panthers (1993).
References
Albouy, D. (2015). What are cities worth? Land rents, local productivity, and the total value of amenities. Review of Economics and Statistics, 98, 477–487.

Alm, J., Kaempfer, W. H., & Sennoga, E. B. (2011). Baseball salaries and income taxes: The "home field advantage'' of income taxes on free agent salaries. Journal of Sports Economics, 13, 619–634.

Bakija, J., & Slemrod, J. (2004). Do the rich flee from high state taxes? Evidence from federal estate tax returns. Technical Report, National Bureau of Economic Research.

Conway, K. S., & Rork, J. C. (2012). No country for old men (or women)—Do state tax policies drive away the elderly? National Tax Journal, 65(2), 313–356.

Desmet, K., & Rossi-Hansberg, E. (2013). Urban accounting and welfare. American Economic Review, 103(6), 2296–2327.

DiMascio, J. (2006). Jock tax: Fair play or unsportsmanlike conduct. The University of Pittsburgh Law Review, 68, 953.

Driessen, G. A., & Sheffrin, S. M. (2017). Agglomeration, tax differentials, and the mobility of professional athletes. Public Finance Review, 45(2), 283–302.

Fratto, K. (2007). The taxation of professional US athletes in both the United States and Canada. Sports Law Journal, 14, 29.

Green, R. E. (1998). The taxing profession of major league baseball: A comparative analysis of nonresident taxation. Sports Law Journal, 5, 273.

Hakes, J. K., & Sauer, R. D. (2006). An economic evaluation of the Moneyball hypothesis. Journal of Economic Perspectives, 20(3), 173–186.

Harberger, A. C. (1962). The incidence of the corporation income tax. Journal of Political economy, 70(3), 215–240.

Kleven, H. J., Landais, C., & Saez, E. (2013). Taxation and international migration of superstars: Evidence from the European football market. The American Economic Review, 103(5), 1892–1924.

Kopkin, N. (2012). Tax avoidance how income tax rates affect the labor migration decisions of NBA free agents. Journal of Sports Economics, 13(6), 571–602.

Larsen, A., Fenn, A. J., & Spenner, E. L. (2006). The impact of free agency and the salary cap on competitive balance in the National Football League. Journal of Sports Economics, 7(4), 374–390.

Lee, T., (2010). Competitive balance in the national football league after the 1993 collective bargaining agreement. Journal of Sports Economics, 11(1), 77–88.

Leeds, M. A., & Kowalewski, S. (2001). Winner take all in the NFL: The effect of the salary cap and free agency on the compensation of skill position players. Journal of Sports Economics, 2(3), 244–256.

McClure, C. E. (1970). Taxation, substitution, and industrial location. Journal of Political Economy, 78, 112–132.

Moretti, E., & Daniel, J. W. (2014). State incentives for innovation, star scientists and jobs: Evidence from biotech. Journal of Urban Economics, 79, 20–38.

Moretti, E., & Wilson, D. J. (2017). The effect of state taxes on the geographical location of top earners: Evidence from star scientists. American Economic Review, 107(7), 1858–1903.

Roback, J. (1982). Wages, rents, and the quality of life. The Journal of Political Economy, 90, 1257–1278.

Rosen, S. (1979). Wage-based indexes of urban quality of life. Current Issues in Urban Economics, 3, 74–104.

Ross, J. M., & Robert, R. D. (2007). The income tax responsiveness of the rich: Evidence from free agent major league baseball all-stars. Contemporary Economic Policy, 25(4), 639–648.

Wallace, S. (1993). The effects of state personal income tax differentials on wages. Regional Science and Urban Economics, 23(5), 611–628.

Young, C., & Varner, C. (2011). Millionaire migration and state taxation of top incomes: Evidence from a natural experiment. National Tax Journal, 64(2), 255.

Zimbalist, A. S. (2002). Competitive balance in sports leagues: An introduction. Journal of Sports Economics, 3, 111–121.

Zimbalist, A. (2010). Reflections on salary shares and salary caps. Journal of Sports Economics, 11(1), 17–28.
Acknowledgements
The author would like to thank the editor, two anonymous referees, experts at The Tax Institute at H&R Block and The Tax Foundation, and UIC seminar participants for valuable discussions, feedback, and suggestions.
Additional information
Publisher's Note
Springer Nature remains neutral with regard to jurisdictional claims in published maps and institutional affiliations.
About this article
Cite this article
Hembre, E. State income taxes and team performance. Int Tax Public Finance (2021). https://doi.org/10.1007/s10797-021-09685-y
Keywords
Income tax

Tax incidence

Mobility

Sports
JEL Classification