Abstract
Digital identity systems appear as part of the digital infrastructure that enables individuals to participate in society as digital citizens. This paper examines the implications of Estonia's e-residency, the transnational digital identity scheme implemented by the Estonian government in order to give non-residents of the country remote access to Estonia's digital infrastructure and e-services, for global digital citizenship. We explain the adoption of e-residency by analyzing how individual motives to apply for a digital identity are affected by both individual-level socio-demographic characteristics and macro-level characteristics measuring digital and economic development in applicant's country of origin. The findings suggest that individual motives to adopt e-residency vary depending on both the citizenship of applicants and the level of e-government development in the country of origin. Although attracting more citizens from digitally advanced countries, individual motives indicate that e-residency can compensate certain digital disadvantage to citizens of countries with lower levels of e-government development.
Access options
Buy single article
Instant access to the full article PDF.
USD 39.95
Price excludes VAT (USA)
Tax calculation will be finalised during checkout.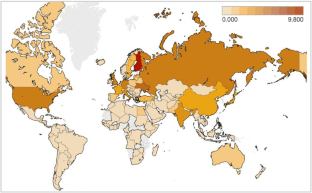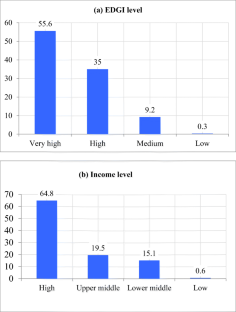 Notes
We consider "electronic" identity (eID) synonymously with "digital" identity as defined here.

Since the beginning of the programme in December 2014, declined applications have formed ca 1% of all applications of e-residency.

In both macro-level variables, the fourth category indicating "low level of e-government development" and "low income" is missing in the sample used for the regression analysis, as there were more than 100 applicants from the countries characterized by these categories.

The order of countries based on the number of applicants is slightly different in the sample used for the current study, especially regarding Russia, due to excluded applications that with omitted motives.
References
Aavik, G., & Krimmer, R. (2016). Integrating digital migrants: Solutions for cross-border identification from e-residency to eIDAS. A case study from Estonia. In H. Scholl et al. (Eds.), Electronic Government. EGOV 2016. Lecture Notes in Computer Science, 9820. https://doi.org/10.1007/978-3-319-44421-5_12.

Al-Khouri, A. M. (2014). Digital identity: Transforming GCC economies. Innovation, 16(2), 184–194.

Belanche, D., Casaló, L. V., & Flavián, C. (2014). The role of place identity in smart card adoption. Public Management Review, 16(8), 1205–1228.

Calzada, I. (2018). "Algorithmic nations": Seeing like a city-regional and techno-political conceptual assemblage. Regional Studies, Regional Science, 5(1), 267–289.

European Commission (2015). A Digital Single Market Strategy for Europe. COM (2015) 192. Brussels: European Commission. https://eur-lex.europa.eu/legal-content/EN/TXT/?uri=COM%3A2015%3A192%3AFIN. Accessed 12 February 2019.

Godoy, D.G.S., & Heal, A. (2016). Trade in the digital age: Can e-residency be an enabler for Asia-Pacific developing countries? Trade Insights Issue No 17. United Nations Economic and Social Commission for Asia and the Pacific. United Nations Trade, Investment and Innovation Division. https://www.unescap.org/publications/trade-digital-age-can-e-residency-be-enabler-asia-pacific-developing-countries-escap. Accessed 12 February 2019.

Goodstadt, L. F., Connolly, R., & Bannister, F. (2015). The Hong Kong e-identity card: Examining the reasons for its success when other cards continue to struggle. Information Systems Management, 32(1), 72–80.

Graham, M., De Sabbata, S., & Zook, M. A. (2015). Towards a study of information geographies: (Im)mutable augmentations and a mapping of the geographies of information. Geo: Geography and Environment, 2, 88–105.

Hackl, A. (2018). Mobility equity in a globalized world: Reducing inequalities in the sustainable development agenda. World Development, 112, 150–162.

Helbig, N., Gil-Garcia, J. R., & Ferro, E. (2009). Understanding the complexity of electronic government: Implications from the digital divide literature. Government Information Quarterly, 26, 89–97.

Hintz, A., Dencik, L., & Wahl-Jorgensen, K. (2019). Digital citizenship in a datafied society. Cambridge: Polity Press.

Isin, E., & Ruppert, E. (2015). Being digital citizens. London: Rowman & Littlefield International.

Kellerman, A. (2016). Daily spatial mobilities: physical and virtual. London: Routledge.

Kotka, T., Ivan Vargas Alvarez del Castillo, C., & Korjus, K. (2015). Estonian e-residency: redefining the nation-state in the digital era. Cyber Studies Programme Working Paper Series 3: 2015. University of Oxford. https://www.politics.ox.ac.uk/materials/publications/14883/workingpaperno3kotkavargaskorjus.pdf. Accessed 12 February 2019.

Kubicek, H., & Noack, T. (2010). Different countries-different paths extended comparison of the introduction of eIDs in eight European countries. Identity in the Information Society, 3(1), 235–245.

Lips, M. (2010). Rethinking citizen – government relationships in the age of digital identity: Insights from research. Information Polity, 15, 273–289.

Lips, A. M. B. (2013). Reconstructing, attributing and fixating citizen identities in digital-era government. Media, Culture & Society, 35(1), 61–70.

Lips, A. M. B., Taylor, J. A., & Organ, J. (2009). Identity management, administrative sorting and citizenship in new modes of government. Information, Communication & Society, 12(5), 715–734.

Martens, T. (2010). Electronic identity management in Estonia between market and state governance. Identity in the Information Society, 3(1), 213–233.

Martin, N. J., & Rice, J. L. (2010). Building better government IT: understanding community beliefs and attitudes toward smart card technologies. Behaviour & Information Technology, 29(4), 433–444.

Mossberger, K., Tolbert, C. J., & McNeal, R. S. (2008). Digital citizenship: The internet, society, and participation. Cambridge: MIT Press.

OECD (2011). Digital identity management: Enabling innovation and trust in the internet economy. OECD Publishing: OECD. http://www.oecd.org/sti/ieconomy/49338380.pdf. Accessed 12 February 2019.

OECD (2015). Developments in digital identity. DSTI/ICCP/REG (2015)12. Directorate for Science, Technology and Innovation Committee on Digital Economy Policy, OECD. https://one.oecd.org/document/DSTI/ICCP/REG(2015)12/en/pdf. Accessed 12 February 2019.

Pimenidis, E., & Savvas, I. (2007). E-identification technologies for e-government interoperability in the EU. International Journal of Electronic Security and Digital Forensics, 1(2), 169–179.

Regulation (EU) No 910/2014 of the European Parliament and of the Council of 23 July 2014 on electronic identification and trust services for electronic transactions in the internal market and repealing Directive 1999/93/EC. Official Journal of the European Union 257, 28.8.2014: 73–114. https://eur-lex.europa.eu/legal-content/EN/TXT/PDF/?uri=CELEX:32014R0910&rid=6 . Accessed 12 February 2019.

Rogers, E. M. (2003). Diffusion of innovations. New York: Free Press.

Seltsikas, P., & O'Keefe, R. M. (2010). Expectations and outcomes in electronic identity management: the role of trust and public value. European Journal of Information Systems, 19, 93–103.

Snijders, T. A. B., & Bosker, R. J. (2012). Multilevel analysis: An introduction to basic and advanced multilevel modeling. London: Sage.

Sullivan, C. (2011). Digital identity: An emergent legal concept. University of Adelaide: University of Adelaide Press.

Sullivan, C. (2016). Digital citizenship and the right to digital identity under international law. Computer Law & Security Review, 32, 474–481.

Sullivan, C. (2018). Digital identity – from emergent legal concept to new reality. Computer Law & Security Review, 34, 723–731.

Sullivan, C., & Burger, E. (2017). E-residency and blockchain. Computer Law & Security Review, 33, 470–481.

Taipale, S. (2013a). The use of e-government services and the Internet: The role of socio-demographic, economic and geographical predictors. Telecommunications Policy, 37, 413–422.

Taipale, S. (2013b). Mobilities in Finland's information society strategies from 1995 to 2006. Mobilities, 8(2), 293–311.

Tammpuu, P., & Masso, A. (2018). "Welcome to the virtual state": Estonian e-residency and the digitalized state as a commodity. European Journal of Cultural Studies, 21(5), 543–560.

United Nations (2016). E-government survey 2016: E-government in support of sustainable government. New York: United Nations Department of Economic and Social Affairs. https://publicadministration.un.org/egovkb/Portals/egovkb/Documents/un/2016-Survey/Executive%20Summary.pdf. Accessed 12 February 2019.

Vassil, K. (2015). Estonian e-government ecosystem: Foundation, applications, outcomes. Washington DC: The World Bank Group. http://pubdocs.worldbank.org/en/165711456838073531/WDR16-BP-Estonian-eGov-ecosystem-Vassil.pdf. Accessed 12 February 2019.

Vivienne, S., McCosker, A., & Johns, A. (2016). Digital citizenship as fluid interface. Between control, contest and culture. In A. McCosker, S. Vivienne, & A. Johns (Eds.), Negotiating digital citizenship: Control, contest and culture (pp. 1–17). London: Rowman & Littlefield International.

Warf, B. (2014a). Asian geographies of e-government. Eurasian Geography and Economics, 55(1), 94–110.

Warf, B. (2014b). Geographies of e-government in Latin America and the Caribbean. Journal of Latin American Geography, 13(1), 169–185.

World Bank Group. (2016). World development report 2016: Digital dividends. Washington DC: The World Bank Group http://www.worldbank.org/en/publication/wdr2016. Accessed 12 February 2019.

World Bank Group (2017). ID4D identification for development. 2017 annual report. Washington DC: The World Bank Group. http://pubdocs.worldbank.org/en/561391513609113984/2017-ID4D-Annual-Report.pdf. Accessed 12 February 2019.

World Economic Forum (2018). White paper on digital identity on the threshold of a digital identity revolution. http://www3.weforum.org/docs/White_Paper_Digital_Identity_Threshold_Digital_Identity_Revolution_report_2018.pdf. Accessed 12 February 2019.

Zhao, F., Collier, A., & Deng, H. (2014). A multidimensional and integrative approach to study global digital divide and e-government development. Information Technology & People, 27(1), 38–62.
Acknowledgements
The preparation of this article was supported by the grants from the Estonian Research Council (PUT1624, IUT 20-38) and by the developmental programme ASTRA of Tallinn University of Technology for years 2016-2022 (2014-2020.4.01.16-0032). The authors would like to thank Estonian Police and Border Guard Board for the cooperation in issuing the data for this research.
Additional information
Publisher's Note
Springer Nature remains neutral with regard to jurisdictional claims in published maps and institutional affiliations.
Appendix 1
Appendix 1
About this article
Cite this article
Tammpuu, P., Masso, A. Transnational Digital Identity as an Instrument for Global Digital Citizenship: The Case of Estonia's E-Residency. Inf Syst Front 21, 621–634 (2019). https://doi.org/10.1007/s10796-019-09908-y
Published:

Issue Date:

DOI: https://doi.org/10.1007/s10796-019-09908-y
Keywords
Digital identity

Digital citizenship

Virtual mobility

Digital inequality

E-government

E-residency