Abstract
This article explores how serious games improve knowledge and competencies management in the context of human resources management. The exploratory research, based on the conceptual framework of the SECI model from Nonaka, analyzes the performances of three serious games developed in 3 different financial companies, from France, USA and India. These three case studies will help to define a 7-step development process of a knowledge and competencies management serious game. The banking sector has interesting characteristics for this study, some of the associated knowledge being both very standardized and also highly heterogeneous. It will be shown that serious games contribute significantly to improve "socialization", "externalization", "combination", and "internalization" of knowledge and that they promote benchmarking throughout the company.
Access options
Buy single article
Instant access to the full article PDF.
USD 39.95
Price excludes VAT (USA)
Tax calculation will be finalised during checkout.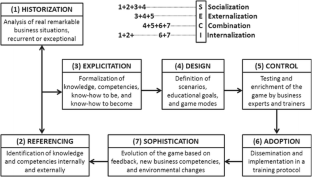 References
Aldrich, C. (2005). Learning by Doing: a Comprehensive Guide to Simulations, Computer Games, and Pedagogy in e-Learning and Educational Experiences. San Francisco: Wiley.

Alklind Taylor, A.-S., Backlund, P., & Niklasson, L. (2012). The Coaching Cycle: A coaching-by-Gaming approach in serious games. Simulation & Gaming, 43(5), 648–672.

Allal-Chérif, O. (2014). Using serious games to Recruit, integrate and train your employees: an exploratory study of practices. European Scientific Journal, May 2014, 1–15.

Allal-Chérif, O., & Makhlouf, M. (2015). Serious games and their use in HRM: A typology of uses in CAC40 companies. In (HICSS), 48th Hawaii International Conference on System Sciences, Kauai (pp. 652–661), IEEE Computer Society.

Allard-Poesi, F., & Maréchal, G. (2014). Construction de l'objet de la recherche. Méthodes de recherche en management, 48–76.

Alvarez, J., & Djaouti, D. (2010). Introduction to serious game. Paris: Ludoscience.

Argote, L. (2014). Organizational Learning: Creating, Retaining and Transferring Knowledge (2nd ed.). Springer: New York.

Arokyamary, R. J., & Ramasesh, C. P. (2013). ICT skills and competencies of Engineering College Lis professionals in Karnataka: a perspective. SRELS Journal of information Management, 50(2), 209–218.

Azadegan, A., Riedel, J. C., & Hauge, J. B. (2012). Serious games adoption in corporate training. In Serious games development and applications (pp. 74–85). Springer: Berlin Heidelberg.

Bekebrede, G., & Mayer, I. (2006). Build your Seaport in a game and learn about complex systems. Journal of Design Research, 5(2), 273–298.

Bellotti, F., Bottino, R. M., Fernández-Manjón, B., & Nadolski, R. J. (2014). Guest Editorial: game based learning for 21st century transferable skills: challenges and Opportunities. Educational Technology & Society, 17(1), 1–2.

Breuer, J., & Bente, G. (2010). Why so serious? on the Relation of serious games and learning. Journal for Computer Game Culture, 4(1), 7–24.

Campbell, D. T., & Fiske, D. W. (1959). Convergent and discriminant validation by the multitrait-multimethod matrix. Psychological Bulletin, 41(2), 75–89.

Dalkir, K. (2005). Knowledge Management in Theory and Practice. Oxford: Elsevier.

De Gloria, A., Bellotti, F., & Berta, R. (2014). Serious Games for Education and Training. International Journal of Serious Games, 1(1), 1–15.

Derouin, R. E., Fritzsche, B. A., & Salas, E. (2005). E-learning in Organizations. Journal of Management, 31(6), 920–940.

Drew, S. (1999). Building knowledge management into strategy: making Sense of a new perspective. Long Range Planning, 32(1), 130–136.

Dochartaigh, N. Ó. (2002). The internet research handbook: A practical guide for students and researchers in the social sciences. London: Sage.

Dul, J., & Hak, T. (2007). Case study methodology in business research. Oxford: Routledge.

Eisenhardt, K. M. (1991). Better stories for better constructs: the case for rigor and comparative logic. The Academy of Management Review, 16(3), 620–627.

Garris, R., Ahlers, R., & Driskell, J. E. (2002). Games, motivation, and learning: a research and practice model. Simulation and Gaming, 33(4), 441–467.

Gourlay, S. (2006). Conceptualizing knowledge creation: A Critique of Nonaka's theory. Journal of Management Studies, 43(7), 1415–1436.

Gurvitch, G. (1962). Les études philosophiques. Dialectique et Sociologie, 17(4), 545–545.

Hamel, G., & Prahalad, C. K. (1990). Corporate imagination and expeditionary marketing. Harvard Business Review, 69(4), 81–92.

Hancock, D. R., & Algozzine, B. (2011). Doing Case Study Research: A Practical Guide for Beginning Researchers. New York: Teachers College Press.

Hlady-Rispal, M. (2000). Une stratégie de recherche en gestion: l'étude de cas. Revue Française de Gestion, 26(127), 61–70.

Jonsen, K., & Jehn, K. A. (2009). Using triangulation to Validate Themes in qualitative studies. Qualitative Research in Organizations and Management: An International Journal, 4(2), 123–150.

Joshi, M., Cahill, D., & Sidhu, J. (2010). Intellectual capital performance in the banking sector: an assessment of Australian owned banks. Journal of Human Resource Costing & Accounting, 14(2), 151–170.

Kosslyn, S. M., & Moulton, S. T. (2012). Mental Imagery and Implicit Memory. In K. D. Markman, W. M. P. Klein, & J. A. Suhr (Eds.), Handbook of Imagination and Mental Simulation. New York: Psychology Press.

Li, M., & Gao, F. (2003). Why Nonaka highlights tacit knowledge: a critical review. Journal of Knowledge Management, 7(4), 6–14.

Littlejohn, A., & Margaryan, A. (2014). Technology-Enhanced Professional Learning. In S. Billett, C. Harteis, & H. Gruber (Eds.), International Handbook of Research in Professional and Practice-based Learning, Chapter V. Netherlands: Springer Science.

Marne, B., Wisdom, J., Huynh-Kim-Bang, B., & Labat, J.-M. (2012). The Six Facets of Serious Game Design: A Methodology Enhanced by Our Design Pattern Library. In 21st Century Learning for 21st Century Skills, Lecture Notes on Computer Science (Vol. Vol. 7563). Berlin: Springer.

Mazeyanti, M. A., Nazleeni, S. H., & Mohd Izad, C. M. (2010). Using Computer game to share knowledge. In K. Elleithy et al. (Eds.), Technological Developments in Networking, Education and Automation (pp. 31–35). London: Springer.

Michel, H., Kreziak, D., & Héraud, J.-M. (2009). Evaluation de la performance des serious games pour l'apprentissage: Analyse du transfert de comportement des éleveurs virtuels de Vacheland. Système d'Information et Management, 14(4), 71–86.

Nonaka, I. (1991). The knowledge-creating company. Harvard Business Review, 69(6), 96–104.

Nonaka, I., & Takeuchi, H. (1995). The Knowledge-Creating Company: How Japanese Companies Create the Dynamics of Innovation. Oxford University Press USA.

Nonaka, I., & Takeuchi, H. (2011). The wise leader. Harvard Business Review, 89(5), 58–67.

Nonaka, I., & Toyama, R. (2003). The knowledge-creating theory revisited: knowledge creation as a synthesizing process. Knowledge management research & practice, 1(1), 2–10.

Nonaka, I., & von Krogh, G. (2009). Tacit knowledge and knowledge conversion: Controversy and advancement in organizational knowledge creation theory. Organization Science, 20(3), 635–652.

Oksanen, K., & Hämäläinen, R. (2014). Game Mechanics in the design of a collaborative 3D serious game. Simulation and Gaming, 45(2), 255–278.

Popescu, M. M., Romero, M., & Usart, M. (2013). Serious games for serious learning - using SG for business, management and Defense education. International Journal of Computer Science Research and Application, 3(1), 5–15.

Rice, J. L., & Rice, B. S. (2005). The applicability of the SECI model to multi-organisational endeavours: an integrative review. International Journal of Organisational Behaviour, 9(8), 671–682.

Ricks, J. M., Williams, J. A., & Weeks, W. A. (2008). Sales trainer roles, competencies, skills, and behaviors: A case study. Industrial Marketing Management, 37(5), 593–609.

Romero, M. (2013). Game based learning MOOC. Promoting entrepreneurship education. Elearning Papers. Special Edition MOOCs and Beyond, 33, 1–5.

Schulte, S., & Spöttl, G. (2015). Serious games as an approach for work process Oriented learning: Didactical Concepts and objectives for Competency development. In The International Conference on E-Learning in the Workplace 2015, June 10th–12th. New: York.

Schütt, P. (2003). The post-Nonaka knowledge management. J. UCS, 9(6), 451–462.

Sisler, V., Brom, C., & Slavik, R. (2011). Towards a Novel Paradigm for educational games: The augmented learning environment of "Europe 2045", In Lugmayr et al. (Eds) Media in the Ubiquitous Era: Ambient, Social and Gaming Media. Hershey: IGI Global.

Ulicsak, M. (2010). Games in Education: Serious Games, a Futurelab Literature Review. FutureLab.

Wacheux, F. (1996). Méthodes Qualitatives et recherche en gestion. Paris: Economica.

Wortley, D. (2014). The Future of Serious Games and Immersive Technologies and Their Impact on Society. In Y. Baek, R. Ko, & T. Marsh (Eds.), Trends and Applications of Serious Gaming and Social Media. Singapore: Springer.

Yin, R. (1994). Case study research: Design and methods. Beverly Hills, CA: Sage publishing.

Yin, R. K. (1981). The case study crisis: some answers. Administrative Science Quarterly, 26(1), 58–65.

Yin, R. K. (1993). Applications of case study research. Newbury Park: Sage.
About this article
Cite this article
Allal-Chérif, O., Bidan, M. & Makhlouf, M. Using serious games to manage knowledge and competencies: The seven-step development process. Inf Syst Front 18, 1153–1163 (2016). https://doi.org/10.1007/s10796-016-9649-7
Published:

Issue Date:

DOI: https://doi.org/10.1007/s10796-016-9649-7
Keywords
Serious game

Knowledge management

Competencies

SECI model

Banking sector

Case study