Abstract
Many business schools around the world offer courses to train their students in acquiring so called "soft skills", such as working in teams for decision making or sharing information to collaboratively solve complex problems. These courses often include learning activities where students are asked to generate ideas, discuss them, rank them and select the best ones. In order to develop their IT skills, students are often asked to take advantage of available IT technologies for supporting this task. If geographical location information is prominently used to provide context information about the ideas students propose and discuss, this activity can be classified as geo-collaborative. Free software available from the web has often been used to support this kind of work, like Google Maps, for geo-referencing the ideas, the text editor of Google Drive for describing them and Twitter or Facebook to exchange messages and comments. These applications are robust and suitable for use by large groups of students engaged in a situated learning activity. In the context of a learning activity taking place in a business school in Chile, the authors observed students for four semesters collaboratively using these tools to identify ways of improving life or solving problems in certain areas of the city which have to be georeferenced on a map. They had to generate proposals, discuss them and select the ten best. Through feedback provided by students, we identified problems regaring information overload, the lack of support for collaboration and unsatisfactory usability. From these findings we derived requirements for software especially designed to support this learning activity and have a tool that offers better usability. A prototype was developed to cope with these requirements. It was used for two semesters and evaluated under the same conditions when students used free and/or standard software. The experiment yielded positive results and gave us valuable insight on how to implement main features of a system supporting learning activities for large groups that includes decision making, blogging and geo-collaboration.
Access options
Buy single article
Instant access to the full article PDF.
USD 39.95
Price excludes VAT (USA)
Tax calculation will be finalised during checkout.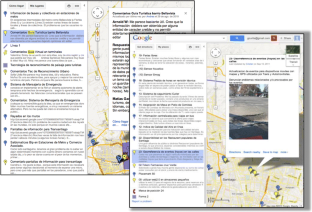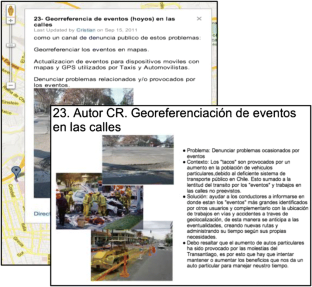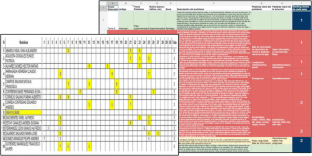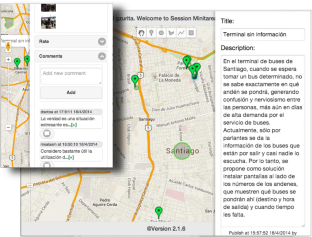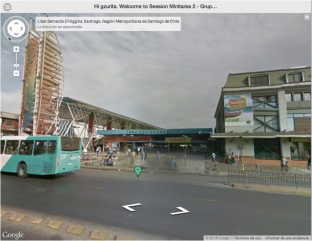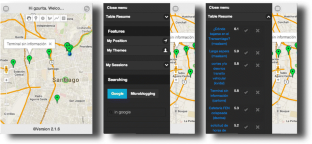 References
AACSB. (2014). Association to Advance Collegiate Schools of Business http://www.aacsb.edu/.

Altamirano, E., Nava, A., & Mojica, R. A. (2009). Microblogging en la Educación. Revista Digital Alternativa, 6(20), 33–41.

Antunes, P., Sapateiro, C., Zurita, G., & Baloian, N. (2010). Integrating spatial data and decision models in an e-planning tool. In Collaboration and Technology (pp. 97–112). Springer Berlin Heidelberg.

Antunes, P., Ferreira, A., Zurita, G., & Baloian, N. (2011). Analyzing the support for large group collaborations using Google maps. In Computer Supported Cooperative Work in Design (CSCWD), 2011 15th International Conference on (pp. 748–755). IEEE.

Benford, S. (2005). Future location-based experiences. JISC Technology and Standards Watch. Available at: http://www.jisc.ac.uk/techwatch.

Borau, K., Ullrich, C., Feng, J., & Shen, R. (2009). Microblogging for language learning: Using Twitter to train communicative and cultural competence. Advances in Web Based Learning–ICWL, 78–87.

Briggs, R., Vreede, G., & Nunamaker, J. (2003). Collaboration Engineering with ThinkLets to Pursue Sustained Success with Group Support Systems. Journal of Management Information Systems, 19(4), 31–64.

Brown, J., Collins, A., & Duguid, P. (1989). Situated Cognition and the Culture of Learning. Educational Researcher, 18, 32–42.

Cai, G. (2001). Extending Distributed GIS to Support Geo-Collaborative Crisis Management. Progress in Human Geography, 11(1), 4–14.

Capata, A., Marella, A., & Russo, R. (2008). A geo-based application for the management of mobile actors during crisis situations. Washington: Proceedings of the 5th International ISCRAM Conference.

Chen, Y., Kao, T., Sheu, J., & Chiang, C. (2002). A mobile scaffolding-aid-based bird -watching learning system. Paper presented at the Proceedings of IEEE International Workshop on Wireless and Mobile Technologies in Education.

Convertino, G., Zhao, D., Ganoe, C., Carroll, J., & Rosson, M. (2007). A Role-Based Multiple View Approach to Distributed Geo-Collaboration. Lecture Notes in Computer Science, 4553, 561–570.

Dede, C. (2010). Comparing frameworks for 21st century skills. 21st century skills: rethinking how students learn, 20, 51–76.

Driskell, J. E., & Salas, E. (2006). Groupware, group dynamics, and team performance. Washington, DC: American Psychological Association.

Drummond, A. (2010). Situated Learning and Assessment. Wiscounsin: Teaching and Learning Symposium UCD School of Public Health, Physiotherapy and Population Science.

Dunlap, J. C., & Lowenthal, P. R. (2009). Tweeting the night away: Using Twitter to enhance social presence. Journal of Information Systems Education, 20(2), 129–135.

Ebner, M., Lienhardt, C., Rohs, M., & Meyer, I. (2009). Microblogs in Higher Education-A chance to facilitate informal and process-oriented learning? Computers & Education, 55(1), 92–100.

Fonte, C. C., Bastin, L., See, L., Foody, G., & Lupia, F. (2015). Usability of VGI for validation of land cover maps. To appear in International Journal of Geographical Information Science.

Griffin, P., McGaw, B., & Care, E. (2012). Assessment and teaching of 21st century skills. Dordrecht: Springer.

Grosseck, G. (2009). To use or not to use web 2.0 in higher education? Procedia-Social and Behavioral Sciences, 1(1), 478–482.

Grosseck, G., & Holotesku, C. (2008). Can we use Twitter for educational activities. Bucharest: 4th international scientific conference, eLearning and software for education.

Hill, T. R., & Roldan, M. (2005). Toward third generation threaded discussions for mobile learning: opportunities and challenges for ubiquitous collaborative environments. Information Systems Frontiers, 7(1), 55–70.

Holotescu, C., & Grosseck, G. (2010). Learning to microblog and microblogging to learn. A case study on learning scenarios in a microblogging context. In Conference Proceedings of "eLearning and Software for Education" (eLSE) (No. 01, pp. 365–374).

Holtzblatt, K., Wendell, J. B., & Wood, S. (2004). Rapid contextual design: a how-to guide to key techniques for user-centered design. Elsevier.

Java, A., Song, X., Finin, T., & Tseng, B. (2007, August). Why we twitter: understanding microblogging usage and communities. In Proceedings of the 9th WebKDD and 1st SNA-KDD 2007 workshop on Web mining and social network analysis (pp. 56–65). ACM.

Junco, R., Heiberger, G., & Loken, E. (2011). The effect of Twitter on college student engagement and grades. Journal of Computer Assisted Learning, 27(2), 119–132.

Kaner, S. (1996). Facilitator's guide to participatory decision-making. Philadelphia: New Society Publishers.

Lave, J. (1993). The Practice of Learning (In S. Chaiklin, and Lave, J. (Ed.), Practice: Perspectives on Activity and Context). Cambridge: Cambridge University Press.

Lave, J., & Wenger, E. (1990). Situated learning: legitimate periperal participation. Cambridge, UK.

Lin, Y. T., Huang, Y. M., & Tan, Q. (2010). Location-based and knowledge-oriented microblogging for mobile learning--framework, architecture, and system. In Wireless, Mobile and Ubiquitous Technologies in Education (WMUTE), 2010 6th IEEE International Conference on (pp. 146–150). IEEE.

Lorna, U. (2007). Activity theory for designing mobile learning. International Journal of Mobile Learning and Organisation, 1(1), 81–102.

Luo, T., & Gao, F. (2012). Enhancing classroom learning experience by providing structures to microblogging-based activities. Journal of Information Technology Education: Innovations in Practice, 11(1), 199–211.

MacEachren, A. M., & Kraak, M.-J. (2001). Research challenges in geovisualization. Cartography and Geographic Information Science, 28(1), 3–12.

MacEachren, A., Brewer, I., Cai, G., & Chen, J. (2003). Visually enabled geocollaboration to support data exploration and decision-making (pp. 10–16). Durban: Proceedings of the 21st International Cartographic Conference.

MacEachren, A., Cai, G., Sharma, R., Rauschert, I., Brewer, I., Bolelli, L., & Wang, H. (2005). Enabling Collaborative Geoinformation Access and Decision Making through a Natural, Mulimodal Interface. International Journal of Geographical Information Science, 19, 293–317.

MacEachren, A., Guoray, C., Brewer, I., & Chen, J. (2006). Supporting Map-Based Geocollaboration through Natural Interfaces to Large-Screen Displays. Cartographic Perspectives, 54, 4–22.

Miles, M., & Huberman, A. (1994). Qualitative data analysis. Thousand Oaks, California: SAGE. Quacquarelli, N., Cambridge, M.A.

Mousannif, H., Khalil, I., & Kotsis, G. (2013). Collaborative Learning In the Clouds. Information Systems Frontiers, 15(2), 159–165.

Richards, D. (2015). Testing the waters: local users, sea level rise, and the productive usability of interactive geovisualizations. Communication Design Quarterly, pp 20.

Robinson, A. C., Chen, J., Lengerich, E. J., Meyer, H. G., & MacEachren, A. M. (2005). Combining usability techniques to design geovisualization tools for epidemiology. Cartography and Geographic Information Science, 32(4), 243–255.

Schafer, W., Ganoe, G., & Carroll, J. (2007). Supporting Community Emergency Management Planning through a Geocollaboration Software Architecture. Computer Supported Cooperative Work, 16(4–5), 501–537.

Shum, S. B., Cannavacciuolo, L., De Liddo, A., Iandoli, L., & Quinto, I. (2011). Using Social Network Analysis to Support Collective Decision-Making Process. International Journal of Decision Support System Technology (IJDSST), 3(2), 15–31.

Silva, M. J., Gomes, C., Brigas, C., Marcelino, M., Gouveia, C., & Ydreams, C. (2008). Children as authors of georeferenced multisensory information: towards the design of simulation and editing tools for an educational context. Proceedings of the ED-MEDIA, 2008, 1578–1586.

Silva, M. J., Gomes, C. A., Pestana, B., Lopes, J. C., Marcelino, M. J., Gouveia, C., & Fonseca, A. (2009). Adding space and senses to mobile world exploration. Boston: Morgan Kaufmann.

Slocum, T., Cliburn, D., Feddema, J., & Miller, J. (2003). Evaluating the usability of a tool for visualizing the uncertainty of the future global water balance. Cartography and Geographic Information Science, 30(4), 299–317.

Srivastava, S. K., & Tait, C. (2012). An activity-based learning approach for key geographical information systems (GIS) concepts. Journal of Geography in Higher Education, 36(4), 527–545.

Stepanyan, K., Borau, K., & Ullrich, C. (2010, July). A social network analysis perspective on student interaction within the Twitter microblogging environment. In Advanced Learning Technologies (ICALT), 2010 I.E. 10th International Conference on (pp. 70–72). IEEE.

Turban, E., Liang, T., & Wu, S. (2011). A framework for adopting collaboration 2.0 tools for virtual group decision making. Group Decision and Negotiation, 20(2), 137–154.

Van der Lelie, C. (2006). The value of storyboards in the product design process. Personal and Ubiquitous Computing, 10(2–3), 159–162.

Vygotsky, L. (1994). The Development of Academic Concepts in School Aged Children. In R. Veer & J. Valsiner (Eds.), The Vygotsky reader (pp. 335–370). Oxford: Blackwell.

Wong, S. (1994). Preference-based decision making for cooperative knowledge-based systems. ACM Transactions on Information Systems, 12(4), 407–435.

Zhao, D., & Rosson, M.B. (2009, May). How and why people Twitter: the role that micro-blogging plays in informal communication at work. In Proceedings of the ACM 2009 international conference on Supporting group work (pp. 243–252). ACM.

Zurita, G., & Baloian, N. (2010, April). Collaborative geo-referenced knowledge creation for designing and planning. In Computer Supported Cooperative Work in Design (CSCWD), 2010 14th International Conference on, Shanghai, China, (pp. 257–262). IEEE.

Zurita, G., & Baloian, N. (2012). Context, patterns and geo-collaboration to support situated learning. Ubiquitous Computing and Ambient Intelligence (pp. 503–511): Springer.

Zurita, G., Baloian, N., & Frez, J. (2014). Using the cloud to develop applications supporting geo-collaborative situated learning. Future Generation Computer Systems, 34, 124–137.
About this article
Cite this article
Baloian, N., Zurita, G. Achieving better usability of software supporting learning activities of large groups. Inf Syst Front 18, 125–144 (2016). https://doi.org/10.1007/s10796-015-9580-3
Published:

Issue Date:

DOI: https://doi.org/10.1007/s10796-015-9580-3
Keywords