Abstract
Disasters are dynamic, emergent scenarios involving diverse stakeholders in complex decision making and as such, disaster response systems must account for these conditions. We suggest that emergency service agencies should consider supplementing their traditional command and control approaches and common operating pictures (COP), with purposeful collaborative approaches. These would facilitate the generation of common operating pictures incorporating dynamic and emergent characteristics, providing a range of options with which to better respond to disasters. Collaborative management and negotiated integration of information represent a paradigmatic shift in our thinking about disaster response. We have utilized McCann's (1983) Social Problem Solving Negotiated Arrangements (SPS-NA) to highlight problems with conventional approaches during three disaster scenarios. As a result of lessons learned from this analysis we suggest that developing supplementary repertoires of collaboration would have a positive impact on improved COP for effective disaster response outcomes.
Access options
Buy single article
Instant access to the full article PDF.
US$ 39.95
Tax calculation will be finalised during checkout.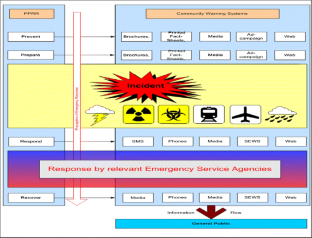 References
Betts, R. (2003) "The missing links in community warning systems: findings from two Victorian community warning information systems projects" The Australian Journal of Emergency Management Vol 18 No.3.

Blanchard-Boehm, R. D. (1998). Understanding public response to increased risk from natural hazards: application of the hazards risk communication framework". International Journal of Mass Emergencies and Disasters, 16(3), 247–248.

Bunker, D. & Smith, S. (2009) "Disaster Management and Community Warning (CW) Systems: Inter-Organizational Collaboration and ICT Innovation", Pacific Asia Conference on Information Systems, Hyderabad, India, 12th July 2009.

Bunker, D., Levine, L., & Woody, C. (2013). Repertoires of collaboration for disaster management: Negotiating emergent and dynamic systems success. In Y. K. Dwivedi, H. Z. Henriksen, D. Wastell, & R. De (Eds.), Grand successes and failures in IT. Public and private sectors (pp. 21–38). Heidelberg: Springer.

Davis, Tom (Chair). (2006) "A Failure of Initiative: Final Report of the Select Bipartisan Committee to Investigate the Preparation For and Response to Hurricane Katrina", U.S. House of Representatives, US Government Printing Office, 2006.

Ehnis C & Bunker D (2012) "Social Media in Disaster Response: Queensland Police Service - Public Engagement During the 2011 Floods", Australasian Conference on Information Systems ACIS 2012, Geelong, Australia, 5th December 2012

Greenberg, M. R., Lahr, M., & Mantell, N. (2007). Understanding the economic costs and benefits of catastrophes and their aftermath: a review and suggestions for the U.S. federal government". Risk Analysis, 27(1), 83–96.

Janssen, M., Lee, J., Bharosa, N., & Cresswell, A. (2010). "Advances in multi-agency disaster management: key elements in disaster research". Information Systems Frontiers, 12(1), 1–7.

Kean, Thomas (Chair). (2004). "The Complete Investigation: 9/11 Report with Commentary by The New York Times. National Commission on Terrorist Attacks Upon the United States". New York: St. Martin's Press. <An online reference without the commentary is available at http://www.9-11commission.gov/ >

Koenke, D., Bunker, D., & Wilson, D. (2014). Experiencing MIS 3rd edition. Sydney: Pearson Australia.

Kost, J., & Moyer, K. (2003). "Real time warnings to citizens" Gartner Advisory Group, Feb 13 http://intranet.vic.gov.au/xgov/gartner/GGV4.nsf

Levine, L., & Woody, C. (2010). "System of systems analysis of catastrophic events: A preliminary investigation of unprecedented scenarios" accepted to. Waltham: IEEE HST'10.

Maldonado, E., Maitland, C., & Tapia, A. (2010). "Collaborative systems development in disaster relief: the impact of multi-level governance". Information Systems Frontiers, 12(1), 9–27.

McCann, J. E. (1983). "Design guidelines for social problem-solving interventions,". Journal of Applied Behavioral Science, 19(2), 177–189.

Office of the Emergency Services Commissioner (OESC 2006) Community Information and Warning System, Department of Justice, Victorian Government.

Pang, V. and Bunker, D.J. (2005) "Development of a Framework to Examine the Collaborative Process in Inter-Organizational System Adoption" 2nd Annual Conference on IS/IT issues in Asia Pacific (ISAP) Las Vegas, December, pp 13–23.

Parliament of Victoria (2010) Victorian Bushfires Royal Commission Report – published July 2010.

Pauchant, T. C., Mitroff, I. I., & Ventolo, G. F. (1992). "The dial tone does not come from God ! How a crisis can challenge dangerous strategic assumptions made about high technologies: the case of the Hinsdale telecommunication outage". The Executive, 6(3), 66–79.

Pearson, C. M., & Clair, J. A. (1998). "Reframing crisis management". The Academy of Management Review, 23(1), 59–76.

Qumer Gill, A. (2012) NSW Land and Property Information EICU Reference Architecture 1.0 – presented as part of a larger Disaster Management Project, October 2012.

Qumer Gill, A., & Bunker, D. (2013). 'SaaS requirements engineering for agile development' in agile and lean service-oriented development. In W. Xiaofeng, A. Nour, R. Isidro, & V. Richard (Eds.), Foundations, theory and practice (pp. 64–93). Hershey: IGI Global Publishing.

Smith, S. and Bunker, D. (2008) "Community Warning Systems: An Information Process and ICT Architecture Approach for Emergency Incident Response" – Issues Paper prepared for the NSW Department of Commerce.
Acknowledgements
An earlier version of this submission was presented at IFIP WG 8.6 2013, please see Bunker et al. (2013) for full detail.
About this article
Cite this article
Bunker, D., Levine, L. & Woody, C. Repertoires of collaboration for common operating pictures of disasters and extreme events. Inf Syst Front 17, 51–65 (2015). https://doi.org/10.1007/s10796-014-9515-4
Keywords
Common operating pictures

Disaster response

Collaboration

Negotiated arrangements

Extreme events