Abstract
This paper analyzes the role of situational information as an antecedent of terrorists' opportunistic decision making in the volatile and extreme environment of the Mumbai terrorist attack. We especially focus on how Mumbai terrorists monitored and utilized situational information to mount attacks against civilians. Situational information which was broadcast through live media and Twitter contributed to the terrorists' decision making process and, as a result, increased the effectiveness of hand-held weapons to accomplish their terrorist goal. By utilizing a framework drawn from Situation Awareness (SA) theory, this paper aims to (1) analyze the content of Twitter postings of the Mumbai terror incident, (2) expose the vulnerabilities of Twitter as a participatory emergency reporting system in the terrorism context, and (3), based on the content analysis of Twitter postings, we suggest a conceptual framework for analyzing information control in the context of terrorism.
Access options
Buy single article
Instant access to the full article PDF.
US$ 39.95
Tax calculation will be finalised during checkout.
Subscribe to journal
Immediate online access to all issues from 2019. Subscription will auto renew annually.
US$ 79
Tax calculation will be finalised during checkout.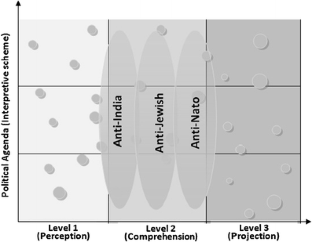 Notes
1.

A documentary of Mumbai terror shows how remote handlers in Pakistan controlled field attackers in Mumbai through satellite phone by monitoring live TV. The video is available at: http://www.liveleak.com/view?i=1e4_1246490858 (Last accessed November 12th, 2009).

2.

The URL is a link to Google map which indicates Nariman House under terrorist attack.

3.

ATS stands for Anti-Terror Squad
References
Anderson, A. (2003). Risk, terrorism, and the internet. Knowledge, Technology, & Policy, 16(2), 24–33.

Ariely, G. (2008). Chapter II: Knowledge mangement, terrorism, and cyber terrorism. In L. J. Janczewsk & A. M. Colarik (Eds.), Cyber warfare and cyber terrorism (pp. 7–25). New York: Yurchak Printing Inc.

Denning, D. E. (2009). Chapter 10: Terror's Web: How the Internet is Transforming Terrorism. In Y. Jewkes & M. Year (Eds.), Handbook on Internet Crime.Willan Publishing.

Endsley, M. R. (1995a). Toward a theory of situation awareness in dynamic systems. Human Factors, 37(1), 32–64.

Endsley, M. R. (1995b). Measurement of situation awareness in dynamic systems. Human Factors, 37(1), 65–84.

Gabarain, C. (2008). Twitter and the Sichuan earthquake: proving its value?. http://eapblog.worldbank.org/content/twitter-and-the-sichuan-earthquake-proving-its-value (Accessed Nov. 15th, 2009).

Gartner (2010). Gartner Reveals Five Social Software Predictions for 2010 and Beyond, http://www.gartner.com/it/page.jsp?id=1293114 (Accessed June 6th, 2010). http://www.contentious.com/2008/11/27/tracking-a-rumor-indian-government-twitter-and-common-sens/ (Accessed June 6th, 2010).

Haeni, R. E. (1997). Information Warfare—an Introduction. The George Washington University Cyberspace Policy Institute, January, pp. 1–16.

Hallin, D. (1993). The uncensored war. Peace Review, 51(1), 51–57.

Hutchinson, W. (2006). Information warfare and deception. Informing Science, 9, 213–223.

Indian Ministry of External Affairs. (2009). "Mumbai Terror Attacks - Dossier of Evidence," http://www.hindu.com/nic/dossier.htm (Accessed June 4th, 2010).

Khetan, A. (2009). 60 dark hours at Hotel Taj. In H. Baweja (Ed.), 26/11 Mumbai attacked (pp. 46–83). New Delhi: Roli Books.

Kievit, R. (2008). "Twitter messages feed major news channels," http://static.rnw.nl/migratie/www.radionetherlands.nl/features/media/081128-twitter-redirected (Accessed Nov. 9th, 2009).

Kishore, R., Agrawal, M., & Rao, H. R. (2004–2005). Determinants of sourcing during technology growth and maturity: an empirical study of e-commerce sourcing. Journal of Management Information Systems, 21(3), 47–82.

Krippendorff, K. (1980). Content analysis: An introduction to its methodology. CA: Sage.

Lee, W. E. (2002). Security 'review' and the first amendment. Harvard Journal of Law & Public Policy, 25(2), 743–763.

Lenhart, A., & Fox, S. (2009). Pew internet project data memo regarding Twitter and status updating. Pew/Internet.

McAfee, A. P. (2006). Enterprise 2.0: The dawn of emergent collaboration. MIT Sloan Management, Spring, pp. 20–28.

Meindl, J. R., Ehrlich, S. B., & Dukerich, J. M. (1985). The romance of leadership. Administrative Science Quarterly, 30(1), 78–102.

Mills, A., Chen, R., Lee, J., & Rao, H. R. (2009). Web 2.0 emergency applications: how useful can Twitter be. Journal of Information Privacy and Security, 5(3), 3–26.

Moore, D. W. (2009). Twenty-First Century Embedded Journalists: Lawful Target?. In A. M. Tulud, A. B. Ching & C. J. Strong (Eds.), The Armay Lawyer (pp. 1–32) Department of Army.

Nusca, A. (2009). "Twitter's active users grow 900% in one year," http://blogs.zdnet.com/BTL/?p=12919 (Accessed Nov. 10th, 2009).

Qin, J., Zhou, Y., Reid, E., Lai, G., & Chen, H. (2007). Analyzing terror campaigns on the internet: technical sophistication, content richness, and web interactivity. International Journal of Human Computer Studies, 65, 71–84.

Raman, B. (2009). "Mumbai terrorist attack - some aspects," http://globalpoliticsonline.com/wped/2009/01/17/mumbai-terrorist-attack-some-aspects/ (Accessed Nov. 15th, 2009).

Riley, D. (2008). "Report: Indian government trying to blck Twitter as terrorists may be reading it," http://www.inquisitr.com/9863/report-indian-government-trying-to-block-twitter-as-terrorists-may-be-reading-it/ (Accessed Nov. 9th, 2009).

Shachtman, N. (2008). "Spy Fears: Twitter Terrorists, Cell Phone Jihadists," http://www.wired.com/dangerroom/2008/10/terrorist-cell/ (Accessed June 4th, 2010).

Siegler, M. G. (2008). "Osama bin Twitter: Terrorists hone the micro-message," http://social.venturebeat.com/2008/10/26/osama-bin-twitter-terrorists-hone-the-micro-message/ (Accessed June 4th, 2010).

Strater, L. D., Endsley, M. R., Pleban, R. J., & Matthews, M. D. (2001). "Measures of platoon leader situation awareness in virtual decision-making exercise," US Army Research Institute for the Behavioral and Social Sciences.

Taipale, K. A. (2005). "Destabilizing Terrorist Networks: Disrupting and Manipulating Information Flows in the Global War on Terrorism," Yale ISP 2005 Global Flow of Information, Draft.

Tsfati, Y., & Weimann, G. (2002). www.terrorism.com: terror on the Internet. Studies in Conflict & Terrorism, 25, 317–332.

Tynan, D. (2009). "Twitter added to federal emergency response network," http://www.infoworld.com/d/adventures-in-it/twitter-added-federal-emergency-response-network-719 (Accessed Nov. 14th, 2009).

Wagner, M. (2007). "Google Maps and Twitter are essential information resource for California fires," www.informationweek.com/blog/main/archives/2007/10/google_maps_and.html (Accessed Nov. 14th, 2009).

Weimann, G. (2004). "www.terror.net: How Modern Terrorism Uses the Internet," Special Report, United States Institute of Peace (116), pp.1–12.
Acknowledgements
This research has been supported by NSF under grant 0926371 and IIS-0926376 and 0929775. The usual disclaimer applies. We thank Shruti Jain and Himanshu Maheshwari, for help with the content analysis.
About this article
Cite this article
Oh, O., Agrawal, M. & Rao, H.R. Information control and terrorism: Tracking the Mumbai terrorist attack through twitter. Inf Syst Front 13, 33–43 (2011). https://doi.org/10.1007/s10796-010-9275-8
Keywords
Mumbai terrorist attack

Twitter

Information control

Situation awareness