Abstract
Information intermediaries play a critical role in information supply chains for emergency preparedness. Yet, their responsibilities have not been adequately examined in the literature. Using a state public health department as an exemplar, we explore the roles and challenges experienced by one intermediary organization as it faced the unique challenges of deploying a public health emergency preparedness system. We further discuss the influence of stakeholder participation and commitment, inter-organizational collaboration, issues related to organizational structure and resources, and the challenges specific to developing and institutionalizing an IT system for emergency preparedness. Based on the public health case, a set of propositions focused on trust, coordination, information sharing and incentive alignment are developed to illustrate the role of information intermediaries.
Access options
Buy single article
Instant access to the full article PDF.
USD 39.95
Price excludes VAT (USA)
Tax calculation will be finalised during checkout.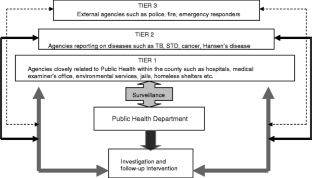 Notes
The SEIR model is a classic epidemiological model that captures the spread of an epidemic in a homogeneous population (Anderson and May 1982). This model describes four discrete states of an epidemic: Susceptible, Exposed, Infectious and Recovered. Infectious individuals spread the disease to the (non-immune) susceptible population. Those in the susceptible population to which the disease is transmitted become exposed and after a period of time, the incubation (or latent) period, they become infectious. Individuals remain infectious for a period of time, the infectious period, and then recover (with immunity).

Maricopa county represents 3.8 million of the 6.1 million population in the State of Arizona (2006 Census).
References
Anderson, R. M., & May, R. M. (1982). Directly transmitted infectious diseases: control by vaccination. Science, 215(4536), 1053–1060. doi:10.1126/science.7063839.

Bailey, J. P., & Bakos, Y. (1997). An exploratory study of the emerging role of information intermediaries. International Journal of Electronic Commerce, 1(3), 7–20.

Burton, O., & Ipe, M. (2007). Organizational adaptations in national security: the impact of bioterrorism on surveillance processes and resources. In H. Chen, T. S. Raghu, R. Ramesh, A. Vinze, & D. Zeng (Eds.), Handbooks in information systems: national security(2nd ed.). Boston, MA: Elsevier.

Chen, R., Sharman, R., Rao, R., & Upadhyaya, S. (2008). Coordination in emergency response management. Communications of the ACM, 51(5), 66–73. doi:10.1145/1342327.1342340.

Choudhury, V. (1997). Strategic choices in the development of interorganizational information systems. Information Systems Research, 8(1), 1–24. doi:10.1287/isre.8.1.1.

Choudhury, V., & Sampler, J. L. (1997). Information specificity and environmental scanning: an economic perspective. MIS Quarterly, 21(1), 25–53. doi:10.2307/249741.

Christiaanse, E., & Venkatraman, N. (2002). Beyond saber: an empirical test of expertise exploitation in electronic channels. MIS Quarterly, 26(1), 15–38. doi:10.2307/4132339.

Ewusi-Mensah, K., & Przasnyski, Z. H. (1991). On information systems project abandonment: an exploratory study of organizational practices. MIS Quarterly, 15(1), 67–88. doi:10.2307/249437.

General Accounting Office (2004). Bioterrorism: information technology strategy could strengthen federal agencies' ability to respond to public health emergencies. Washington, DC: United States Government Printing Office.

Grossman, S. J. (1981). An introduction to the theory of rational expectations under asymmetric information. Strategic Management Journal, 25, 1155–1178.

Grover, V. (1993). An empirically derived model for the adoption of customer-based interorganizational information systems. Decision Sciences, 24(3), 603–640. doi:10.1111/j.1540-5915.1993.tb01295.x.

Grover, V., Lederer, A. L., & Sabherwal, R. (1988). Recognizing the politics of MIS. Information & Management, 14(3), 145–156. doi:10.1016/0378-7206(88)90005-5.

Kambil, A., & van Heck, E. (1998). Reengineering the Dutch flower auctions: a framework for analyzing exchange organizations. Information Systems Research, 9(1), 1–19. doi:10.1287/isre.9.1.1.

Kanter, R. M. (1994). Collaborative advantage: successful partnerships manage the relationships, not just the deal. Harvard Business Review, 72, 98–108.

Janssen, M., & Sol, H. G. (2000). Evaluating the role of intermediaries in the electronic value chain. Internet Research, 10(5), 406. doi:10.1108/10662240010349417.

Janssen, M., & Verbraeck, A. (2005). Evaluating the information architecture of an electronic intermediary. Journal of Organizational Computing and Electronic Commerce, 15(1), 35–60. doi:10.1207/s15327744joce1501_3.

Lichtenstein, S. P., Slovic, B., & Fischhoff, B. (1978). Judged frequency of lethal events. Journal of Experimental Psychology. Human Learning and Memory, 4(6), 551–578. doi:10.1037/0278-7393.4.6.551.

Lyytinen, K., & Hirschheim, R. (1987). Information system failures. Oxford Surveys in Information Technology, 4, 257–309.

Malone, T. W., Yates, J., & Benjamin, R. I. (1987). Electronic market and electronic hierarchies. Communications of the ACM, 30(6), 484–497. doi:10.1145/214762.214766.

March, J. G., & Simon, H. A. (1958). Organizations. New York, NY: Wiley.

Nelson, K. E., Williams, C. M., & Graham, N. M. H. (2005). Infectious disease epidemiology: theory and practice. Boston, MA: Jones and Bartlett.

Ramnath, A. M., Paul, R. J., & Macredie, R. (1998). Understanding IOS development. European Conference on IS'98, 4, 179–194.

Rasmusen, E. (2001). Games and information: an introduction to game theory. Malden, MA: Blackwell.

Resnick, P., Zeckhauser, R., & Avery, C. (1995). Roles for electronic brokers. In G. W. Brock (Ed.), Toward a competitive telecommunications industry: selected papers from the 1994 telecommunications policy research conference (pp. 289–306). Mahwah, NJ: Earlbaum.

Smith, K. G., Grimm, C. M., & Gannon, M. J. (1992). Dynamics of competitive strategy. Newbury Park, CA: Sage.

Weber, M. (1987). Decision making with incomplete information. European Journal of Operational Research, 28, 44–57. doi:10.1016/0377-2217(87)90168-8.

Weill, P., & Olson, M. H. (1989). Managing investments in IT: mini case studies and examples. MIS Quarterly, 13(1), 3–17. doi:10.2307/248694.
About this article
Cite this article
Ipe, M., Raghu, T.S. & Vinze, A. Information intermediaries for emergency preparedness and response: A case study from public health. Inf Syst Front 12, 67–79 (2010). https://doi.org/10.1007/s10796-009-9162-3
Published:

Issue Date:

DOI: https://doi.org/10.1007/s10796-009-9162-3
Keywords