Abstract
Purpose
To measure the changes of macular microcirculation in cases with unilateral acute primary angle closure (APAC) who were managed by phacoemulsification.
Methods
Patients with unilateral APAC and managed by phacoemulsification were enrolled. The contralateral unaffected eyes were served as fellow group, and normal individuals were recruited as control group. Optical coherence tomography angiography (OCT-A) was performed to analyze the macular whole image vessel density (wiVD) and parafoveal vessel density (pfVD). The retinal nerve fiber layer (RNFL) and ganglion cell complex (GCC) thicknesses were assessed using spectral-domain optical coherence tomography.
Results
A total of 36 APAC patients and 35 eyes from 35 normal individuals were recruited. In the APAC eyes, the mean wiVD (42.1% ± 3.7%) and pfVD (45.2% ± 3.8%) in the superficial layers (wiVD-SL and pfVD-SL) were both significantly reduced, compared to fellow eyes (45.7% ± 3.1%, 48.7% ± 3.1%) and control eyes (44.4% ± 4.7%, 47.4% ± 5.1%) (P < 0.05). They were all statistically correlated with RNFL, GCC, visual field pattern standard deviation (PSD), and mean deviation (MD).
Conclusion
The macular OCT-A parameters including wiVD-SL and pfVD-SL were significantly reduced in the eyes with APAC compared to the fellow unaffected eyes and normal control eyes. They were correlated well with RNFL, GCC, PSD and MD. The macular vessel density parameters may help monitor the progression of APAC.
Access options
Buy single article
Instant access to the full article PDF.
USD 39.95
Price excludes VAT (USA)
Tax calculation will be finalised during checkout.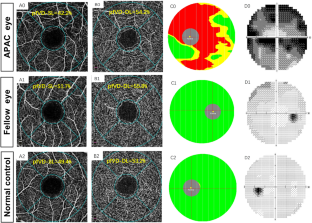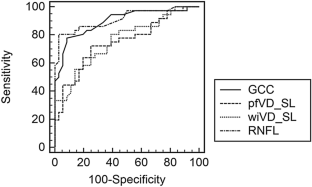 Data availability
The datasets used in this study are available from the corresponding author on reasonable request.
Funding
The study was supported by the Research Initiation Project of the Eye Hospital, School of Ophthalmology and Optometry, Wenzhou Medical University and Nature and Science Foundation of Zhejiang Province. (Grant No. KYQD202001; Grant No. LQ19H120002).
Ethics declarations
Conflicts of interest
Fu L, None; Chan YK, None; Fang J, None; Liu JB, None; Wen SM, None; Shen LJ, None; Wang J, None; Yu GS, None; Nie L, None.
Ethical approval
This study was in accordance with the tenets of the Declaration of Helsinki and approved by the Institutional Review Board of Eye hospital, Wenzhou Medical University.
Informed consent
Informed consents were obtained from all participants. They signed the informed consents and agreed to publish their data and photographs.
Additional information
Publisher's Note
Springer Nature remains neutral with regard to jurisdictional claims in published maps and institutional affiliations.
About this article
Cite this article
Fu, L., Chan, Y.K., Fang, J. et al. Optical coherence tomography angiography of the macular microcirculation in acute primary angle closure treated with phacoemulsification. Int Ophthalmol 42, 1781–1788 (2022). https://doi.org/10.1007/s10792-021-02175-4
Received:

Accepted:

Published:

Issue Date:

DOI: https://doi.org/10.1007/s10792-021-02175-4
Keywords