Abstract
Purpose
To identify novel tumor-specific features of ossification by using multispectral imaging (MSI) in patients diagnosed with choroidal osteoma.
Methods
Six eyes of 5 patients previously diagnosed with choroidal osteoma by ocular ultrasonography and orbital computerized tomography were observed with multispectral imaging (MSI). Traditional multimodal imaging, including color fundus photograph (CFP) and enhanced depth-imaging-optical coherence tomography (EDI-OCT), fundus autofluorescence (FAF), indocyanine green angiography/fundus fluorescein angiography (ICGA/FFA), was performed. Osseous features detected by MSI such as calcification and decalcification were characterized and compared with other imaging modalities.
Results
In all 3 eyes with calcified choroidal osteoma (100%), MSI featured by the homogeneous reflectance in 550 nm but the beehive appearance in 600–680 nm and homogenous hyper-reflectance in 780–850 nm', indicating the compact bone in the outer layers and bone trabecula in the middle layer (Sandwich sign). The pigmentary change showed high agreement between MSI and FAF. In other 3 eyes with extensive decalcification, MSI was able to differentiate the inactive portion of the osteoma from the decalcified area. The inactive portion was characterized by geographic hyper-reflective islands with higher reflectivity border (floating island sign). Decalcified portion was featured by increased definition and reflectivity from osteoma. Partial decalcification and total decalcification can be differentiated in one decalcifying eye (33.3%). MSI revealed better the presence and border of the osteoma compared with FFA, FAF and MC (100%) in all six eyes in our study.
Conclusions
MSI presented characteristic osseous-related features of choroidal osteoma, providing clear evidence for differentiating osteoblastic and osteoclastic regions and noncalcifying regions. It can contribute to en-face visualization of choroidal osteomas at different stages, providing new insight into the spectrum behavior of CO.
This is a preview of subscription content, log in to check access.
Access options
Buy single article
Instant access to the full article PDF.
US$ 39.95
Price includes VAT for USA
Subscribe to journal
Immediate online access to all issues from 2019. Subscription will auto renew annually.
US$ 99
This is the net price. Taxes to be calculated in checkout.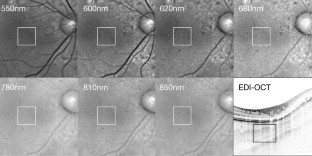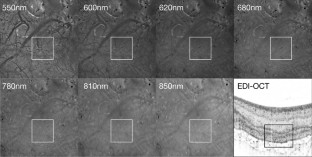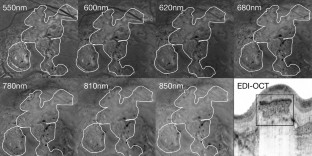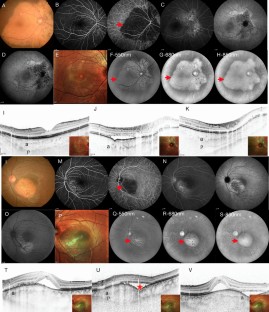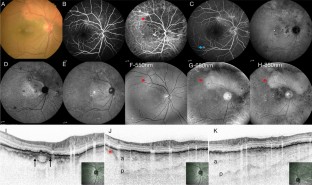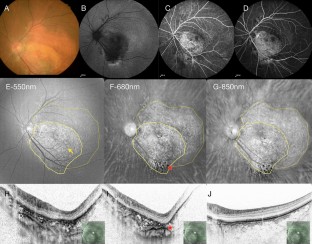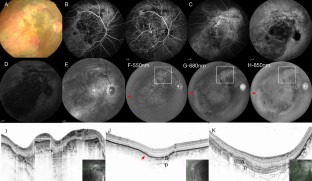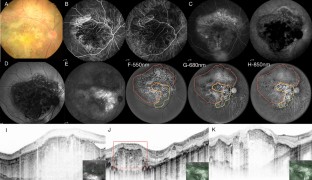 References
1.

Shields JA, SC (2016) Choroidal osteoma, 3rd ed. Atlas of Intraocular Tumors. Lippincott, Wolters Kluwer

2.

Rosa H, RM, Bloomer M, Gombos DS (2019) Ophthalmic pathology and intraocular Tumors. Basic Clin Sci Course 4

3.

Gurelik G et al (2001) A case of choroidal osteoma with subsequent laser induced decalcification. Int Ophthalmol 24(1):41–44

4.

Shen C et al (2018) Assessment of choroidal osteoma complicating choroidal neovascularization by optical coherence tomography angiography. Int Ophthalmol 38(2):787–792

5.

Furino C et al (2019) Choroidal neovascularization due to choroidal osteoma treated with anti-vascular endothelial growth factor therapy: an optical coherence tomography angiography study. Eur J Ophthalmol 29(3):323–329

6.

Arrigo A et al (2019) Bilateral choroidal osteoma complicated by bilateral choroidal neovascularization. Ophthalmic Surg Lasers Imaging Retina 50(6):398–400

7.

Kumar V (2019) Choroidal osteoma and pattern dystrophy of retinal pigment epithelium. Int Ophthalmol 39(2):441–444

8.

Browning DJ (2003) Choroidal osteoma. Ophthalmology 110(7):1327–1334

9.

Mansour A, Alameddine R, Kahtani E (2014) Review of choroidal osteomas. Middle East Afr J Ophthalmol 21(3):244–250

10.

Padhy SK, Mandal S, Gagrani M (2018) Bone inside eye: choroidal osteoma presenting as exudative retinal detachment: a challenge to diagnosis. BMJ Case Reports, pp 1–2

11.

Jokl DHK, Tsai N, Kreps S (1999) Detection of choroidal calcium by computed tomography scan quantitative computerized tomography. Ophthalmology 106(9):1841–1846

12.

Maria Pefkianaki KS, Shields CL (2016) Enlargement of choroidal osteoma in a child. Retina Today 30–41

13.

Bouladi M et al (2018) Four-year SD-OCT follow-up of a treated bilateral choroidal osteoma complicated by choroidal neovascularisation. Journal Français d'Ophtalmologie 41(1):e35–e38

14.

Carol L, Shields MP, Ferenczy SR, Shields JA (2014) Enhanced depth imaging optical coherence tomography of intraocular tumors. Retina 34:1495–1521

15.

Shields CL, Arepalli S, Atalay HT, Ferenczy SR, Fulco E, Shields JA (2015) Choroidal osteoma shows bone lamella and vascular channels on enhanced depth imaging optical coherence tomography in 15 eyes. RETINA 35:750–757

16.

Li S, Li H, Bai Y, Cheng Y, Tian J, Wang S, Sun Y, Wang K, Wang F, Zhang Q, Meng Q, Qi Y, Yu Y, Li X (2015) Retina in vivo study of retinal transmission function in different sections of the choroidal structure using multispectral imaging. Investig Ophthalmol Vis Sci 56:1–12

17.

Chen J, Lee L, Gass JDM (2006) Choroidal osteoma: evidence of progression and decalcification over 20 years. Clin Exp Optom 89(2):90–94

18.

Behera M, Das M (2015) A case of choroidal osteoma in a 10-year-old child. Int Med Case Rep J

19.

Aronow ME, Crowell EL, Reddy AK (2019) Bilateral choroidal osteoma of childhood. JAMA Ophthalmol 137(10):e185998

20.

Antonio CFLD, Alessio MOGMRMRANG (2019) Choroidal neovascularization due to choroidal osteoma treated with anti–vascular endothelial growth factor therapy: an optical coherence tomography angiography study. Eur J Ophthalmol 29:1–5

21.

Sagar P et al (2018) OCT angiography characteristics of choroidal osteoma. Ophthalmol Retina 2(1):77–79

22.

Azad SV et al (2020) In vivo optical biopsy of choroidal osteoma: a swept source optical coherence tomography-based tumor characterization. Ther Adv Ophthalmol 12:2515841420922740

23.

Gelb K et al (2016) Retinal multispectral imaging of 'sub-clinical' capillary micro-aneurysms in non-diabetics correlates with insulin resistance. Diabesity 2(3)

24.

Zhu X et al (2017) Sensitivity and specificity of multispectral imaging in detecting central serous chorioretinopathy. Lasers Surg Med 49(5):498–505

25.

Pang CE et al (2015) New insights into stargardt disease with multimodal imaging. Ophthalmic Surg Lasers Imaging Retina 46(2):257–261

26.

Huang G et al (2018) Multispectral image analysis in Vogt-Koyanagi-Harada disease. Acta Ophthalmol 96(4):411–419

27.

Xu Y et al (2015) A light-emitting diode (LED)-based multispectral imaging system in evaluating retinal vein occlusion. Lasers Surg Med 47(7):549–558

28.

Dugel PU, Zimmer CN (2016) Imaging of melanin disruption in age-related macular degeneration using multispectral imaging. Ophthalmic Surg Lasers Imaging Retina 47(2):134–141

29.

Zhang J, Yu Z, Liu L (2015) Multimodality imaging in diagnosing polypoidal choroidal vasculopathy. Optom Vis Sci 92:1–6

30.

Zhang J et al (2018) Characteristics of polypoidal choroidal vasculopathy evaluated by multispectral imaging. Ophthalmic Surg Lasers Imaging Retina 49(12):e249–e255

31.

Zhang J, CY-B, Yu Z-K, Liu L (2018) Multispectral imaging in detecting early retinal pigment epithelial atrophy. Int J Ophthalmol

32.

Feng L et al (2019) Retinal and choroidal abnormalities identified by multispectral imaging in patients with uveitis: three case reports. Medicine (Baltimore) 98(20):e15655

33.

Gan NY, Zimmer C, Lam W-C (2017) Multi-spectral imaging of circumscribed choroidal hemangioma introduction. Ophthalmic Surg Lasers Imaging Retina 48(7):572–575

34.

Gallego-Pinazo R, Sherman J, Yannuzzi LA, Freund KB (2013) Choroidal lesions in neurofibromatosis detected by multispectral imaging. Retinal Cases Brief Rep 7:176–178

35.

Sisk RA, CDR, Petersen MR, Foster RE, Miller DM, Murray TG, Augsburger JJ (2013) Fundus autofluorescence findings of choroidal osteoma. Retina 33:97–104

36.

Delori FC, Pflibsen KP (1989) Spectral reflectance of the human ocular fundus. Appl Opt 28:1061–1077

37.

Sisk RA et al (2013) Fundus autofluorescence findings of choroidal osteoma. Retina 33(1):97–104

38.

Venkatesh R et al (2018) Multicolor imaging in choroidal osteomas. Int J Retina Vitreous 4(1)

39.

Rajabian F et al (2019) Focal choroidal excavation and pitchfork sign in choroidal neovascularisation associated with choroidal osteoma. Eur J Ophthalmol 1120672119892802

40.

Clemente-Tomás R et al (2018) Choroidal osteoma with choroidal excavation and associated neovascular membrane: an OCT-angiography study. Archivos de la Sociedad Española de Oftalmología (English Edition) 93(5):242–245

41.

Rajesh B et al (2015) Real-time in vivo micromorphology and histopathology of choroidal osteoma using enhanced depth imaging. Indian J Ophthalmol 63(5)

42.

Razek AA, Elkhamary S (2011) MRI of retinoblastoma. Br J Radiol 84(1005):775–784

43.

Abdel Razek AA et al (2012) Correlation of apparent diffusion coefficient at 3T with prognostic parameters of retinoblastoma. AJNR Am J Neuroradiol 33(5):944–948

44.

Sepahdari AR et al (2014) Diffusion-weighted imaging of orbital masses: multi-institutional data support a 2-ADC threshold model to categorize lesions as benign, malignant, or indeterminate. AJNR Am J Neuroradiol 35(1):170–175
Funding
The projected was supported by the Scientific Research Project of Hebei Health Commission (Grant No. 20200069).
Ethics declarations
Conflict of interest
All authors have no conflict of interest to declare.
Additional information
Publisher's Note
Springer Nature remains neutral with regard to jurisdictional claims in published maps and institutional affiliations.
About this article
Cite this article
Ma, F., Li, T., Kozak, I. et al. Novel observations in choroidal osteoma by multispectral imaging: a pilot case series. Int Ophthalmol (2020). https://doi.org/10.1007/s10792-020-01528-9
Received:

Accepted:

Published:
Keywords
Multispectral imaging

Choroidal osteoma

EDI-OCT

Fluorescence angiography