Abstract
Purpose
To determine 5-year changes in keratoconus indices and corrected distance visual acuity in 40–64-year-old keratoconus compared with normal subjects.
Methods
In this prospective population-based cohort study, 5-year changes in Belin grading system indices including the average radii of curvature in the 3 mm zone surrounding the thinnest point in the anterior (ARC-3 mm) and posterior (PRC-3 mm) cornea, corrected distance visual acuity, minimum corneal thickness, maximum Ambrosio's relational thickness (ART-max), and maximum anterior keratometry indices centered on steepest point in the central 3 mm (Kmax-3 mm), 4 mm (Kmax-4 mm), and 5 mm (Kmax-5 mm) zones were compared between keratoconus and normal participants. In the analysis, comparisons were made between all keratoconus eyes and the right eyes of normal participants.
Results
The mean age in the keratoconus (n = 16 eyes) and normal (n = 1986 eyes) groups (48.31 ± 4.78, 49.37 ± 5.79 years, respectively) was not statistically different (P = 0.327). The two groups differed in terms of changes in PRC-3 mm (− 0.07 ± 0.15 vs. + 0.001 ± 0.14 mm, respectively, P = 0.042) and ART-max (− 6.28 ± 25.19 vs. + 15.8 ± 72.7 μm, respectively, P = 0.003). There were significant correlations between the reduction in PRC-3 mm and its baseline value (β = − 0.20, P < 0.001) and keratoconus (β = − 0.26, P < 0.001). The reduction in ART-max significantly correlated with its baseline value (β = − 0.43, P < 0.001) and keratoconus (β = − 111.74, P < 0.001).
Conclusion
According to these findings, posterior corneal steepening and thinning in keratoconus patients continue after the age of 40 years, but it is clinically negligible. The changes are independent of normal age-related changes and appear to be slower in cases with steeper and thinner corneas.
Access options
Buy single article
Instant access to the full article PDF.
US$ 39.95
Tax calculation will be finalised during checkout.
Subscribe to journal
Immediate online access to all issues from 2019. Subscription will auto renew annually.
US$ 79
Tax calculation will be finalised during checkout.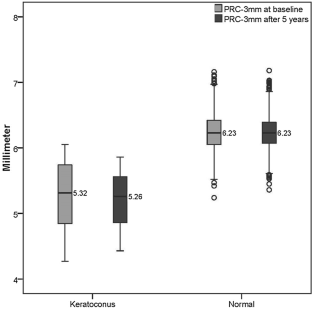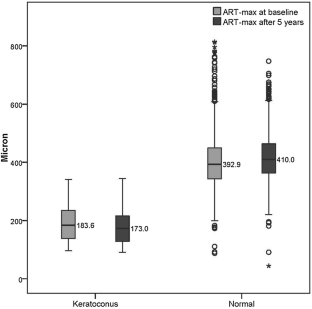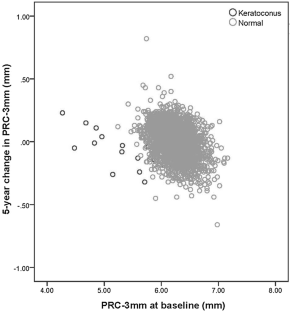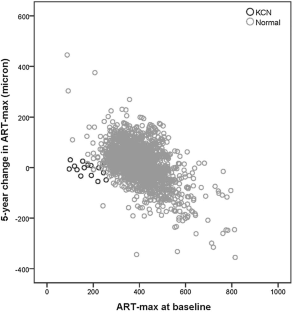 References
1.

Romero-Jimenez M, Santodomingo-Rubido J, Wolffsohn JS (2010) Keratoconus: a review. Contact Lens Anterior Eye 33:157–166

2.

Francois M, Ancele E, Butterworth J (2011) Epidemiology of keratoconus. In: Barbara A (ed) Textbook on keratoconus: new insights. Jaypee Highlights, New Delhi, pp 3–12

3.

Millodot M, Ortenberg I, Lahav-Yacouel K, Behrman S (2016) Effect of ageing on keratoconic corneas. J Optom 9:72–77

4.

Asgari S, Hashemi H, Mohamadi A, Jafarzadehpur E, Miraftab M, Shahhoseini S, Mehravaran S, Fotouhi A (2018) Scotopic contrast sensitivity and glare after accelerated corneal cross-linking. Clin Exp Optom 1010:52–56

5.

Asgari S, Hashemi H, Miraftab M, Shahhoseini S, Jafarzadhpur E, Mehravaran S, Fotouhi A (2018) Photopic, mesopic, and scotopic visual acuity after 18 mW/cm2 accelerated corneal cross-linking. Eye Contact Lens 44:S185–S189

6.

Belin MW, Duncan JK (2016) Keratoconus: the ABCD grading system. Klin Monbl Augenheilkd 233:701–707

7.

Ambrosio R, Caiado AL, Guerra FP, Louzada R, Sinha RA, Luz A, Dupps WJ, Belin MW (2011) Novel pachymetric parameters based on corneal tomography for diagnosing keratoconus. J Refract Surg 27:753–758

8.

Fotouhi A, Hashemi H, Shariati M, Emamian MH, Yazdani K, Jafarzadehpur E, Koohian H, Khademi MR, Hodjatjalali K, Kheirkhah A, Chaman R, Malihi S, Mirzaii M, Khabazkhoob M (2013) Cohort profile: Shahroud eye cohort study. Int J Epidemiol 42:1300–1308

9.

Hashemi H, Beiranvand A, Khabazkhoob M, Asgari S, Emamian MH, Shariati M, Fotouhi A (2013) Prevalence of keratoconus in a population-based study in Shahroud. Cornea 32:1441–1445

10.

Mehravaran S, Asgari S, Bigdeli S, Shahnazi A, Hashemi H (2014) Keratometry with five different techniques: a study of device repeatability and inter-device agreement. Int Ophthalmol 34:869–875

11.

Miranda MA, Radhakrishnan H, O'Donnell C (2009) Repeatability of oculus pentacam metrics derived from corneal topography. Cornea 28:657–666

12.

Belin MW, Meyer J, Duncan JK, Gelman R, Borgstorm M, Ambrosio R Jr (2017) Assessing progression of keratoconus and cross-linking efficacy: the Belin ABCD progression display. Int J Kerat Ect Cor Dis 6:1–10

13.

Holladay JT (2009) Keratoconus detection using corneal topography. J Refract Surg 25:S958–S962

14.

Rabinowitz YS (1998) Keratoconus. Surv Ophthalmol 42:297–319

15.

Krachmer JH, Feder RS, Belin MW (1984) Keratoconus and related noninflammatory corneal thinning disorders. Surv Ophthalmol 28:293–322

16.

Choi JA, Kim MS (2012) Progression of keratoconus by longitudinal assessment with corneal topography. Invest Ophthalmol Vis Sci 53:927–935

17.

Hashemi H, Miraftab M, Seyedian MA, Hafezi F, Bahrmandy H, Heidarian S, Amanzadeh K, Nikbin H, Fotouhi A, Asgari S (2015) Long-term results of an accelerated corneal cross-linking protocol (18 mW/cm2) for the treatment of progressive keratoconus. Am J Ophthalmol 160:1164–1170

18.

Wittig-Silva C, Chan E, Islam FM, Wu T, Whiting M, Snibson GR (2014) A randomized, controlled trial of corneal collagen cross-linking in progressive keratoconus: three-year results. Ophthalmology 121:812–821

19.

Mahmoud AM, Nunez MX, Blanco C, Koch DD, Wang L, Weikert MP, Frueh BE, Tappeiner C, Twa MD, Roberts CJ (2013) Expanding the cone location and magnitude index to include corneal thickness and posterior surface information for the detection of keratoconus. Am J Ophthalmol 156:1102–1111

20.

Amsler M (1964) Keratocone classique et keratocone fruste; arguments unitaires. Ophthalmologica 111:96–101

21.

Kamiya K, Ishii R, Shimizu K, Igarashi A (2014) Evaluation of corneal elevation, pachymetry and keratometry in keratoconic eyes with respect to the stage of Amsler–Krumeich classification. Br J Ophthalmol 98:459–463

22.

Kanellopoulos AJ, Asimellis G (2013) Revisiting keratoconus diagnosis and progression classification based on evaluation of corneal asymmetry indices, derived from Scheimpflug imaging in keratoconic and suspect cases. Clin Ophthalmol 7:1539–1548

23.

Hashemi H, Asgari S, Emamian MH, Mehravaran S, Fotouhi A (2016) Five year changes in central and peripheral corneal thickness: the Shahroud eye cohort study. Contact Lens Anterior Eye 39:331–335

24.

Hashemi H, Asgari S, Emamian MH, Mehravaran S, Fotouhi A (2015) Age-related changes in corneal curvature and shape: the Shahroud eye cohort study. Cornea 34:1456–1458

25.

Fujimoto H, Maeda N, Shintani A, Nakagawa T, Fuchihata M, Higashiura R, Nishida K (2016) Quantitative evaluation of the natural progression of keratoconus using three-dimensional optical coherence tomography. Invest Ophthalmol Vis Sci 57:169–175

26.

Gupta N, Trindade BL, Hooshmand J, Chan E (2018) Variation in the best fit sphere radius of curvature as a test to detect keratoconus progression on a Scheimpflug-based corneal tomographer. J Refract Surg 34:260–263

27.

Sideroudi H, Labiris G, Giarmoulakis A, Bougatsou N, Mikropoulos D, Kozobolis V (2013) Repeatability, reliability and reproducibility of posterior curvature and wavefront aberrations in keratoconic and cross-linked corneas. Clin Exp Optom 96:547–556

28.

Awad EA, Abou Samra WA, Torky MA, El-Kannishy AM (2017) Objective and subjective diagnostic parameters in the fellow eye of unilateral keratoconus. BMC Ophthalmol 17:186

29.

Kosekahya P, Koc M, Caglayan M, Kiziltoprak H, Atilgan CU, Yilmazbas P (2018) Repeatability and reliability of ectasia display and topometric indices with the Scheimpflug system in normal and keratoconic eyes. J Cataract Refract Surg 44:63–70
Funding
Shahroud Eye Cohort Study was supported by the Noor Ophthalmology Research Center and Shahroud University of Medical Sciences (Project Number: 8737). No funding was received for this research.
Ethics declarations
Conflict of interest
All authors certify that they have no affiliations with or involvement in any organization or entity with any financial interest or non-financial interest in the subject matter or materials discussed in this manuscript.
Additional information
Publisher's Note
Springer Nature remains neutral with regard to jurisdictional claims in published maps and institutional affiliations.
About this article
Cite this article
Hashemi, H., Asgari, S., Mehravaran, S. et al. Keratoconus after 40 years of age: a longitudinal comparative population-based study. Int Ophthalmol 40, 583–589 (2020). https://doi.org/10.1007/s10792-019-01216-3
Received:

Accepted:

Published:

Issue Date:
Keywords
Keratoconus

Ectasia display indices

Posterior corneal steepening

Corneal thinning

Middle age